And our Next Investment is… Going to be Announced in the Coming Weeks
We have no new investment to announce today.
Our model is to write about the companies we have invested in, and we do a lot of research before we make a new investment - which takes time to do properly.
The only new company we have added to our portfolio in 2021 so far is Oneview Healthcare (ASX:ONE), and it took us months of research and due diligence before we invested.
We have spent years building a track record of successful long term investments that we share.
We are very careful to keep that record by only selecting and investing in the companies we think have the highest chance to succeed.
In the last 3 months nearly 100 companies have been introduced to us or have approached us wanting to join our portfolio and to be seen by you, our readers.
Out of the 100 companies we took a closer look at 30 of them.
Seven companies have made it to the final stage and we are now diligently doing deeper due diligence.
We expect to select two new companies this quarter to add to our portfolio.
If we haven't invested in a company for the long term, we won't write about it or promote it.
We believe in quality over quantity - carefully selecting our investments and long-term holding has been a successful strategy for us - based on reader feedback we will also soon be sharing our specific investment strategy and plan on each individual company page.
We appreciate all the kind words from readers who have had success with our portfolio companies and also appreciate all feedback and suggestions to improve our service - we are a small team but try to continuously update our site and content to address the most commonly requested features or information.
As always we encourage you to respond to this email with any thoughts, feedback or ideas you have.
So while there is no new investment to announce today, with lithium prices rising AGAIN we are currently liking the look of our long term lithium superstar and general market darling Vulcan Energy Resources Ltd (ASX:VUL) - we have been long term holders in VUL and most recently participated in the placement two months ago at $6.50.
We observe that the VUL share price has been busy working through the placement stock from the $120M placement, and has been bouncing around the $6 mark for the last couple of months.
While this may keep going for a while yet, the last couple of trading days have looked positive for VUL, testing back to the placement price after months of digestion - and with $120M in the bank we expect the news flow and progress from VUL to be plentiful in the next few months.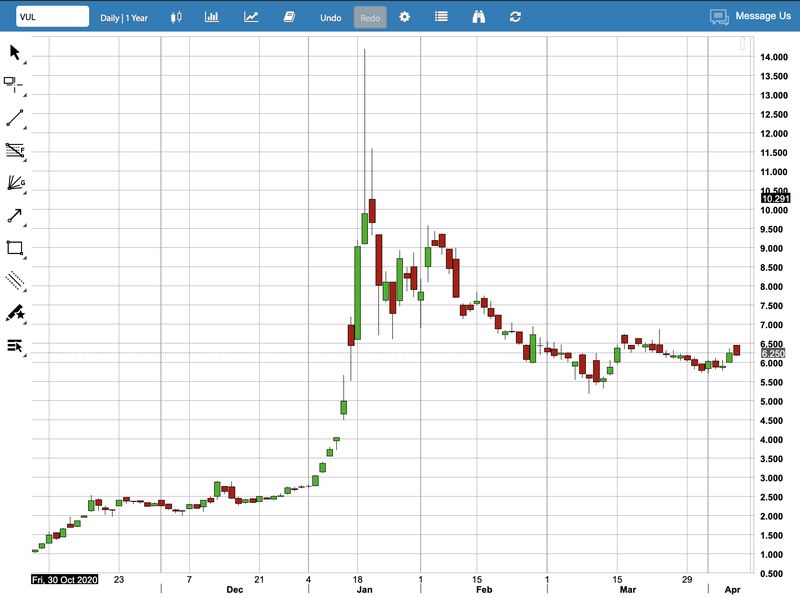 We also note a new macro theme that will be a positive for Vulcan's Zero Carbon Lithium project based in Europe, our favourite and most aggressive emerging electric vehicle market.
Importing Lithium is about to get more expensive in Europe - introducing Carbon Border Adjustment Mechanism (CBAM).
The Carbon Border Adjustment Mechanism (CBAM) has been strongly backed by the European Parliament. It is a mechanism for making sure there is no global "carbon leakage", i.e. to prevent the EU shifting its high carbon industries to other countries where there is a low carbon price, or no carbon price.
Basically it will add costs on importing cheaper lithium that has a large carbon footprint from other countries.
Suddenly Zero Carbon Lithium from within German borders should sound very attractive for margin conscious European electric vehicle factories.
One of our favourite famous billionaire investors Chamath Palihapitiya agrees that carbon tariffs are coming and they will have serious impacts in this tweet: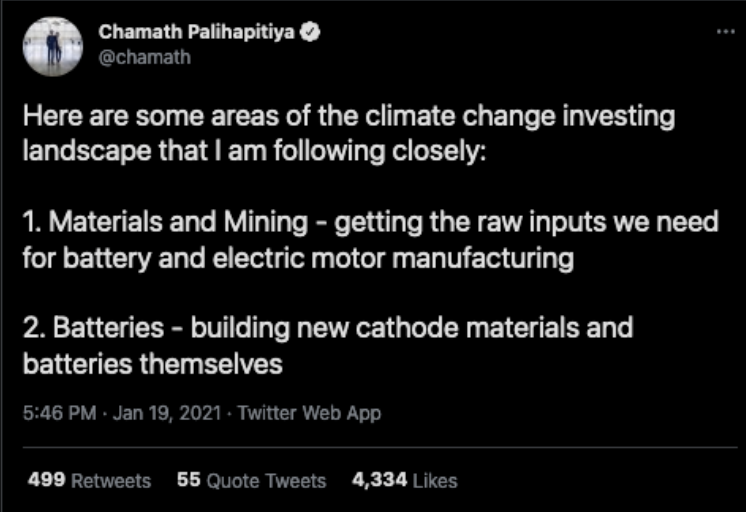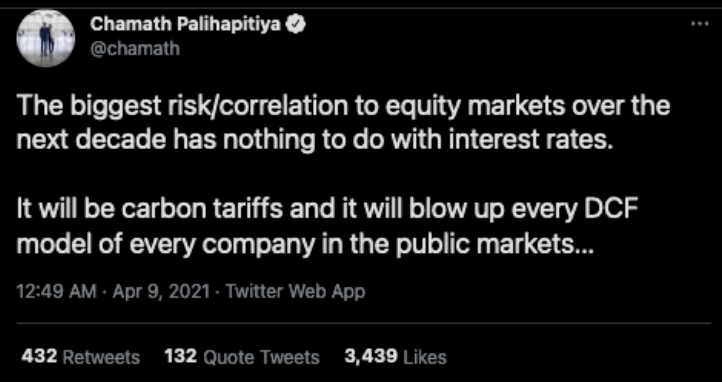 Carbon tariffs will apply to many sectors, including energy, steel and chemicals and are expected to commence in 2023.
The current lithium industry has a high carbon footprint, with hard rock lithium producing roughly 15t CO2 per tonne lithium hydroxide .
The EU has unprecedented lithium hydroxide demand, starting now and building over the next decade - with demand by 2030 many multiples of current total global demand.
The EU currently has zero local supply.
Knowing the carbon footprint of lithium is critical to battery makers - especially if it is imported...
VUL is developing a dual renewable energy and lithium chemicals project, with the world's first Zero Carbon Lithium product. Vulcan will even be a net exporter of renewable energy.
High emissions companies and countries are about to be shut out or priced out of the global supply chain. VUL has got the jump on this with its Zero Carbon Lithium project.
Here is a selection of media on the topic for some weekend reading.
AFR: European Parliament backs carbon border tax
SMH: Australia warned tariff removal push will not placate Europe's desire for green trade penalties
The Conversation: No point complaining about it, Australia will face carbon levies unless it changes course
Vulcan Energy Resources: Will European Automakers Pay a Premium For Lithium? | LinkedIn
---