Vulcan ASX Reveal A$3.5BN Net Present Value on Zero Carbon Lithium Project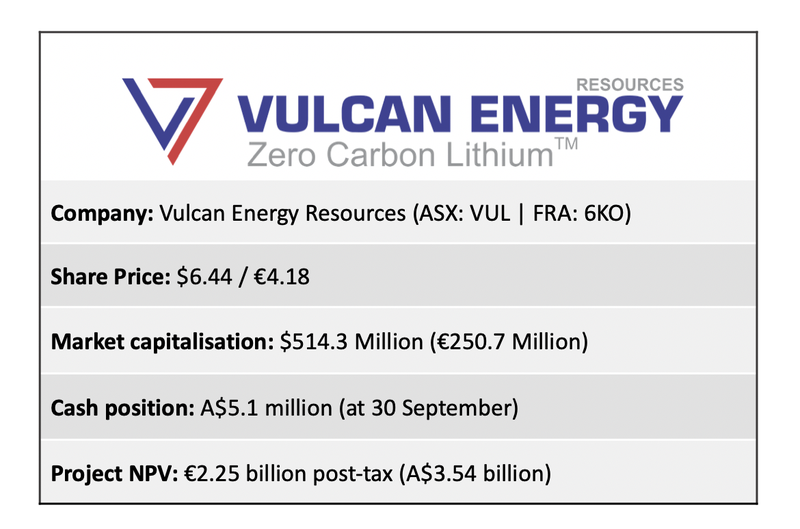 Vulcan Energy Resources (ASX:VUL | FRA: 6KO) is developing a cutting edge, combined renewable energy and lithium hydroxide project in Germany, all with a net zero carbon footprint.
Yesterday, VUL delivered on a major milestone in its quest to supply Europe's rapidly expanding Li-battery and electric vehicle industries with a world-first Zero Carbon Lithium® product.
Vulcan's Pre-Feasibility Study (PFS) details its potential for highly profitable and environmentally friendly Zero Carbon Lithium® production, plus the co-production of revenue-generating renewable geothermal energy.
You can read our initial thoughts in the article: Our Key Takeaways from VUL's PFS - What will the VUL share price do next?
Highlights of the PFS make for an impressive list:
Project value of €2.25 billion (post-tax, NPV), which equates to A$3.54 billion.
Lowest operating expenses (OPEX) of any lithium hydroxide (LHM) project globally at €2,640/t LHM.
Combined renewable energy-lithium project pre-tax IRR of 26% and post-tax IRR of 21%. (Lithium as a separate entity from energy shows pre-tax IRR of 31% and post-tax IRR of 26%.)
Dual operation producing: 74 MW of renewable energy generation and approximately 40ktpa LHM production.
Starting capital cost of €226m for geothermal wells and plant, and €474m for Direct Lithium Extraction (DLE) plants and Central Lithium Plant (CLP).
The company has also confirmed a Maiden Probable Ore Reserve of 1.12 Mt Lithium Carbonate Equiv. (LCE) at 181 mg/l lithium.
The total JORC Resource of the project is 15.85 Mt LCE — a globally significant resource that is more than twice the size of the next largest lithium resource in Europe.
As our 2020 Pick of the Year, VUL has already been a standout performer in the Next Investors investment portfolio.
With a significant amount of momentum generated in the past 12 months, and a PFS now released, we are looking forward to seeing what VUL can deliver in 2021.
VUL is the biggest holding in our portfolio, and we continue to hold for the long term.
The release of the PFS has exceeded expectations hinting at the upside to come and clarified the company's plans for 2021.
This year we can expect multiple potential share price catalysts, as VUL conducts Definitive Feasibility Study (DFS) work, project permitting, lithium extraction test-work scale up, and advances discussions with European lithium off-takers.
On top of its own development plans and progression towards production and offtake agreements, VUL's ambitions are supported by European Union and German legislators who are getting serious about ensuring a greener future.
Before delving into details of the PFS, let's review Vulcan's project — the Upper Rhine Valley project (URVP), and its Zero Carbon Lithium® and renewable geothermal energy products.
Vulcan Upper Rhine Valley Project
Vulcan Energy is working to decarbonise the currently high carbon production footprint of lithium-ion batteries used in electric vehicles by producing a world-first Zero Carbon Lithium® product at its Upper Rhine Valley Project (URVP).
The project is strategically located right in the heart of the European auto and lithium-ion battery manufacturing industry.
VUL is aiming to produce a battery-quality lithium hydroxide chemical product with net zero carbon footprint. Its unique Zero Carbon Lithium® process will also produce both renewable geothermal energy from the same deep brine source.
VUL's project hosts Europe's largest lithium resource that dwarfs all other EU lithium Resources.
It is more than twice the size of the next largest Resource and could satisfy Europe's lithium needs for the electric vehicle transition, from a zero-carbon source, for many years to come.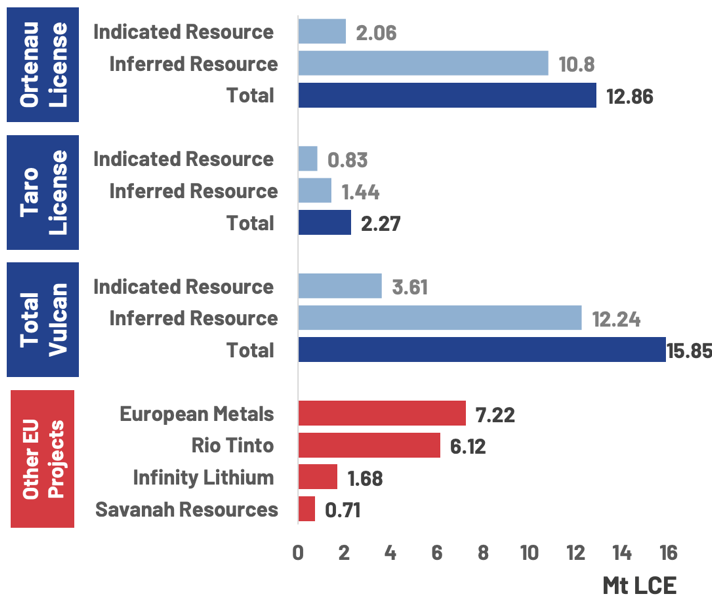 Given the size of the Resource, VUL will have options to scale up its operations. This would involve adding more wells and renewable energy plants, in response to growth in the European lithium market.
Production process
The project's production process involves hot brine being extracted from the ground, generating steam that powers turbines and produces renewable electricity. This process is well demonstrated with standard geothermal production wells having been successfully implemented for decades.
The brine flow is then diverted, and lithium is extracted from the solution with a Direct Lithium Extraction (DLE) process. This DLE has also been commercially proven for decades on salars.
The resulting lithium chloride is then converted to LiCl to deliver battery-quality LiOH.
The water is recycled, with no toxic wastes and no gases emitted. As the heat and power are from renewable resources, no fossil fuels are burned, and the process produces net zero carbon.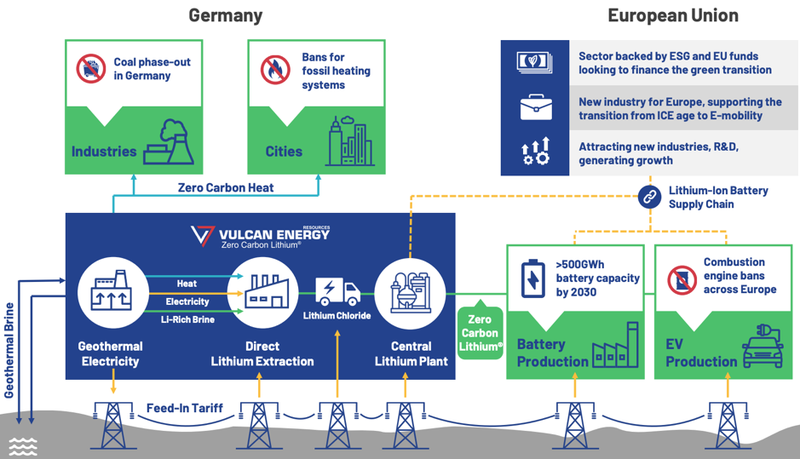 This is the only lithium project globally that is being developed to have a zero-carbon footprint, and its trademark Zero Carbon Lithium® can be licenced to battery manufacturers and OEMs using the product.
Milestone Pre-Feasibility Study released
The Pre-Feasibility Study released today for its Zero Carbon Lithium® Project, demonstrates strong potential to develop a cutting edge, combined renewable energy and lithium hydroxide project, all with net zero carbon footprint and located in the centre of Europe's battery industry.
Conducted with world-leading experts in lithium extraction, chemistry, chemical engineering, geothermal plant engineering and geology, the study focused solely on Indicated Resources, from the Ortenau and Taro licenses.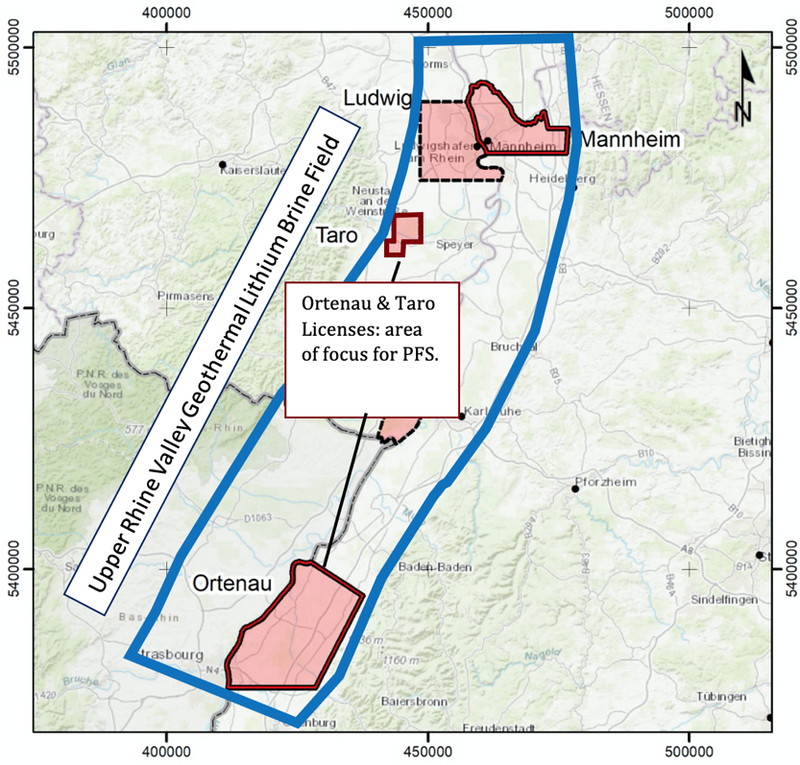 Hatch, a leading lithium project engineering company, led the lithium processing plant design, engineering and cost estimates. It investigated multiple capacity scenarios as part of the PFS, which defined the process and layout as well as evaluated the capital cost, operating cost, schedule, and risk and opportunities.
The PFS demonstrated robust economics for both the lithium hydroxide and renewable energy parts of the project, both independently and combined.
Project economics - It pays to be green
The PFS considered both the geothermal and lithium businesses and modelled the project under different possible structures:
The Full Project developed at the same time and involving no phasing, or
Phase 1 developed first, followed by Phase 2 — each as separate geothermal and DLE integrated businesses.
Under the scenario in which the full project is developed at once, using a Net Present Value calculation, the PFS indicates a project value of €2.25 billion (post-tax), which equates to A$3.54 billion.
Under the second scenario, where the project is developed in two phases, the project has post-tax NPV of €703 million (A$1.1B) in Phase 1, and a post-tax NPV of €1.4 billion (A$2.2B), in Phase 2.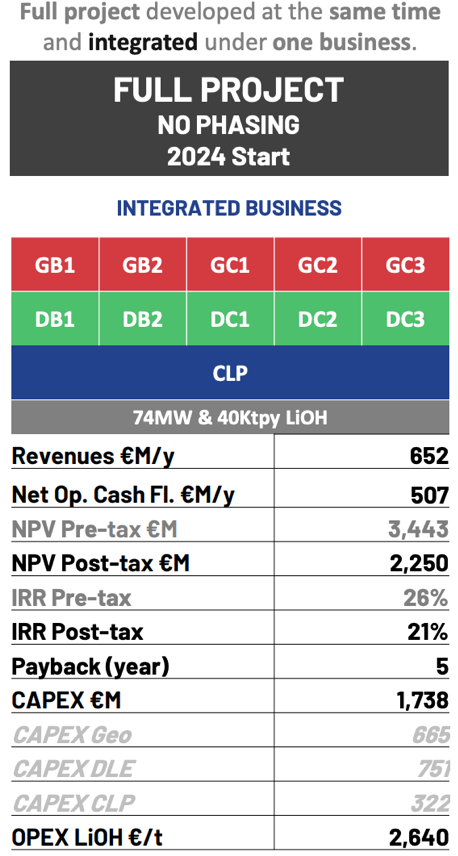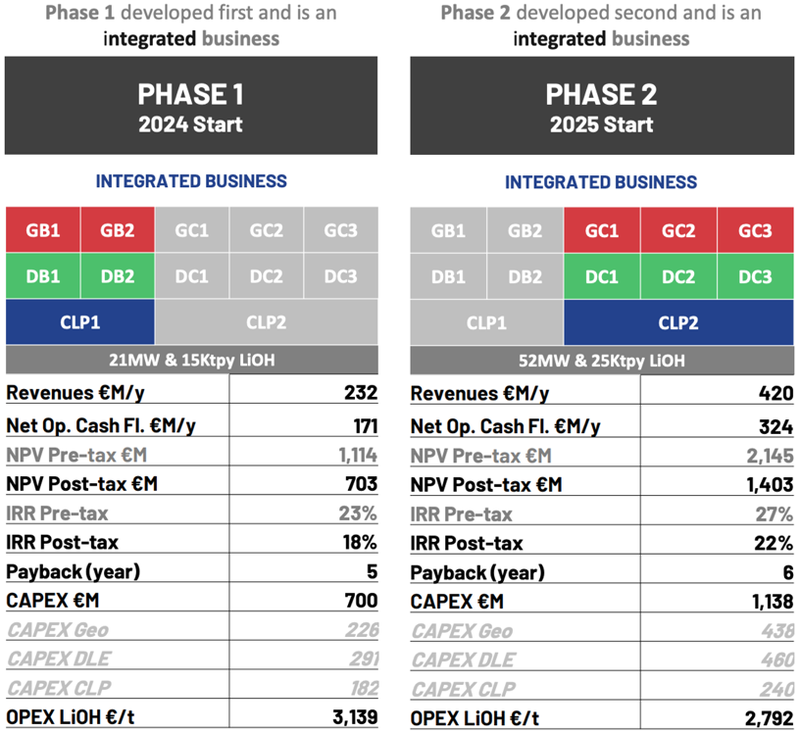 As a combined renewable energy-lithium project, the PFS indicated VUL's pre-tax IRR of 26% and post-tax IRR of 21%. Lithium as a separate entity from energy shows pre-tax IRR of 31% and post-tax IRR of 26%.
Those impressive valuations and returns have much to do with the fact that VUL's project has the lowest operating expenses (OPEX) of any lithium hydroxide (LHM) project globally at €2,640/t LHM.
Vulcan's "feedstock" is low cost and has dual purpose: lithium extraction and energy production in the form of renewable electricity. As VUL will be essentially treating a waste product from the geothermal plants to extract lithium, its costs are significantly lower than that of any existing hard-rock or traditional brine processing operations.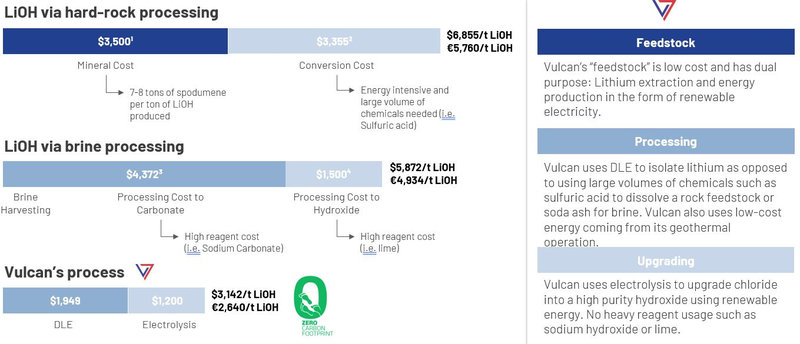 VUL's use of Direct Lithium Extraction (DLE) to isolate lithium, rather than using large volumes of chemicals to dissolve a rock feedstock or soda ash for brine also keeps costs low. Vulcan uses electrolysis to upgrade lithium chloride into a high purity lithium hydroxide using renewable energy so requires no heavy reagent usage such as sodium hydroxide or lime. Plus, Vulcan uses low-cost energy from its geothermal operation.
As can be seen below, the capital intensity of Vulcan's project is higher than that of other lithium sources globally. The project will involve a starting capital cost of €226m for geothermal wells and plant, and €474m for Direct Lithium Extraction (DLE) plants and Central Lithium Plant (CLP).
But once up and running, the project's operating expenses per tonne LiOH will be the world's lowest.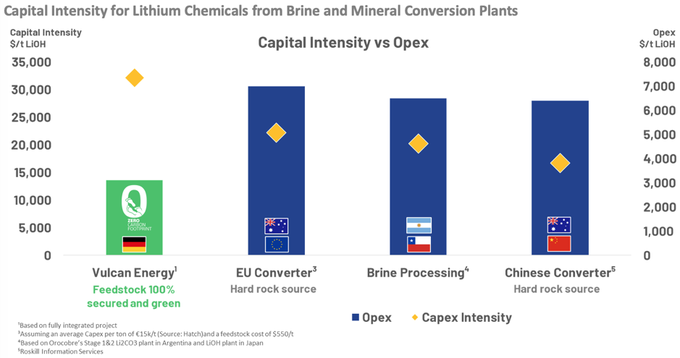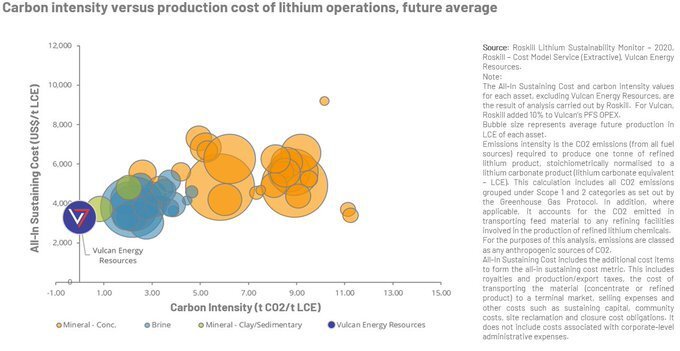 Also helping project economics is higher forecast lithium contract prices, which have already started moving upward in the last month: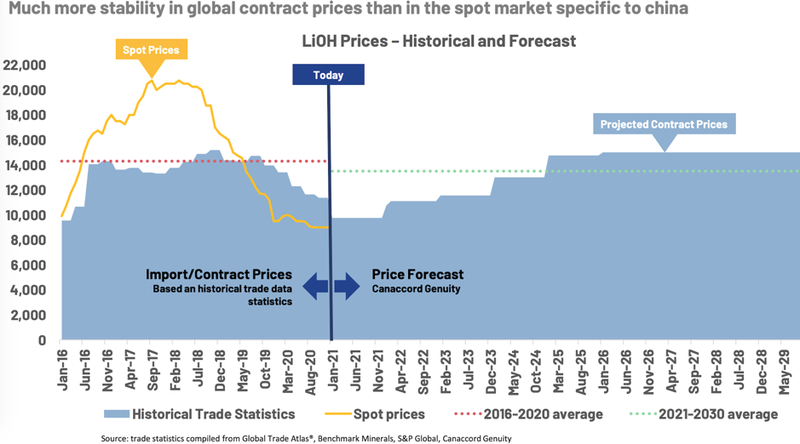 Dual revenue operation
Vulcan has shown the potential for highly profitable and environmentally friendly zero carbon production of lithium hydroxide, with co-production of renewable geothermal energy. It will be essentially running two separate operations — a renewable energy operation and a lithium chemicals operation, of 74 MW of renewable energy generation and approximately 40ktpa LHM production.
Here is the connection between geothermal and DLE processes.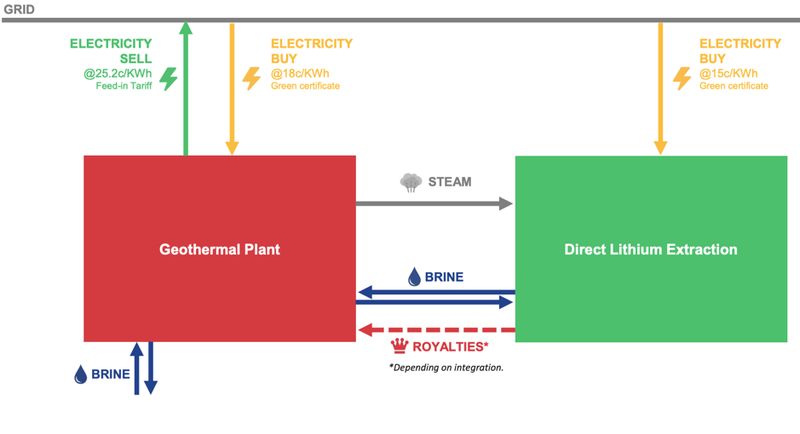 As such, the project is expected to generate dual revenue, from a combination of lithium hydroxide and geothermal renewable energy sales — both of which are seeing heightened EU and German government support as the EU works towards net zero emissions by 2050.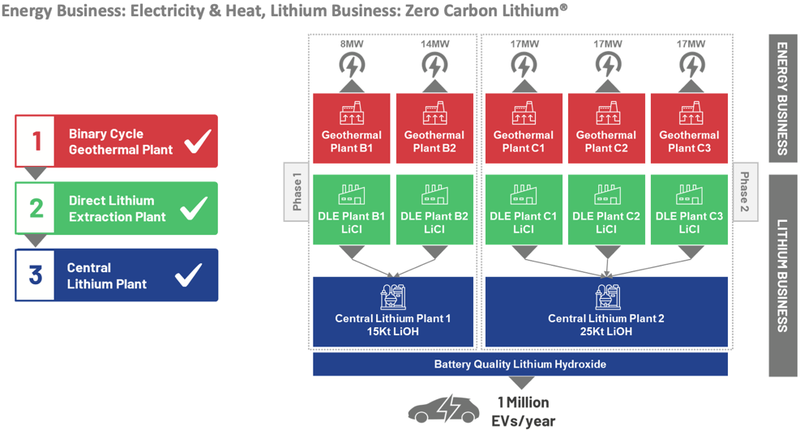 European Li-ion battery market primed for growth
The EU is ramping up its commitment to the electric vehicle industry with legislative proposals aimed at sustainable battery production, including better traceability of raw materials.
From 1 January 2026, lithium-ion batteries will have to bear a carbon intensity performance class label and from 1 July 2027, must comply with maximum carbon footprint thresholds. Batteries not meeting the new regulation will be banned and manufacturers will have to demonstrate that they are sourcing raw materials responsibly.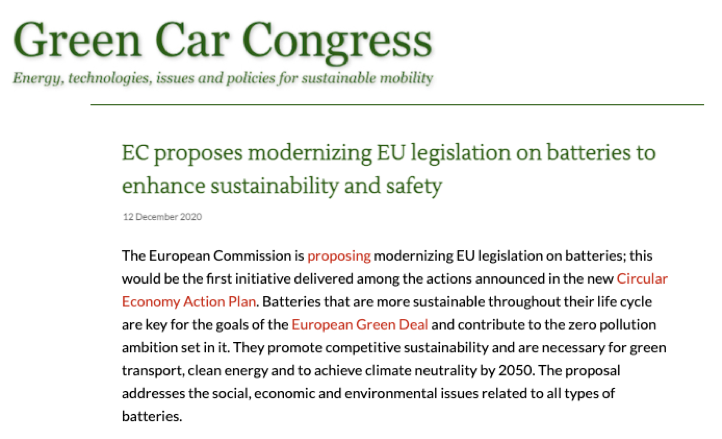 EU commissioner Thierry Breton highlighted that Europe is "100% dependent on lithium imports. "The EU, if finding the right environmental approach, will be self-sufficient in a few years, using its resources".
This is a major endorsement of Vulcan's Zero Carbon Lithium® strategy positioning it at the forefront of the lithium sector, as decarbonisation, responsibly sourced lithium, and renewable energy are the foundation of the company. Other companies will have to adapt in order to incorporate decarbonisation in the production process and responsibly sourced materials.
Rising lithium demand
Europe is the fastest growing market in the world for lithium following strong investments in battery and cathode plants.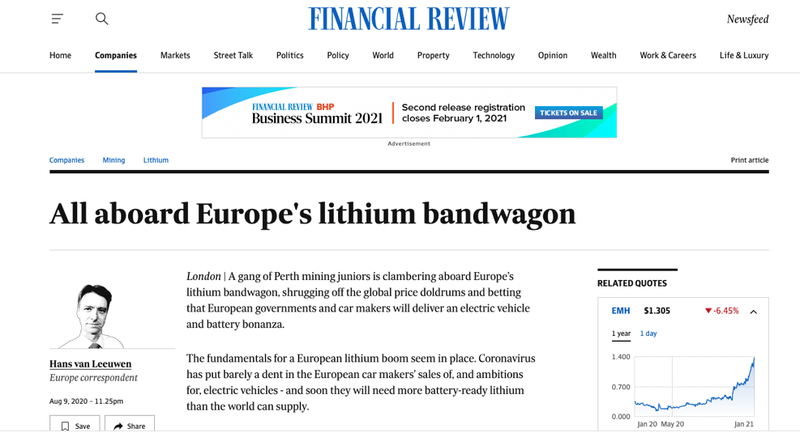 Now with more investment in electric vehicles in Europe than in China, Europe's lithium consumption is forecast to continue to grow sharply.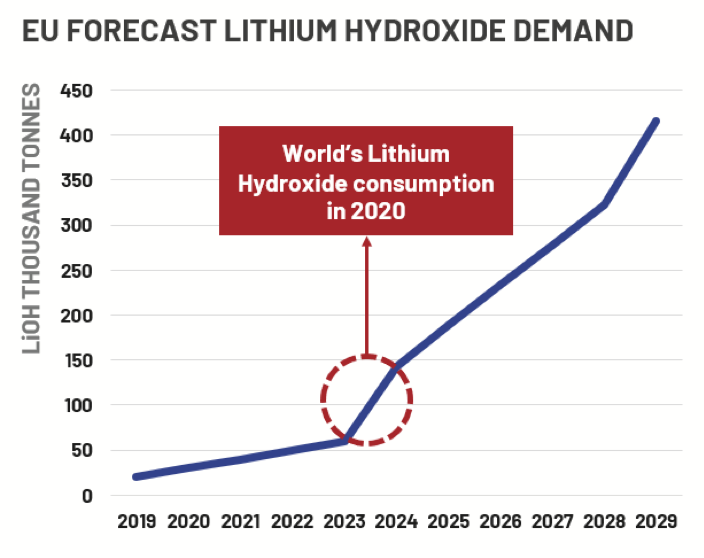 As you can see above, a ramp up in demand is anticipated in 2024 — right as VUL anticipates its first production.
In the medium to long term, fundamentals remain strong for electric vehicles and energy storage. Growth rates are expected to average 25% per year over the next 10 years, while supply is growing at a slower rate, leading to a deficit from 2024 onwards.
Furthermore, thanks to changes in cathode technologies, by the mid 2020s, lithium hydroxide (LHM) is forecast to take over lithium carbonate as a battery material.
Geothermal: renewable energy business
In addition to its lithium sales, VUL has geothermal energy as a second expected revenue generator. VUL intends to produce:
Zero Carbon Heat: Energy in the form of heat can be sold to a number of public and private customers via pipes, proximity is a requirement.
Zero Carbon Electricity: Energy in the form of electricity is sold to the grid.
Many experts see geothermal power as an essential component of the world's green-energy future.
Geothermal energy is always on, it is scalable, and can provide fully dispatchable power or heat. It is unique in that it could provide carbon-free heat and around-the-clock baseload power to compensate for the intermittency of wind and solar.
In Germany, geothermal electricity has been embraced with the country setting the goal of producing 65% of its electricity from carbon-free sources by 2030. Munich, for example, intends to switch the city entirely to district heating and experts anticipate Germany can go from 1.2 terawatt-hours (TWh) of heat from geothermal today to 100 TWh by 2050.
German geothermal energy generation currently benefits from a Feed-in Tariff guaranteed by the state for 20 years once the project starts, at €25.2c/KWh — one of the most favourable in the world.
New legislation voted on in December, provides further support. The €25.2c/KWh Feed-in Tariff was set to decline by 5% per year from 2021 onwards, but will now be reduced by only 0.5% per year and the start date pushed back to 2024. Further, once a geothermal project starts operating, the Feed-in Tariff is fixed for 20 years at the level of the year it enters production.
This change demonstrates the German Government's commitment to unlock more geothermal projects as it seeks to decarbonise energy and industry and is in line with the additional expected Federal support of geothermal energy to decarbonise heating in Germany.
In order to further incentivise the transition to climate-friendlier alternatives, from January 2021 German households with oil or gas heating will be required to pay a carbon price for their consumption of heating fuels.
The government has made clear that geothermal energy is a vital and strongly supported part of the energy transition in Europe, and this recent legislation provides further validation for Vulcan's Zero Carbon Lithium® strategy and geothermal energy as the only heat source with no carbon cost.
As for VUL, at the €25.2c/KWh Feed-in Tariff rate, guaranteed for 20 years, the PFS indicates that VUL will generate €157 million (A$248M) in revenue per year from its geothermal energy business.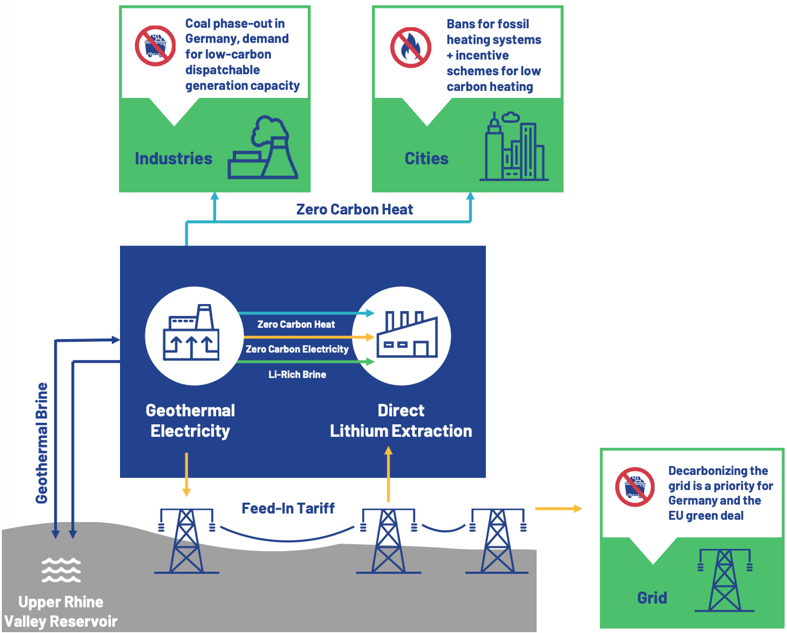 Vulcan recognised for ESG commitments
Now essential in business and investment circles, ESG (Environment, Social, Governance) is setting a new standard in measuring the sustainability and ethical impact made by a company.
A business can gain significant benefits if it can demonstrate real ESG commitments, progress, and credentials including access to ESG earmarked funding.
Positive impact and ESG is the core reason that VUL managing director Francis Wedin started the company and its Zero Carbon Lithium®️ project.
Reflecting that commitment, Vulcan has now been recognised as one of just six ASX listed companies that are leading the way on ESG. The company's ESG credentials were identified by impact monitoring technology, Socialsuite, whose recently launched global standard ESG framework is one of the first to start monitoring ESG reporting over and above the quarterly financial and operational update required by the ASX.
What's ahead for Vulcan?
During 2021, offtake negotiations will be in the company's focus. On the development front, VUL will progress with piloting test work, while proceeding towards a DFS this year.
This year will also see VUL secure permitting for Phase 1 of the project and for the Central Lithium Plant 1. While for Phase 2, seismic and analysis will be conducted with work to secure permitting beginning later in the year.
Wedin confirmed that, "2021 should be a transformative year for Vulcan, as we commence our DFS, scale up our lithium extraction piloting, and advance discussions with European off-takers for our Zero Carbon Lithium® product."
Looking further ahead, project financing will take place in 2022, as will Phase 1 drilling. By 2023, VUL anticipates that drilling and construction will have begun for both Phase 1 and 2, as well as construction on the Central Lithium Plant 1.
Production is targeted for Phase 1 and the Central Lithium Plant in 2024 — that's just three years until VUL is supplying the European electric vehicle market with its world-first Zero Carbon Lithium.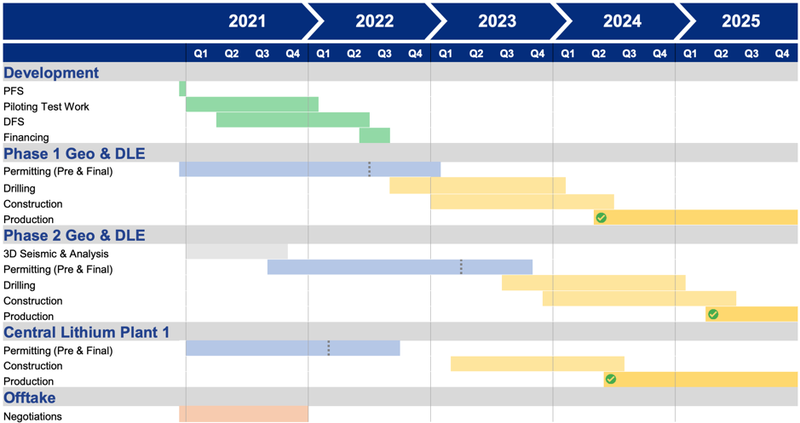 All up, that's a lot to keep VUL busy and shareholders engaged with multiple potential share price catalysts throughout the year and through to 2025.
Of course, as an early stage exploration company this is not without risks. But today's PFS de-risks a lot of the uncertainty around the project economics, and gives much more clarity about the potential of the project moving forward.

---