WHK Keeps Stacking up Major Revenue Generating Deals
PUBLISHED: 31-07-2019 09:50 a.m.
WhiteHawk (ASX:WHK) released its quarterly report today and the highlights reel read longer than the end credits of a three hour sci-fi movie.
It certainly confirms why we called the $15M capped WHK as our Next Tech Stock pick of the year.
Given the level of activity this quarter, it would be safe to say that WHK has continued to kick goals and cement its position as one of the go-to cybersecurity providers for small and mid-size enterprises – those with revenues of 1 million to $1 billion.
Its best-in class cyber security products has attracted everyone from defence contractors to top 10 financial institutions to Accenture Federal. It also attracted institutional investment manager RiverFort Global Opportunities PCC Ltd earlier in the year, a UK based manager that invests in high growth companies. This was a big endorsement.
The Accenture deal highlights just how important and far reaching its cybersecurity products can be. WHK is one of several sub-contractors Accenture Federal on a $US2 Billion Federal Government Department contract that complements a further sub-contract it has in place with another US Federal Government department.
Here are some of the milestones WHK has achieved this quarter. You may want to get a cup of coffee, it's a long line of achievements:
Sub-contractor to Accenture Federal on a US$2 Billion Contract with US CIO Federal Government Department. Whitehawk's sub-contract length is 5 years (1 year with 4 option years). First year revenue to WhiteHawk is expected to be between US $300K to US$600K expected to grow between to US$1M to US$3M per year in subsequent years
WhiteHawk secured a sub-contractor role under the Prime Contractor on a newly awarded US$28 Million Contract for yet another US Federal Government Department. The Contract is for 7 years (1 year with 6 option years) and WhiteHawk's portion is expected to be between US$150K to US$300K for each year.
Signed contract extension with a top 12 defense industrial base that is the continuation of an initial 2 phase contract started in 2018 for a total of US$218k
New Global Sales Channel developed through integration with EZShield/Sontiq providing access to 27 million consumers in the US. Two additional contract discussions with Tier 1 US financial institutions and insurance groups already from this channel.
Commenced international expansion through partnership with Global Cyber Alliance
Oversubscribed placement of $2.5M.
Due to the sensitivity of the Cybersecurity Risk focused body of work we can't name the institutions, or the government departments, but what we can say is these contracts are with well known, tier 1 large organisations.
That is just a drop in the well of what WHK has achieved in the last three months. Now, having raised AU$2.5 million (before costs) in oversubscribed placement and with US$110,000 new invoices issued this quarter with payment expected in July, it has finished the quarter with a strong cash position of US$1.9 million.
That's cash that will be well spent as it looks to further roll out its cyber security solutions.
Given the size of the contracts signed and quality of the institutions on board, it's surprising the company is trading at a modest $15M market cap with almost $2M in the bank.
For now let's take a more detailed look at WhiteHawk's very busy quarter.
Reconnecting with: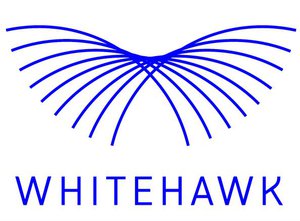 Share price: A$0.097 (at market open 31 July)
Market Capitalisation: A$15.32 million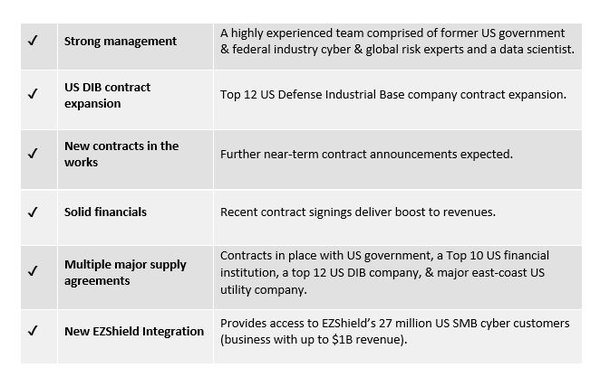 Opportunties abound for WHK
We have covered WhiteHawk (ASX:WHK) extensively over the past three months, since we first revealed the stock as our top pick of the year in the aptly named article: Our Top Pick for 2019.
Since then we have examined every milestone the company has hit.
You can read in-depth accounts of these milestones in the following articles:
Now, let's summarise these milestones just to drive home how busy the company has been.
A premiership quarter
Contracts with high security government instrumentalities in the US, including a top 12 US defence industrial base (DIB) group, as well as a five year (one year, with a four year option) sub-contract with a US$2 billion federal government department, are obviously the big ticket items.
First year revenue to WhiteHawk is expected to be between US$300,000 to US$600,000, and subject to final scoping by the Prime Contractor and customer, revenue is expected to grow between US$1 million to US$3 million per year in subsequent years.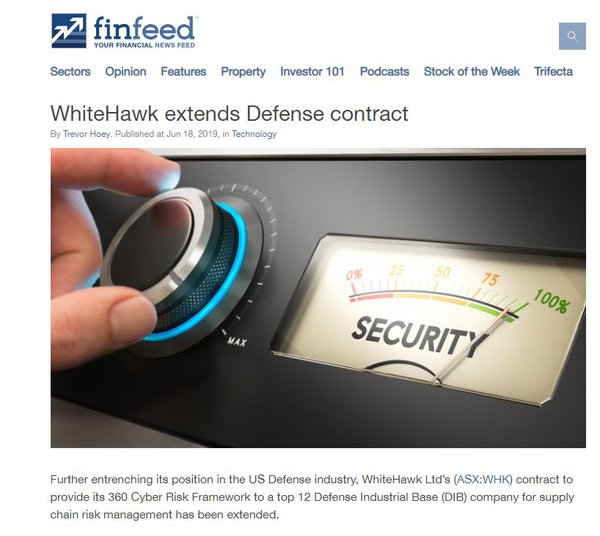 The numbers for these government contracts stack up.
Its third US Federal Government Contract with an unrelated national security department is for is for 7 years (1 year with 6 option years), with WhiteHawk's portion expected to be between US$150,000 to US$300,000 for each year. Its signed contract extension with a Top 10 US Defence industrial base is the continuation of an initial 2 phase contract started in 2018 for a total of US$218,000.
However, there are other significant developments to talk about, including the development of a global sales channel.
WHK has developed its global sales channels through integration with EZShield/Sontiq, which has led to three further contract discussions with financial institutions and insurance groups.
It's a game changer as this Finfeed articles attests: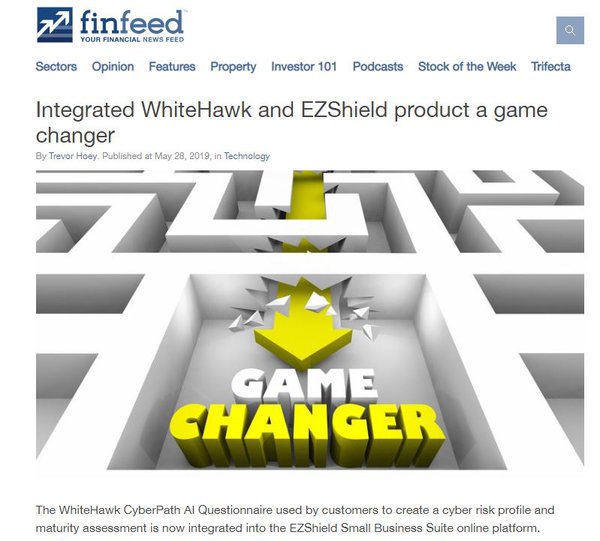 The WhiteHawk CyberPath AI Questionnaire used by customers to create a cyber risk profile and maturity assessment is now integrated into the EZShield Small Business Suite online platform.
EZShield is a pioneer and innovator of identity theft and mobile cybersecurity solutions with 18 years of history, over 27 million US consumers, and the benefit of strategic partnerships with financial institutions.
Then there is the new partnership with Global Cyber Alliance (GCA), whose mission is to eliminate cyber risk and improve the connected world by securing Internet of Things (IoT) devices and technologies.
This has been another key development in opening up international opportunities for WHK.
WhiteHawk will work with GCA to provide affordable and easy-to-implement cyber risk mitigation solutions to small and mid-size businesses (SMBs).
The partnership opens the door for WhiteHawk to proceed with its international expansion plans as it seeks to explore opportunities to enable SMBs on a global scale.
What's happening in product development?
WhiteHawk is continuing to improve its product offering, most notably with the advanced development of its 360 Cyber Risk Framework technology platform by automating generation of SMB Cyber Risk Scorecards.
This includes the redesign and implementation of the group's cyber threat questionnaire.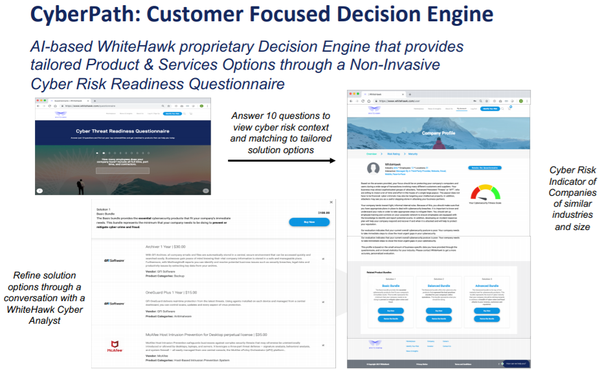 There has been a migration from content management system authentication to platform authentication.
User management has also been remodelled, resulting in improved tracking and management.
The separation of the client portal from open marketplace and insights website has provided improved security, stability and usability.
It comes at a good time
Cybersecurity threats have never been more pervasive.
From company security, to national security to FaceApp, the threats are real and seem to be growing by the day.
Several macro events highlight the severity of the situation.
President Trump's military action back down following the shooting down of a US RQ-4A Global Hawk surveillance drone, was backed up by a US Cyber Command retaliatory cyberattack on "an Iranian spy group that supported last week's limpet mine attacks on commercial ships.
The attack on the Japanese oil tanker could have ramifications for oil markets as Kokuka Courageous was hit around the same time as the Norwegian-owned Front Altair, which was hit by three explosions, according to the Norwegian Maritime Authority. The ships were in the strategic Gulf of Oman on their way toward the Indian Ocean.
The attack goes to a broader accusation against Iran for committing cyberattacks against oil and the oil and gas industry.
We are not going to detail the intricacies of the attacks or the retaliation, suffice to say there is no good that can come out of it, except a growing awareness of the crippling nature of a cyberattack.
That goes for SMEs as well.
As Joe Cardamone, senior information security analyst and NA privacy officer, Haworth says in relation to company acquisitions, "Acquiring a company without proper cybersecurity due diligence is like buying a used car and taking the seller's word it is in good condition."
The point is, everyone is vulnerable and that puts a company with a top-line cybersecurity solution in a strong position.
The final word
WhiteHawk finished the quarter in form with cash of US$1.9 million in the bank. It's a good position to be in as it looks to make its mark in the cyber security solutions arena.
It's an understatement to say this has been a busy quarter for the company, but there is more news to come shortly.
Should it have another quarter like Q2 2019, this will be a year to remember.
We have already seen a significant rise in share price and market cap on the back of its news releases and while this has come off slightly, we're are preparing for another potential rise.
Watch this space.
---