WHK Gains Access to Tens of Thousands of Small Business Customers as US-China Tech Cold War Emerges
PUBLISHED: 28-05-2019 09:58 a.m.
Even if you're not tuned into the tech-world, it's hard to avoid hearing of the commotion surrounding Huawei and the threat that its technologies are said to pose to free democracies.
Concerns around the Chinese telecommunications giant centre on its access to 5G telecommunications networks and the national security threats that access brings — Huawei has a history of alleged intellectual property theft and ties to the Chinese government.
But it goes much further than just a Huawei ban. News agencies the world over are reporting that a digital Iron Curtain had been drawn and we're entering a 'Tech Cold War'.
As explained by The South China Morning Post, "Recent US trade moves against China are not short term negotiating tactics from Trump, they are opening salvos in a new tech cold war that could upend the global supply chain and rewrite business orders worldwide".
Bloomberg also recognise that, "The U.S.-China Tech Cold War is about to spread, and will force leaders to make some difficult decisions", while The Australian expects the affects to be felt here: "Trumps Huawei ban signals the start of a tech Cold War that will entangle Australia".
The Australian Financial Review recently published an article, Do not dismiss US concerns over Huawei, by Brigadier General (retd) Robert Spalding, a former senior director for strategy at the US National Security Council.
Spalding asserts that Trump's executive order banning companies like Huawei from US networks is much more than a result of the current trade war. He explains that globalisation and the internet, "which initially looked like the harbingers of liberal democratic values, have been harnessed by dictatorships that use financial incentives, economic ties and information as tools to promote their agendas".
In fact, he sees a monumental shift taking place in the way in which wars will be fought, explaining that China, and others, "have even begun to redefine war as conflict between networks, highlighting growing capabilities to blind or destroy military and civilian systems at the outset of a conflict".
We are facing the unwanted side effects of technological innovation, and the rising cyber risks that are threatening commercial and political entities as well as national security.
In times like these, people want to know they are safe. Businesses want to know they (and their supply chains) are protected. Governments want to protect.
WhiteHawk (ASX:WHK) is delivering these protections and continues to bring partners on board who can facilitate the roll of out of cybersecurity protections.
After confirming multiple US federal government contracts in early May, the Next Tech Stock's Top Pick of the Year, WHK, has been busy.
Firstly, the company held its AGM on 8 May, during which it revealed that WhiteHawk has six ongoing open proposals:

Another interesting detail from the AGM was that "Each 360 Cyber Risk Framework sale (US$150K to US$2M, or A$215K toA$2.9M) drives online sales and advisory contracts," providing some more detail around contract values.
Secondly, on May 14, WHK took its first step towards expanding its global footprint and delivering truly international solutions, signing a new partnership with cyber risk reduction firm, Global Cyber Alliance (GCA). The pair will offer affordable and easy-to-implement cyber risk mitigation solutions to SMBs that protect the revenue and reputation of businesses and organisations globally.
Thirdly, also announced on 14 May, WhiteHawk raised $2.5 million via a small share placement and stated that it is "now well-funded to maintain current contracts and invest heavily in its strong pipeline of expected new contracts, including those in the financial services industry and Defense Industrial Base (DIB) sector".
Although specific details were made available, the placement announcement alluded to there being future contracts in the works. This would fulfil the three near term contracts mentioned in the annual report earlier this year.
All up, over the past month the share price has more than doubled, from 6.5c to 14.0c.
But we're not done yet. The company continues to ride the cybersecurity wave, and delivered a further update this morning.
Today's news highlights the diversity of customers for WhiteHawk's solutions, with the company reporting the integration of its cyber risk solution into EZShield's Small Business Suite.
In this new tech cold war, governments must have top level cyber protections. That includes securing the millions of businesses that make up the supply chains that service critical infrastructure – and this is WHKs specialty.
EZShield is a top financial fraud, identity theft and mobile defence company, which services small to midsized businesses (SMBs) in the US, and has a massive 27 million SMBs in its network.
WhiteHawk expect the integration to allow the company to reach tens of thousands of small to midsized businesses per year, with the potential to reach hundreds of thousands of SMBs.
What's also impressive is that this is the first integrated offering of its kind to combine identity theft, fraud, mobile cybersecurity and cyber risk impact. Also attractive to SMBs is that it's easy to implement and is an affordable tailored solution.
This news comes at a great time for WHK shareholders, right as the threat of cybersecurity — and the importance of having adequate and reliable cybersecurity solutions — is gaining major traction and taking the company's share price with it.
All the latest from,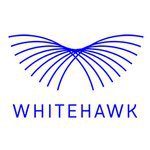 Share price: A$0.14 (at 27 May)
Market Capitalisation: A$21.88 million
Here's why I like WhiteHawk: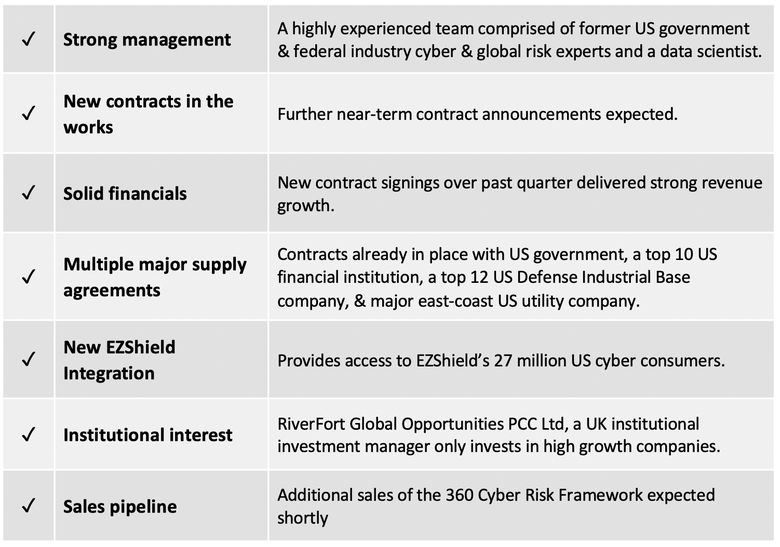 Virginia, USA based WhiteHawk (ASX:WHK) is the first global online cybersecurity exchange and AI driven cyber risk mitigation company. Its cybersecurity solutions enable small to midsized businesses (SMBs) to take smart action against cybercrime.
While still in its early stages, having listed on the ASX in January last year, and now trading at just 14 cents per share for a $21.88 million market cap, WHK is making some noise in a space that needs to be heard.
The high costs on the line due to the threat of cybercrime are beginning to gain attention, yet the threats are still to be adequately recognised by businesses of all sizes as well government entities the world over.
WhiteHawk is beginning to see the shift in government thinking towards cybersecurity and preventing cybersecurity events well before they take place. It has now signed three separate US Federal Government contracts or sub-contracts to provide cybersecurity solutions, plus a deal with a top 12 US Defense Industrial Base company.
But the company's solutions have a much wider reach than the US government alone as they are customisable to suit large corporate entities as well as delivering solutions to the tiniest of SMBs.
It does have contracts in place with a top 10 US financial institution and a major US east coast utility provider.
Yet SMBs also present significant market opportunity for WhiteHawk as most are massively underprepared or inadequately protected from cyber threats. In fact, a majority of SMBs that DO have adequate cybersecurity in place do so because they previously suffered a cyber event.
New EZShield Integration
To further boost its access to potential SMB customers, WHK has a new one-stop cybercrime and fraud prevention SMB offering — the WhiteHawk CyberPath AI Questionnaire — that is now integrated into EZShield's Small Business Suite.
The main point to note here is that WhiteHawk's new EZShield integration dramatically grows the company's access to tens of thousands of US SMBs.
Small and midsize businesses (SMBs) can now access their identity theft, mobile cyber security, fraud protection, and risk mitigation services through an integrated online user experience.
EZShield is a trailblazer in Mobile Threat Defense, as the only pure-play identity theft protection company to pair its product and services with mobile cybersecurity, thanks to its Mobile Defense Suite. It supports thousands of financial institutions through its award-winning solutions, delivered on a secure, flexible platform that is backed by best-in-class customer support.
Today's announcement follows the previously announced EZShield sales and service delivery partnership in March, which you can read more about here: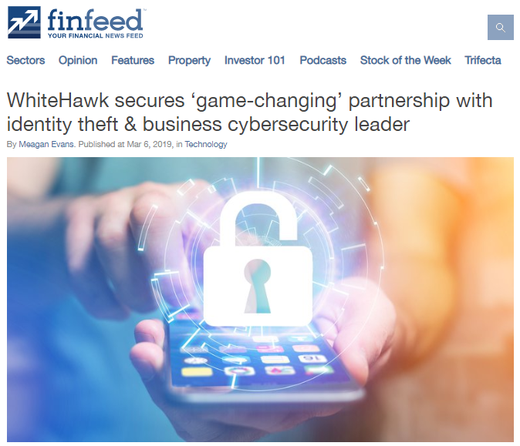 Through this latest SMB offering, the WhiteHawk CyberPath AI Questionnaire – which is used by customers to create a cyber risk profile and maturity assessment – is now integrated into the EZShield Small Business Suite online platform.
EZShield is a pioneer and innovator of identity theft and mobile cybersecurity solutions, with 18 years of history, over 27 million US consumers, and strategic partnerships with financial institutions. It offers small business protection by securing business information, proactively monitoring business and personal information, and preparing for and responding to fraud, identity crimes, and cyber threats.
WhiteHawk explain that the technical integration of these two powerful and innovative online platforms, creates a streamlined experience for SMBs to answer non-technical and non-invasive questions, view their WhiteHawk company cyber risk profile, and select relevant WhiteHawk products and service options including specific solution sets, or "bundles," to immediately mitigate their cyber risks.
All SMBs registered for the EZShield Small Business Suite will have immediate access to the WhiteHawk online CyberPath AI Questionnaire, which is expected to help increase market share.
Reaching so many SMBs via this expansion, WhiteHawk expects to further increase revenues by also selling Cyber Risk Profiles or Cyber Risk Scorecards.
Furthermore, WhiteHawk and EZShield are preparing to launch combined, integrated marketing campaigns throughout the year to bring this platform to even more SMB customers. And it's a solution that's much needed, provides affordable options and accessibility to world-class identity theft and fraud protection, along with critical cyber risk mitigation resources to all companies.
This partnership enables WhiteHawk to expand its SMB reach across all sectors in the US, and with this integration in place, the company expects to reach tens of thousands of SMBs per year, and has potential to reach hundreds of thousands of small businesses.
EZShield protects enterprises of all sizes through secure, digital identity protection and resolution services. The company is consistently recognised by Javelin Strategy & Research as a leader in Identity Protection, and was most recently awarded the 2018 Identity Protection Service Provider Best-in-Class award by the Wicks Group of Companies, L.L.C.
Founder and Executive Chair of WhiteHawk, Terry Roberts said of the integration, "This meaningful step forward in our strategic partnership with EZShield enables us to connect with thousands of organisations and companies thereby improving their resiliency and protecting their revenue and reputation. This is the affordable, integrated, game changing offering that the SMB market needs today and into the future".
Today's news strengthens not only the company's long term outlook, but it supports the current share price run that's been underway since its October lows. After a 22% jump yesterday, the stock is now up 250% since October 22.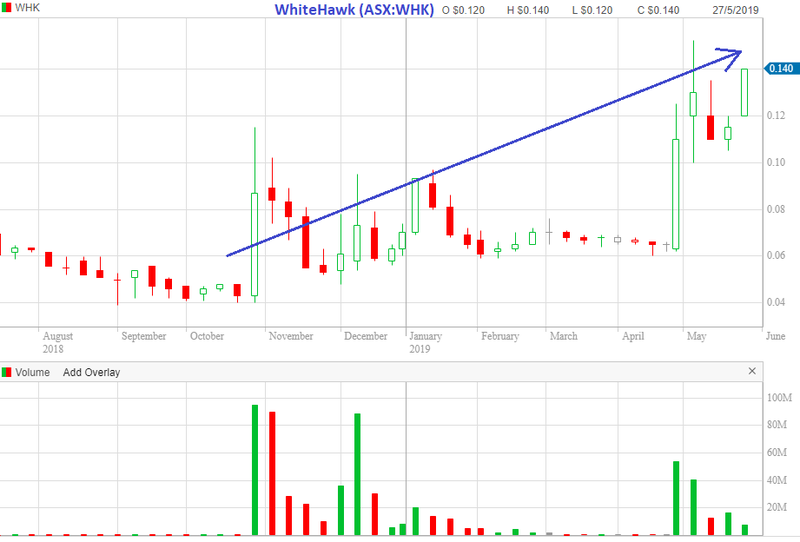 Growing suite of customers and strategic partners
Along with its focus on the needs of SMBs and in developing partnerships to get its solutions to businesses that need them, WhiteHawk also continues to bring in 360 Cyber Risk Framework sales to US Defense Industrial Base (DIB) and US federal government departments.
And that's not to mention its strategic partnership proposals with US financial institutions, insurance groups and major utility companies.
WhiteHawk has signed on a number of key US government departments (Department of Defense, Department of Homeland Security, the Intelligence Community) and government-owned utilities, who are highly targeted and in great need of an effective, affordable, and scalable cyber risk framework.
Here is a snapshot of some of WhiteHawk's recent contract wins and partnerships in addition to today's contract wins:
As cybersecurity risks and awareness grows, WHK continues to rack up important partnerships, alliances and revenue generating contracts including:
Strategic EZShield sales and service delivery partnership, and now WHK's CyberPath AI Questionnaire is integrated Into EZShield's Small Business Suite.
A US federal government contract supporting a large government department through the Chief Information Officer (CIO)
Cyber sub-contractor role on a five year, $2 BN (~A$2.85B) US federal government contract.
360 Cyber Risk Framework in support of unnamed top 12 US Defense Industrial Base (DIB) company with US$5BN in revenue for up to 30 companies and phase 2 being scoped for addition of vendors and framework services.
360 Cyber Risk Framework contract extension with unnamed US top 10 financial institution. Vendor Risk Management for 50 companies (phase 2 2019 purchased).
A real time partnership with Clarke & Sampson Insurance — a top US independent insurance agency that specialises in cyber liability insurance.
Key US government department contract to protect against supply chain intrusions.
Strategic partnership with US non-profit, Cybercrime Support Network.
Contract with a US nationwide non-profit healthcare sector organisation (customer and commercial terms remain in confidence).
Contract with a US utility sector customer that manages a power grid that serves 20%+ of all US electricity customers (again, details remain in confidence).
Executive Cyber Risk Management consulting services for US Federal Department of Homeland Security (phase 2 being scoped).
As you can see, WHK has an impressive list of partnerships and revenue generating contracts with major US institutions, federal government departments, and solutions for SMBs, with further contracts still expected.
Add to this the supportive macro scene as government and business entities recognise the rising threats of inadequate cyber protections and their potentially devastating consequences.
The stock's current uptrend could mean now is an ideal time to buy into this emerging ASX tech winner.
---