REVEALED: Our Top Pick for 2019
PUBLISHED: 01-05-2019 12:45 p.m.
For our latest update on this stock see: "A Wave of Cyber Attacks has Whitehawk (ASX: WHK) Primed to Run"
The Next Tech Stock is always on the look out for the next big thing and when we see something we like, we put our money where our mouth is.
We've gone hard on today's stock... and for good reason.
Because of the secretive nature of the business, the company has not been allowed to reveal the full magnitude of its contracts or its high profile customers and so has been flying under the market's radar...
We are proud to cover many emerging ASX stocks year after year.... but we have selected THIS STOCK as our Top Pick for 2019.
This tiny $8 million ASX-listed stock continues to announce major contracts linked to the US government, but the amount of detail disclosed is restricted by their customer and is not unexpected given the nature of the customer and the cyber security subject matter.
But today, after much anticipation, it has announced a cyber sub-contractor role on a five year, $2 billion US federal government contract.
It may be a small ASX stock, but its connections to US government run deep.
Plus, the space that this company is playing in just happens to be one of the most on-trend markets in the world today: cybersecurity.
Global cybercrime incidents are predicted to cost in excess of US$6 trillion each year by 2021. That's right, $6 TRILLION — more than double the 2015 annual global cost... Meanwhile, the global market for cybersecurity is expected to be worth US$248.3 billion by 2023.
This US-based cybersecurity company has developed a ground breaking AI driven marketplace of cybersecurity solutions; a one stop shop for meeting cyber business risk head on.
Today's five-year contract (one year with four option years), is expected to deliver between US$300,000 to US$600,000 in revenue. In the options years, that figure is expected to grow to $1 million to $3 million each year.
This most recent win follows last year's agreements with the US government, a top 10 US financial institution, a top 12 US Defense Industrial Base company, a major east-coast US utility sector company, and more.
Further still, it has a pipeline of more than 50 potential customers in mature stages of business development across the Defense Industrial Base (DIB), US government, and financial/insurance and utility sectors.
This win further supports the $8 million capped solutions provider's growth as it looks to secure its position as a major cybersecurity player.
It's shaping up to be a highly lucrative 2019 for this ASX stock and we as major, long term holders are glad to hear that the company is assembling an impressive list of clients and partnerships.
For the details on these latest contracts and more, let's catch up on our newly announced top Pick for 2019: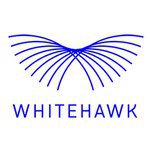 Share price: $0.064 (at 30 April)
Market Capitalisation: $8 million
Here's why we have selected WhiteHawk as out Top Pick for 2019:
New contract wins could be a game-changer
In what we expect to be a momentum building win, WhiteHawk (ASX:WHK) today announced that it has been awarded a cyber sub-contractor role on a $2 billion US federal government contract, supporting a large government department through its Chief Information Office (CIO).
Final delivery specifications are being scoped with the respective prime contractor and US federal government department.
Under the contract, which is for five years (1 year with 4 option years), WhiteHawk will provide an cloud-based IT services and modernisation, cyber risk management, cyber intelligence and innovation introduction and transition, as well as tailored cyber subject matter expertise as part of the prime contractor's team. Tasks in the contract will span the government department's operations nationwide.
WHK expect that in year one, it will generate between US$300,000 to US$600,000. In the options years, that figure is expected to grow to $1 million to $3 million each year.
However, investors should review the company's future quarterly and annual financial reports for more details on the financial implications of the contract.
WhiteHawk was awarded the contract by an Arlington, Virginia based company, which will serve as the primary contractor (prime) to the federal government department.
This prime is a leading global professional services company and its federal business division has served every cabinet-level department and 30 of the largest US federal organisations with clients in defense, intelligence, public safety, civilian and military health organisations.
Whilst WHK has not officially named the company, a quick Google search reveals multiple references to one company: the Fortune Global 500 and US$120 billion-capped Accenture (NYSE:ACN), with whom it has an existing strong relationship.
In this morning's announcement, WhiteHawk describe the unnamed prime contractor as follows:
"It is a leading global professional services company, providing a broad range of services and solutions in strategy, consulting, digital, technology and operations, with 469,000 people serving clients in more than 120 countries."
It seems that there are some similarities to Accenture's self-description:
"Accenture is a leading global professional services company, providing a broad range of services and solutions in strategy, consulting, digital, technology and operations. With 477,000 people serving clients in more than 120 countries..."
Interestingly, a further Google search on recent news about "Accenture" and "US federal government" reveals that Accenture has recently been awarded a recent $US2 billion contract with the US Department of Energy. Here's the news, straight from the source:

A further search on this deal reveals the following:

Interestingly, the above article details that Accenture's contract with the DoE to handle the agency's cloud migration is for five years and includes cybersecurity:
"Known as the CIO Business Operations Support Services, or CBOSS, contract, the five-year blanket purchase order agreement also covers cybersecurity and customer-centric solutions."
Could this be the contract for which WhiteHawk secured the role of cyber sub-contractor?
As we have said, the company is yet to be named and this is mere speculation on our part. If you do consider investing in this stock, please refer to all facts outlined by the announcement.
Whoever the company may be, we are confident this contract will add to WHK's overall growth, which is also being supported by its growing number of sales channels.
WhiteHawk Sales Channels
As highlighted in yesterday's Quarterly Report, WhiteHawk continues to refine and execute over four primary sales channels that are designed to drive small and midsize entities to the WhiteHawk online platform.
The 360 Cyber Risk Framework for major US Defense Industrial Base (DIB), US top 10 financial institutions, and US government. The framework is designed to identify and mitigate the cyber risks of large business supply chain and vendor companies. There is an upfront sale of a tailored version of the Framework and the risk scorecard and mitigation services for each vendor as needed. Business development traction with the Defense Industrial Base and US federal government.

To scale small medium enterprise (SME) sales for the WhiteHawk online platform, WHK has partnered with financial fraud, identity theft and mobile security leader, EZShield (further discussed below).

WhiteHawk's partnership with the US Cybercrime Support Network, as a primary response arm for small and midsize entities which have suffered a cybercrime or breach. CSN fraudsupport.org website became active for WhiteHawk in December 2018 and US state pilots will run throughout 2019.

WhiteHawk is teaming with US federal contractors on US government cyber innovation work in 2019. These include Accenture and Engility/SAIC.

WhiteHawk products and services
Here's a quick overview of WhiteHawk products and services:
WhiteHawk Customer Journey – "Know & Mitigate Your Cyber Risk".
Industry Context: Understand shared risks for companies of your size and scope globally.

Security Rating: A scorecard of your critical risk indicators leveraging open data sets and AI.

Cyber Maturity Transformation: Your interactive cyber risk tool and maturity model.

CyberPath: AI-based decision engine that recommends products and services through a non-invasive Cyber Risk Readiness Questionnaire.

Cyber Exchange: Hundreds of best of breed, affordable products and services.

360 Cyber Risk Framework for Supply Chain and Vendor Companies: monitors, identifies, prioritizes, and mitigates cyber risks across third party suppliers and vendors.

SMB Offerings: Affordable and accessible products and services for small and midsize businesses who do not have an in-house cybersecurity officer or expertise.
WhiteHawk is experiencing heightened demand for its solutions as the importance of adequate cybersecurity comes to light...
Cyberattacks becoming more prominent
Australia's Federal Parliament, for one, will be taking cybersecurity more seriously after a cyber-attack in February. Prime Minister Scott Morrison revealed that a "sophisticated state actor" had targeted the Parliament House computer network and the country's three major parties.
While it's not entirely clear who was behind the attack, China is high of the list of suspects, while Morrison said Russia couldn't be ruled out either.
The attack came as Chinese and Iranian hackers targeted multiple US government agencies, and dozens of banks and other businesses with aggressive and extensive attacks. It's believed that the attacks were more extensive than reported as firms tend to only reveal hacks that compromise customer data.
There was also speculation earlier this year of there being another cyber-attack targeting Facebook and its more than 2.3 billion users. Beginning with the #facebookdown hashtag on Twitter, news did the rounds that Facebook and Instagram were suffering an outage. Speculation quickly turned to a cyber-attack, although the cause remains unclear at this stage.
Scares like these are seeing individuals, businesses, and federal governments worldwide waking up to cyber threats. Fortunately, many are finally recognising these threats are adopting appropriate cybersecurity solutions.
This trend is reflected in WhiteHawk's recent partnerships and sales contracts, with today's two cyber sub-contractor roles the latest of many that the company has been awarded since listing on the ASX last year...
Strong and growing suite of customers and strategic partners
WhiteHawk has honed its sales focus with increased attention on 360 Cyber Risk Framework sales to the US Defense Industrial Base and US federal government, and to strategic partnership proposals with US financial institutions and insurance groups for small and medium business customer services.
The company has also upped its focus on the US utility sector, which, generally speaking, is lacking adequate cyber protections and facing serious repercussions if greater cybersecurity solutions are not implemented.
The company has signed on a number of key US government departments (Department of Defense, Department of Homeland Security, the Intelligence Community) and government-owned utilities, who are highly targeted and in great need of an effective, affordable, and scalable cyber risk framework.
Here is a snapshot of some of WhiteHawk's recent contract wins and partnerships in addition to today's contract wins:
EZShield sales and service delivery partnership.

360 Cyber Risk Framework in support of unnamed top 12 US Defense Industrial Base (DIB) company with US$5 billion in revenue for up to 30 companies and phase 2 being scoped for addition of vendors and framework services.

360 Cyber Risk Framework contract extension with unnamed US top 10 financial institution. Vendor Risk Management for 50 companies (phase 1 2018, phase 2 2019 purchased).

A real time partnership with Clarke & Sampson Insurance — a top US independent insurance agency that specialises in cyber liability insurance.

Key US government department contract to protect against supply chain intrusions.

Strategic partnership with US non-profit, Cybercrime Support Network.

Contract with a US nationwide non-profit healthcare sector organisation (customer and commercial terms remain in confidence).

Contract with a US utility sector customer that manages a power grid that serves 20%+ of all US electricity customers (again, details remain in confidence).

Executive Cyber Risk Management consulting services for US Federal Department of Homeland Security (phase 2 for 2019 being scoped).

We took a more in depth look at those signed prior to December 2018 in previous articles that are available here: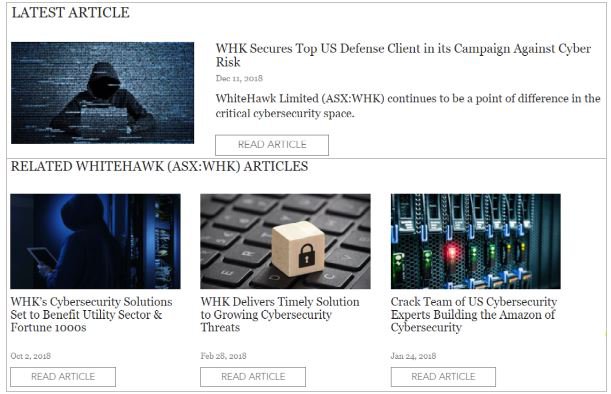 Furthermore, the company maintains a strong pipeline of more than 50 potential customers in mature stages of business development across the Defense Industrial Base, US government, and financial/insurance sectors.
The EZShield deal could be a game changer
A deal finalised in early March, was a ground-breaking integrated sales and service delivery partnership with EZShield. The strategic partnership will see WhiteHawk expand its reach to potentially thousands of small and medium enterprises in need of cybersecurity protections across all sectors in the US.
EZShield is a pioneer and innovator of identity theft and mobile cybersecurity solutions, with 18 years of history, over 15 million consumers, and strategic partnerships with financial institutions.
It offers small business protection by securing business information, proactively monitoring business and personal information, and preparing for and responding to fraud, identity crimes, and cyber threats.
Starting in June 2019, EZShield SME customers will receive the WhiteHawk Cyber Risk Profile, Report and online consulting, product and service offerings. The partnership will also bring customers from the financial and insurance sectors, among other industries, to WhiteHawk.
The partnership offers major US financial institutions and US and international insurance groups the ability to leverage an affordable, scalable fraud and cyber risk offering to their SME customers (bank loans or cyber liability insurance policies) that directly mitigates customer cyber risks threats.
These financial institutions and insurance groups can use the service as a competitive discriminator. While for WHK, the partnership to service financial institution SMB customers (5,000 to 400,000 SMEs with each contract worth US$3.2 million to US$21.6 million) will drive increased online sales.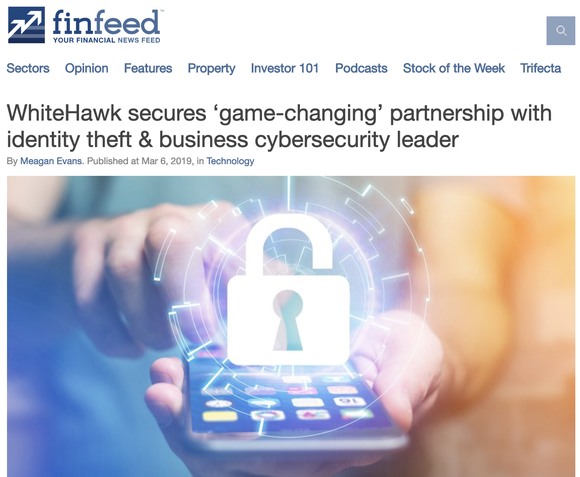 WHK attracts institutional interest
Other company news since our last update in December details a capital raising with an institutional partner which you can read about here...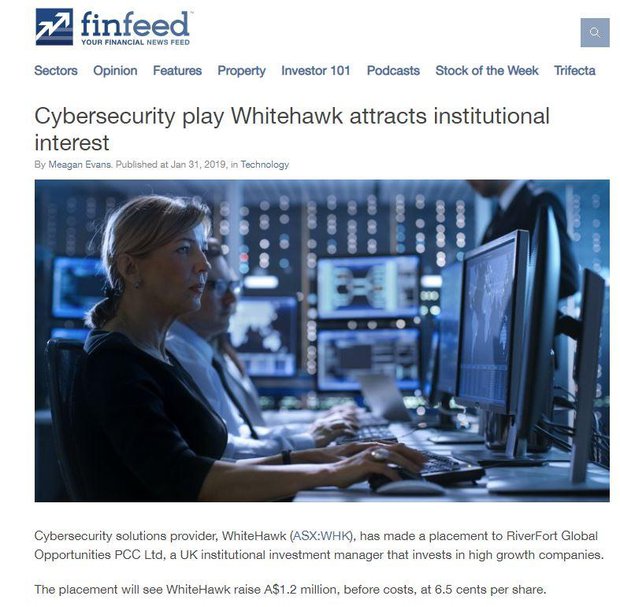 To support growth, WHK made a share placement in January to RiverFort Global Opportunities PCC Ltd, a UK institutional investment manager that invests in high growth companies, to raise A$1.2 million, before costs, at 6.5 cents per share.
Of this, A$400,000, less costs, was earmarked for working capital purposes. The funds will support additional 360 Cyber Risk Review contracts, a push into the global insurance sector for cybersecurity products, and channel marketing of the WhiteHawk Exchange.
The remaining A$800,000 involves an equity swap with RiverFort. The plan is for WHK to be able to benefit from anticipated rises in the share price during the 12 month equity swap period.
WHK expects that rising revenues and potential additional 360 Cyber Risk Review contracts with US government and US corporations in the insurance, utility, defense and financial sectors, will lift the share price (to its benefit) under the equity swap with RiverFort.
What's going on with the share price?
Since listing on the ASX in early 2018 at 20.0 cents per share, the company's share price dropped to a low of just 4.0 cents last October.
Since then the stock has attempted a comeback with sharp rallies on high volume associated with a number of contract wins — as listed above.
While the stock is now up from its October lows, it's been hovering around the 6.4-6.7 cent level recently, which, while not at 52-week low levels of 4.0 cents, still offers exceptional upside potential.
I expect the price to recover as potential further contracts are announced and more details of the newly inked deal is made available.
Do keep in mind that WhiteHawk has contracts with major US federal government departments and large corporates that have strict disclosure considerations and involve highly sensitive information, so it's understandable that they can take a lot longer to materialise or details withheld.
Yet the deals are coming through and WHK continues to assemble a suite of high quality contracts with major US federal government departments, major utilities and financial institutions.
Frankly, this company has a whole lot more upside than its miniscule $8.1 million market capitalisation suggests.
Revenues heading in the right direction
Taking a look at the financials for the last financial year, reveals that the 360 Cyber Risk Framework sales channel in government, Defense Industrial Base and financial institution markets, saw some nice revenues traction resulting in a rise in total revenues from US$86,000 in 2017 to US$507,000 in 2018.
Revenues also jumped in the first quarter: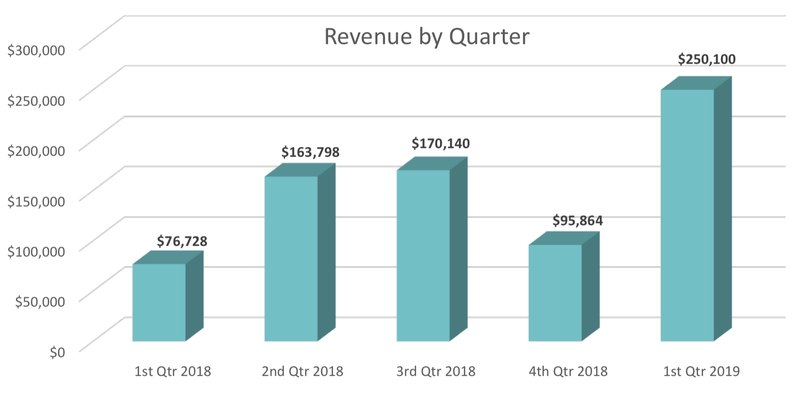 Furthermore, WHK has US$898,000 (~A$1.3 million) in contracted revenue for CY2019 (not including the newest contract win), plus a strong pipeline of opportunities across currently operating revenue streams.
I'm optimistic that this revenue growth will continue if today's contract signing, for one, is anything to go by, even though the exact annual dollar figure to WhiteHawk cannot be disclosed yet.
Unfortunately, this is similar to how WHK can't disclose the names of the top 10 US financial institution and the top 12 Defense Industrial Base company that it has contracts with.
It's a challenge when analysing a company that operates in the sensitive area such as cybersecurity. And this becomes even more sensitive when dealing with large corporate entities and US government departments that may not wish to draw attention to the fact that their cybersecurity and protection of personal customer information has been inadequate.
Yet WHK's November contract signing to provide a tailored version of its 360 Cyber Risk Framework to US government departments to protect against supply chain intrusions, plus its December signing of the contract to roll out 360 Cyber Risk Framework for a top 12 Defense Industrial Base company, along with the six month contract extension with US top 10 financial institution, not to mention today's contract, are more than enough reason for confidence that revenues will continue to head in the right direction through 2019 and beyond.
Also adding to this year's financial outlook is the fact that delays in US government execution of contracts won in 2018, will see some revenues that were expected in 2018 roll over into the 2019 financial year.
WhiteHawk into 2019 and beyond...
With confirmation of ANOTHER US federal government contract now in place, we'll be keeping an eye out for further details.
Specifically, we'll be watching for more details around the contract announced this morning, and shouldn't be disappointed, with the company noting, "Formal announcements of specific governmental departments and prime contractors are forthcoming. Release of such details is currently pending approval from the customers".
We'll also be watching for additional partnerships and sales contracts in the months ahead.
Already, WhiteHawk has penetrated the US federal government, US financial, US healthcare, US utilities, and the US Defense Industrial Base and continues to build in each area, so we've no reason to expect it won't continue to further expand its services.
The upside for this company goes so much further than just its own technology, management's experience and contacts, and its big name (plus unnamed) contracts wins. Driving all this is the growing need for adequate cybersecurity protection — a major macro force that will propel WhiteHawk as it delivers crucial solutions.
---