What's Happening to the CPH Share Price?
PUBLISHED: 02-12-2020 09:35 a.m.
Over recent days, Creso Pharma (ASX:CPH) appears to have gained some significant momentum.
Even though we have been burnt by CPH in the past, in October we decided to take a position at 3c after CPH cleared out its debt and appeared to have bottomed out.
At the time, we believed there was potential for a share price rise before Christmas - this seems to be eventuating now.
There are few things that appear to be going CPH's way right now. The most important of these are:
A growing number of Purchase Orders (including today's of A$414k), which should soon equate to revenue, and also compare favourably to its medical cannabis peers.
The appointment of former Canopy founder Bruce Linton as an Advisor to CPH.
Regulatory Tailwinds. This includes the recent ruling by the EU's highest court, the CJEU, which ruled that cannabidiol isn't a narcotic drug and as such CBD can be freely sold in the European Union (EU). This bodes well for sales of CPH products in Europe.
In the rest of this article we will unpack these details, starting with the purchase orders that should generate decent revenues for CPH.
Please note, CPH is a highly speculative investment, and we are curious to see how the company's strategy will play out over the coming months.
Purchase orders continue to flow in
Three new purchase orders for Creso Pharma's anibidiol® line of animal health products were signed today, to a value of $A$414,000.
Not only do these orders take total purchase orders generated through Creso's animal health segment to ~A$975,000 for 2020, they highlight the demand for innovative products across Europe in this space.
Creso continues to generate revenue from subsidiary, Canadian Licensed Producer Mernova and it continues to receive purchase orders.
Demand for CPH's products in particular vindicates its strategy of investing in its animal health business.
Revenues in the first half of 2020 were A$529,687 in the animal health segment
Creso expects to ship orders to commercial partners in Europe in the coming weeks.
Those partners will then market the products to consumers more broadly.
Creso has been able to navigate stringent regulatory requirements for marketing hemp products across Europe and progressing growth initiatives in difficult market conditions.
Demand for the products remains high and these additional POs serve as further confirmation of the success of the anibidiol® product line in the rapidly growing European animal health market.
The product uptake since 2017 continues totalling 4 million anibidiol® doses in purchase orders.
Creso is continuing to explore plans to expand its animal health portfolio with additional innovative products such as various hemp-flour and hemp seed oil products. With growing demand for its existing products, the Company is also progressing strategies to increase its footprint in the sector.
"We expect the animal health segment to continue to grow, with additional purchase orders expected in the coming months," Creso Pharma Commercial Director Jorge Wernli said.
"Management are also exploring a number of ways to further unlock the market, and we believe we are well-placed to progress a number of initiatives to grow our footprint in this space."
Changes may well be made easier by recent regulatory movements, with Creso seeing the EU and global markets expanding rapidly and the company extremely well positioned to benefit from this.
Lending advisory support in rolling out its products, among other things, is Canopy Growth founder and former CEO Bruce Linton, who is now a strategic advisor to CPH .
Bruce Linton: A significant appointment
Bruce Linton is one of the most well-known figures in the cannabis industry. Mr Linton was the founder and CEO of Canopy Growth (TSX: WEED | NYSE: CGC), building that company from a fledgling start up into a US$15BN market cap powerhouse at its peak.
What has really caught our eye is the fact Mr Linton shares a Board seat at MindMed with CPH co-founder Dr Miri Halperin-Wernli.
MindMed Inc (NEO: MMED) discovers, develops and deploys psychedelic inspired medicines to alleviate suffering and improve health. It has a pipeline of psychedelic drugs in clinical development and R&D.
Mindmed is currently capped at $600M CAD ($628M AUD).
We are keen to see what value Mr Linton and Dr Halperin-Wernli can bring to CPH holders over the coming months, off the back of their successful work at Mindmed.
With Mr Linton in its corner, CPH is also well positioned to take its products to new markets, especially as regulations open those markets up.
Regulatory changes to open up cannabis to the wider community
Regulations the world over are now working in favour of cannabis-related companies, particularly CPH.
Australia:
Just last week in Australia, the Therapeutic Goods Administration (TGA) reaffirmed its position regarding a major regulatory change in the distribution of cannabidiol (CBD) products in Australia.
The final decision is expected to be delivered in late December 2020 and recommends that CBD products be down scheduled from schedule 4 and classified as schedule 3 medicines in Australia, which would allow Australian consumers to purchase CBD products over-the-counter (OTC) through pharmacies without the requirement of a prescription.
Read: Creso Pharma to benefit from OTC cannabis sales in Australia
December's changes will be welcome but strict, with CBD content having to be at 98% or less, with the remaining 2% allowed to be any of the other 100+ phytocannabinoids found in hemp.
This decision to down schedule cannabidiol (CBD) products to schedule 3 medicine would allow Australian consumers to purchase CBD products following consultation with a pharmacist without the need for a prescription.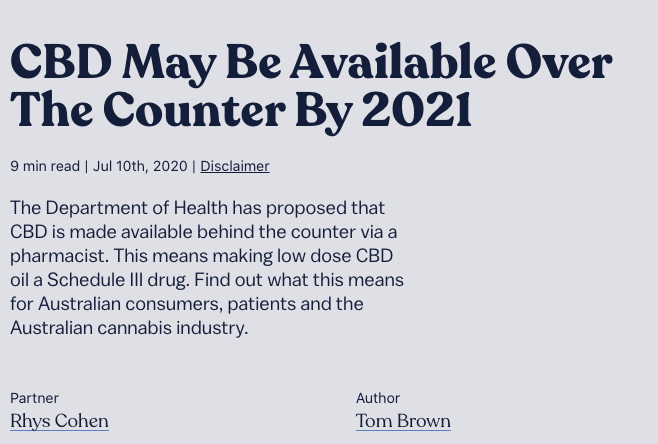 Once the announcement is made official, a doctor when writing a prescription will be required to fill out a Special Access Scheme (SAS) – an official petition to the TGA to allow patients to access CBD oil under the Australian medical cannabis program.
At the moment, doctors can only prescribe approved items by the Australian Register of Therapeutic Goods (ARTG).
For Creso, the potential down scheduling of CBD products in Australia could unlock a major market for its CBD and hemp products.
It is estimated that the local market is currently at over $200M per annum and growing.
CPH already has products available on the Australian market.
Its cannaQIX® 50 is currently being sold in Australia as a medicinal cannabis product under the 'LozaCan' brand via distribution partner 'Burleigh Heads Cannabis' (BHC).
Creso has also developed a wide range of CBD and hemp-oil products under the cannaQIX® brand, using its proprietary and innovative delivery technology which it expects to sell in Australia following any favourable decision.
The cannaQIX® range is manufactured under Good Manufacturing Practice standards and provides consumers with a standardised formulation and precise dosage measurement.
The European Union:
On 19 November 2020, the Court of Justice of the European Union (CJEU) ruled that member states must not prohibit the marketing of lawfully produced CBD.
Further, the CJEU ruled that CBD is not considered a narcotic, and as a result, CBD can be freely sold in the European Union (EU).

The decision plays in favour of Creso, which has commercial agreements in place within the EU.
The court ruled on two crucial points for the industry.
Firstly, that CBD "does not appear to have any psychotropic effect or any harmful effect on human health" (it was noted that CBD in question was extracted from cannabis sativa, grown legally, and with THC content not exceeding 0.2%). Therefore, CBD should not be considered a narcotic drug within the meaning of the United Nations Single Convention on Narcotic Drugs, 1961.
Secondly, the CJEU found that the provision on Free Movement of Goods within the EU (Articles 34 and 36 TFEU) were applicable as CBD is not a "narcotic drug".
You can read about the case that brought this decision to bear in the recent Finfeed article below: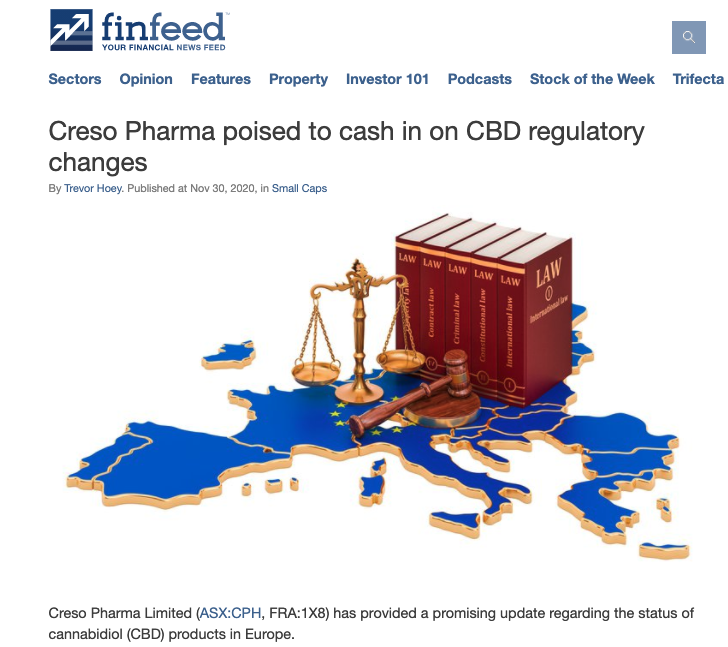 Importantly, Creso is well-funded to pursue a number of initiatives that now present themselves due to this ruling.
The company already has commercial agreements in place in the Iberian markets, and in August signed a commercial agreement with DHS Business Portugal to introduce the group's products into the Portuguese and Spanish markets, effectively expanding the company's presence in Europe.
Certainly new jurisdictions are opening up and complementing the recent strong demand for its products in Canada and South Africa.
Non-executive chairman Adam Blumenthal said, "The European market has always played an important role in the company's growth trajectory and the most recent regulatory shift will allow us to continue to progress a number of near-term initiatives, engineered to unlock value for shareholders."
The final word
Things seem to be looking up for Creso.
Regulatory announcements freeing up the sale of CBD products across Europe and in Australia, pave the way for the company to distribute its products further and faster.
With purchase orders for its anibidiol® product line increasing in Europe, these regulatory announcements couldn't have come at a better time for CPH.
The company is currently debt free, is generating revenue and has assigned Bruce Linton to its Board.
That all adds up to an optimistically cautious position on our part and a potential favourable outlook for its share price.
Here's why we like it: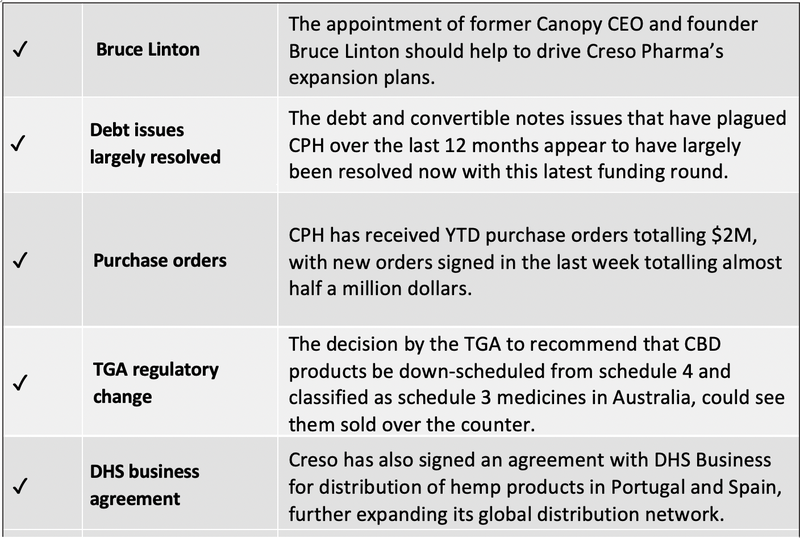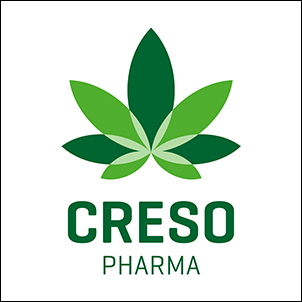 Creso Pharma
ASX:CPH, FWB:1X8
---