We Think it's Finally Time for TTM - Timed to a Turn in the Gold Price?
We first invested in Ecuador gold explorer Titan Minerals (ASX:TTM) in July 2020, and after a slow start we decided to increase our position in TTM a few weeks ago, here is why:
We want to see the upcoming drilling to expand their potentially giant Ecuador gold project: Dynasty.
After waiting for over a year, we almost added to our TTM position two months ago after TTM had successfully completed the annoying but important corporate restructuring of their license holdings AND announced they had bolstered their management team including a new chairman with an excellent track record of building value in similar companies... TTM is now ready to focus back on drilling Dynasty.
But the final missing piece of the puzzle for us was funding, which TTM sorted out 2 weeks ago by raising $18M via a placement at 10c - we tripled our holding size in TTM.
As investors we are most interested in the high impact drilling of Dynasty over the next 6 months, with 6 rigs concurrently working to hopefully deliver some share price re-rating results.
We have been looking to increase our exposure to gold stocks recently, while sentiment for the sector is low - we like to invest in "out of favour" sectors and wait for the market to turn.
We were buying battery metals stocks in 2019 when they were unloved, and oil & gas stocks in 2020 when they were unloved - so investing against the general sentiment and holding until it turns has worked well for us in the past (it takes patience though and can have long boring bits).
We think gold will have its run very soon.
Here is why we first invested in TTM - none of this has changed:
TTM is an advanced stage gold stock, already armed with a 2.1 million ounce gold resource (foreign estimate) in Ecuador.
TTM has a bunch of historial assays (drill results), and had a clear plan for drilling out the resource for building much bigger scale into the resource size, and converting it to a JORC resource.
TTM has also got two porphyry projects which give the stock a bit of unknown upside which we like - drilling porphyries can be very exciting and we like the look of TTM's.
After we first invested, TTM progressed its projects and execution plan much slower than we expected. For the last 12 months, TTM has been busying doing some very important tasks that don't necessarily set the market on fire, but had to be done before a share price re-rate can be achieved:
A corporate restructure was completed following the acquisition of the projects, long, hard, thankless work that investors find boring, but sets up the next share price re-rate.
Divestments of non-core assets, including one for US$15M cash (there are still US$5M in cash payments to come in 2022) - more cash in the bank and an easier value proposition and narrative for new investors to understand.
Established social license with the majority of local communities.
We always liked TTM's assets, so patiently held the majority of our position despite a lack of newsflow - the shares traded sideways for most of 2021.
With the corporate housekeeping complete, over the last few months TTM has strengthened its team, and has just raised $18M at 10c via placement - which we participated in.
Now with at least $18M in the bank, the corporate work behind it, a strengthened team (which we will go into further down), and SIX drill rigs punching holes into Dynasty right now - we think 2022 will be the year for TTM.
Here is what we want to see from TTM over the next 6 months on its three main projects Dynasty, Copper Duke and Linderos:
JORC Resource Estimate at its flagship Dynasty gold project in Ecuador (Q4 2021)
Continued drilling at the Dynasty project leading into a resource upgrade
Commence metallurgy studies at Dynasty
Geophysics Program at Copper Duke (leading into a maiden drilling program in the second half of 2022)
Follow up drilling at its Linderos Gold project
Following the $18M raise we think TTM should have sufficient funds to deliver the long awaited JORC resource at Dynasty AND (more importantly in our view) determine just how much bigger it could become with more drilling, as well as drilling a few of their other projects we like.
With six drill rigs turning at Dynasty right now, we are expecting a lot of newsflow from TTM.
So let's take a closer look at TTM and what to expect over the next few months.
Building up a Dynasty?
TTM's flagship and most advanced project (and our favourite) is Dynasty, located in the Loja Province of Southern Ecuador - this is the project we are most interested in.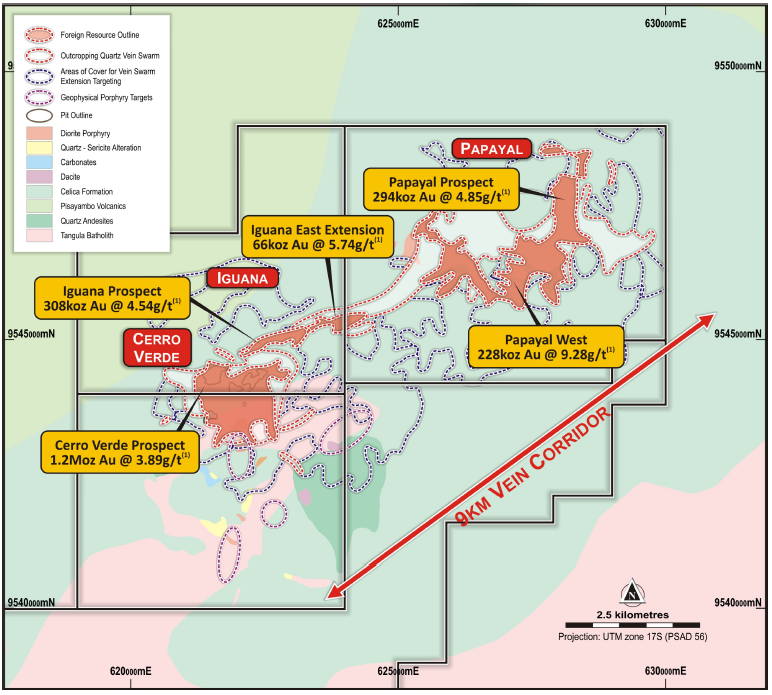 Simple summary: Basically the coloured in areas show the known resource, and the areas shown in "dashed outline" is where there is POTENTIAL for TTM to extend their resource with the upcoming drilling - THIS is what we are watching out for and we will be providing our opinions and comments on the results as they are released to market.
Dynasty already hosts a sizable non-JORC resource, 2.1Moz at 4.5 g/t gold (Au) within its 139km2 acreage.
JORC is the standardised language for listed mining companies. It allows investors and the market to compare and contrast other companies with a JORC resource.
TTM will re-classify its current resource into a JORC resource, so that Australian investors and institutions can compare it to the deposit of other gold companies.
We think that the more interesting thing is however, how much bigger can the resource grow and scale over the coming months, this is primarily done through drilling and will lead to a resource estimate upgrade.
We think this upcoming JORC resource will establish a baseline for TTM's value, with plenty of upside as it continues to test the extremities of the current deposit.
TTM has 6 drill rigs operating at Dynasty now, looking to extend the resource (to the areas outlined with dashes), even in areas outside the current deposit.
Geologically, Dynasty is an under-explored epithermal vein system within a 9km long corridor, with mineralisation open along strike and at depth
The project is close to existing infrastructure, has strong local support and is fully permitted, having seen small-scale open pit mining under the previous owners.
The 'low hanging fruit' to come is re-classifying the resource to JORC standards - which we expect will happen by the end of the year.
But beyond the classification into a JORC resource, we think that there is more gold to be found, and in time, Dynasty's full size will be revealed. Any resource upgrades will further add value to TTM.
The A-Team assembled
In recent months TTM has bolstered its team, attracting some industry heavyweights to both the board and management.
Our belief is that these people would not have joined TTM's project if they didn't see more upside potential in its assets.
NEW: Peter Cook joins as Chairman - also chair of Westgold Resources an $800M market cap company and now a Top 10 ASX domestic gold producer.
Most notably, TTM announced in July the appointment of well-known, highly experienced mining executive and entrepreneur Peter Cook as Chairman.
Investors who have followed Mr Cook will have done well from several of his other companies, in particular the $800M capped Westgold Resources (WGX:ASX), now a top 10 ASX-listed domestic gold producer.
Cook has decades of experience in building large gold companies - and we are excited to see what he can do with TTM.
NEW: Mike Skead joins as Exec VP of Exploration - ex Newmont, Goldcorp and Randgold.
Last month, Michael Skead was appointed as TTM's Executive Vice President of Exploration. He previously held senior management roles at several mining giants, including as Director of Geoscience at Newmont, Director of Global Exploration at Goldcorp, as well as Randgold Resources.
NEW: Barry Bourne joins as Director - ex Barrick Gold.
Last week, TTM added Barry Bourne to the team as non-executive director. Bourne previously worked at Barrick Gold with six years in-country experience within developing nations. His advanced knowledge for targeting both epithermal and porphyry mineralisation is going to prove invaluable, given TTM's 3 key projects fit the profile.
With the TTM team now strengthened, the short term goal is to bring the Dynasty resource into JORC-classification.
However, the bigger picture remains to determine just how big the Dynasty can become.
Why we think TTM's Dynasty asset can grow much bigger
An initial 54-hole, 12,000m drilling campaign is progressing, with assays returned for the first 18 holes at the priority Cerro Verde zone.
What the results have demonstrated to date is significantly higher vein density, supporting the potential for bulk tonnage mining over some areas.
In addition, assays have shown mineralised haloes up to five times wider than previously modelled. High-grade gold mineralisation has now been encountered outside of the existing resource, and Cerro Verde remains open along strike and at depth.
Longer-term exploration is expected to target depth and strike extensions of vein-hosted mineralisation, testing the extent of "bulk mineable" halo gold mineralisation adjacent to the quartz veining, as well as test for previously unidentified mineralisation under cover.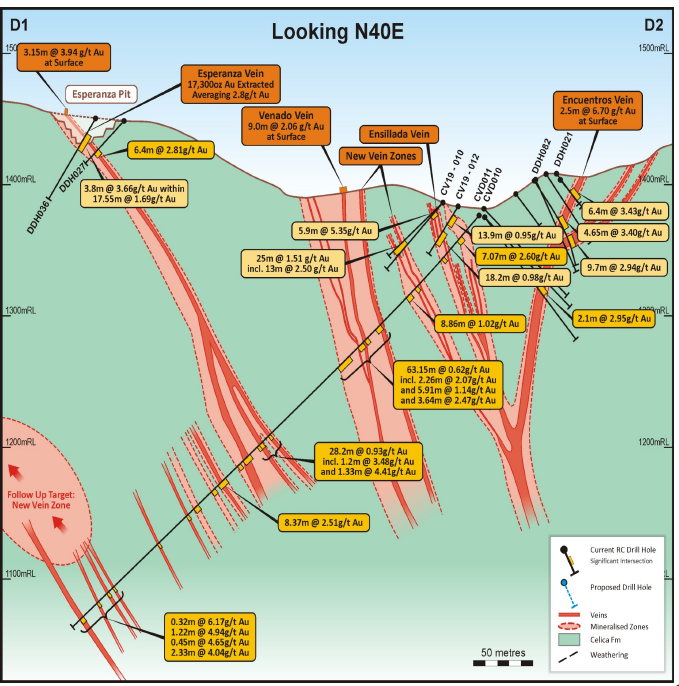 We believe the presence of "bulk tonnage" halo gold mineralisation and higher vein vowed from the outset of his campaign to promote foreign investment in the mining industry and cut tariffs on heavy equipmentng the company forward, will determine to what extent.
But with several majors already operating in country, we suspect that the larger the resource at Dynasty, the more appealing it will be for a bigger player to want a piece - either as a strategic partner or on the TTM register.
Porphyry prodding in the pipeline
While TTM's Dynasty Project is what we invested for, The two other TTM assets we would like to see progress in 2022 are:
Linderos Project – Copper porphyry and epithermal gold style mineralisation - located 20km south of Dynasty
Linderos boasts significant copper anomalies at surface, associated with gold-copper porphyry system style mineralisation, and also hosts a recent discovery of high-grade epithermal style gold mineralisation at surface that merits further exploration.
Copper Duke Project - Copper porphyry - located 18km east of Dynasty
Copper Duke has tier-1 potential, but requires more work. The Project plays host to multiple porphyry intrusions, and features extensive copper-gold and quartz-hosted gold veining outcropping at surface.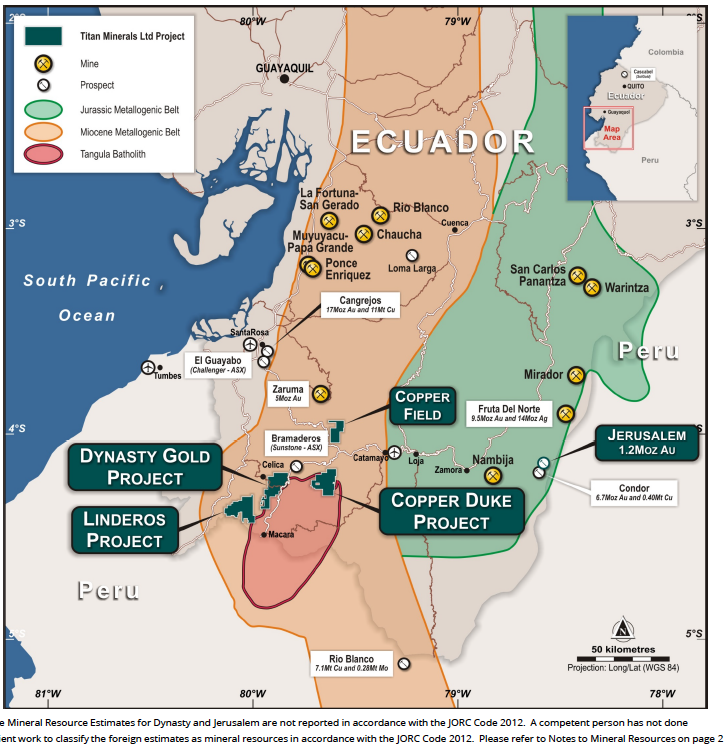 Country risk: Is Ecuador risky?
In years past, Ecuador has had a chequered history for mining companies, but has made significant progress in the past 8 years as an investment destination.
Indeed, we'd go as far to say that it has now emerged as a global exploration hotspot.
This can be seen by the presence of several majors now active in the nation, including BHP, Fortescue, Anglo American, CODELCO and Newcrest. On the junior front, besides TTM, Sunstone (ASX: STM) and Challenger Exploration (ASX:CEL) have been making good progress with their Ecuadorian projects over the past 12 months.
The investment friendly Mining Code introduced in 2015 has had a great impact for the domestic exploration and mining activities, leading to a significant increase in both. Of note are Solgold's recent Alpala copper gold discovery (10Mt Cu/23Moz Au), and successful mine developments at Lundin's 300kozpa Fruta del Norte gold mine and Chinese-owned ~130ktpa Mirador copper mine.
Elections were held in Ecuador earlier this year and new President Guillermo Lasso vowed from the outset of his campaign to promote foreign investment in the mining industry and cut tariffs on heavy equipment.
So the country risk is still there but isn't as high as it used to be, and while TTM is not quite an early stage explorer anymore (they already have a 2.1M ounce non-JORC resource) always remember that early stage exploration investing is risky.
What lies ahead for our investment in TTM?
We like that there is plenty of newsflow to come. Here's TTM's roadmap of the road ahead through to year-end 2022. As you can see, the team will be quite active, which spells plenty of re-rating opportunities.
Source: Titan Minerals investor presentation September 2021
Titan Minerals Corporate Milestones
✅ $14.5M Raised @6.5c per share
✅ Corporate Restructure Commenced
✅ Next Investors Portfolio Launch
✅ Divest Non-Core Asset 1 (Peru Projects)
✅ Non Core Asset Reinstated (Jerusalem Project)
✅ Corporate Restructure Complete
✅ Divest Non-Core Asset 2 (Zaruma)
✅ Peter Cook appointed as Chairman
✅ $18M Raised @10c per share
🔲 Unexpected Announcement 1
🔲 Unexpected Announcement 2
🔲 Major update from non-core asset 1
🔲 Major update from non-core asset 2
Dynasty Gold Project (Ecuador)
The 100% owned Dynasty Project has a total foreign resource of 2.1Moz (14.4Mt @ 4.5 g/t Au)
Project Milestones
✅ Consulting group engaged for JORC Resource (Mining Plus)
🔄 JORC Resource Estimate (Q4 2021)
🔲 Metallurgy Studies
🔲 Resource Estimate Upgrade
🔲 Preliminary Economic Assessment
Drilling Campaign 1
✅ Geophysics Program
✅ Drilling Campaign 1 (12,000m, Iguana)
🟨 Assay Results 1
🟨 Assay Results 2
Drilling Campaign 2
🔄 Drilling Campaign 2 (12,000m, Cerro Verde)
🟨 Assay Results 1
🔲 Assay Results 2
🔲 Assay Results 3
Copper Duke
Copper porphyry - located 18km east of Dynasty
✅ Geophysics Program Identifies Multiple Targets
🔲 Drilling Campaign 1 (Q3 2022)
Linderos Project
Copper porphyry and epithermal gold style mineralisation - located 20km south of Dynasty
✅ Geochemical Sampling
🔲 Follow up Drill Testing (Q4 2021)
Next Investors Investment Milestones
Disclosure: The authors of this article and owners of Next Investors, S3 Consortium Pty Ltd, and associated entities, own 4,549,250 TTM shares.
✅ Initial Investment: @6.67c
✅ Increase Investment: @10c
🔲 Price increases 500% from initial entry
🔲 Price increases 1000% from initial entry
🔲 Price increases 2000% from initial entry
✅ 12 Month Capital Gain Discount
🔲 Free Carry
🔲 Take Profit
🔲 Hold remaining position for next 2+ years
---