VUL ASX Achieves Target 90% Lithium Extraction while Billionaires Buying on Market
In case you missed it, our golden child and multi-bagging 2020 Small Cap Pick of the Year Vulcan Energy Resources (ASX:VUL) got some great coverage in the Financial Review with fellow early stage VUL investor John Hancock saying he is currently buying more on market.
VUL has been a huge story for us too - we agree with his sentiment in the article that the best returns are made by picking quality companies and holding long term, otherwise you might miss "the next Fortescue Metals" by selling out too early (we've all got our favourite story of the one that got away...)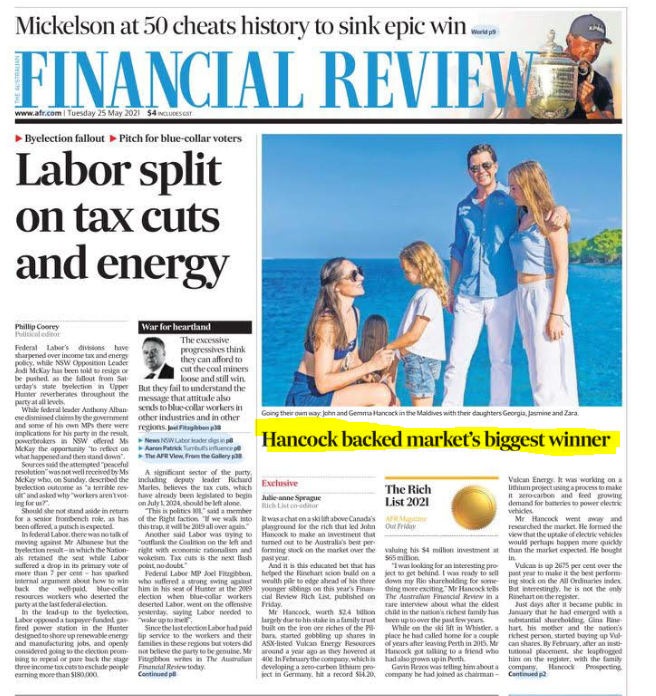 VUL is developing Zero Carbon Lithium in Germany, to supply Europe's rapid shift to battery metals.
VUL also just released news this morning that they have achieved 90% recovery rate on their recently operating direct lithium extraction (DLE) pilot plant - this is a key step towards large scale production, will provide key data and proof for the definitive feasibility study and most importantly produce lithium samples for potential offtake partners.
We wrote about VUL in April when we thought it looked like it was ready to start another upward trend after digesting the $6.50 placement for a few months and again a few weeks later in April with Cannacord putting a $15 price target on VUL.
Since then things were looking good as VUL hovered above $8 before the "sell in May" crowd combined with broader market weakness saw it drop back to under $7.
VUL is still in a nice gradual uptrend since its post placement lows in March this year and looks like it wants to keep going, especially over the last few trading sessions.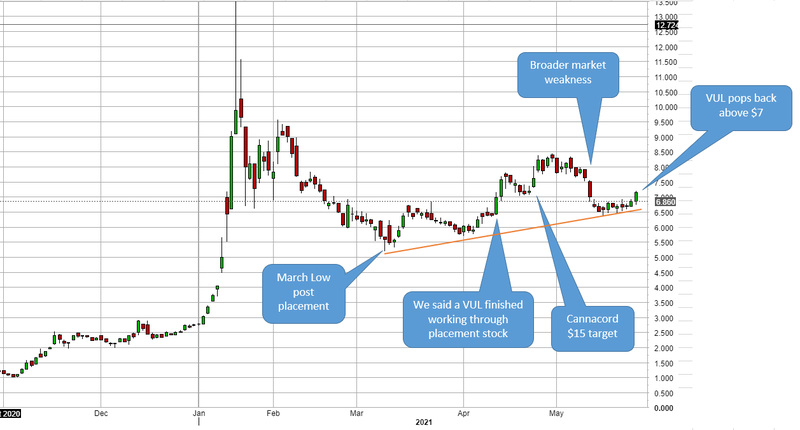 All while the global Electric Vehicle market just keeps gaining pace - have you noticed that there seems to be more and more news articles each day about governments, corporates and car makers pushing into EVs and green - it feels like it's everywhere you look.
EVs and the switch to the green economy increasingly looks to be the driving force to drag the global economy out of its COVID handbrake over the next 10 years... and the raw materials to build all these EV batteries have to come from somewhere...
US president Joe Biden seems to agree, with Reuters this week reporting that the US will look overseas to secure the critical battery metals it needs to achieve its ambition to become a global EV powerhouse - this will exacerbate the global EV metals crunch.
Here are the key snippets from the Fin Rev article:
(you can read the full article here)

And some more snippets from the OTHER Fin Rev article this week is here (yes there was two)

90% Lithium Extraction - Here is what is important about the today's VUL announcement:
On the 12th of April VUL announced it had designed, built, commissioned and is now operating its Pilot Plant to demonstrate Direct Lithium Extraction (DLE) from Upper Rhine Valley geothermal brine - using live brine for DLE and chemistry testwork.
The goal was to demonstrate market quality lithium extraction over hundreds of cycles. VUL will use the data from the pilot plant to inform and finalise design of a larger, demonstration plant, which will also contribute information towards the DFS.
Today, VUL announced the pilot plant team has successfully achieved target specification for Direct Lithium Extraction (DLE) feed into its pilot plant
The pilot plant team has also achieved target recovery of greater than 90% for lithium chloride from Upper Rhine Valley brine.
Near term next steps will include:
Ramp up of DLE pilot plant to 24/7 operation.
Production of lithium chloride solution to be converted to lithium hydroxide.
Production of samples for potential customers/offtakers.
Further work on post-treatment of brine
Speaking of company milestones...
[NEW] Here are VUL's company milestones as we see them
Here is our milestone summary and what VUL has achieved since our last commentary .
This is a new feature we are working on and will soon be rolled out to all portfolio companies, please reply to this email with any feedback/suggestions.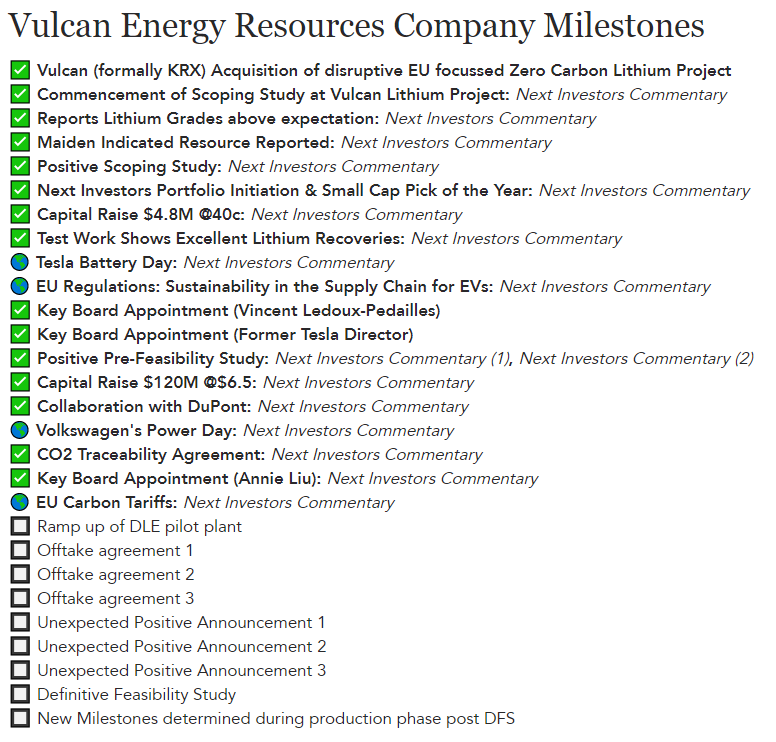 [NEW] Here is our VUL investment strategy
VUL is one of our favourite examples of a well executed long term investment where we are holding free carried position for the next few years as the company executes on its plan.
Here are the investment milestones for VUL, and we continue to hold a significant position
Our investment milestones are a new feature we are rolling out to all portfolio company pages. Again, please reply to this email with any feedback/suggestions.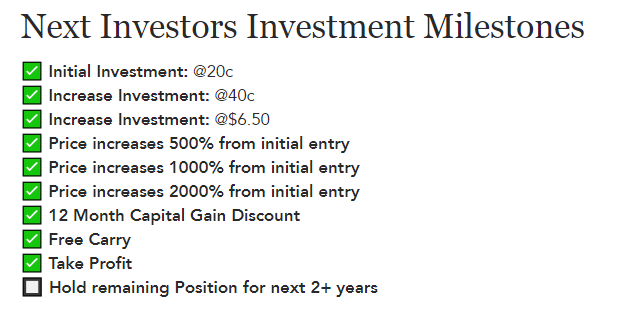 We stuck to our investment plan and are very happy holders for the long term - VUL is a great example of an early investment plan being executed and working out very well and has achieved nearly all the steps in tour plan.
Here are the Top 20 VUL shareholders as at 12th February, following the $120M placement, as you can see we are still holding on at number 19 in what has been a life changing investment for us.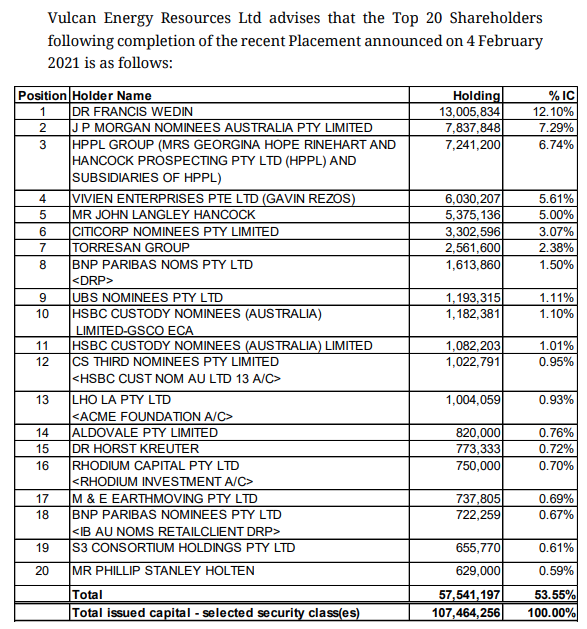 Here is our past commentary on VUL
Here is all our past commentary on VUL since we first called it our Small Cap Pick of the Year in February 2020 (just click the image to read):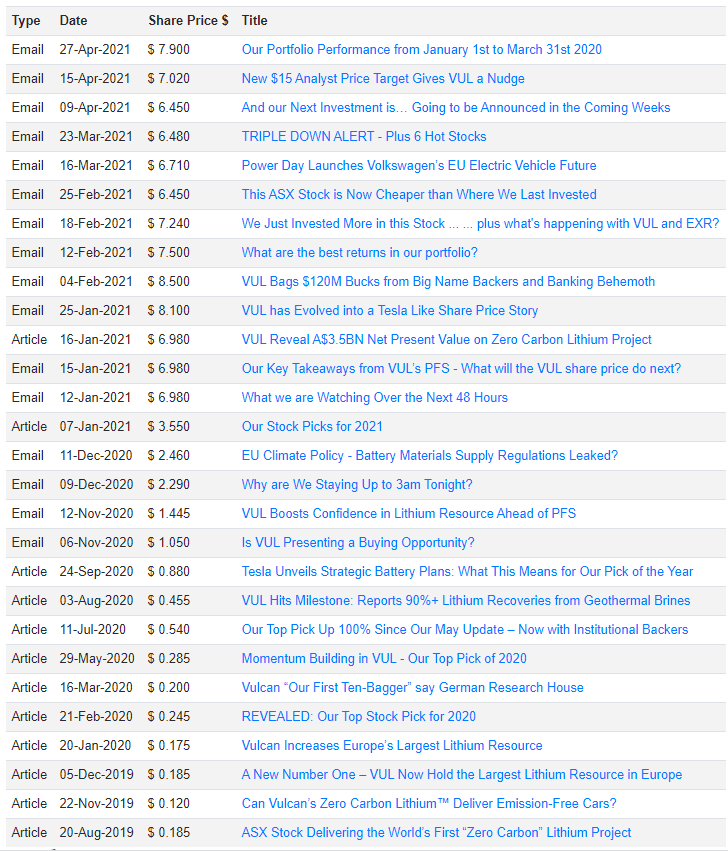 ---