New $15 Analyst Price Target Gives VUL a Nudge
Vulcan Energy (ASX:VUL) surged back through $7 yesterday after spending a few months hovering around the $6.50 placement price.
VUL was up over 10% yesterday - we suspect the new found surge of interest has come from a research report written by analysts at Canaccord Genuity that puts a $15 target price on VUL (we have seen the report and can confirm the target price).
The Canaccord analysts also estimate that once in production, VUL will generate an annual EBITDA of A$1BN.
Vulcan Energy Resources
ASX:VUL, FWB:6KO
Canaccord Genuity is a global investment bank focused on growth companies worldwide. It raised over $20BN for companies in a single quarter of 2021 from its pool of high net worth investor clients and funds.
We can only assume that the VUL report and $15 share price target was sent to a bunch of Cannocords high net worth clients over the last 24 hours and looks like a few of them acted quickly on receiving the information.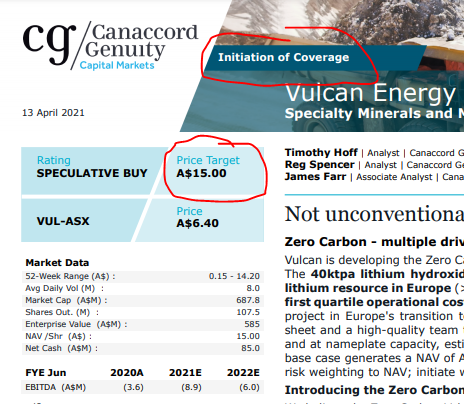 The report T&C's don't allow for it to be distributed so we are not allowed to share the report. But it's pretty comprehensive at 37 pages long and is a great deep dive on VUL, and looks to have generated some buying in the market yesterday: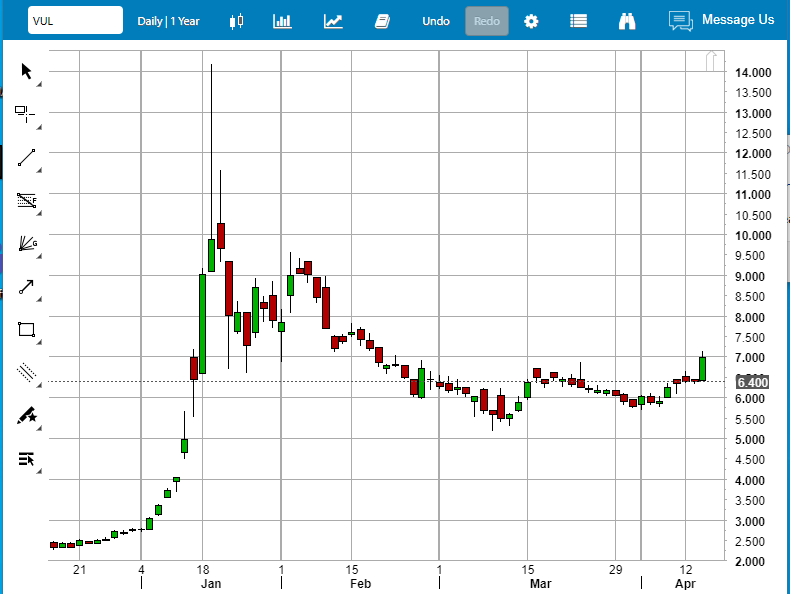 Earlier this year, Canaccord led VUL's $120M capital raise with Goldman Sachs which was done at $6.50/share. It is good to see Canaccord has now initiated some research coverage on the stock. They appear to be long term supporters, and we would expect more coverage will arrive and be distributed to their vast, wealthy client audience.
Why we like VUL:
VUL was our Small Cap Pick of the Year for 2020 and we hold a long term position.
We like VUL because:
Biggest lithium resource in Europe - lithium being the key ingredient in electric vehicle batteries.
This lithium resource sits in the heart of Germany - the centre of automakers and the world's fastest growing lithium market.
A best in class green, zero carbon, socially responsible project.
Elon Musk is building a gigafactory next to Berlin and has said that lithium supply must be localised.
Just a few months ago VUL raised A$120M led by Goldman Sachs, Gina Rinehart and ESG investors.
Shares spent a few months consolidating around the capital raising price of $6.50 and yesterday broke through $7 for the first time in months.
The company is fully funded up to the DFS.
Canaccord analysts estimate that once in production, VUL will generate an annual EBITDA of A$1BN. They have set a $15 price target on the stock.
We have been invested in VUL for over a year now and are delighted with the progress to date in the best long term performer in our portfolio.
VUL is another great example of the kind of investment we look for - a long term hold while the company delivers on a plan, which leads to a sustained long term share price rise.
Here is all our past commentary on VUL since we first called it our Small Cap Pick of the Year in February 2020 (just click the image to read):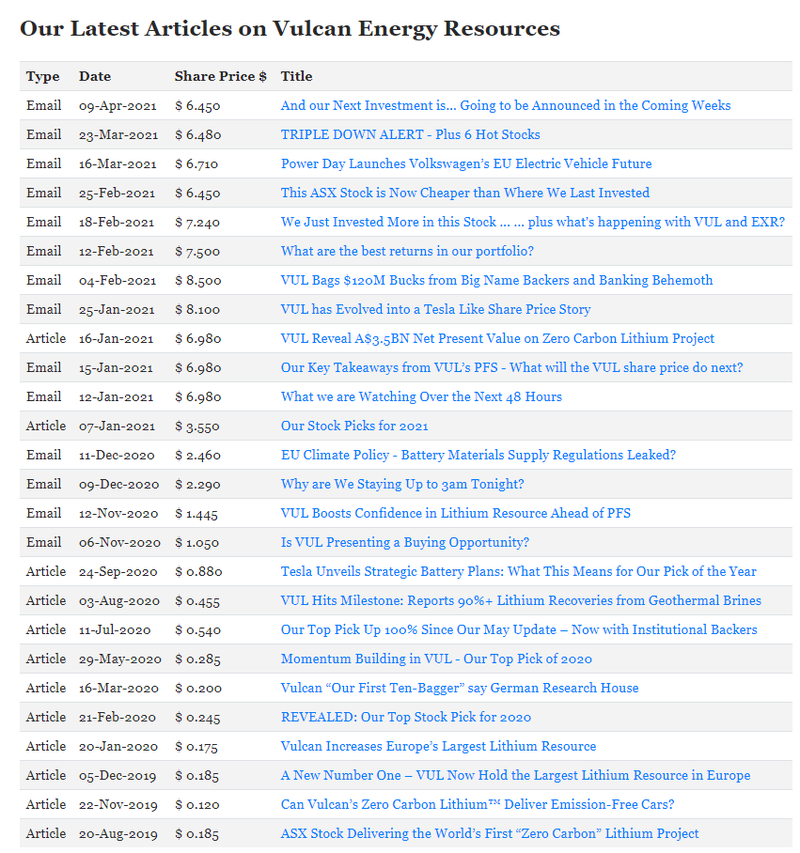 ---