TMR discovers a new gold vein - with bonanza grades. Now to start drilling it to see how big it is...

Share price when sent: $0.180
Tempus Resources (ASX:TMR) is a gold explorer actively drilling its Canadian gold project.
Two weeks ago we wrote that TMR accidentally hit a "possible" new gold vein
They had been drilling to extend a known and historically mined gold vein (SW vein) and hit visible gold in an unexpected area..."
What we wanted to see next was a high grade assay (lab results) from this accidental gold hit AND any further evidence that TMR had in fact stumbled on an entire new gold vein to mine...
TMR's gold project has gold mineralisation presenting itself in "vein sets" - the more high grade gold veins it can find - the better. There is a vein system 30km away from TMR that produced more than 4 million ounces over a period of 70 years - and TMR's high grade quartz veins show close geological similarities.
In today's announcement, TMR say the assays returned BONANZA (huge) gold grades and YES they have struck a new vein of gold, they have even given it a name - Blue Vein.
Here is a summary of why today's TMR's news is a big deal, broken into three quick parts.
Tempus Resources
ASX:TMR
Background: TMR's Elizabeth project had historical production of over 230,000 ounces of gold, and comes with a permitted, and previously producing mine, a mill, and a tailings storage facility that can be re-started IF TMR find more gold and prove out a decent resource size.
Finding an ENTIRE new gold vein is a huge step towards this.
Historically, 70% of the gold that was extracted came from the South West Vein - so discovering an entirely new vein is a very big deal.
There are three parts to the story today, so we will keep it short as the news speaks for itself:
Part 1: Two weeks ago TMR accidentally hit a chunk of visible gold - it was POTENTIALLY a whole new gold vein, results were sent to the lab and....
Bonanza grades returned.

If this accidental gold hit is a NEW gold vein, we already have some very high grade results - which is very positive, we are hoping for some longer intercept lengths as they continue to drill out.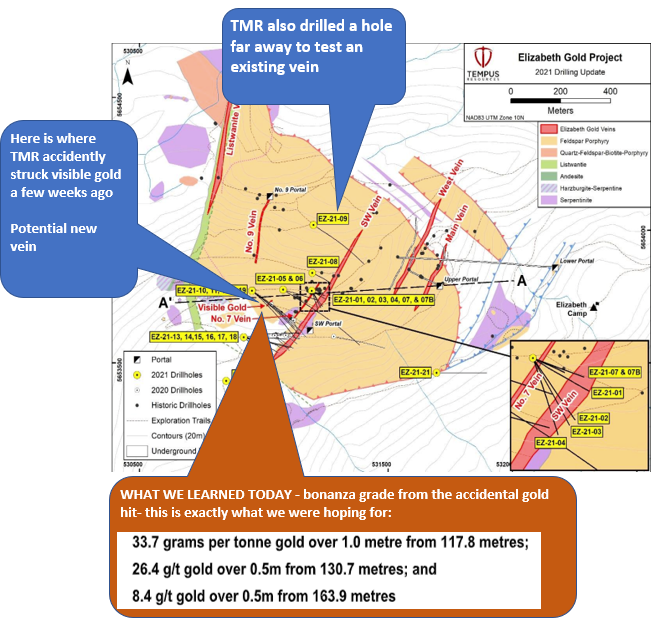 Part 2: OK, great, bonanza grade... So do we have a new gold vein?
One gold hit with bonanza grades is great, but does this mean we have a new vein? We need to drill more holes to confirm it's not just a fluke.
Since the accidental visible gold hit a few weeks ago SIX more holes were drilled into the area where this new vein MIGHT be and....
YES All the holes drilled around the "accidental" gold hit showed visible quartz (meaning potential for gold).
Drill cores from the 6 new holes have been sent to the lab and are being analysed, with results to be announced as they become available.
The below image shows the new holes drilled to test the new vein. The thin black lines are drill holes, and the thicker red section shows quartz insects that will likely host gold (lab results will confirm soon).
This what we now know about the size of the newly named "Blue Vein" - the red dotted outline shows the geologists interpretation of the possible (inferred) extension of the Blue Vein.
Now to keep drilling to find out how far the new vein extends to the left and right (in the above image).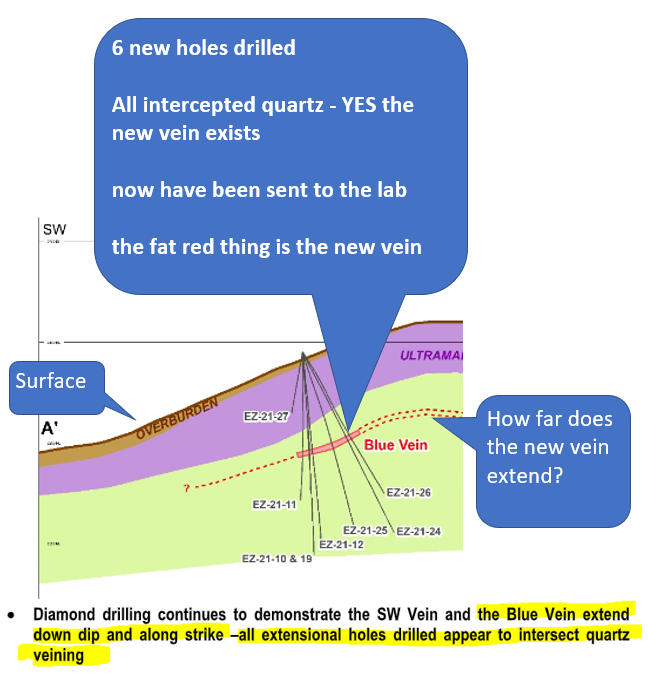 PART 3: So how long and fat is this new gold vein?
Remember a few weeks ago that TMR announced it was drilling a "high risk, high reward" hole "far away" to test how far the already known "South West Vein" extended (hole 9)...
... well THAT hole ALSO intersected the potential new vein, meaning it MIGHT be super long...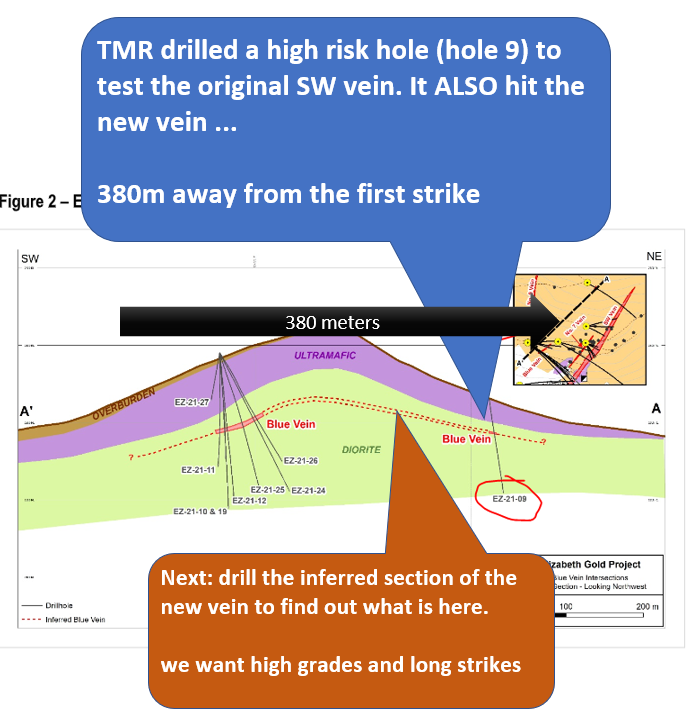 TMR doesn't yet know how long this new vein extends for, it could keep going for a while - which could be excellent - Here is the potential, inferred new vein, shown in the dashed red line:
What we are watching for next with TMR:
Drill Drill Drill this potential new "Blue Vein" to learn its size and grade so it can ultimately be added to TMR's estimated gold resource and justify restarting the existing processing plant.
We want to see all drilling efforts focused on defining the new Blue Vein.
We want to see longer intercept lengths in drill holes as they explore along the vein - ideally they can hit a really fat high grade section over the next few months.
Drilling is happening now and new drill results are being tested for gold grades (we want to see more bonanza grades). More news on this is expected very soon.
RISKS: TMR might keep drilling the vein and it will only return low grades or small intercept lengths and be uneconomical to mine - TMR will then need to continue exploring for other new veins or extending existing known veins through drilling (which they are already doing anyway).
We want to see more intercepts from drilling AND more bonanza results from the blue vein returned from the lab.
...Also we want the gold price to go up.
Bloomberg reckons it might: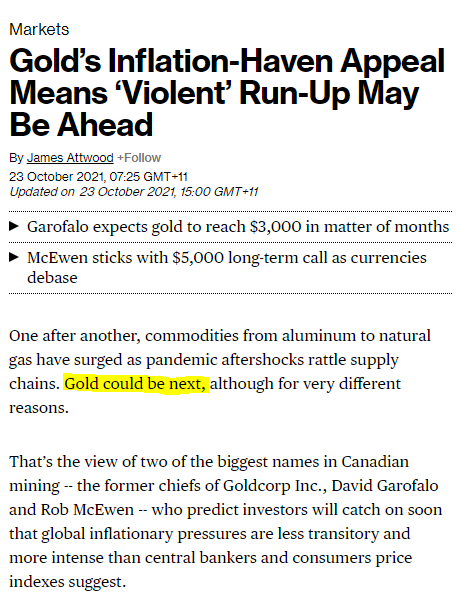 TMR's Milestones for 2021 Drilling Season
2021 Drilling Season
🔄 7,500m of Drilling at Elizabeth
✅ New Gold Vein Confirmed - Blue Vein
🔲 Blue Vein size defined and extended

✅ Drilling Restarted 4,000m from 2020 Season (Elizabeth)
✅ 4,000m from 2020 Season Complete (Elizabeth)
✅ Positive Geophysical Results - Gold System Extended
✅ Metallurgical review confirms ~95% recovery rates
🔄 Permit for underground adit
✅ New Potential Gold Vein Discovered
2021 Drilling Results
🟩 Assay Results 3 (Elizabeth, EZ-21-9)
🟩 Assay Results 3 (Elizabeth, EZ-21-12)
🟨 Assay Results 3 (Elizabeth EZ-21-10,11,13,14)
🟩 Assay Results 1 (Elizabeth, EZ-21-4)
🟩 Assay Results 2 (Elizabeth, EZ-21-1,2,3)
🟧 Assay Results 2 (Elizabeth, EZ-21-5,6,7,8)
🔲 Assay Results 4 (Elizabeth)
🔲 Assay Results 5 (Elizabeth)
Next Investors Investment Milestones
✅ Initial Investment: @20c
✅ Increase Investment: @34c
✅ Increase Investment: @14.5c
✅ Increase Investment: @17.86c
🔲 Price increases 500% from initial entry
🔲 Price increases 1000% from initial entry
🔲 Price increases 2000% from initial entry
✅ 12 Month Capital Gain Discount
🔲 Free Carry
🔲 Take Some Profit
🔲 Hold remaining Position for next 2+ years
Disclosure: The authors of this article and owners of Next Investors, S3 Consortium Pty Ltd, and associated entities, own 3,432,000 TMR shares.
---