Could EXR Unlock a New Sub Basin at its Mongolian Gas Project?
PUBLISHED: 23-10-2020 09:55 a.m.
Elixir Energy Limited (ASX:EXR) is ramping up its low cost exploration operations in its 100% owned, Nomgon IX coal bed methane Production Sharing Contract (PSC) in the south Gobi region of Mongolia, just North of the Chinese border.
The company is preparing for the imminent spud of a new strat-hole well and is well advanced in planning for further wells in the months to come.
This well – known as Hutul 1S – is due to spud tomorrow and is of high importance as it has the potential to unlock an entirely new sub-basin – or potentially (and even more excitingly) open up a large extension of the Nomgon sub-basin.
For EXR, the addition of all the sub-basins across the vast 30,000 km2 PSC could prove up a resource big enough to interest the major international gas players. Especially when you consider that to date only the small Nomgon sub-basin has hosted CSG discoveries.
Note: EXR currently has a prospective resource of 7.6 tcf of gas (risked "best" (mid) case) over multiple sub basins.
As there are many other sub-basins that are yet to be explored, there is enormous scope for significant gas reserves.
When you consider the PSC project area comprises approximately 30,000km2, equivalent to the size of Belgium, and the 7.6 tcf risked best case resource size, this is an impressive, large scale project – which we would expect could be of interest to a major or national oil company (NOC).
Attracting a major company with a large balance sheet to carry the project into production would be something EXR would no doubt be looking at.
But first EXR want to add as much value to the project as they can – and it starts with the current drilling programme.
Extending Nomgon?
The Hutul 1S spud comes in a long line of successes in the 2020 exploration and appraisal program, which has thus far delivered excellent results.
These results go all the way back to February when EXR achieved Mongolia's first ever gas discovery at the Nomgon-1 well.
There are many more exploration programmes planned, but what is exciting for investors is that EXR has only just touched the surface so far.
Which is why Hutul 1S – and the other exploration wells to follow – are so important.
What stands out about the project is that Nomgon has an independently assessed 40 trillion cubic feet best case estimate, unrisked, recoverable gas resource on China's doorstep – and according to the premier international oil and gas consultants, Wood Mackenzie, China is the engine of global gas growth.
Since February, EXR has rapidly followed up with the Nomgon-2 and other appraisal wells and "exceeded its own expectations" on multiple fronts.
EXR's progress this year has certainly validated the position we have taken in the company: we remain long term shareholders having named it our 'Pick of the Year' in July 2019, before doubling down on our investment in May 2020.
We first invested when the company was just 3.9 cents. It is currently sitting at 11.5 cents (a 195% gain), having been as high 362% suggesting there is a great deal of upside to come.
Given recent results and today's announcement that seismic work is proving productive in continuing to add new drilling targets that (in the success case) will add to EXR's inventory of CSG bearing sub-basins across the PSC, there is plenty of room left for upward swings.
Those who have been following the story will know EXR is working closely with the Mongolian government and community.
The project is located right on the Chinese border, 400km north of China's main gas transmission grid and on a sealed road into China as shown below: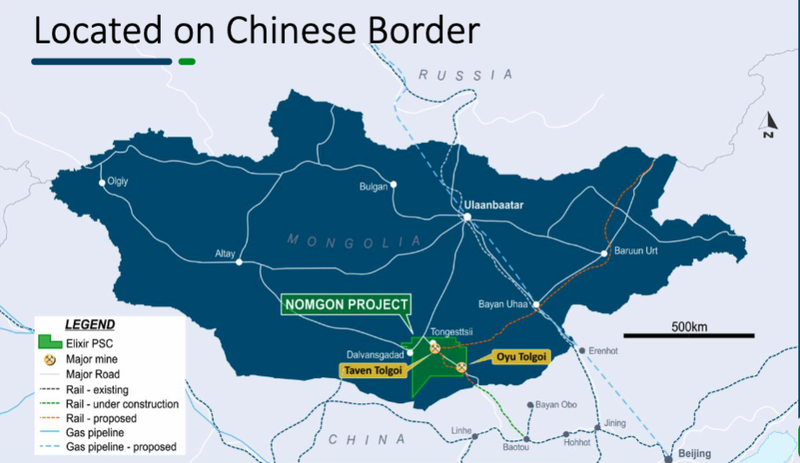 China has an enormous and gas hungry population, which could provide EXR with a ready-made, massively growing market. We will look at that in more detail shortly.
The company recently engaged Mongolian drilling contractor, Erdenedrilling (ED), to put a second drilling rig to work in the Nomgon PSC. Furthermore, appraisal work in the Nomgon sub-basin is proceeding on multiple fronts including laboratory work; ongoing drilling; basin modelling; seismic interpretation as well as planning next year's proposed pilot production test well.
ED is currently mobilising its high-powered Schramm rig to the Hutul 1S drilling location – some 20 kilometres to the East of the Nomgon-1 well.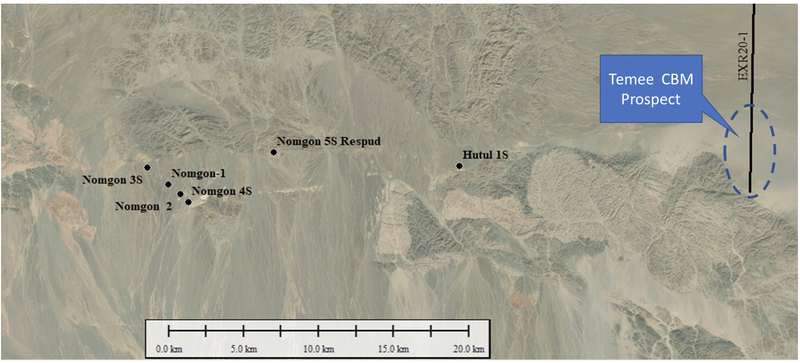 Hutul 1S is due to spud tomorrow and could identify a new sub-basin – or potentially a large extension of the Nomgon sub-basin, which would be another significant step forward for the company in a year in which plenty of progress has been made.
A quick recap
For those unfamiliar with the Nomgon story and why it is so important, here are a few essential articles that will bring you up to speed:
What these articles will highlight is the exceptional management team behind EXR that is driving the Nomgon PSC project forward, the high-level infrastructure, the planned pipeline from Russia via Mongolia to China – Gazprom's Power of Siberia 2, the large resource potential and China's need for a local supply of gas.
Here is EXR CEO Neil Young speaking with CRUX Investor about the project just days ago:
The most significant highlight of this story, of course, is that the Nomgon-1 core-hole delivered a CSG discovery.
Net coal intersected of 71 metres
Thickest coal seam (series 100 seam) package of ~50m, with net coals of 37m
Average raw gas content of main seam measured at >5m3/tonne and on DAF basis at ~9m3/tonne
Tests from Nomgon-1 indicate main seam is fully gas saturated
Nomgon-2 IFOT 4 delivered world class permeability of 91.5mD
Appraisal program to date covers only a very small area of prospective ground
Here's a look at how it has all unfolded so far for EXR: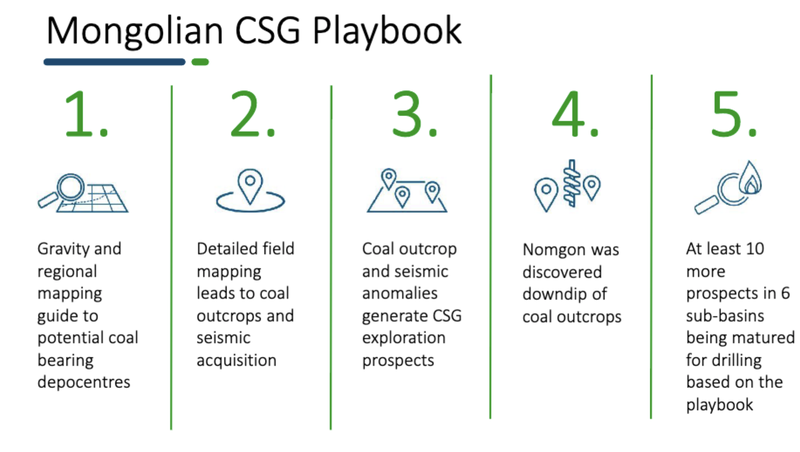 While the project is coming along nicely, the macro events surrounding EXR's discovery could also have long-term impact and upside.
Chinese gas demand
China's energy demand is significant and its gas market is growing impressively.
This is due to China's commitment to protect the environment through renewable energy and clean energy projects.
This month, President Xi Jinping committed his country to net-zero emissions by 2060.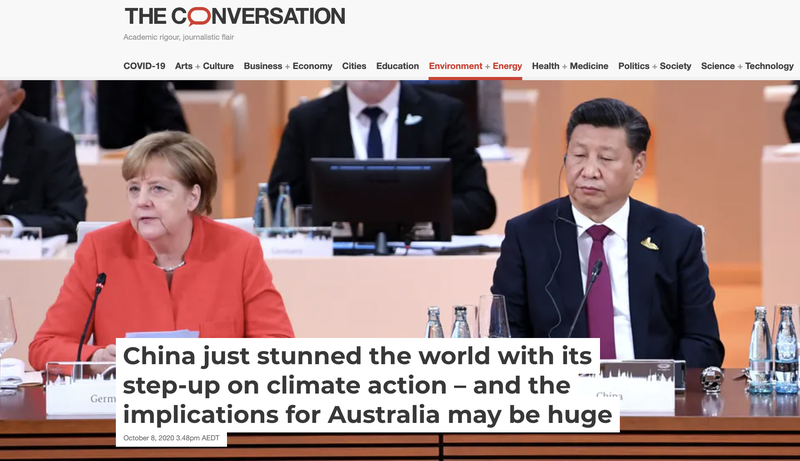 The beginnings of this movement has seen Chinese households move from coal to cleaner-burning natural gas.
China's vehicle fleet also now includes more than eight million gas fired vehicles.
China's gas demand continues to grow and shows no signs of slowing down, especially with the industrial sector also getting on board.
This plays right into EXR's hands especially as China expands the country's gas network and diversifies its energy supply.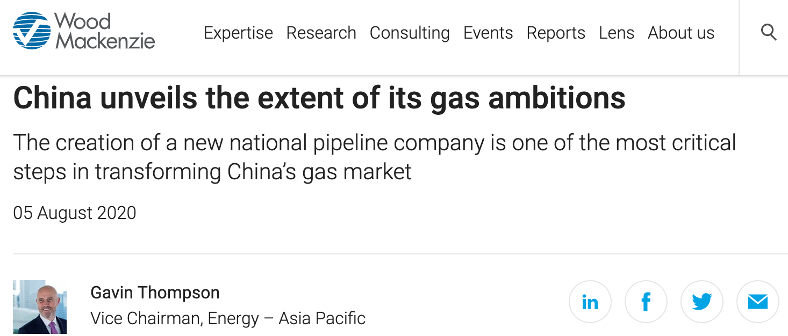 Remember, EXR achieved Mongolia's first ever gas discovery at the Nomgon-1 well, which could come into play due to China's expansion of its network.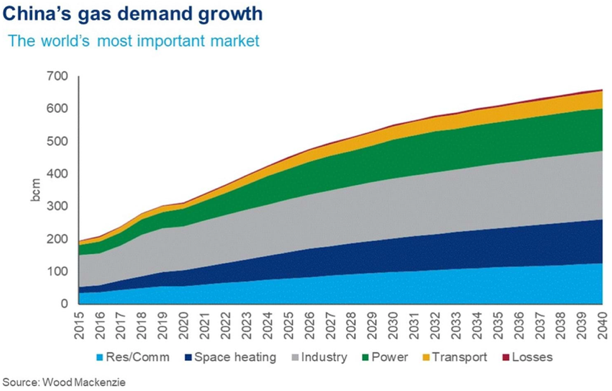 Of recent note is China's ability to place its gas pipelines under one new corporate umbrella – with a view to encouraging competition and increasing demand.
This raises the allocation efficiency of China's oil and gas resources (the gas imported into the country through pipelines from the North, South and West), and ensures a safe and stable energy supply.
When looking at EXR in this context, its 30,000km2 Nomgon IX PSC is well placed to help meet demand.
We continue to hold ... and for good reason
EXR has been a portfolio company of ours for over 12 months now and we remain confident in its ability to continue to deliver value for shareholders.
The factors that attracted us to the company have not changed and we continue to be impressed by the way management equips itself to realise the potential of its prospective CSG assets within the rapidly growing Chinese gas market.
EXR continues to deliver on its milestones, which is expected to attract potential suitors sooner rather than later.
With a current market cap of $80M and drilling campaigns unfolding, success could see EXR grow to multiple of this.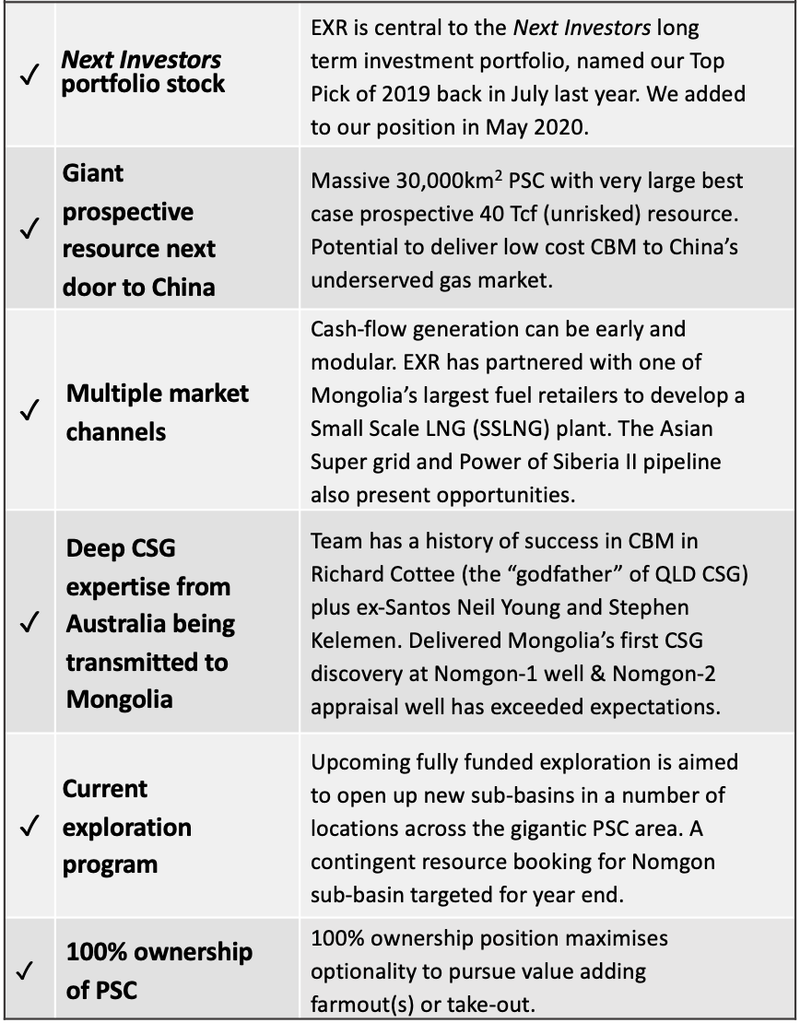 ---