ROO Delivers Breakthrough Sale for New Cannabis Technology
Hey! Looks like you have stumbled on the section of our website where we have archived articles from our old business model.
In 2019 the original founding team returned to run Next Investors, we changed our business model to only write about stocks we carefully research and are invested in for the long term.
The below articles were written under our previous business model. We have kept these articles online here for your reference.
Our new mission is to build a high performing ASX micro cap investment portfolio and share our research, analysis and investment strategy with our readers.
Click Here to View Latest Articles
Roots Sustainable Agricultural Technologies Ltd (ASX:ROO) continues to deliver innovative and strategic Agtech solutions for a wide range of markets including the general agricultural/food production markets and the burgeoning cannabis sector. It also entered the trillion dollar global meat replacement market examining the influence of its RZTO technology on protein content.
The company's latest offering, which has already secured an initial sale in the cannabis space, is a proprietary heat exchange T-shaped stub that enables producers to increase crop quality and yields by stabilising pot and grow bag soil temperatures year-round.
Speaking of cannabis, this technology could become vital for high-value marijuana crops, which will feed into the lucrative medical cannabis markets and the North American recreational markets as they are legalised. The overall cannabis market is set to be worth over $47 billion in just a few years.
There are several benefits to the T shaped stub incorporated with the Root Zone Temperature Optimisation (RZTO) technology.
Not only does it increase crop quality and yield, it also increases pot manoeuvrability and significantly reduces costs associated with installation of Roots' RZTO technology — which mitigates against the impact of daily and seasonal temperature changes, optimising plant physiology for increased growth, health, productivity and quality.
The company is making great strides with cannabis crops. Following a successful in-house pilot at Roots' research hub in Israel, Roots this week announced it had received an A$87,000 order from Israeli cannabis producer Univo Pharmaceuticals for thousands of its heat exchange T-shaped stub.
Univo Pharmaceuticals, advised by a former Israeli Prime Minister Ehud Ulmert, is listed on the Tel Aviv stock exchange under the ticker (TASE: UNVO). UNVO's listing signals a breakthrough for ROO as its technology is now validated by a listed medical cannabis company.
The sale confirms that Roots is delivering valuable results to the cannabis sector as well as the wider horticulture market. It is also evidence that the company is strategically targeting growth sectors: its technologies have demonstrated success, having lifted cannabis yields by 40% - 260% and improved that of leafy vegetable by high double-digit percentages.
The belief among the ROO faithful is that this sale will open the door to many more revenue generating deals.
ROO is certainly making a name for itself.
This sale comes after our last update on ROO in August, when the company had just announced it was entering the lucrative plant-based 'meat' market — a sector that's seeing some surprisingly appetising growth rates.
Despite its innovation and deal making, Roots is still being valued by the market at just $4 million. That means a lot of upside with further deals to come.
All the latest from,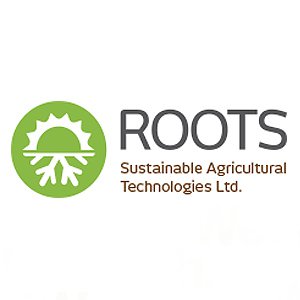 Roots Sustainable Agricultural Technologies
ASX:ROO
Share price: $0.046
Market cap: $4.18 million
Here's why I like ROO...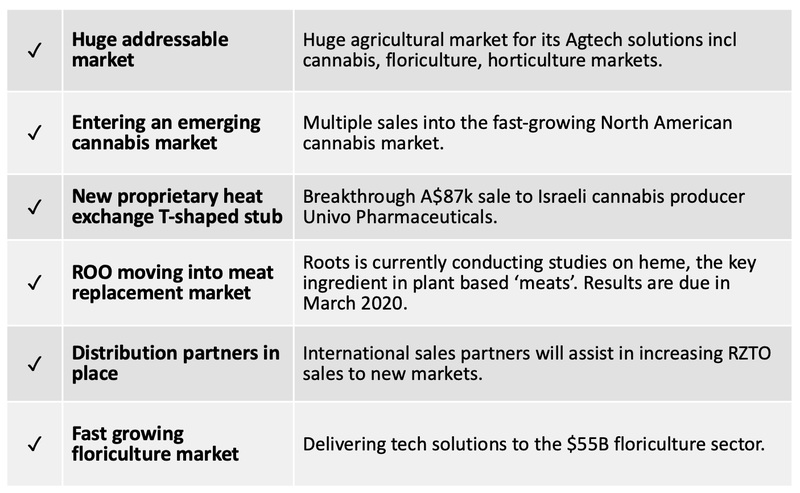 Israeli-based, Roots Sustainable Agricultural Technologies Ltd (ASX:ROO) is delivering cutting-edge technologies to address critical problems being faced by agriculture today — from plant climate management to the shortage of water for irrigation.
A graduate company of the Office of the Israeli Chief Scientist Technological Incubator program, Roots has developed proprietary know-how and patents to optimise performance, lower installation costs, and reduce energy consumption to bring maximum benefit to farmers through their two-in-one root zone heating and cooling technology and off the grid irrigation by condensation technology.
Agrivest's 'Best Agtech company'
Roots last week announced that its Irrigation by Condensation (IBC) technology was selected with 11 other technologies to present to an independent committee of Israeli business and industry leaders, international investors and government representative at the prestigious Agrivest event in Tel Aviv in the 'Best Agtech company' category.
Agrivest is one of the biggest events in Israel for agtech, bringing together hundreds of investors and global agriculture experts. Companies from more than 20 countries attended this year's conference, showcasing the interest in agricultural technology.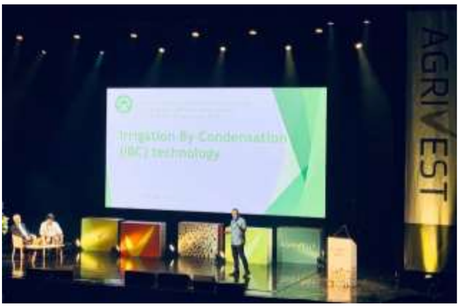 The company's IBC technology enables small and medium scale farmers to grow entire food crops using irrigation sourced only from humidity in the air, even in remote semi-arid areas. The technology is also applicable for home gardens and municipal gardens markets.
As explored in our last article, these technologies are being extended to the plant-based meat replacement market. Roots recently began a planting program to examine the effects of its RZTO and IBC technologies on several protein-laden crops to increase the content of leghemoglobin – also known as "heme" — a form of haemoglobin in plants and the key ingredient in what makes plant-based meats so tasty.
Its technologies, as we have also explored before, are having a significant potential within the cannabis sector.
New proprietary heat exchange T-shaped stub
Roots' latest sale — as announced today — involves its newly developed proprietary heat exchange T-shaped stub.
The heat exchange T-shaped stub enables producers to stabilise pot, grow bags and soil temperatures year-round thus increasing crop quality and yield. The stub also increases pot manoeuvrability and significantly reduces costs associated with RZTO installation and maintenance costs of Roots' Root Zone Temperature Optimisation technology.
Roots has developed the proprietary heat exchange stub to cater primarily to the nursery, cannabis and greenhouse markets to reduce labour and installation costs of Roots' Root Zone Temperature Optimisation (RZTO) systems.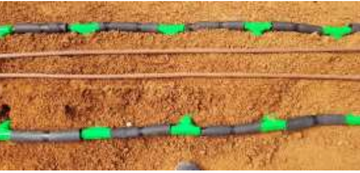 Roots today emerged from a trading halt, announcing that it has secured a A$87,000 signed order for its heat exchange T-shaped stub from Israeli cannabis producer Univo Pharmaceuticals. (TASE: UNVO)
Univo is a vertically-integrated medical cannabis company including cultivation, manufacturing and distribution as well as the creation of innovative products and dosage forms for 'next-generation' medical cannabis products.
The sale involves the installation of Roots' proprietary heat exchange T-shaped stub in few thousands cannabis pots at Univo's Israeli medical cannabis growing facilities, due to commence in October and will be completed in December 2019.
The sale follows a successful in-house pilot at Roots' research hub in Israel where the stub effectively maintained soil temperatures in pots at optimal ranges despite extreme air temperatures.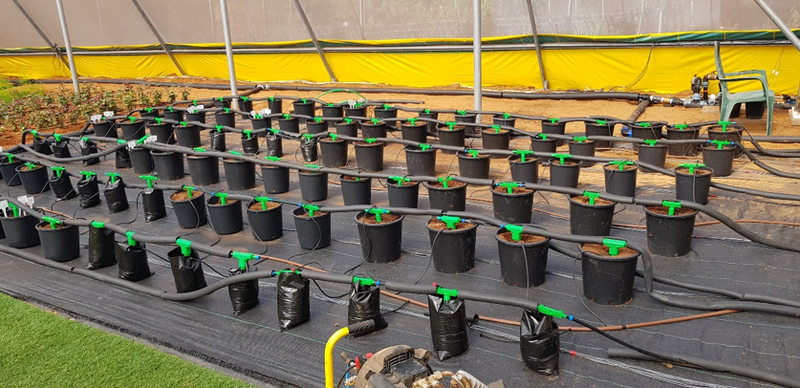 The stub enables the mobility of pots and grow bags during and between growing cycles while chains of stubs with insulated pipes in-between can be used for row installations. Temperature-controlled water enters the stub from a horizontal side, flows down the vertical shaft exchanging heat with the substrate, before exiting the T-shaped stub on the other side.
This sale to Univo follows earlier activity by Roots in the emerging cannabis space.
As I mentioned in the June article, Roots Amasses Further US Cannabis Sector Sales, Roots is capitalising on the growth of the North American cannabis market, which is set to be worth more than $47 billion by 2027. Roots is delivering technology that brings measurable yield improvements for cannabis crops.
The company's entrance into the North American cannabis market is just one example of how it is developing and commercialising disruptive, modular technologies to solve major problems in modern agriculture — such as water shortages and food production security, whilst mitigating the effects of extreme weather conditions and global warming.
RZTO lifts cannabis crop yields
Roots also last week reported that its RZTO technology has increased the harvest yield of cannabis by 40% compared to previous years at the growing facilities of Ivo Lopez of Mendocino Natural Farms in Northern California.

Furthermore, the projected number of harvests per year at the facility is predicted to double through a 30% reduction in annual growth cycles. Following the initial sale in April 2019, the installation was completed during early spring with growing taking place throughout summer amid severe temperature fluctuations.
Extreme temperatures significantly impact cannabis harvest production and crop quality. Using Roots' upgraded RZTO system, the roots of the cannabis crops were heated at night to remain at a stable range of approximately 23 degrees centigrade, despite air temperatures in the hoop house frequently dropping below 10 degrees centigrade.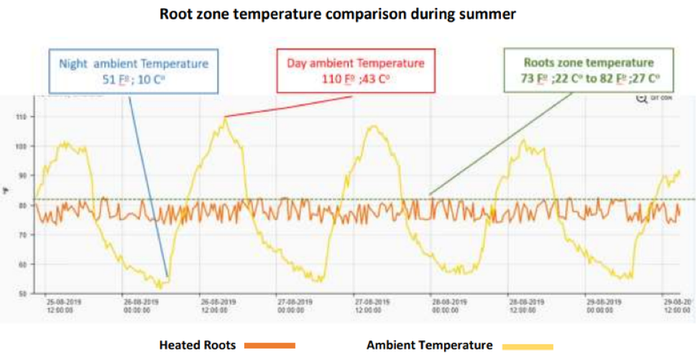 RZTO lifts basil plant yields by 30% under extreme heat
Root Zone Temperature Optimisation (RZTO) cooling technology was also shown to increase the harvest yield of basil plants by 30% under extreme heat in the Arava desert in Israel.
While basil is grown and harvested in warmer months, the plant is highly susceptible to extreme weather conditions, leading to high mortality rates for producers and unprofitable farming practices.
Using RZTO cooling technology, Roots was able to reduce plant mortality by more than 60%, resulting in a 30% increase in yield compared to uncooled control crops.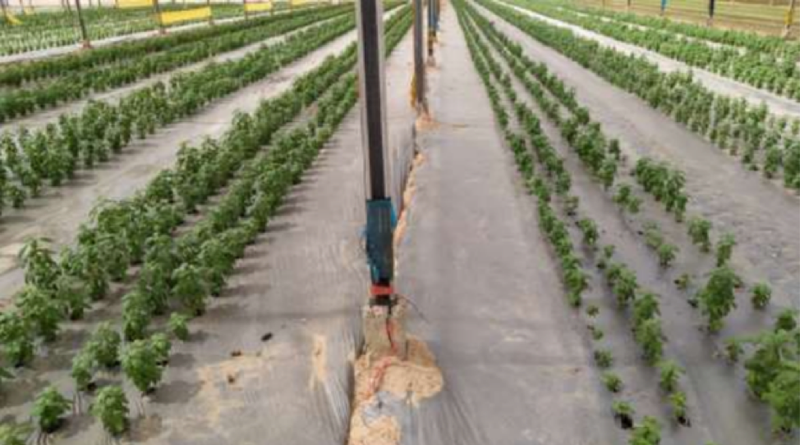 The positive results follow previous tests in winter near the Mediterranean coast where Roots' RZTO technology was used to heat the roots of basil to increase yields by 66% and average plant size by 35%. This led to a decision by the Israeli Ministry of Ag to subsidize up to 30% of the RZTO technology for basil farmers.
The following articles summarise these recent harvest yields: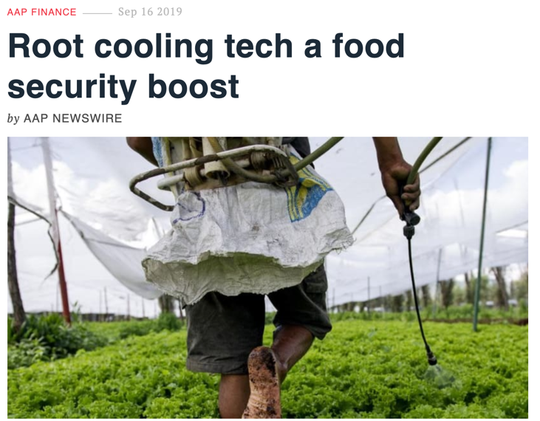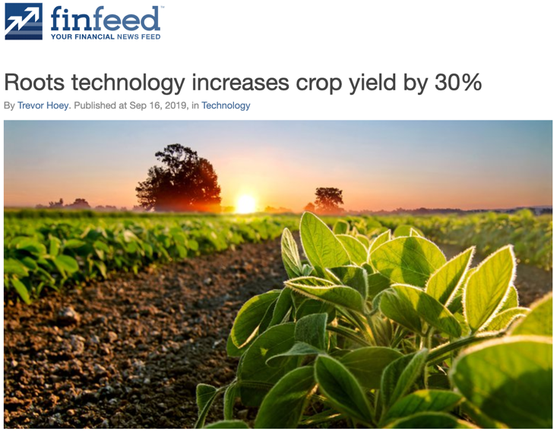 More news on the way?
With a number of deals locked away and impressive crop yield results in recent months, we expect continued newsflow from Roots.
The company has certainly proven that its unique RZTO technology can substantially increase crop quality and yield, mitigate extreme heat or cold stress, and improve farm efficiency through quicker crop rotations — all the while using less energy than other irrigation systems, and making optimal use of available water.
Its IBC technology is also gaining attention having presented at the prestigious Agrivest event in Tel Aviv.
Roots is strategically targeting growing sectors of the agricultural market. Its entrance into the emerging North American cannabis industry and the early-stage plant-based 'meat' market demonstrate this well thought out strategy.
ROO is ramping up its commercialisation efforts and inking strategic partnerships, suggesting there's value to be found in this sub-$5 million market cap ag-tech innovator.
---