The Artificial Meat Industry is Surging: Roots Set to Deliver
Hey! Looks like you have stumbled on the section of our website where we have archived articles from our old business model.
In 2019 the original founding team returned to run Next Investors, we changed our business model to only write about stocks we carefully research and are invested in for the long term.
The below articles were written under our previous business model. We have kept these articles online here for your reference.
Our new mission is to build a high performing ASX micro cap investment portfolio and share our research, analysis and investment strategy with our readers.
Click Here to View Latest Articles
The artificial meat market has continued to grow at a startling pace, as consumers wake up to the health and environmental impacts of eating meat.
In the US, fast-food chains McDonald's and Burger King have been fast to release their own artificial meat offering. Artificial meats are growing in popularity in Australia too, with Hungry Jacks releasing a plant-based meat "Rebel Whopper" burger.
Leveraging the artificial meat trend are a number of plant-based meat companies which continue to be the flavour of the month amongst shrewd investors.
Beyond Meat (NASDAQ: BYND) is currently capped at over US$7 billion, while Impossible Foods has raised almost US$700M from US venture capital firms, with a host of well known backers including Bill Gates, Serena Williams, and singer Katy Perry.
However, for the environmentally conscious, there is a catch.
The artificial meat replacement industry relies on industrially grown, high protein crops including soy, pea and potatoes, which require heavy use of herbicides and pesticides.
That's where innovative agtech company Roots Sustainable Agricultural Technologies Ltd (ASX:ROO) comes in.
Roots' technologies address critical problems being faced by agriculture, including plant climate management and the shortage of water for irrigation, and importantly for this segment, its technologies can assist in the high-end organic meat replacement crops.
The Next Tech Stock first reported that Roots was looking to supply its technologies to this market back in August when the company begun a planting program to examine the effects of its Root Zone Temperature Optimization (RZTO) and Irrigation by Condensation (IBC) technologies on several protein-laden crops, including peas and beans.
Roots now report that use of the technology has increased the volume and weight of plants' roots and vegetative activity, therefore increasing plants' total biomass. This suggests that heating and cooling crops may increase their total protein content — something that plant protein growers will appreciate.
The company will formally test the concept on two high protein crops already planted on the company's farm in Bet Halevi, Israel, utilising three configurations of the RZTO technology. Final results should be released in the coming weeks.
Plus, it is now in discussions with leading European food consultancy and pathogen fighting company on a bi-national European grant.
Roots has expanded into the growing plant-based meat market by focusing on increasing the content of leghemoglobin in several crops using its RZTO and IBC technologies.
Its move into this growing fake meat sector follows a savvy entrance into the multi-billion dollar cannabis industry.
So how is Roots tracking in these industries?
All the latest from,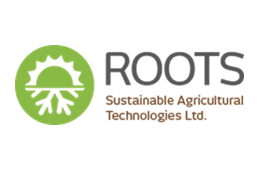 Share price: 4.8 cents
Market capitalisation: $4.48 million
Here's why I like ROO...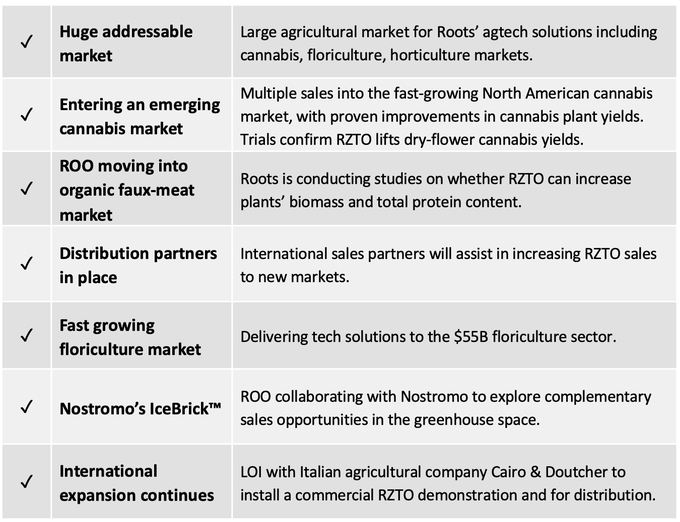 Israeli-based agtech Roots Sustainable Agricultural Technologies Limited (ASX:ROO) Root Zone Temperature Optimisation (RZTO) technology mitigates against the impact of daily and seasonal temperature changes by stabilising plants' root zone temperatures. It optimises plant physiology for increased growth, health, productivity and quality across a range of high-value crops and in various growing conditions.
Its Irrigation by Condensation (IBC) enable farmers to grow entire food crops using irrigation sourced only from humidity in the air, even in remote semi-arid areas.
If you're familiar with Roots, and its technologies, you probably associate it with its application in the cannabis space. In case you missed it, I covered the recent cannabis test results in my update on Roots last week, Roots' Agtech More Than Doubles Cannabis Dry Flower Yields.
Roots' upgraded RZTO technology was shown to increase the yield of dry cannabis flowers by up to 118% at premium US cannabis producer Canndescent's facilities in Southern California. This comes after Roots secured multiple sales in the North American cannabis market.
This is a significant market to be exposed to as considering that just one year after legalisation, California, alone, will post a record US$3.1 billion in licenced cannabis sales, while the state's black market is said to be worth double that figure again.
Like the cannabis space with its startling growth rates, the plant-based meat is a high growth market.
Analysts at UBS project that by 2030 the market for "plant-based protein and lab-created meat alternatives" could be worth as much as US$85 billion, from $4.6 billion today.
And again, like for cannabis, Roots' RZTO heating and cooling system has also proved to be a valuable tool in the plant-based meat space.
Roots enters high end crop growing for organic meat
The company has expanded into the plant-based meat market whilst initiating a planting program specifically aimed at examining the effects of its RZTO and IBC technologies on several protein-laden crops to increase the content of leghemoglobin.
Its technologies work to increase a crop's leghemoglobin – also known as "heme" — a form of haemoglobin in plants and the key ingredient in what makes plant-based meats so tasty.
Stabilising the root temperatures of plants stimulates plants immune system, reducing their susceptibility to pathogens and increasing the plants' total biomass, and therefore potentially increasing its total protein content.
Off the back of this discovery, ROO intend to lead the organic segment of the artificial meat replacement industry.
Roots is examining crops with a high protein content, either in the roots or in the canopy, which can be grown year-round using its RZTO technology. High end protein laden crops can be grown indoors where organic methods and cater for a lucrative organic meat replacement niche.
Roots will formally test the concept on high protein crops already planted at its home base in Israel. Two high protein crops that were planted on the company's farm in Bet Halevi, Israel, in September 2019, using three configurations of the RZTO technology — horizontal, "Stub T-shape", and a control group.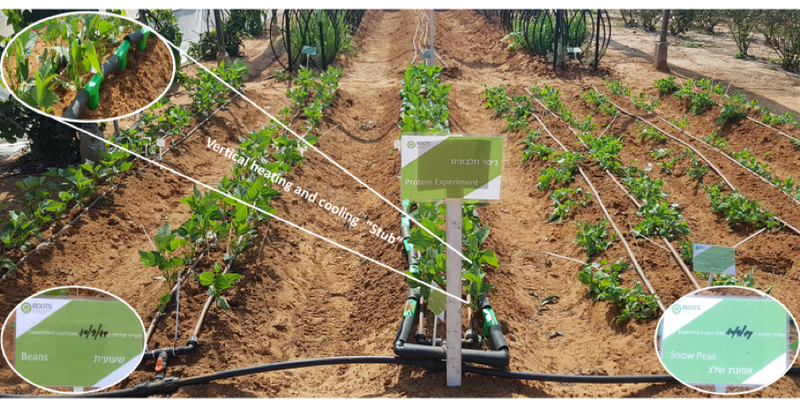 The final RZTO results from the first stage of the program are expected in November. Success here could lead to the planting of smaller size fields and greenhouses, thereby creating cost efficiencies and increasing profits for farmers using the RZTO system.
Roots' planting program and potential technological breakthrough has already generated interest.
Discussions are now underway with a European consultancy group and a bio-based company on a potential common application for a bi-national grant between Israel and Holland. The application will involve three companies, two of which must be European based.
The company is also assessing other potential opportunities to leverage its technology in the artificial meats space.
Plant-based 'meat': another high growth sector for Roots' agtech
Consumers are quickly waking up to the fact that consuming meat, especially highly processed meat, can have negative health outcomes and is contributing to the destruction of the environment — increasing carbon emissions, water consumption and deforestation.
Broadening recognition of both the health and environmental upsides of eating plant-based meat is translating to commercial success for businesses savvy enough to capitalise on this early trend.
So far, none have been more successful that Beyond Meat (NASDAQ: BYND). After completing a very well received IPO in May BYND now valued by the market at almost US$7 billion.
Founded in 2009 in Los Angeles, Beyond Meat's burgers and other plant-based products appeal not only to vegetarians, vegans, and the environmentally conscious, but they have now received its official kosher certification.
Beyond Meat has also been selected by McDonald's last month to supply the patties for burger chain's P.L.T. burgers.
Meet the P.L.T., a delicious, juicy plant-based burger, that will be available for a limited time as a test at selected restaurants in Southwestern Ontario. pic.twitter.com/0oozPRXGcT

— McDonald's Canada (@McDonaldsCanada) September 26, 2019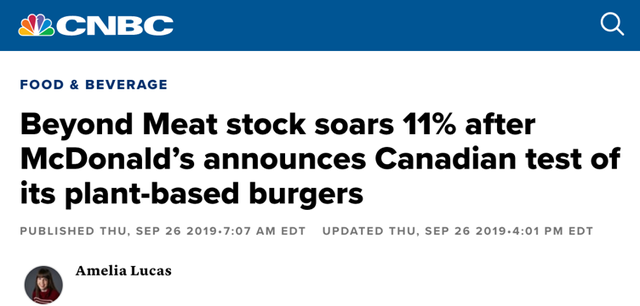 Impossible Foods, meanwhile, which has backing from Bill Gates and a host of celebrities, is also capitalising on the trend, having just raised US$700 million from US venture capital firms to further its plant-based meat offerings.
Impossible Foods' burgers are now sold in US supermarket, while a number of major fast food outlets, including America's second largest fast food company, Burger King, have added its burgers to their menus.
And while I haven't tasted one, they at least have the look of real meat.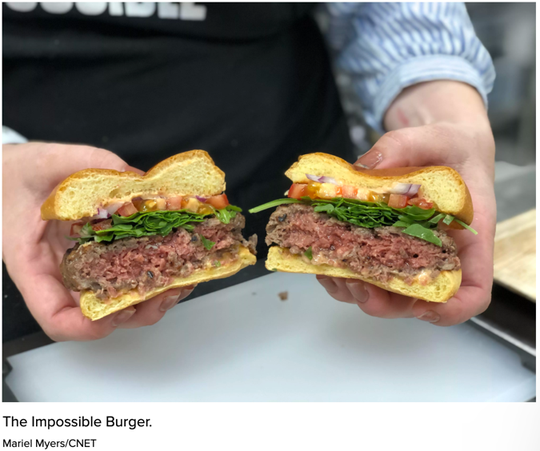 The company's "Impossible Burger" is a plant-based burger that "bleeds" like the real thing. Yet it's made from soy and potato proteins, plus its signature ingredient — the iron-rich compound, heme. Heme is produced when soy leghemoglobin is cooked and gives the veggie burger a meat-like flavour and its bleeding look.
Already a huge hit, these companies, are expanding their range of plant-based meat products to capitalise on the growing health and environmentally conscious consumer.
But it's no longer just these niche start-ups getting in on the action. Some of the largest meat (actual meat) producers including Tyson, Smithfield, Perdue and Hormel have rolled out meat alternatives. These big meat companies are filling supermarket shelves with an array of plant-based burgers, meatballs and chicken nuggets that — more or less — taste and feel like the real thing.
In Australia, artificial meats have gaining in popularity, with Hungry Jacks releasing a plant-based meat "Rebel Whopper" burger in stores across the country.
Hungry Jack's teamed up with the CSIRO and the plant-based meat start-up, v2food, to create the Rebel Whopper patty and unlike other patties made overseas, it contains no genetically modified ingredients — a major selling point.
This organic production is a trend, within the alt-meat market itself, that's positioned for major growth. Given that major producers, including Beyond Meat and Impossible Foods, overwhelmingly rely on industrially grown, high protein crops, there's growing demand for organic and environmentally conscious options for consumers.
Roots collaborate on ice-powered Irrigation by Condensation (IBC)
On Friday after the market close, Roots announced that is collaborating with cold thermal energy storage company, Nostromo Ltd. to progress the commercialisation of its solar-powered off-grid Irrigation by Condensation (IBC) systems.
Roots' off-grid IBC system facilitates the production of entire food crops using irrigation sourced only from humidity in the air, even in semi-arid areas. The technology enables food production in areas suffering from water scarcity and has successfully sustained nine high-protein crops from seedlings. Currently, the system uses lithium batteries as an energy storage medium and for water cooling.
The two parties will collaborate on developing an autonomous and cost-effective solar-powered water cooling and energy storage system to replace lithium batteries in Roots' IBC system.
Nostromo's IceBrickTM is a modular thermal cell that can fit any building/greenhouse as an extension, and it is 10 times more efficient in its energy density per square meter than any other available solution.
The system will be commercially available within a few months at a cost of less than $400 per kWh with a warranty for zero degradation of the cells over 15 years of operation.
The combined demonstration at Nostromo's lab in Israel will use IceBrick to irrigate crops at night using only the condensation formed on the external surface of pipes.
The collaboration will see Roots responsible for the installation of its IBC system and agronomical management while Nostromo will oversee onsite data collection and analysis.
It will enable Roots to advance the development and efficiency of its IBC systems, which currently rely on lithium batteries to store solar energy, and to progress commercialisation of its solar-powered IBC technology, addressing increased global demand for systems that mitigate drought.
Cold thermal storage is a natural choice for storing solar energy, as effective condensation can only take place once the sun has set. The IceBrick will complement the IBC technology to irrigate crops in a market that offers significant future opportunities for these types of technologies, especially as global agricultural production is being hampered by climate events.
Funding secured
A strong endorsement of Roots opportunities to commercialise RZTO, plus expand its marketing to cannabis growers and lift sales activity in the US came in the form of an $820,000 capital raising to sophisticated and professional investors.
The placement will see Roots issue 19,069,767 CDIs at A$0.043 each — a 15% discount to the 30-day volume weighted average price (VWAP) to 18 October 2019.
This comes after the company's $1.66 million equity raising in May, which after significant delays in seeking shareholder approval, resulted in a shortfall. This week's equity raising is a result of that shortfall as well as on going needs.
This placement, like the other news from Roots in recent weeks, is a strong endorsement of Roots and the substantial opportunities for it to commercialise its technologies across multiple geographies, and for various crops. The company continues to build in its initial sales in the North American cannabis market and now has a solid foot in the door to the plant-based meat market.
---