RLE Aims to Provide East Coast with Gas Shortage Solution
PUBLISHED: 25-11-2019 10:32 a.m.
Following the announcement of the commencement of its drilling program, shares in Senex increased 50% from 28 cents in June to hit a high of 42 cents in September.
The company commenced drilling at its Atlas project at the start of August and quickly moved to first production on 8 October.
Completion of its drilling work programs in the Surat Basin in Queensland, should put the company on track to reach production in the vicinity of 18 petajoules per annum by fiscal 2021.
The Surat Basin also hosts Real Energy (ASX:RLE) and is where more than 4000 wells have been drilled.
The success here for Senex and for Central Petroleum, whose share price increased 60% over the same period, demonstrates how quickly success can be realised in the CSG industry.
That is highly encouraging for RLE and its joint venture partner Strata-X Energy.
Here is RLE managing director Scott Brown speaking with Proactive Investors about the factors behind their successful bid for the prospective Project Venus acreage in the lucrative Surat Basin.
Unlike slow burn offshore drilling projects that are extremely costly in terms of exploration and development, as well as often presenting challenges in transporting the resource to users, CSG projects are cost and time efficient.
RLE's project is no exception.
Furthermore, as evidenced by Senex's contracted sales agreements with major Queensland users such as CSR and Orora, gas from RLE's Venus project could be efficiently hooked up to existing infrastructure and delivered to high demand east coast markets.
Demand on the east coast is set to spike.
Wood Mackenzie research director Nicholas Browne said, "The east coast will need the development of contingent reserves. The AEMO does not see supply shortage before 2030 and is reliant on contingent resources from as soon as 2021. In contrast, we think the shortfall could come as early as 2023 and forecasts that much of this contingent gas is unlikely to be developed and hence third party and equity LNG gas will be at risk.
If this happens, RLE could be on the box seat to fill a supply void.
So let's have a look at what the company has and how Project Venus could fill a much needed void in the gas market.
Catching up with...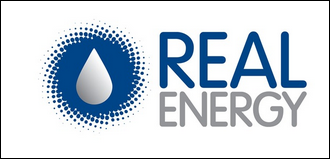 Real Energy

Share Price: $0.033 (as at 21 November 2019)
Market Capitalisation: $12 million
Here's why I like RLE: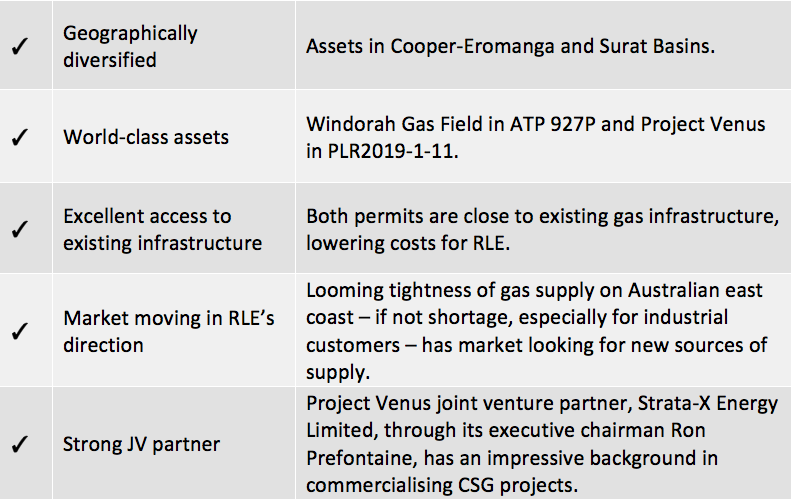 Project Venus JV With Strata-X Energy Doubles Real Energy's Prospects of Gas-to-Market Success
Junior oil and gas explorer and developer Real Energy Corporation (ASX: RLE) has struck a crucial deal in its quest to attain producer status, having been awarded a prime chunk of Surat Basin coal seam gas (CSG) acreage, in permit PLR2019-1-11, in joint venture with fellow oil and gas junior, Strata-X Energy Limited (ASX: SXA).
The Real Energy/Strata-X joint venture – a 50:50 partnership – was preferred bidder for a highly prospective 153 square-kilometre permit located near the town of Miles in the Surat Basin area of southern Queensland. Real views the acreage – known as Project Venus – as potentially a commercially viable producer, being surrounded by major CSG-producing assets.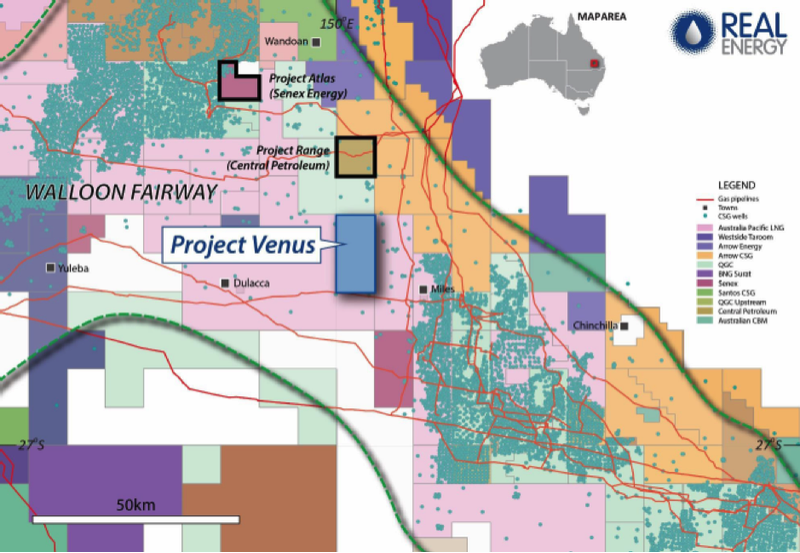 Project Venus is in addition to the company's existing acreage in the prolific Cooper-Eromanga Basin onshore oil and gas province, where its Windorah Gas Field has a certified estimated total mean gas in place of 13.8 trillion cubic feet, prospective recoverable conventional gas resources of 5.5 billion cubic feet and a 3C (highest estimate of contingent resources) gas resource of 770 million cubic feet.
Real Energy bills Project Venus as "Gas for the East Coast of Australia," an extension of its stated corporate raison d'être of becoming a key player in helping to solve the Australian east-coast gas supply challenge, which has arisen on the back of the three massive liquefied natural gas (LNG) export projects that have entered production over the last four years.
Another bonus for RLE is Executive chairman Strata X, Ron Prefontaine's experience, which will be vital in terms of commercialising this project.
Prefontaine was previously executive director of Arrow Energy during its formative years and the founding managing director of Bow Energy Limited.
Arrow is now jointly owned by Shell and PetroChina in a 50-50 joint venture, operating from five fields in Queensland's Surat and Bowen basins
Drawing on his past experience in the region, Prefontaine appeared confident regarding the prospects of PR2019-1-11 in saying, "Having run successful exploration and reserves programs in the Walloon Fairway previously, I know exactly what is required to convert the vast prospective resources in PR2019-1-11 to reserves.
''Once material reserves are proven, given the nearby pipeline and infrastructure, our goal is to fast track field development to create early cash flows.
There is a reason for this: take advantage of east coast gas supply shortages.
Tight gas supply – if not shortages – loom on Eastern Seaboard
Not only have the LNG export projects meant that domestic prices have risen to meet global prices, but locked-in contracts to ship gas to Asia have exacerbated supply shortages in Australia as the Bass Strait oil fields in Victoria enter natural decline (in the absence of new discoveries), at the same time as politically motivated drilling bans in Victoria and New South Wales have crimped new supply.
The Australian Competition and Consumer Commission (ACCC) recently stated in its seventh gas supply Inquiry interim report that while the east coast gas market was unlikely to experience a shortfall in 2020, supply remained tight and more development and production was needed.
"The supply-demand balance in the southern states remains tight, and there is uncertainty about how much gas will actually be used for gas power generation and how much of the gas produced in the south, particularly the Cooper Basin, will flow to Queensland," ACCC Chair Rod Sims said on releasing the report. "What would most relieve price pressures is developing new low-cost supply in the southern states."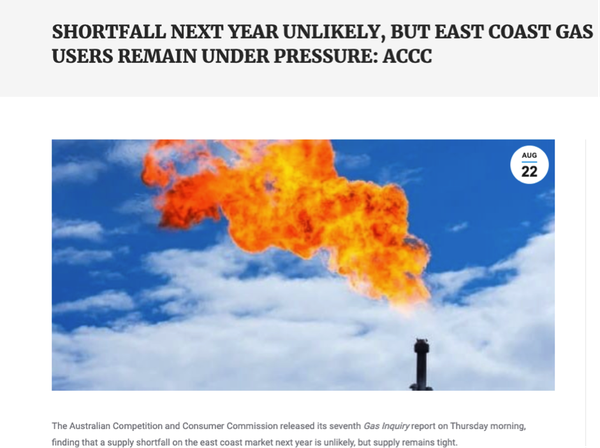 Although a supply shortfall is unlikely in the short-term, high gas prices remain a concern for commercial and industrial (C&I) gas users particularly in the southern states. Almost one-third of the gas consumed in Australia is used by manufacturers.
These considerations have led to several proposals to establish import and regasification terminals to supply Australian domestic markets. The strange situation in which Australia – the world's biggest LNG exporter – appears to be headed inexorably toward needing LNG imports, is one that could play into the hands of Real Energy, which has a clear "gas-to-market" strategy for both Project Venus and Windorah. In that regard, Project Venus should be helped by its excellent access to infrastructure – well served by roads, seismic data, towns and gas pipelines.
As Real Energy Managing Director Scott Brown put it in this interview, "We think it is a great neighbourhood and importantly, there is a lot of gas infrastructure close by, and pipeline infrastructure. We think we can bring the permit into production over time."
Brown's confidence is supported by the company's case for Project Venus, which is based on the fact that the acreage is wholly within the Walloon CSG Fairway, host to the largest CSG resource in Australia. The Walloon Fairway is a prolific gas producing region, with more than 4,000 wells drilled: coal-bearing measures are pervasive throughout the permit area, which contains gassy Walloon Coals that are up to 34 metres thick. The top Walloon coal is from 350 metres in northeast of the Project Venus permit to 700 metres deep in the southwest.
The joint venture's neighbours in the Walloon Fairway include APLNG (Australia Pacific LNG, one of the three Queensland LNG export projects), Shell, Arrow Energy, GLNG (Gladstone LNG, another of the three LNG export projects), the Project Range CSG project of Central Petroleum (ASX: CTP), the Ironbark CSG project (sold by Origin Energy to APLNG for $231 million in February 2019) and Senex Energy's (ASX: SXY) Project Atlas, which bears close comparison with Project Venus, as it also intends to provide gas to industrial and household customers on Australia's east coast. Last month, Senex Energy marked first gas flow at its wholly owned Project Atlas, from the first four wells (of 11 drilled so far) to be brought online.
In particular, Real Energy is keeping a close eye on the fortunes of Ironbark, which was sold with reported reserves of 129 petajoules (Pj) of gas; Project Atlas, which has reported 2P (proved plus probable) reserves of 144 Pj of gas; and Project Range, which has reported 2C (best estimate of contingent resources) resources of 270 Pj of gas. All up, Real Energy says the "nearby CSG fields" to Project Venus have established 1200 Pj 2P reserves.
Windorah Far From Forgotten in Real Energy's Plans
The Project Venus ground is additional to the company's condensate-rich Windorah gas play in its exploration permit ATP 927P in the Cooper-Eromanga Basin. Real Energy spent a great deal of FY19 working to demonstrate the potential of Windorah, with the Tamarama 2 and Tamarama 3 wells generating a material upgrade to the contingent gas resources: in August, after an assessment conducted by US petroleum engineering firm Aeon Petroleum Consultants, the total 3C contingent resources for ATP 927 were lifted to 770 billion cubic feet, a 40% increase on the previous estimate, reaffirming that ATP 927 contains a very large gas field.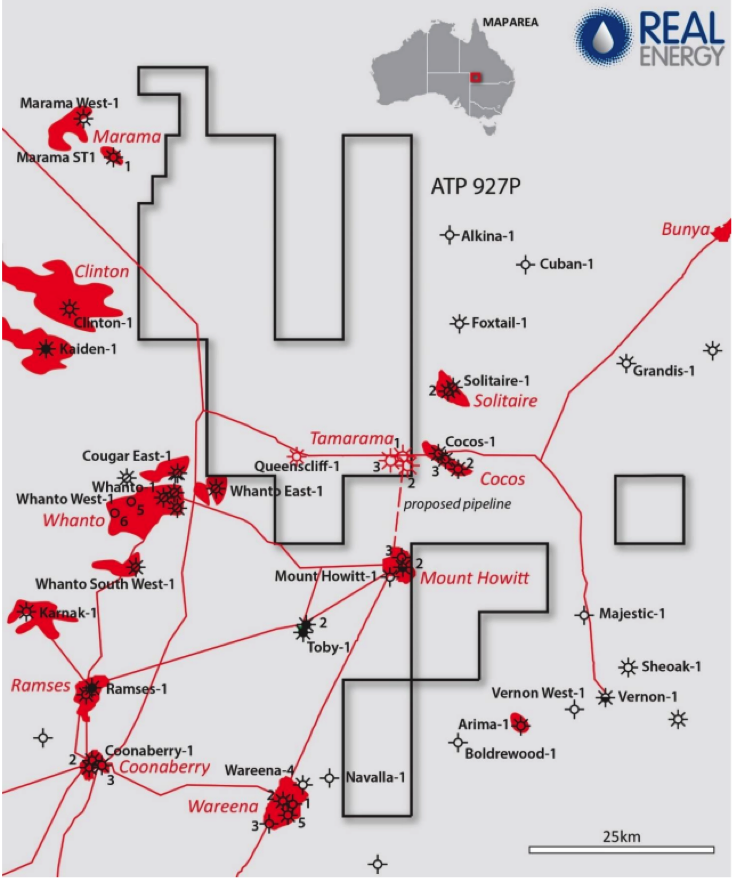 But RLE says it is only just getting started with Windorah's development: the company is confident that both reserves and resources will increase as it develops the field and improves the flow rates.
Back in July, K1 Capital updated its research on Real Energy in July, attributing a base case value of 16 cents per share, implying upside of 400% relative to the group's current share price. This is speculative on their behalf.
However, further highlighting the company's undervalued position, subsequent to K1's report, Real Energy substantially upgraded its Windorah Gas Resource, including an uptick in the 3C Contingent Resource to 770 billion cubic feet, significantly higher than the 672 billion cubic feet referenced in K1's report.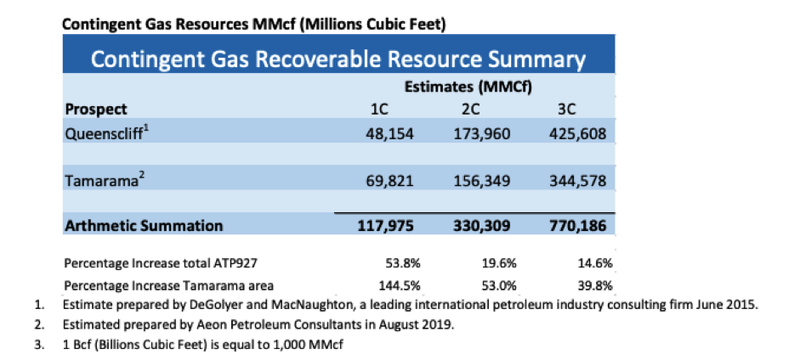 Strong case for RLE
Real Energy's gas-to-market strategy was further strengthened throughout FY19, with key gas processing and tie-in agreements secured with Santos Limited (ASX: STO) and Beach Energy Limited (ASX: BPT) in October 2018. Both Santos and Beach have gas processing facilities at Moomba in South Australia: the gas processing agreement will allow raw gas from RLE's Windorah Gas Project to be processed into sales gas, which can then be supplied to the east coast Australian market.
These agreements represented a significant step in Real Energy's efforts to commercialise Windorah without having to build its own costly infrastructure: they were followed in June 2019 with the granting by the Queensland government to the company of a pipeline licence between the Tamarama area and the Mount Howitt facility operated by Santos.
Real Energy says the processing agreements represented a critical milestone for the Company, as they provide a pathway to commercialise the significant gas resources at Windorah, while greatly assisting gas offtake negotiations.
On the other hand, FY20 so far has not been uniformly positive for Windorah. In July, Real Energy reported lower-than-expected gas flow rates at Tamarama 2 and Tamarama 3 – which caused a 30% slump in the share price, despite the company explaining the weak performance as being due to operational and mechanical issues, not geological ones.
However, an August update on the resultant technical changes instituted at Windorah went a considerable way toward mollifying investors, triggering a share price surge on the day of release of more than 20%.
Two-Pronged Strategy Boosts Real Energy
Real Energy says it will bring Project Venus into production in the next few years, aiming – along with Windorah – to play a significant role in developing a new source of gas supply to domestic customers on the east coast of Australia.
Once material reserves are proven at Project Venus, given the nearby pipeline and infrastructure, the JV should be well-positioned to fast-track field development to create early cash flows. And at Windorah, too, further news flow – both in terms of improved flow rates and increased reserves and resources – should ensue. In particular, the company plans to drill the first horizontal well at Windorah in 2020, and this will be closely watched.
---