Is RLE Getting Ready to Supply Much Needed Gas to the East Coast?
PUBLISHED: 19-09-2017 09:30 a.m.
As a threat to small businesses, and the wider economy, Australia's gas crisis has been well publicised.
One aspiring producer, Real Energy (ASX:RLE), holds two large exploration permits in Queensland and is positioned to take advantage of increasing demand from East Coast gas users.
It's been a few months since we updated you on this cashed-up, debt free gas explorer, which now looks to have a significantly-improved chance of moving into gas production.
RLE wants to bring forth a new gas resource in Queensland, and ultimately, commercialise its Windorah Gas Project to help meet the demand from east coast energy users. RLE's permits in Queensland are, at least initially, focusing on the Toolachee and Patchawarra formations — well known throughout the basin for holding and producing gas.
The company looks to have its hands on one of the largest gas resources uncontracted on the east coast, with Independent Estimated Total mean Gas in place of 13.76tcf in APT927P, which we'll look at in more detail shortly.
RLE has demonstrated consistent improvement in its flow and pressure rates at Windorah's Tamarama-1 well, with gradual improvement in well performance. The Company installed a plunger lift into the well which has clearly improved performance.
The following video recently released by RLE of the Tamarama-1 well clearly shows strong gas flows: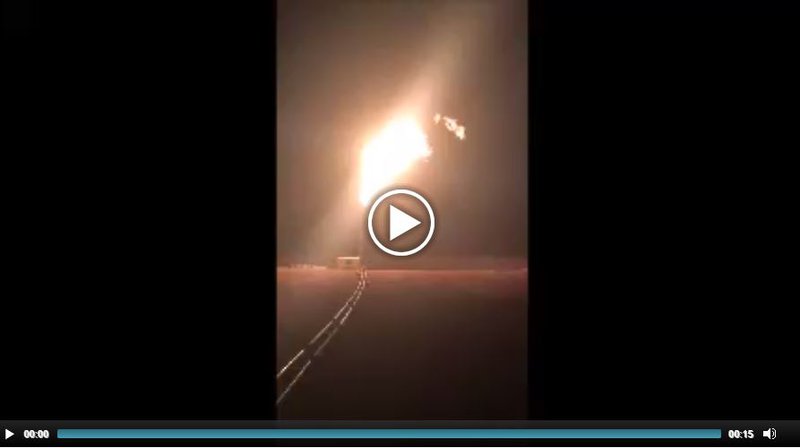 This is the kind of strategic result we like to see coming from our Next Oil Rush picks.
As is its executed non-binding Memorandum of Understanding (MOU) with Weston Energy Pty Ltd to sell gas from the company's Windorah Gas Project in the Cooper Basin, Queensland.
The MoU represents a significant step towards signing a binding gas sales agreement (GSA) between the two parties, covering the purchasing by Weston Energy of 3 petajoules ("PJ") of gas per year for a period of five years.
This agreement follows the cornerstone MoU deal with ASX-listed Santos for gas processing, which we reported to you when we last updated you on RLE back in May .
Like the MoU with Weston, the agreement with Santos provides a clear pathway to commercialisation, allowing for raw gas from RLE's Windorah Gas Project to be processed into sales gas to supply the east Australian gas market.
It is early days in the life of these deals, so investors should remain cautious about the investment decision in this stock and seek professional financial advice for further information.
RLE has a simple, straightforward shot at establishing what could be large shale resource in Australia and represents a solid opportunity to take a calculated risk of striking a huge billion-cubic-feet gas resource onshore Australia. We're here to guide you through the RLE story and update you regarding its rapid progress.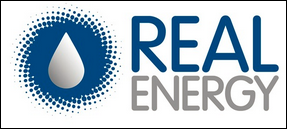 Real Energy

Real Energy (ASX:RLE), is focused on exploration and development of oil and gas acreage in the Cooper Eromanga Basin in South West Queensland — an area that's synonymous with successful onshore oil and gas projects.
RLE's focus is on itsTamarama-1 well at its Windorah Gas Project, which since June this year has produced results that have been key steps in RLE's efforts to commercialise the project.
Going by the latest videos and updates from the company since June, progress is tracking well with gradual improvement in well performance.
In June, RLE made the following announcement: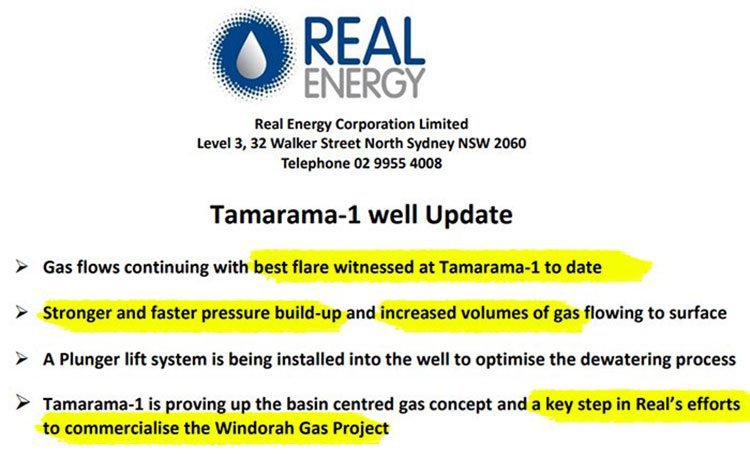 At this time the company reported its 'best flare to date'.
Here was the active gas flow at Tamarama-1: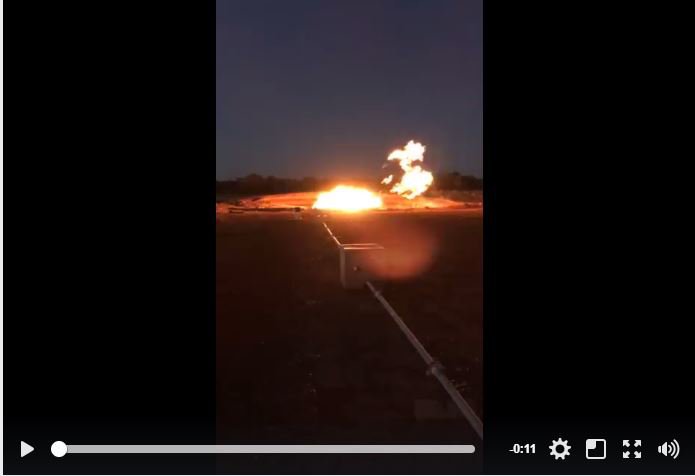 Now, here again is a look at the latest video from Tamarama 1: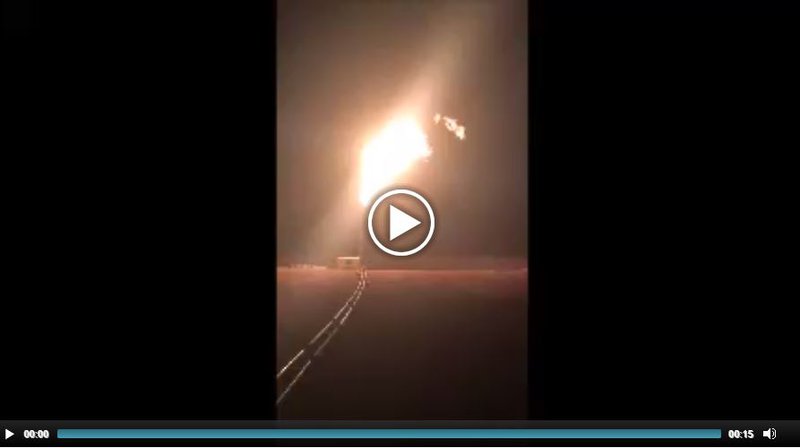 RLE's Tamarama-1 well was drilled as an exploration well and has proved up the concept of Basin Centred Gas for the company.
Here's why this is important: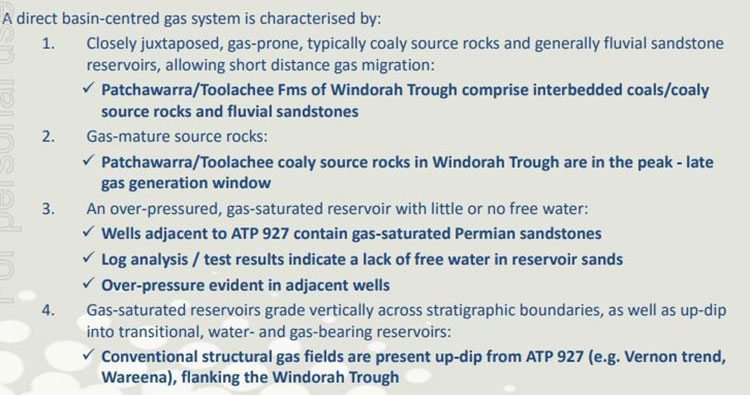 As you can see, RLE's assets meet all the criteria of a direct basin-centred gas system. Most notably, a 5 stage frac has been completed at Tamarama-1, with gas flowing to the surface. The company has successfully installed the plunger lift into Tamarama and water recovered appears to still be from the original frac fluid from the Toolachee zone coal seams.
Later this year RLE could move up the valuation stakes...
RLE has a large acreage position that's 100% owned. Its overall position is as follows from each of its projects:

A total of 682,257 acres is a huge swathe of land for RLE to utilise. It could decide to vend in other partners or pursue its own exploration.
That's what we like to see with our prospective oil and gas picks — lots of optionality and good chances of success when drilling.
There is a significant quantity of gas throughout RLE tenements — ATP927P and ATP 1194PA.
Mapped out below is RLE's location and tenements together with the main players in the Cooper Basin.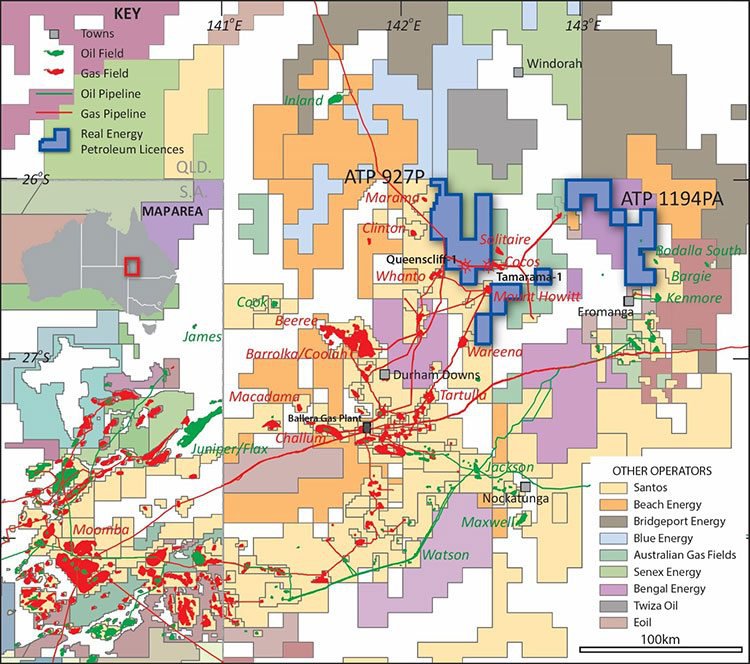 The Windorah Gas Project (see map below) is focused on ATP927P. Significantly, RLE acreage is next door to Santos, Beach's and Origin's acreage and they are targeting the same formations being the Toolachee and Patchawarra.
Santos, the operator of the adjoining acreage has drilled over 10 gas wells in the last two years – all of them either being completed as gas producers or described as future producers. The most significant thing about basin centred gas is that it is laterally extensive over a wide area.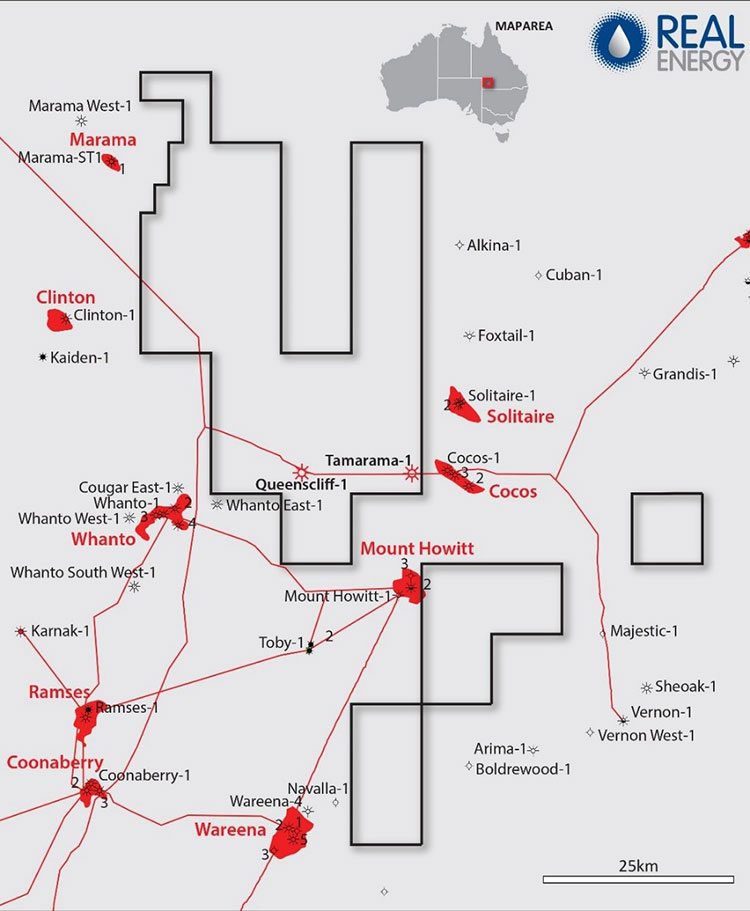 Attracting attention
In a highly encouraging sign to shareholders, not long after the announcement in June regarding Tamarama-1 gas flow, Credit Suisse emerged as a major investor in the company with a 5% stake.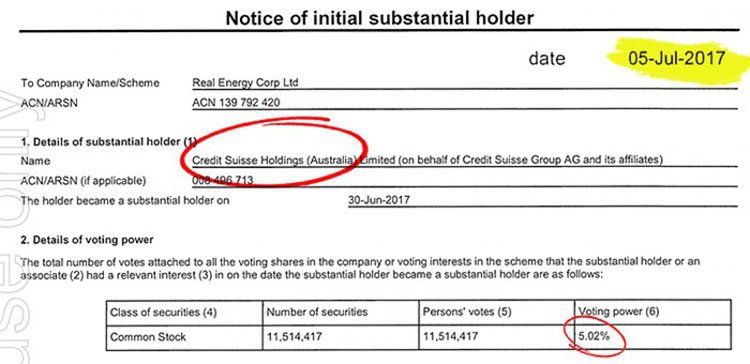 Unfortunately, the share price didn't rally as much as one might expect on this news because it corresponded with a sharp fall in the oil price.
The below Nine Finance article discusses this in more detail: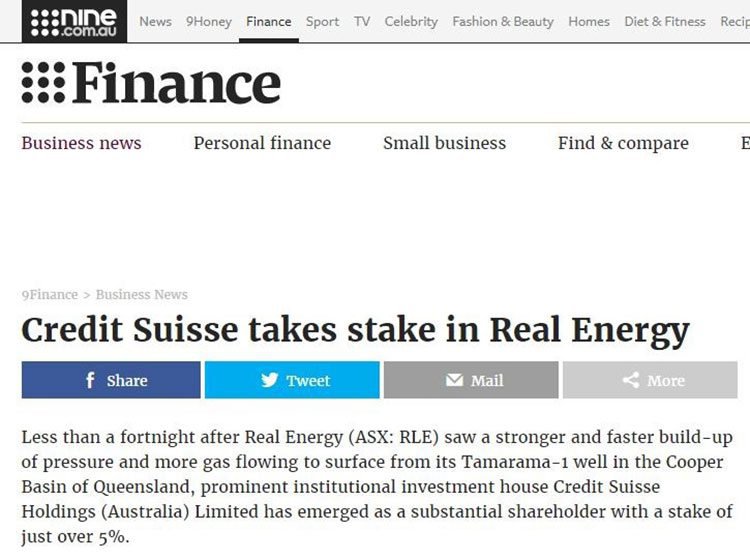 However, the move by one of the world's most highly renowned and well-capitalised investment banks joining RLE's shareholder register is a welcome sight and shores up confidence in the company and its gas ambitions.
However, this remains a speculative stock and investors should seek professional financial advice if considering this stock for their portfolio.
Credit Swisse's involvement is certainly an important sign for any partners that come on board.
Gas sales agreement signed with Weston Energy
On July 17, RLE announced that it had signed a non-binding Memorandum of Understanding with Weston Energy to sell gas from its Wendorah Gas Project. Weston Energy is a privately-owned gas retailer helping bring much needed energy security to Australian businesses.
This is a significant step for RLE towards signing a binding Gas Sales Agreement. It covers the purchase by Weston Energy of three petajoules gas per year for a period of five years.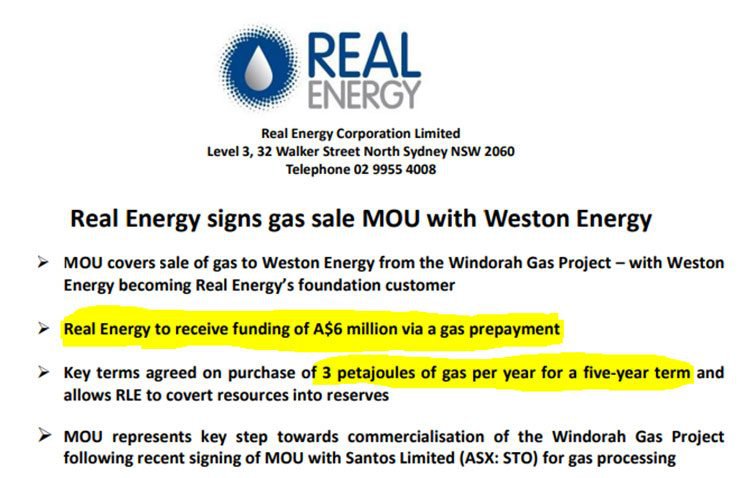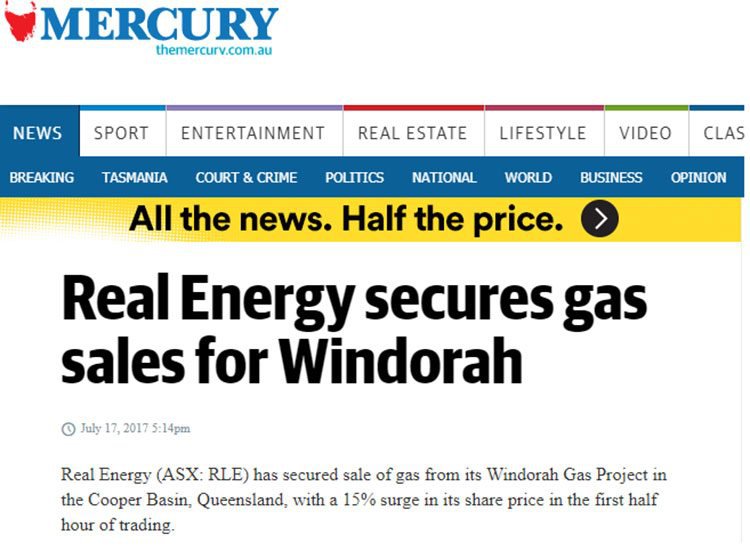 The signing of Weston Energy as RLE's foundation customer follows the signing of an MOU in May with Santos for Windorah's gas processing — both are significant and impactful developments for the business.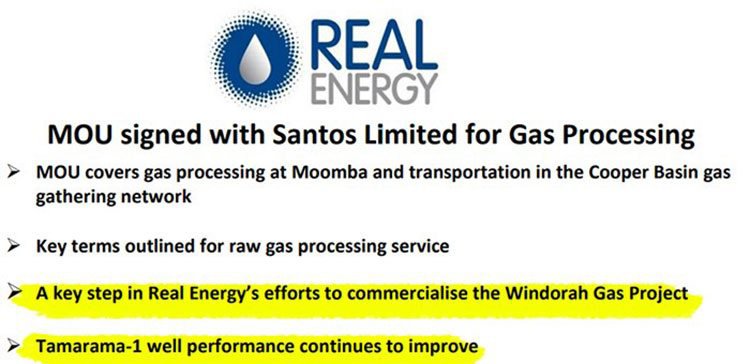 We discussed this agreement in more detail in our last update on RLE in May — Amid the East Coast Gas Crisis, RLE Strike Deal with Santos .
Optimistic news, like the above, has helped RLE's share price begin to stage a recovery this year with some bursts of handy volume too. You can see the reaction to the Santos announcement in May and then the Weston Energy announcement in July on the chart below.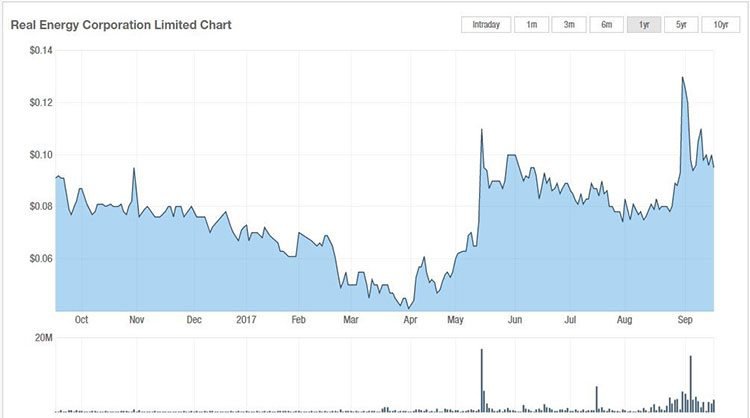 The past performance of this product is not and should not be taken as an indication of future performance. Caution should be exercised in assessing past performance. This product, like all other financial products, is subject to market forces and unpredictable events that may adversely affect future performance.
RLE's ultimate goal is to prove up an estimated Total Mean Gas in place of 13.76 TCF
RLE's permits cover over 2,761km 2 and cover every type of hydrocarbon there is. But it's the unconventional gas seams that interests RLE most.
The main play RLE is chasing is the Toolachee and Patchawarra formations as these formations contain significant gas. Initially, RLE will focus on the Toolachee and Patchawarra, which have high organic content of up to 30% TOC.
RLE is definitely in the right place at the right time
RLE's land is 100% owned with no other JV partners. In some ways, RLE has an entire cake to divvy up, as and when required.
This means that RLE can welcome potential JV partners from a position of strength, if it decides to do so.
Of course, these are just aspirations for now and investors should be cautious — this is a prospective gas stock and professional financial advice is advised.
The potential upside is that RLE records a huge resource and develops the Windorah Gas Project into a significant supplier to the Australian gas market, which is feeling demand pressures from both home and abroad.
Having reported improving flow rates, RLE is now standing on the verge of potentially becoming a producer.
The coming few months should see a push higher in RLE's level of exploration activity, news flow, and hopefully, its valuation.
With a cash position of over $7 million, field operations moving along nicely, and showing improving flow rates at Tamarama-1, RLE is on track to turn its promising geology into commercial dollars.
This $21.5 million-capped hydrocarbon junior is hoping to reward patient investors with something very alluring later this year. We'll keep an ear close to the ground for RLE's drill-bit, because a strike of over 13 billion TCF could launch this featherweight oiler into the stratosphere.
---