RLE Pursues Hydrogen Opportunities, Adding to its East Coast Gas Assets
PUBLISHED: 27-05-2020 09:53 a.m.
Australia's federal and state governments have recognised hydrogen as a safe, flexible and clean fuel that can be used to power vehicles, generate electricity and produce heat, all without carbon emissions.
Late last year, the Commonwealth presented Australia's National Hydrogen Strategy detailing how hydrogen resources could enhance Australia's energy security, create jobs and build an export industry worth billions of dollars.
The strategy sets a path to build Australia's hydrogen industry, including accelerating the commercialisation of hydrogen, reducing technical uncertainties and building up supply chains and production capabilities.
Working in step with this changing landscape is Real Energy (ASX: RLE), an Australian east coast focused gas company with interests in the Cooper Basin — Australia's most prolific onshore producing petroleum basin, and in Queensland's Surat Basin.
In news announced just last week, the company confirmed it is also entering the hydrogen fuel industry with plans to build a large-scale hydrogen fuel plant in Queensland.
RLE has established a wholly owned subsidiary, Pure Hydrogen Corporation Pty Limited, to undertake a detailed scoping study to assess the commercial viability of building, owning and operating a hydrogen fuel plant in Queensland.
With the federal government committed to the success of the emerging hydrogen fuel industry as well as gas industries, RLE has positioned itself in sectors that are poised for significant growth going forward.
RLE has a market capitalisation of just $9.9 million, with $1.4 million cash at bank, so there is scope for major growth ahead.
All the latest from,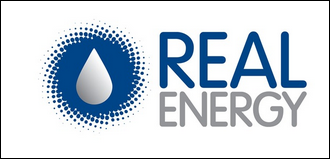 Real Energy

Share Price: 2.6¢
Market Capitalisation: $9.89 million
Cash: $1.4 million (at 31 March 2020 quarter end)
Here's why I like Real Energy: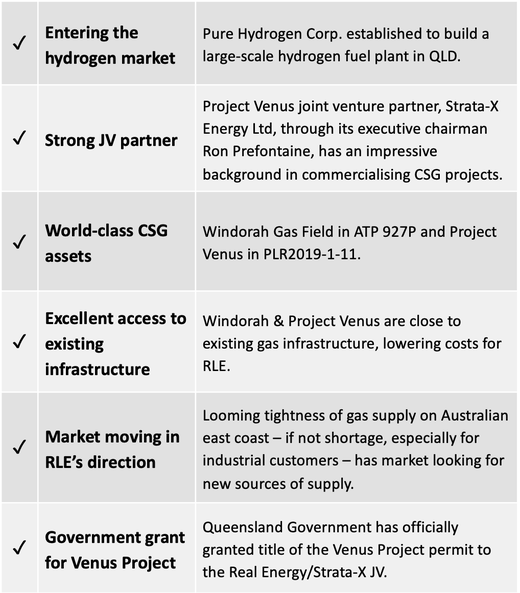 Real Energy establishes Pure Hydrogen Corporation
Governments across the globe are recognising the ill-effects of coal burning on populations and environments and are shifting to cleaner energy sources.
Coal seam gas (CSG) is one option that is increasingly being used to supply gas to eastern Australia and further afar.
A landmark report from CSIRO's Gas Industry Social and Environmental Research Alliance (GISERA) confirmed that greenhouse gas emissions are reduced with the increased use of natural gas domestically and in export markets.
The report, Whole of Life Greenhouse Gas Emissions Assessment of a Coal Seam Gas to Liquefied Natural Gas Project, assessed greenhouse gas emissions of a CSG to liquefied natural gas (LNG) project in Queensland, and the relative climate benefits of using this gas in place of thermal coal to generate electricity. It determined that the CSG to LNG project resulted in a reduction in greenhouse gas emissions of up to 50%.
Governments are now also looking at hydrogen as a clean energy source.
Adding to its Queensland CSG pursuits, Real Energy (ASX: RLE) is seeking to enter the hydrogen fuel industry, giving it a look at two targeted clean energy sources.
RLE has established a wholly owned subsidiary, Pure Hydrogen Corporation Pty Limited, to undertake a detailed scoping study to assess the commercial viability of building, owning and operating a hydrogen fuel plant in Queensland.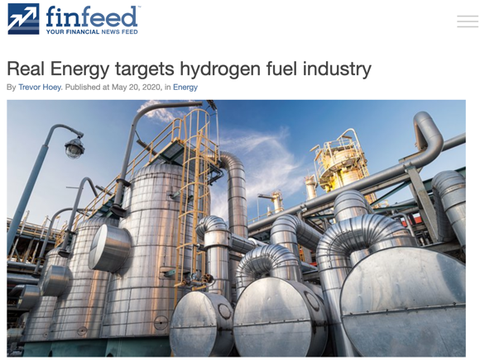 Scoping studies will be undertaken by an experienced engineering consulting firm and a dedicated team that Pure Hydrogen Corporation will establish. The company will also assess eligibility for government funding.
Pure Hydrogen Corporation has already earmarked two potential sites in Queensland — adjacent to Real Energy's existing 50%-owned Project Venus CSG project, as well as another site near Gladstone — to establish a large-scale hydrogen fuel plant with a minimum annual production capacity of 36 million kilograms.
A plant of this size has the ability to power 240,000 zero-emission hydrogen-powered Hyundai NEXO's for a year.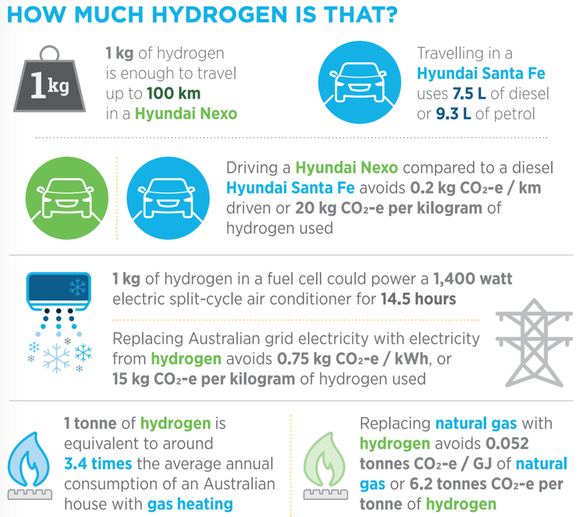 The two main ways of making hydrogen are either processing natural gas or through converting water to hydrogen through a process known as electrolysis.
This suggests that RLE's existing gas resources could be utilised to provide gas feedstock for a natural gas to hydrogen plant. Additionally, the waste water from dewatering the coal seam gas field of Project Venus could be used to produce hydrogen.
Real Energy Managing Director Scott Brown commented: "For some time our Board has been assessing the options for establishing a dedicated entity to assess opportunities to build a large-scale hydrogen fuel plant in Queensland.
"The Queensland government has shown its commitment to supporting the development of large energy projects and this is also the case for renewable energy projects – the $2 billion lithium-ion battery cell gigafactory in Townsville being developed by Imperium3 is one such example.
"With the Federal Government also committed to this sector, we believe our investment and commitment to these scoping studies is appropriately timed and we see enormous potential to develop a hydrogen industry in Australia. We look forward to providing shareholders with regular updates as we narrow in on a preferred site."
In the video below, RLE Managing Director Scott Brown chats to InvestorStream following the company's decision to pursue opportunities in the hydrogen energy sector, discussing the rationale behind the move the potential investment size, and explains why hydrogen is emerging as a key energy source around the world.
Australia's National Hydrogen Strategy
This strategic decision by RLE follows the federal government's road map for Australia's National Hydrogen Strategy in November last year, which sets a vision for a clean, innovative, safe and competitive hydrogen industry. It has committed to removing barriers to industry development and aims to position the industry as a major player by 2030.
The strategy outlines an adaptive approach that equips Australia to scale up quickly as the hydrogen market grows. It includes a set of nationally coordinated actions involving governments, industry and the community.
Furthermore, in May 2020, the federal government committed to invest $300 million in Australia's emerging hydrogen industry.
Hydrogen is high energy, safe, flexible and clean fuel that can be used to power vehicles, generate electricity and produce heat, all without carbon emissions.
Hydrogen fuel cells can be constantly sourced, emit nothing but pure water and offer high fuel efficiency and an ultra-quick refuelling time of five minutes. This is a market that's expected to grow rapidly, with hydrogen likely to be used in transport particularly buses, trucks and cars, as well as to power industry generally.
Along with Hyundai, Toyota, Honda, and Audi, have either released models or are planning to release models that are powered by hydrogen fuel cells.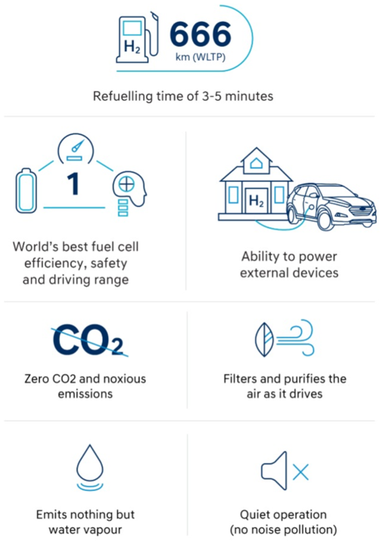 Hydrogen fuel benefits (source: Hyundai)
Hydrogen is gaining traction worldwide amid rising demand for emission-free energy sources.
In Europe, hydrogen is emerging as a fuel of the future in a growing number of countries and the EU has drafted a range of measures to scale up the production of hydrogen and is betting on emissions-free electricity for big industry in its economic recovery package.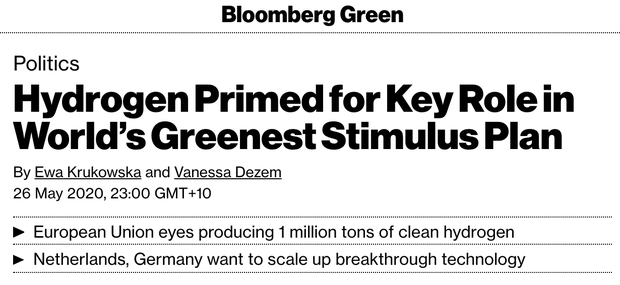 Real Energy's Gas Projects
Alongside exploring opportunities in hydrogen energy, RLE is equally committed to the newly-secured Project Venus CSG project in the Surat Basin — a prolific CSG producing region, and its Windorah Gas Project in the Cooper Basin.
RLE Managing Director Brown said, "Whilst [Pure Hydrogen Corp] is an excellent development for Real Energy, it in no way detracts from our efforts in advancing Project Venus and extracting value from our Windorah Gas Project. These projects remain important to Real Energy's ambitions in Queensland and we expect to report on progress with respect to Project Venus very soon."
RLE has an Independently Certified 3C Contingent Gas Resources of 770 BCF within ATP 927P (Windorah Gas Field) and a Recoverable Prospective Gas Resources in Project Venus (100%) of 694PJ.
Here's MD Scott Brown discussing the company's gas assets with Pitt Street Research, prior to it announcing its hydrogen pursuits.
Project Venus
Real Energy entered a 50/50 joint venture with Strata X Energy (ASX: SXA) on Project Venus in October 2019.
The JV brings the involvement of Strata X executive chairman Ron Prefontaine.
Prefontaine brings some impressive experience to the JV, having been the technical director of Arrow Energy and the founding managing director of Bow Energy, two ASX-listed CSG companies that were separately taken over in 2010 and 2011, respectively, for a combined total of approximately $4 billion.
Project Venus is located in the Surat Basin where over 4,000 wells have been drilled, and over 1200 PJ of 2P reserves sit in nearby CSG fields.
The project contains high quality and very prospective acreage covering 154km2 which is within the main Walloon Coal Seam Gas Fairway and close to gas infrastructure including gas pipelines.
It is located immediately adjacent to gas infrastructure, so the JV is aiming to expedite the progressive conversion of gas resources to gas reserves to fast-track development of the project and potentially deliver early cash flows.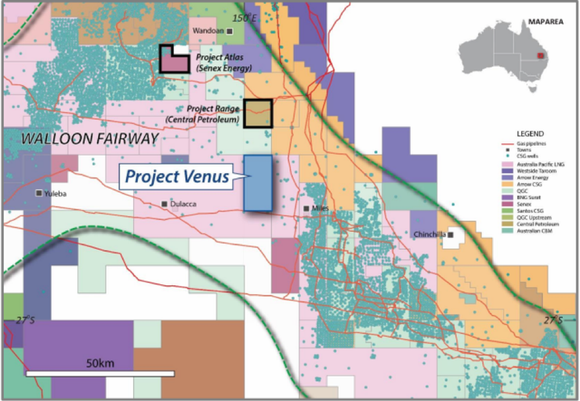 Project Venus: Real Energy - Strata X JV
After RLE invested considerable time securing this highly prospective CSG acreage, the Queensland Government officially granted title of Project Venus permit ATP-2051 to the JV in late March.
There is significant coal in this permit which RLE believes it can turn into significant gas resources. RLE is aiming to unlock considerable value over the coming 18 months proving up reserves and drilling in the lead up to first gas production.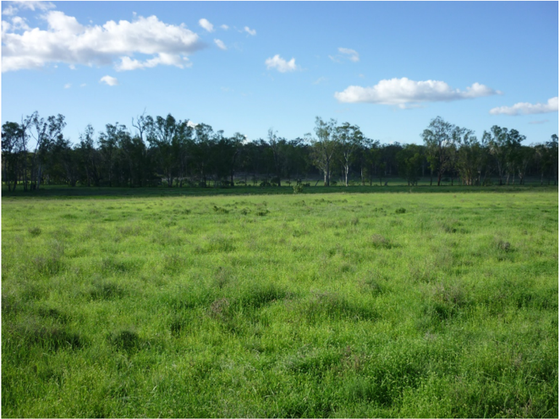 Connor 1 well site – is clear of trees, flat with easy access
Real Energy and Strata X Energy have been undertaking initiatives to commence operations on Project Venus with the first item of operation that the JV is looking to complete being the re-entry of Connor 1 well.
Preparations for the re-entry of Connor 1 are well-advanced and the field work is expected to start shortly, subject to finalising the scheduling with contractors and customary site permitting and COVID-19 restrictions. If the re-entry is successful, the JV intends to move to a pilot program to cover at least three wells to establish significant gas reserves.
Windorah Gas Project
Real Energy continue to review development options for the Windorah Gas Project. Productive discussions with a number of potential partners have been had, but it remains difficult to complete a farm in agreement in the current environment impacted by Covid-19. Yet management do remain committed to securing funding for the Windorah Gas Project and are exploring all available options.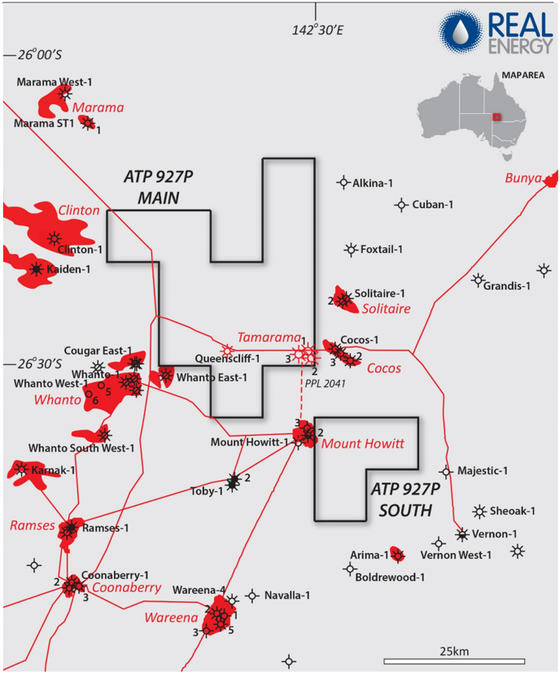 Windorah Gas Project
What the analysts say
On April 22, Pitt Street Research published a report on RLE.
Analyst Stuart Roberts said, "We reiterate our valuation for RLE at A$0.15 per share base case and at A$0.25 optimistic case using a DCF approach for the Windorah Gas Project. We have retained our basic assumptions from the time of initiation.
This valuation comes as a significant premium to the current share price of 2.2¢, but note all analyst valuations are speculative.
"For conservatism's sake, we have not included Project Venus in our estimations. However, given the promising nature of the tenements adjacent to Project Venus, we believe it presents a potential source for further re-rating of RLE in the medium term.
Keep in mind that this also doesn't consider RLE's recent establishment of Pure Hydrogen Corporation so has not been considered in the report or valuation either.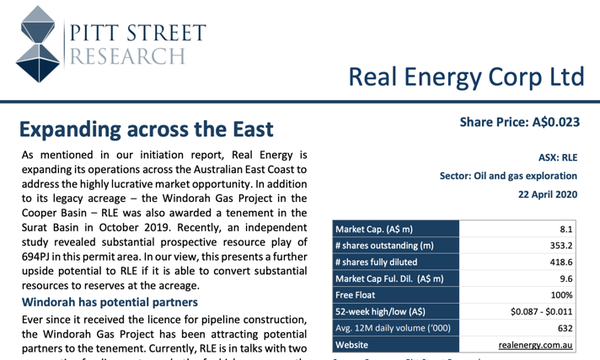 Earlier, in February, Breakaway Research published a report on RLE with a BUY recommendation and a provided a base case valuation of 19¢ per share with upside.
Breakaway compared the RLE enterprise value compared to other companies that are considered by equity investors as focused or "pure-play" east coast domestic gas market participants: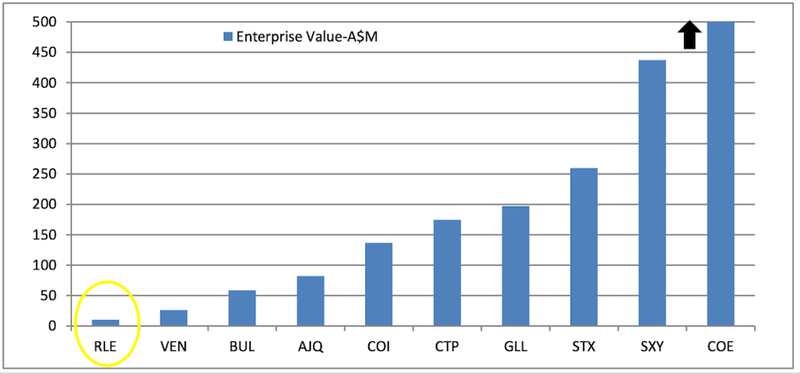 "There are many reasons for the large disparity in values and the larger companies, Senex and Cooper Energy have proven gas reserves and production and RLE lacks both at this time. There is a multi-fold upside to be won if RLE can translate its contingent gas resources into production.
"Real Energy does not have proven reserves and its resources are contingent on demonstration that they are commercial. We note that many peers are pursuing gas exploration, appraisal and commercialisation in unconventional geologies, some very remote from infrastructure and even so, attract significant equity market value.
"It appears the equity market heavily discounts RLE's BCG geological model, which we attribute to the relative uniqueness of this style of geology in Australia."
Click HERE to view the report.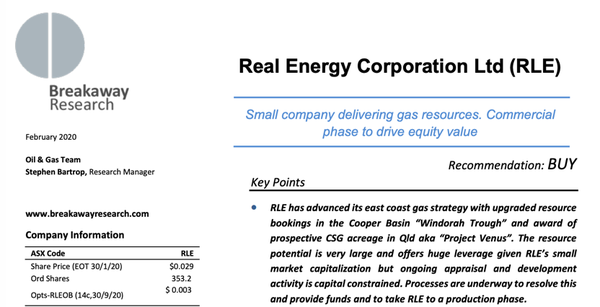 A final word
Now exploring opportunities in both gas and hydrogen — sectors that both state and federal governments have expressed and demonstrated their support for — Real Energy continues to expand in the east coast energy market.
The establishment of its wholly owned subsidiary, Pure Hydrogen Corporation, is could prove to be a significant development in the company's direction, yet it does not detract from its efforts in advancing Project Venus and extracting value from the Windorah Gas Project.
Plus, the company's current sub-$10 million market capitalisation offers leverage to investors as development progresses across the company's QLD assets.
---