PUR hit a significant "mineralising system" - now to find the core (and what it actually is…)

Share price when sent: $0.145
When it rains, it pours.
We don't usually send two emails in a day.... Let alone three.
Today we have already had two great exploration results from Tempus Resources and Los Cerros and have just been hit with a third from our metals explorer Pursuit Minerals (ASX:PUR).
From their announcement released just now it looks like they may have stumbled onto something unexpected and potentially big at Phil's Hill... and now they need to figure out what it is.
Pursuit Minerals
ASX:PUR
Sometimes companies just get lucky in early stage exploration. Here is our quick take:
We invested in PUR and were following their 8 hole drill program where they were trying to imitate the success of Chalice's $2.4BN Julimar PGE-Cu-Ni discovery.
PUR was targeting the same geology and copying the Chalice exploration strategy - using VTEM and MLEM surveys to find conductors to drill - in order to hopefully discover a similar, nearby, Julimar style PGE-Ni-Cu system.
It turns out that PUR has hit mineralisation - but something totally different and unexpected - a type of mineralised system that CAN'T usually be detected using VTEM and MLEM surveys - and from the reported drill results in the announcement today it sounds like they have just clipped the edge of it.
Pursuit Minerals
ASX:PUR
What we do know so far is that PUR has found a 1.6 km sulphide mineralisation system, open north and south (which means it's going to get bigger), with sulphides present in all holes.
So far, high grade silver was hit (up to 6.96 g/t) and gold, copper, and nickel have been detected.
Here are some of the drill cores: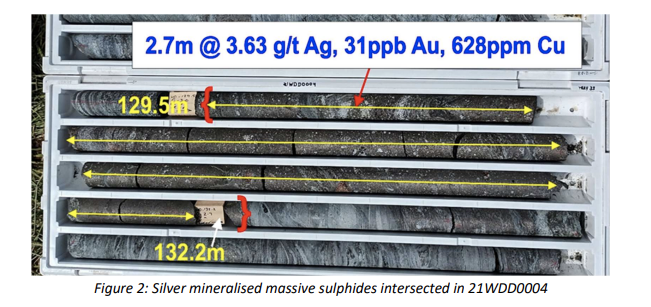 The geologists reckon these sulphides found are from at least two, but maybe up to four 'mineralising events'.
For a maiden (first ever) drill program to hit a mineral system like this is a big deal, even just the edge of it (PUR weren't even looking for this, they seriously just got lucky).
PUR now has its work cut out to figure out exactly WHAT they have found (and hopefully then the market will respond)... and then where the source of it is. This is when exploration geologists get very excited.
PUR is now fast tracking assay results for holes 3, 6, 7 and 8 - and the next bit or work is going to be to complete down hole EM surveys at all holes and conduct more research and analysis to plan a new drilling program to find where all this mineralisation originated from.
On 22nd July PUR had $8.7M in cash - so even with recent drilling, it sounds like PUR has plenty of funds to figure out what it is they are sitting on and pepper it with drill holes to find the source. We will get the latest glimpse of PUR's cash balance in the next quarterly report which should be out this week.
Here is what PUR found on the last 6 holes (assays pending):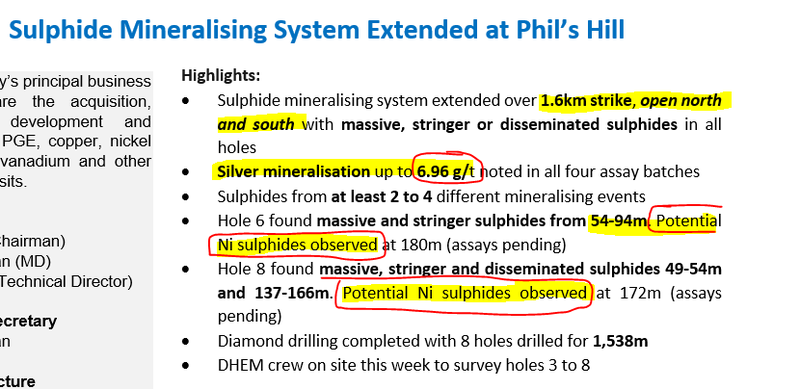 What does this mean?
We are not sure yet - but from quickly reading the announcement, our take is that PUR have found SOMETHING, they don't know exactly what it is yet, but they sound excited by it - they contracted expert geologists at Pathfinder Exploration to analyse the results from a couple of holes, here is what they released: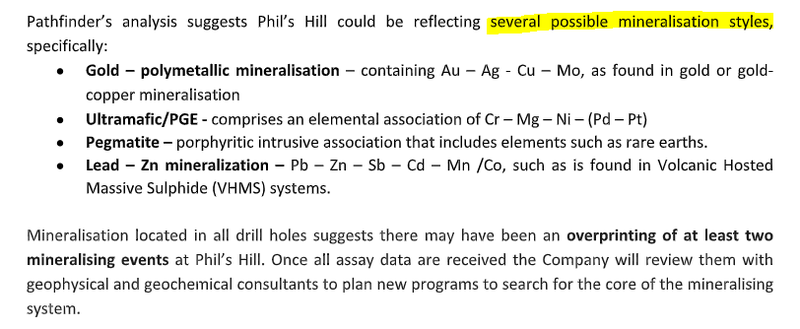 Gold?
Ultramafic PGEs?
Pegmatites?
Lead-Zinc mineralisation?
There are a few different ideas floating around here, and it could be a combination of a few of them - that's what the 'overprinting of at least two mineralsing events' means.
So essentially PUR got lucky with this drilling as they weren't really looking for these kinds of mineralisation styles...
PUR will now be working hard to locate the core - trace it back to find the source or "motherlode" of precious metals
What are we looking out for next from PUR:
Assay results from four holes: Next we are watching for assay results from the remaining holes (and what they will reveal about PUR's mysterious mineral system).
Downhole EM surveys on all the remaining holes: - help to put together more puzzle pieces with the assay results and where to drill next to get closer to the source of this mineral system.
Follow up aguer geochemistry to expand coverage north and south
Initial geochemical and geophysical surveys at Ablett Prospect.
We expect all this assay results and DHEM info to come in the next few weeks.
Warrior Project Milestones (PGE-Ni-CU)
Drilling Program 1
✅ Drilling Program Commenced
✅ First Two Drill Holes Complete (No Sulphides Intersected)
✅ Downhole Electromagnetic Survey 1
✅ Follow-up Drilling 1 (Sulphides Intersected)
🔲 Follow-up Drilling 2 (MLEM Plate 17A, 06A)
🔲 Downhole EM Survey 2
🔲 Assay Results 1
🔲 Assay Results 2
🔲 Assay Results 3
Next Investors Investment Milestones
Key Drilling Event 1
✅ Initial Investment: @1.35c (≈7 months before key drilling event)
✅ Increase Investment: @6.9c (≈4 months before key drilling event)
✅ Price increases 250% from investment
✅ Price increases 500% from investment
🔲 Price increases 1000% from initial entry
✅ Free Carry (prior to drilling results)
✅ Take Some Profit
🔲 Hold position for key drilling event
🔲 Decide New Investment Plan after results of key drilling event
Disclosure: The authors of this article and owners of Next Investors, S3 Consortium Pty Ltd, and associated entities, own 4,300,000 PUR shares.
---