Promising Results so Far… But there is Some More Work to Do…
Today 88 Energy (ASX:88E) announced the interpretation of its 'logging while drilling' data.
The progress results to date indicate multiple potentially hydrocarbon bearing zones have been encountered whilst drilling.
They also mention "Fluorescence was observed in the drilling mud accompanied by a petroliferous odour" with the intriguing image below...
It's too early to say with certainty, but things are looking promising for 88E's current drill results.
We've invested in countless failed oil and gas exploration wells where we have lost money...
... and had a few outsized winners that have offset the losses - an exploration winner is the holy grail for small cap exploration investors.
Here is our take on what today's announcement means and some comments on our investment strategy for small cap explorers.
Today's 88E news - what does it mean?
88E's announcement today points to what COULD be a new discovery, with a lot of positive characteristics observed on site so far.
Whilst we are not geologists ourselves, we will attempt to break it down as best we can, drawing on our previous investing experience.
88 Energy
ASX:88E, AIM:88E
88E Announcement wording:
88E's primary targets were in the "Nanushuk Formation" - from drilling, this was interpreted to be ~ 500 ft thicker than that encountered in the analogue wells in the Willow Oil Field.
Our take:
The Willow Oil field is the oil discovery to the north, owned by ConocoPhillips. 88E's hypothesis going into drilling was that its drill targets would have similar characteristics to Willow.
88E has interpreted the primary target formation is 500ft thicker than what ConocoPhillips found at Willow - that's a good sign as if everything else stacks up, there is more chance of commercial oil being extracted.
88E Announcement wording:
Oil shows were recorded over multiple intervals in the Nanushuk formation while drilling, including the primary targets.
Our take:
Drill cuttings are broken bits of solid material removed from a drill hole, and brought to the surface in the drilling mud.
Evaluation of oil in the drill cuttings (and drilling fluid) begins with inspection of samples under microscope and under UV light.
This is what 88E has done, with today's announcement reporting the findings. You can see the samples below - plenty of fluorescence observed.
It looks like we definitely have oil here, and the fact 88E has said it's over multiple intervals including in the primary targets is a good sign.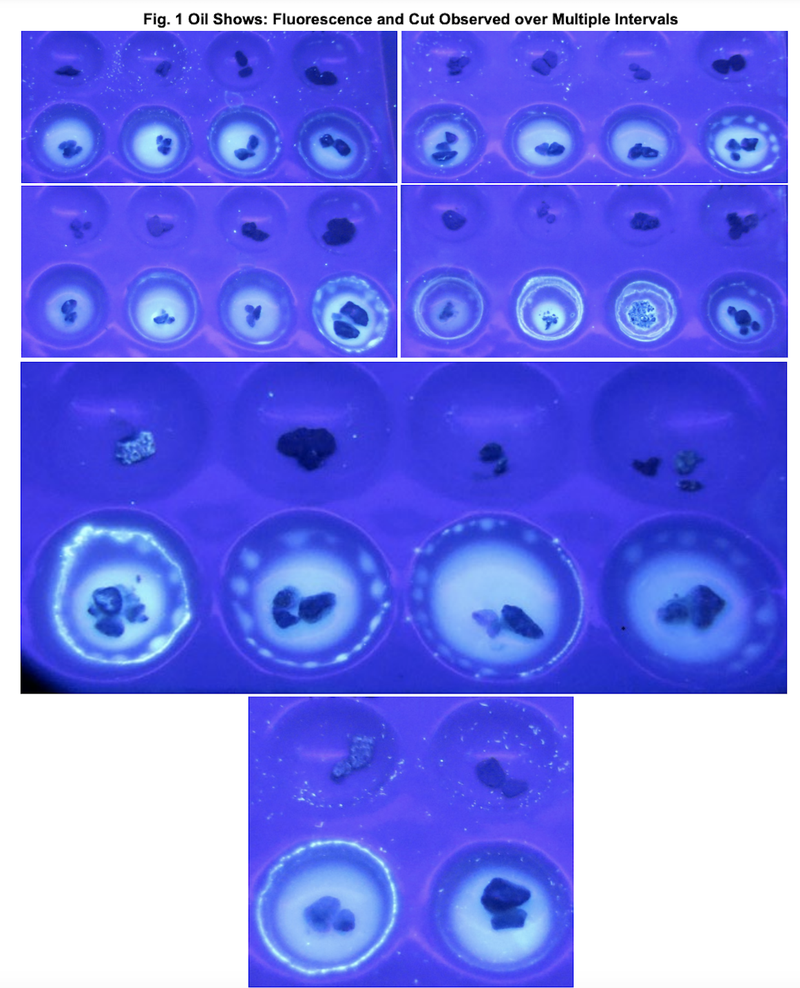 88E Announcement:
Fluorescence ranged from relatively weak to moderate "dry" fluorescence with slow to moderate sometimes fast streaming cut when exposed to solvent.
Our take:
"Moderate-to-fast" cut points to the mobility of the oil, which is positive.
88E Announcement wording:
Fluorescence was also observed in the drilling mud ("pops"), accompanied by a petroliferous odour over three of the target intervals.
Our take:
The "pops" are free oil floating in the mud, which can be seen fluorescing under UV light above.
Intensity and colour of oil fluorescence is a useful indication of oil gravity and mobility.
The colour observed points to an oil at the light end, eg high API.
Generally, lighter (high API) crudes are more valuable because they yield more high-value light products when run through a refinery - it's good that observations are indicating a light API.
Hydrocarbon odour can often be the first indication of the presence of oil - given it was observed on site, this is another good sign.
Small Cap Explorers: Our Investment Strategy
Regular readers know that our strategy for early stage explorers is to:
Invest long before the drilling starts.
Patiently hold for the long term and take some profit before the results come in.
Leave a free carried holding in place to ride the result - hopefully the result is a big one.
We stuck to our original investment plan for 88E, and took some profit going into drilling results - which judging by today's announcement are looking very promising.
This is exactly why we always retain a long term position in our investment strategy for explorers - for when drilling results come in positive - but we also plan to take some profit in case the result isn't good, so we can live to fight another day and invest in the next early stage explorer that is still a long way from drilling.
For more detail on our investment strategy see our free eBook "How to Make Money Investing in Small Cap Stocks".
What's next for 88E?
We are very excited to see what the next 7 days brings for 88E.
Whilst 88E has not called this an 'oil discovery' just yet, the early results from the field are looking positive. There is further work to do, but results to date are encouraging.
Next 88E will commence wireline logging, which will confirm whether mobile hydrocarbons are present. Reservoir quality will also be known once analysis of the wireline logging is complete.
Expect an update from 88E in the next 7-10 days on the wireline program.
---