The NASDAQ Listing We Will be Watching Tonight
We continue to maintain a large position in Creso Pharma (ASX: CPH).
We think psychedelics and medicinal cannabis for mental health treatment will be one of the big global themes of the next decade.
CPH is listing on the US markets within weeks (via an OTC listing), but a similar company called MindMed is listing on the NASDAQ in 8 hours from now.
US investors are already all over the psychedelics sector with "MindMed" surging over 120% in the last 24 hours alone - ahead of its NASDAQ listing tonight (Australian time).
We are interested to see what MindMed can do when it graduates to the main NASDAQ boards tonight.
We think the similar MindMed is valued at many multiples of what CPH is because of its access to the US investor market...
Mindmed has been on a monster run since September 2020 when it was trading at less than 50c - the stock closed at $5.84 last night on its OTC/NEO listing.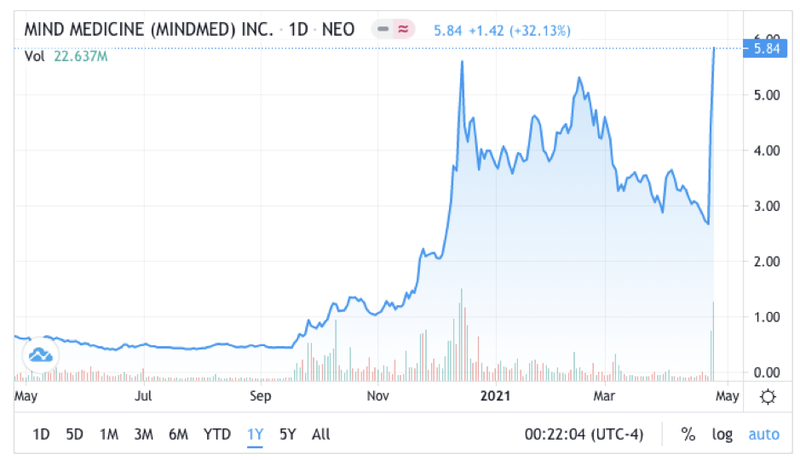 MindMed's ongoing strong performance has implications for how CPH might be received when it lists in the US via the OTC markets.
CPH is listing on the OTC in a few weeks time...
MindMed and CPH?
MindMed Board member and legendary figure of the medical cannabis industry, Bruce Linton, who founded Canopy Growth Corp - which went from a penny stock to a $15BN market cap at its peak - recently became an advisor to CPH. Linton holds shares in CPH.
We suspect Linton should have some serious connections in North America, and his time at MindMed and Canopy should help CPH open doors in the US.
Dr Miri Wernli, founder of CPH and remains a significant shareholder of the company. Dr Wernli is the Executive President and Director of Mindmed - her success with Mindmed should position CPH favourably.
We expect CPH will aggressively promote its story in the USA once it is listed there - the USA is a way bigger investor market, with far more liquidity than Australia.
Our Investment in CPH
We re-entered CPH via a placement in October 2020 (after being previously burnt), the stock then performed surprisingly well, going from 3c to 47c.
For most of 2021 CPH has been hovering around the 20c mark and seems to be digesting the 19c placement from March 2021 (in which we also participated) - our current average entry price is 5c.
We were skeptical about CPH after our previous investment in the stock did not turn out well - when a $122M CPH takeover offer from PharmaCielo fell over in late 2019.
For now, we are holding on to what has become a fairly substantial position for us as there are a few upcoming catalyst that could provide a re-rate:
CPH's acquisition of a private Canadian psychedelics company is almost complete.
Phase II Clinical Trials using psychedelic molecules are expected to commence in Q3, 2021.
Regulations continue to open up - California is getting closer to decriminalising psychedelics (MDMA and LSD included), New York State has legalised cannabis.
US Cannabis Banking Bill recently passed in the House of Reps - this bill will make it easier for cannabis companies to do business.
CPH just signed on an experienced US head of sales - formerly a Chief Officer at Supreme Cannabis.
CPH is set to list on the OTC in the coming weeks - making it easier for a huge pool of USA investors to invest in the stock.
But before that, it starts with Mindmed's NASDAQ listing, and we will see how investors respond to Mindmed now it's in the big league.
---