LCL's Gold Porphyry Discovery Keeps Getting Bigger
Los Cerros (ASX:LCL) is fast becoming known for relentlessly extending its now offensively large porphyry gold system in Colombia - it just keeps getting bigger and they've just delivered the biggest and best drill result yet...
To give some context:
In gold exploration a 50 metre gold strike at ~1 gram per tonne (g/t) is considered pretty good...
100m at ~1 g/t gold is often described as 'spectacular'... whilst double that length could be considered a "company making announcement".
At its Tesorito prospect, LCL has already announced a ridiculous FIVE (out of 16) separate strikes of over 200m and above 1g/t since September 2020.
LCL has just announced a result of
582m at ~1 g/t.
Yep, You read that correctly - 582 meters of high grade gold.
That's over half a kilometre of high grade gold strike - it would literally take you 10 minutes just to walk that far...
Not only does this drill result hit all previous LCL results out of the park, but it eclipses any other drilling results conducted in the broader district - and this region is home to many multi-million ounce gold discoveries and producing mines: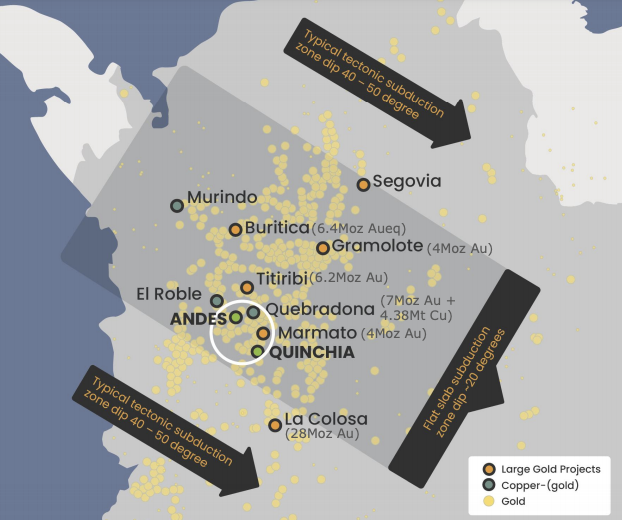 We continue to see plenty of upside in LCL and have recently increased our holding.
LCL has now delivered 2 of the top 10 best drill intercepts this year by any ASX-listed company.
LCL's previous result was sitting as the 5th most significant result on the ASX delivered in 2021: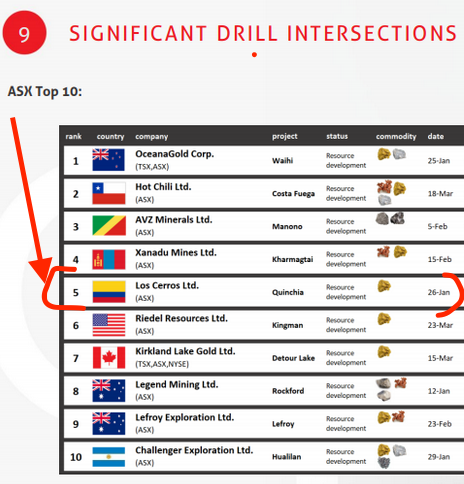 LCL's shiny new 582m strike at ~1 g/t is bigger and better than all of them...
We look forward to the Academy Drilling Awards committee to convene and update the above standings with LCL's latest result.
Here is LCL CEO Jason Stribinskis speaking at the CGS Mining conference (aka the Diggers n Dealers for Latin America) about the long high-grade porphyry intercepts at Tesorito.
So what does this news mean?
A few weeks ago we wrote about LCL extending their porphyry zone west with a 215m strike @ 0.86 g/t - well today's 582m strike news tells us that the porphyry gold system extends South West too...
Remember - A gold "porphyry" is a giant gold system that has easy to mine, large volumes of gold.
These are usually monster deposits - finding one is an exciting process for investors. Think of it as the "tip of an iceberg"... you need a lot of drilling to see just how big they are.
LCL is drilling in a bunch of different directions to see just how far this monster porphyry can keep extending - 2021 is LCL's biggest year of exploration to date. It is well funded, has three drill rigs going, and has one clear goal:
Uncover the true size potential of its giant porphyry prospects.
Colombian Gold - Similar Companies to LCL?
There may not be many ASX-listed juniors exploring for gold in Colombia which makes LCL such an interesting company to follow.
We did find a couple of gold companies operating in Colombia listed on the Candian stock exchange - these guys are a bit bigger and more advanced, something for LCL to aspire to as they continue to unveil their seemingly never-ending gold porphyry system:
Gran Colombia Gold Corp - CAD $351M market cap
Aris Gold Corp - CAD $329M market cap
Continental Gold (which Zijin acquired for US$1.4 billion last year).
LCL is currently capped at $77M AUD.
What we are watching for next?
4 assay results in the lab (where we saw visible gold in the last announcement) could come out any day now.
3 rigs concurrently drilling to deliver more record breaking strikes lengths, and;
More and bigger extensions of LCL's porphyry gold system in more directions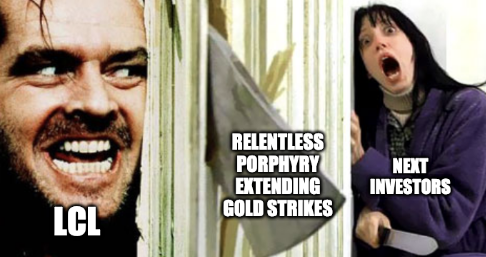 ---