LCL drone survey identifies giant magnetic blob

Share price when sent: $0.143
Our junior gold investment Los Cerros (ASX:LCL) has an exciting pipeline of gold prospects in one of the premier gold hotspots of the past two decades, the Mid Cauca belt in Colombia.
For the past year, LCL has been aggressively drilling Tesorito South, a gold porphyry discovery that keeps getting bigger and bigger with each assay announced - it just won't stop.
1km away from this new gold system (and still on LCL's permit) is a known gold system called Miraflores.
A few months ago (investor preso slide 9) LCL shared a theory that there two separate gold systems might actually be connected underground as one GIANT gold system.
Over the last few weeks LCL used drones to run aeromagnetic surveys whilst the team ran deep penetrating Induced Polarisation surveys on ground in between the two gold systems to test if they might be connected.
In simple terms, if there is material under the surface that conducts electricity (big purple blob) - there is a chance of a porphyry system... it could be gold OR copper... Or just a bunch of boring old rocks.
This morning, the drone IP survey results returned a giant purple, magnetic, conductive blob connecting LCL's two gold systems.
This is EXACTLY what we were hoping to see - and now we want LCL to start popping some drill holes into this big purple blob to start testing for gold grades.
Los Cerros Limited
ASX:LCL
Here is how the story unfolded...
What we were hoping for
Below is an image we shared four weeks ago. We were hoping that a drone IP survey would reveal chargeability in-between the two separate gold systems - hinting that it might be one big fat connected gold system: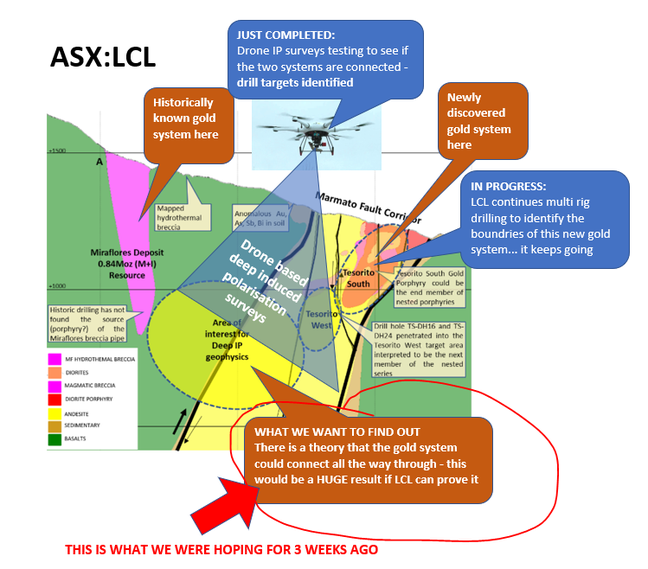 What happened this morning
Today LCL announced that the drone IP survey results delivered exactly what they anticipated (and what we hoped for) - a giant colourful blob of chargeability, low resistivity above a magnetic high.
Here is what the drone results showed, just look at that glorious purple blob of conductivity (the grey areas show the two separate know gold systems):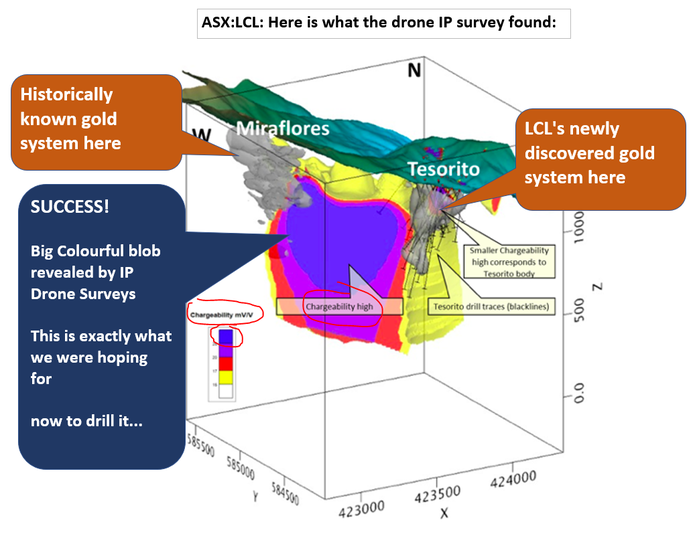 The end result of this is that LCL has several new targets to drill in that purple blob.
You can get an idea of how exciting these targets are by the fact that LCL is mobilising 2 of their 4 rigs from their current tasks to start drilling it shortly.
You can see that there is an area showing magnetic and chargeability/conductivity highs, which indicate a common causative source - perhaps a possible gold porphyry - shared by Miraflores and Tesorito.

What we want to see next from LCL:
Is there gold in that colourful blob? Two drill rigs have now been sent to find out, so we are watching how this progresses. Also we're pleased to see that LCL has decided to do more IP drone surveys to see if there are more big blobs nearby, especially at the Ceibal prospect to the south.
Drill testing of the blob will commence soon, with 2 rigs (out of 4) sent to investigate. Remember that two big international mining funds recently joined the register, and our bet is that much of the appeal of LCL to them is the regional (i.e. goldfield) story of Quinchia, not just how big Tesorito could become. LCL should soon reveal if mineralisation is encountered, which would direct where the next holes would be drilled. Whilst we hope for a discovery hole on the first attempt, that is very, very rare - our expectation is that a few deep holes will reveal if LCL's geological 'nested porphyry' model has merit, and direct where to position the next few holes.
3x bigger drone IP survey in new areas - more big colourful blobs means this system could be HUGE, and that a regional goldfield is even more possible. This will enable LCL to fine tune follow up drill targeting of what is conceptualised as underlying causative porphyries at 3 nearby prospects - Chuscal, Ceibal and Ceibal East.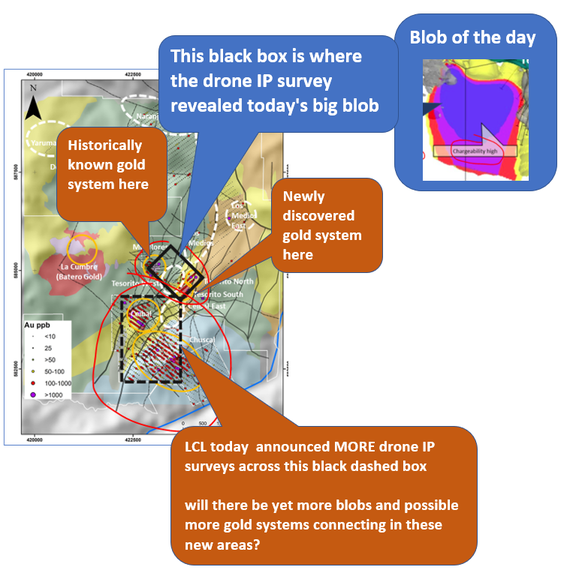 More drill holes at Tesorito - Tesorito is the bird in hand for LCL, in that it is already hinting at a decent size deposit. We know that there is plenty of gold, and LCL is finding it difficult to find the edges of the system, as they keep encountering more gold as they extend drilling. We suspect the market is 'bored' of hearing LCL announce strong gold assay results from Tesorito, as their share price has been fairly stagnant since the start of the year. However, once the limits are found, LCL can more accurately calculate how much gold it contains, and then get to the business of determining how to commercialise it, through scoping and then feasibility studies, metallurgical tests, and potential strategic partners... plus it would help if the gold price started going up again, which it has in the last few weeks.
Sprott Asset Management releases research report on LCL: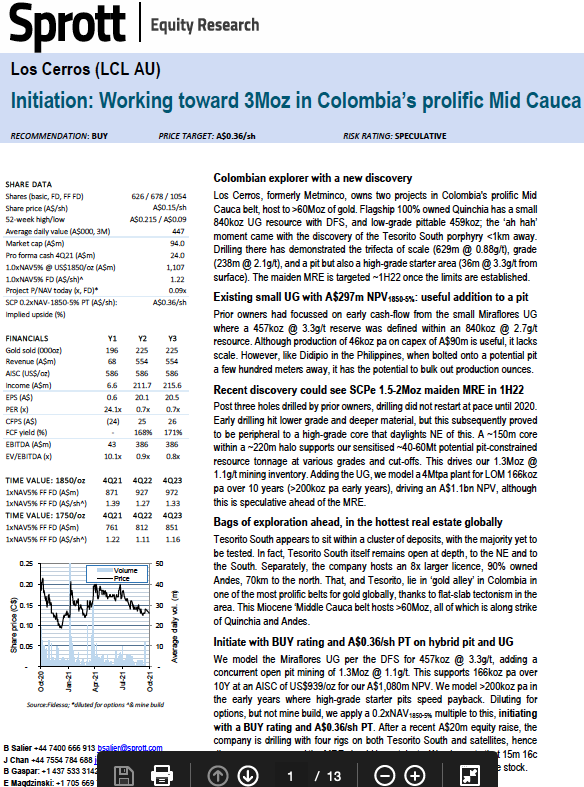 Sprott Equity Research - Los Cerros initiation 12 October 2021
Target price 2.5 times current LCL share price
Sprott has placed a 36 cents per share target for LCL - which would value the company circa $230m market capitalisation if realised.

Analyst target prices can be a good data point to consider regarding the upside / downside of a company, but it pays to see what assumptions are made.
Here, the analyst is modelling production from two nearby sources - Miraflores, where there is an existing 840koz resource, and Tesorito - ultimately leading to production of 166koz p.a average for the next decade.
Assuming all in sustaining costs of production of US$939, a gold price of US$1850 (vs ~US$1800 recently), and exchange rate of $0.75 (vs current $0.7465), the research derives a net present value of A$1.08BN.
We believe the assumptions are reasonable, though note that the assumed gold price for the life of mine is higher than the current spot price.
Interview with the LCL CEO
Finally, we watched LCL's managing director Jason Stirbinkis provide direct insights of recent developments at Quinchia, and Tesorito in particular, on this recent Crux Investor interview. From about the 9 minute mark, Jason deep dives into the plan going forward for Tesorito.
LCL: What are the risks?
Country - Colombia is a developing nation, and so has its own set of challenges for foreign enterprises operating there. However, the nation has made great strides as an investment destination in the last five years. In the 2020 Fraser Institute Annual Survey of Mining Companies, Colombia was ranked as the 28th most attractive mining jurisdiction, one spot behind NSW. LCL also has the vast majority of their workforce as local Colombians.
Exploration - LCL is still to define resources at all but one of their prospects, and so there is the potential that more drilling does not translate ultimately into JORC-defined resources. Furthermore, the drilling into new areas (such as testing for a deep porphyry between Tesorito and Miraflores) is high risk - even with all the current data, there is a good likelihood that economic mineralisation is not found and expensive.
Economics - It is still early days for Tesorito, and we really are just guessing at the moment how commercial an opportunity it could become. Until we see a scoping study and then a feasibility study, there is the risk that the good assay results do not translate into a profitable enterprise.
Quinchia Project
Project Milestones
✅ Drilling Program Commenced 2020/21
✅ 2020/21 Drilling Program
✅ [UPA1] New Porphyry Discovered (Ceibal)
🔄 2021/22 Drilling Program
🔄 Quinchia Project Geological Model Update
✅ Geophysical Program Results 1
🔲 Geophysical Program Results 2
🔲 Drilling to test possible deep feeder system commences
🔲 Assay results - Possible deep feeder system
🔲 Scoping Study commences (Tesorito)
🔲 Maiden Gold Resource ~ Feb 2021 (Tesorito)
🔲 Metallurgical Studies
🔲 Project Development Approvals (Miraflores)
🔲 Environment Impact Assessment (Miraflores)
🔲 Unexpected Announcement 2
🔲 Unexpected Announcement 3
Next Investors Investment Milestones
✅ Initial Investment: @4c
✅ Increase Investment: @7.68c
✅ Increase Investment: @15.25c
✅ Price increases 500% from initial entry
🔲 Price increases 1000% from initial entry
🔲 Price increases 2000% from initial entry
✅ 12 Month Capital Gain Discount
✅ Free Carry
🔲 Take Profit
🔲 Hold remaining position for next 2+ years
Disclosure: The authors of this article and owners of Next Investors, S3 Consortium Pty Ltd, and associated entities, own 4,481,041 LCL shares.
---