LCL Delivers Highest Ever Grade at its Giant Porphyry System

Share price when sent: $0.160
Los Cerros (ASX:LCL) continues to extend its very large, near surface, porphyry gold system in Colombia.
We first invested in LCL in April last year, and hold a significant position, as LCL continues to deliver excellent drill results.
LCL is hunting giant gold systems in the hills of Colombia, in a place called the Mid Cauca Porphyry Belt, a place dotted with many multi-million ounce gold deposits.
A gold "porphyry" is a giant gold system that has easy to mine, large volumes of gold. These are usually monster deposits - and finding one is an exciting process for investors.
Think of the first few months of discovery as being the "tip of an iceberg"... you need a lot of drilling to see just how big they are.
This is exactly what LCL has been doing over recent months.
LCL first found evidence of a big porphyry gold system in September 2020 and its share price tripled. LCL then raised $10M (at 11.5c) to drill in all directions around it to see just how big it actually is.
Since then, LCL's gold system has continued to get bigger and bigger.
LCL continues to intercept strong gold mineralisation in every direction tested, delivering 'spectacular' result after 'spectacular' result.
Some of the best drill results yet were this morning:
378m @ 1.03 g/tonne from surface, which included,
222m @ 1.51 g/tonne from surface, and,
59.5m @ 2.6 g/tonne from surface,
AND,
36m at 3.31 g/tonne gold from surface
This is the highest grade intercept of significant width ever recorded at Tesorito.
We continue to be amazed at how big this thing is.
To get a sense of scale of how much LCL's discovery has grown, the image on the left shows the extent of the mapped gold in September 2020 - on the right the extent of mapped gold now - and LCL has not found the end of it yet either - so it's going to get bigger...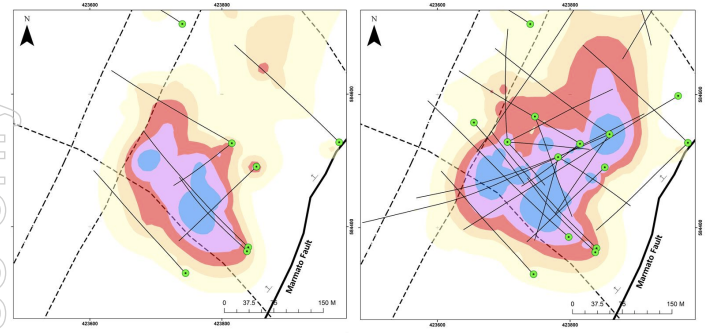 On the maps above, the blue region indicated gold at over 1.5 g/tonne, the pink region is grades of between 1.0 and 1.5 g/tonne, and red is grades of between 0.7-1.0 g/tonne.
Los Cerros Limited
ASX:LCL
So why isn't the LCL share price going up yet?
After going on a strong run since the September 2020 discovery hole - when LCL went from 9c up to as high as 21c in October - since April this year, the LCL share price seems to be in a holding pattern of around 17c.
We are surprised at the lack of upward share price movement despite continuing to serve up excellent drilling results that continue to show LCL is uncovering a giant gold discovery.
We think LCL's share price hovering around current levels for now might be because of 53 million LCL options that are expiring in August 2021 with a strike price of $0.16.
With circa 470 million shares on issue, these options, if fully converted, would equate to just over 10% of the company. If all of the options are converted, it would bring in $8.48M for LCL - which would give it plenty of cash to continue to drill out its porphyry system.
Options at 16c will likely add a natural weight to the LCL share price around this level as holders convert and sell into the market - but we have also seen share prices run despite having near term options in play if the converted shares go into sticky hands.
Los Cerros Limited
ASX:LCL
More details on LCL's news today
Today, LCL revealed more 'spectacular' drill results from Tesorito South, a near surface gold porphyry discovery, which is part of the Company's 100% owned Quinchia Gold Project in Risaralda – Colombia.
A step-out drill program aimed at extending the dimensions of known mineralisation continues to intercept strong gold mineralisation in every direction tested with recent drilling delivering some of the best results so far.
Today's highlight of 36m @ 3.31g/t gold from surface within 378m @ 1g/t continues the trend and follows on from its last announcement: LCL's previous result still ranks as the 8th most significant result on the ASX delivered in 2021.
That result was an astounding 629m strike at 0.88 g/t Au - the third best pure gold hit by an ASX-listed company so far this year.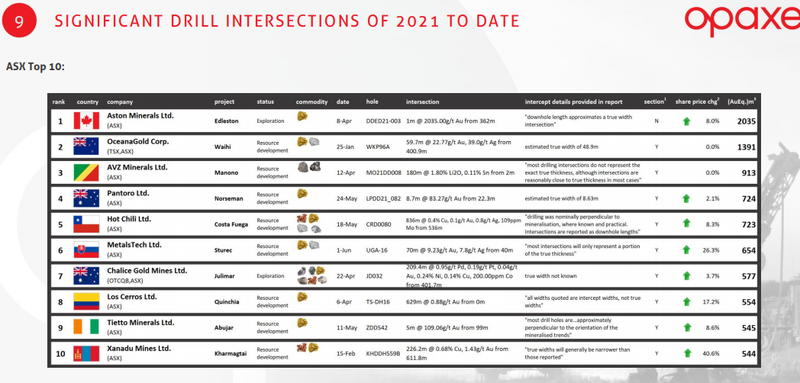 So, just how big could Tesorito be?
Well, LCL are still seeking to define the limits of Tesorito, as it is still open in all the directions drill tested so far.
Once LCL comes to grips with the boundaries of the system, we'd expect LCL to start the resource estimation process, perhaps with a maiden resource by Christmas.
In the meantime, we turn to expert commentary from renowned commodities analyst Warwick Grigor of Far East Capital - he recently wrote about the potential size of Tesorito in his newsletter (dated 24 April 2021, link here).
The key points are that a back of the napkin resource estimate would indicate that the Tesorito South porphyry could be in the order of 3.5 million ounces...
which would add to existing resources LCL already has within a 3km radius - Mina Flores is 840,000 oz. at 2.8 g/tonne and Dos Quebradas is 500,000 oz. at 0.5 g/tonne.
Grigor reckons its the kind of project that gold majors can get excited about...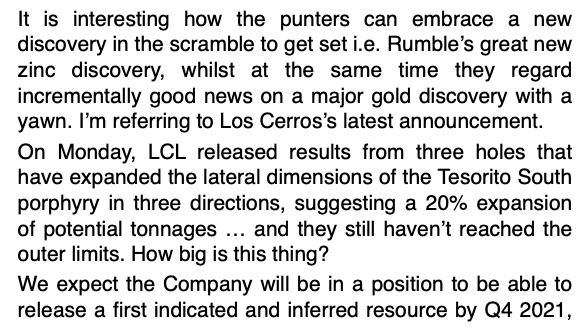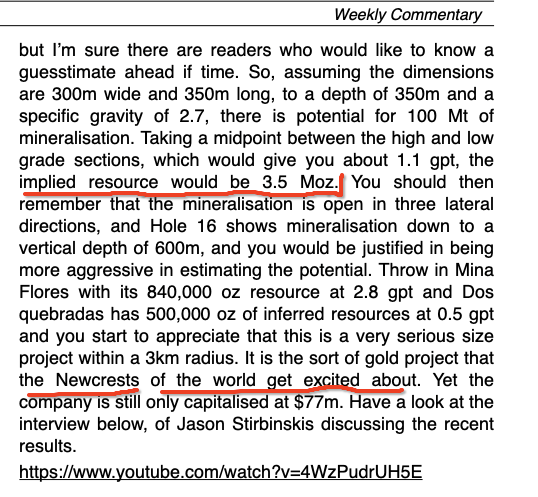 Remember, Tesorito is only one prospect within LCL's Quinchia Project, and there is the potential for other gold deposits to be discovered.
LCL recently added a second rig to the Ceibal porphyry target, adjacent to Tesorito, following promising visuals from the first drill hole there - we expect assay results over the coming weeks.
All in all, with Tesorito shaping up as a monster gold deposit, and the prospects of more to be discovered and drilled within Quinchia, we continue to be impressed by LCL.
Los Cerros Limited
ASX:LCL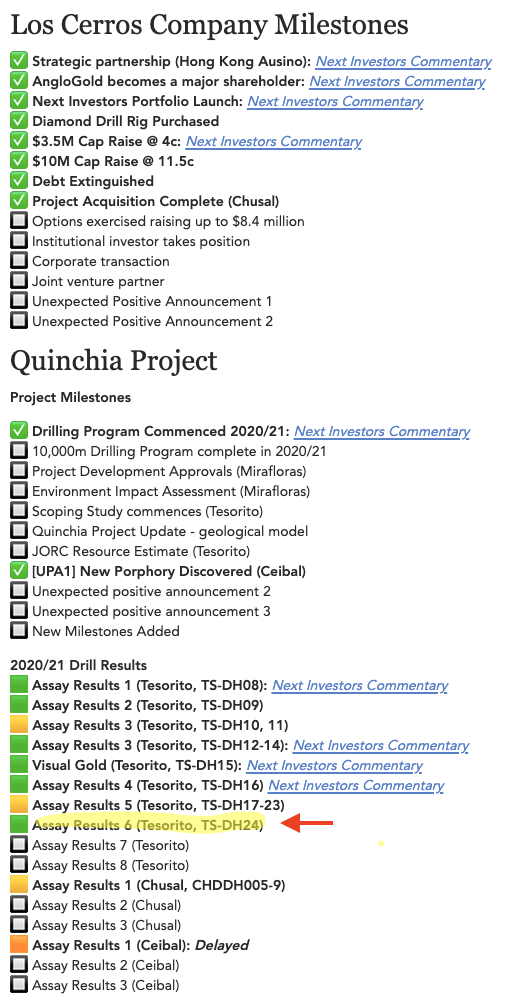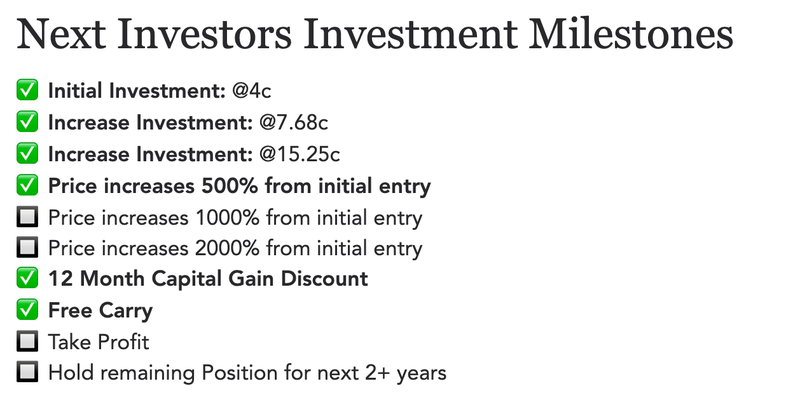 ---