This Israeli Ag-Tech Stock Has Technology to Increase Crop Yields by 80%: Signs First Revenue Generating Deal in China
PUBLISHED: 29-01-2018 10:00 a.m.
The newly listed ag-tech disruptor we're introducing today made its ASX debut in December last year, following a heavily oversubscribed IPO, and it's already emerging as formidable player in the thriving ag-tech space.
It's focused on developing and commercialising modular, cutting-edge technologies that address critical challenges faced by the agriculture industry, including severe weather conditions, water shortages, high energy prices and the global food supply/demand imbalance... to name only a handful.
This company has international commercial operations across Australia, China Israel and Spain, with more to come.
At the centre of its business are two core IP-protected technologies and multiple products, backed by years of field testing, that target an expansive international agricultural market.
One of these is its Root Zone Temperature Optimisation (RZTO) system, which is deemed to be one of the very few that has potential to impact hunger worldwide.
RZTO is the only two-in-one, low energy, root zone heating and cooling system, and has been implemented in a range of pilot and commercialised plants around the world.
This technology has significantly increased crop yields to 80% and simultaneously reduced energy consumption by up to 60-80%.
With this pioneering technology under its belt, this Israeli company has already clinched a series of strategic collaborative deals with some key players across Israel, Europe and Asia.
The most recent of these makes for a deftly engineered milestone – and some considerable revenues for the company.
The company this week clinched its first significant commercial sale to the tune of A$323,000 (US$257,000) with leading international ag-tech integrator, Dagan Agricultural Automation, for a new agriculture project in China. The transaction with Dagan initiates cooperation for additional projects in the 550-million-tonne China vegetable production market and the rest of Asia.
Although it should be noted that as a newly listed ASX stock it remains speculative and investors should seek professional financial advice if considering this stock for their portfolio.
Utilising RZTO technology to heat and cool the roots of crops, the Project construction will commence immediately alongside the first payment instalment.
On top of that, last week, this fast-moving ag-tech also scored a distribution deal and pilot demo program with Adam Water Solutions — one of West Australia's leading irrigation and ag-tech integrators — to sell, distribute and install RZTO products in Australia.
All in all, not bad for an ASX small-cap.
That's not all it's got in its arsenal, either. This sustainability-focused company has also developed a crop irrigation method which draws moisture from the atmosphere overnight.
The company has successfully completed proof of concept for this patented irrigation by Condensation (IBC) tech, where two major crops were grown only with condensation of the humidity in the air.
The implications here are huge. These kinds of results show potential for major economic and social impact on a worldwide level. This technology could provide food security and income to farmers globally, potentially preventing hunger, poverty and migration.
Behind this ag-tech company is also an impeccable pedigree.
It's a graduate of the Israeli Chief Scientist's prestigious technological incubator program. And at its helm are two of the players from rapidly blossoming ASX pot-stock, Creso Pharma (ASX:CPH), whose share price has surged as much as 333% over the past year... so it clearly knows what it's doing.
It's also worth noting that CPH is now sitting at a market cap of $111.6 million. Today's ASX newcomer is currently valued by the market at a modest $28.97 million, and it's really only just getting started.
Today's company is hoping for a similar ascendant trajectory to Creso Pharma – and with its sharply honed tech, deep roots in the world-class Israeli tech sector, and a well-muscled team of industry heavyweights, it could well be on its way.
Unveiling:

Roots Sustainable Agricultural Technologies
ASX:ROO
As its name suggests, Roots Sustainable Agricultural Technologies (ASX:ROO) is a company with a radically greener way of doing things.
With a focus on sustainability that inflects everything it does – from its underlying strategy and business philosophy to its product range – ROO is all about offering a smarter, cheaper and greener alternative to existing technologies on the market.
This is a distinctive part of what gives ROO a significant edge over its ASX ag-tech peers.
The crux of its value proposition is simple but effective: ROO has developed a unique, environmentally friendly system for heating and cooling crop roots that uses very little energy, and it's using this tech to offer game-changing opportunities to farmers who are facing challenging environmental conditions and price pressures.
This technology, RZTO (which we'll return to in detail shortly), was touted by The Guardian as one of the very few with potential to impact hunger on a worldwide scale – and that was back in 2016, in ROO's pre-listing days...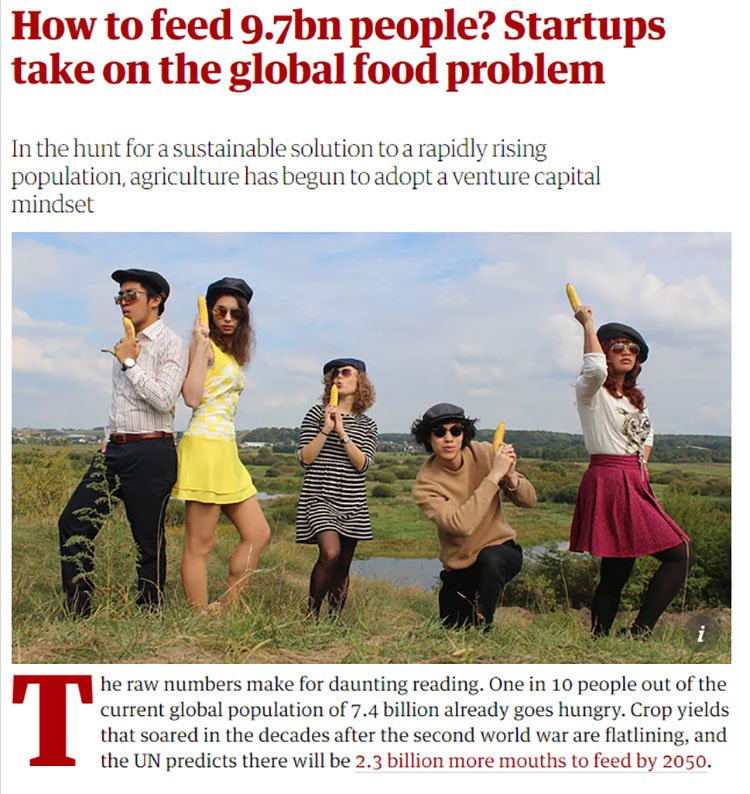 Based near the Israeli city of Netanya, and with $8.5 million already invested to date pre-IPO, ROO already has an expansive global footprint.
With early access to emerging Israeli technological development partners and an advanced testing environment, ROO has developed proprietary know-how and patents that optimise performance, minimise installation costs, and reduce energy consumption.
The green team
In the short video below , you can watch ROO co-founders, Sharon Devir and Boaz Wachtel, discussing the company's oversubscribed IPO, its groundbreaking tech and business model, as well as the salient market opportunity at hand...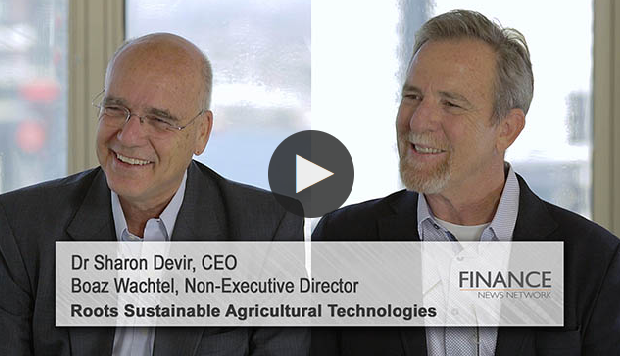 As Devir and Wachtel mention, the IPO itself raised $5 million from institutional investors, sophisticated investors and strategic funds – a crystal-clear endorsement of ROO's technological prowess.
This, in turn, puts ROO in an excellent financial position from which to plunge head-first into a series of high-impact works. The capital raised will fund commercialisation of ROO's current RTZO pilot programs, its geographic expansion into global markets, and to complete IBC proof of concept on several crops... to give you an idea of the kind of chock-full schedule ROO now has on its hands post-listing.
As we've mentioned, executive director Wachtel is also co-founder of two high-performing ASX-listed medicinal cannabis companies: CPH and MMJ. Also on the CPH board and on the ROO team is non-executive director, Adam Blumenthal.
Regular readers will know that we've been tracking CPH for quite some time. Since CPH first came onto our radar back in late 2016 , the cannabis powerhouse has moved from strength to strength, surging around 240% since that first article.
As you can see, the past year has been a wild ride for CPH shareholders:

The past performance of this product is not and should not be taken as an indication of future performance. Caution should be exercised in assessing past performance. This product, like all other financial products, is subject to market forces and unpredictable events that may adversely affect future performance.
Consider that CPH now has a market capitalisation of $111.6 million. The newly listed ROO is currently capped at $28.97 million, and given that two people are on the board of both companies, we're hoping that ROO can emerge as a similar success story.
Meanwhile, Wachtel is the inventor of the two patented core technologies and is published in no less than 25 publications. He's also a frequent lecturer on ag-tech, water issues and sustainability.
ROO's multi-disciplinary management team bring with them a plethora of experience across agronomy and related sectors across Israel, China, Europe, the US and Australia. CEO Devir has some 20 years' experience managing numerous international companies, and has been a seed investor and CEO in two ag-tech start-ups. Devir captains a veritable ship of world-class scientific, technical and management leaders and has PhD in Agricultural of Engineering.
All of this lends ROO some serious credibility points, as well as deep industry experience – these are precisely the kinds of agricultural and sustainability mavens you'd want in your corner if you were a newly listed ag-tech small-cap.
ROO in the media
Taking a quick glance at ROO's newsfeed, you'll also notice that this company has been attracting quite a bit of attention, especially in light of its ASX debut late last year.
For instance, back in October, Finfeed.com took notice of ROO's upcoming ASX listing: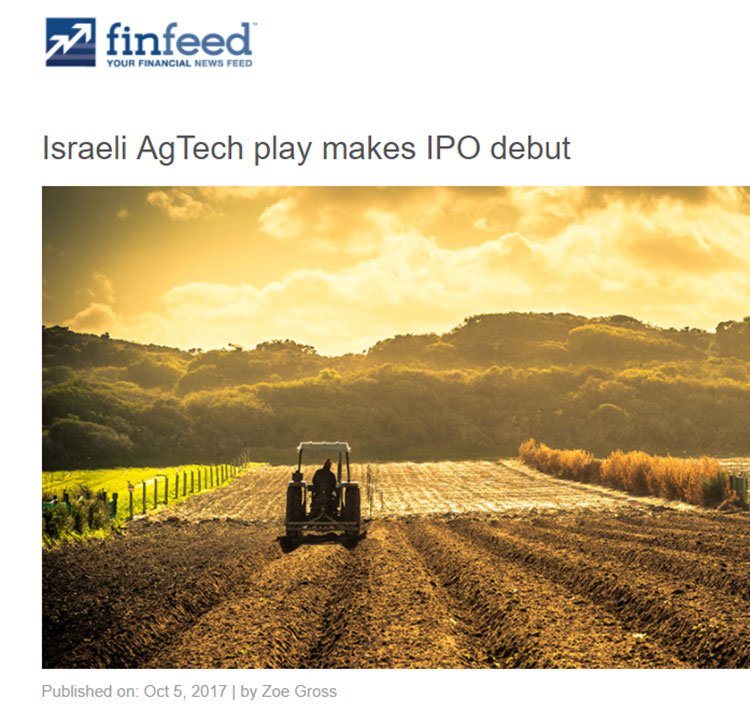 Then, in November, The Land profiled ROO, looking at the ag-tech investment boom...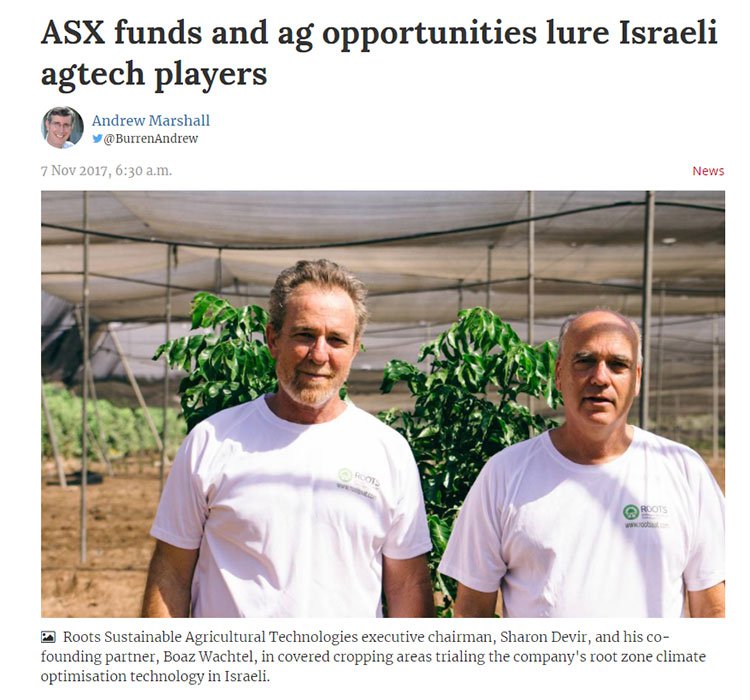 And this month, Israeli publication Globes tracked ROO's powerhouse post-listing performance...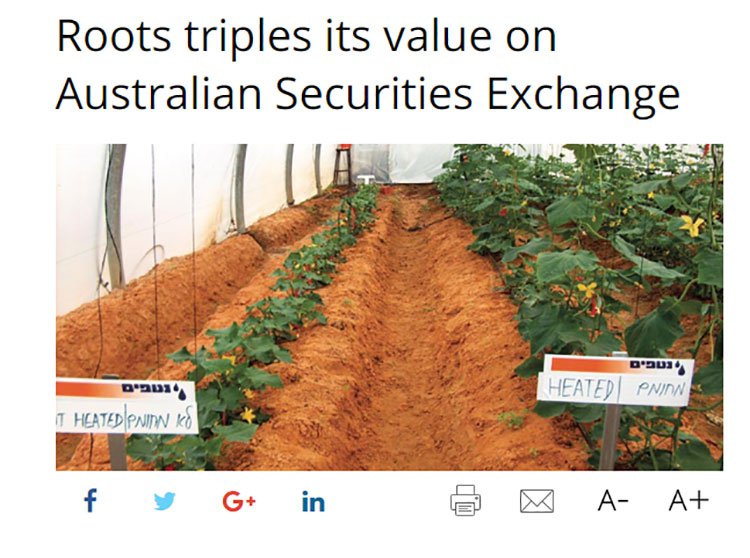 As this kind of media coverage makes clear, ROO is turning heads with its ties to CPH, its agricultural expertise and methodological rigor, as well as its potential to address real-world critical agricultural concerns.
Of course, as an early stage company, investors should take all publicly available information into account and make a cautious investment decision with regard to this stock.
Speaking of which, let's take a look at ROO's core RZTO technology...
RZTO: a solution to major agricultural concerns
The modern agricultural space faces a litany of challenges, including the global food supply/demand imbalance, water shortages, severe weather conditions, ecosystem degradation, high usage of chemicals in fertiliser, and high energy prices.
Providing a unique solution for these kinds of concerns that's both cost-effective and environmentally sustainable, ROO's pioneering RZTO technology is the first two-in-one, low energy, root zone heating and cooling system.
The RZTO system is based on the phenomenon that, at a depth of a few metres, soil maintains a relatively stable temperature that approximates the mean annual air temperature, and is unaffected by daily or seasonal air temperature fluctuations. The underground temperature is always colder during the summer and hotter during the winter than the top soil temperature.
Leveraging the principle of Ground Source Heat Exchange (GSHE), then, the RZTO system is able to heat the root zone during the winter and cool it during the summer (by up to 10° Celsius). In this way, the system is maintained at a relatively stable and favourable range throughout the year.
The short version of how it works:
This system significantly increases yields by up to 30%, improves quality, increases growing cycle options, improves quality, and mitigates extreme heat and cold stress.

Field testing of strawberries saw average production increase by 25%, with less deformations and no need for additional ambient heating when the roots were heated by just 10 degrees.
This system has multiple advantages over existing options on the market. For one thing, RZTO is a two-in-one system; it's able to both heat and cool plants at the root zone area. That's a major point of difference – there's no other known company that uses a sustainable, low-energy, heat exchange system for both heating and cooling.
The system is also energy-efficient, reducing energy consumption by up to 60-80% by stabilising and optimising the roots' zone temperature.
On top of that, it presents a faster ROI than competing solutions, which are generally expensive to run. ROO's technology also provides users with real-time results tracking via smartphone and PC software.
RZTO has been implemented in 17 active pilot and commercialised plants globally, with expansion into new regions planned in the not-so-distant distant future. The technology is already in commercial use across Israel and Spain...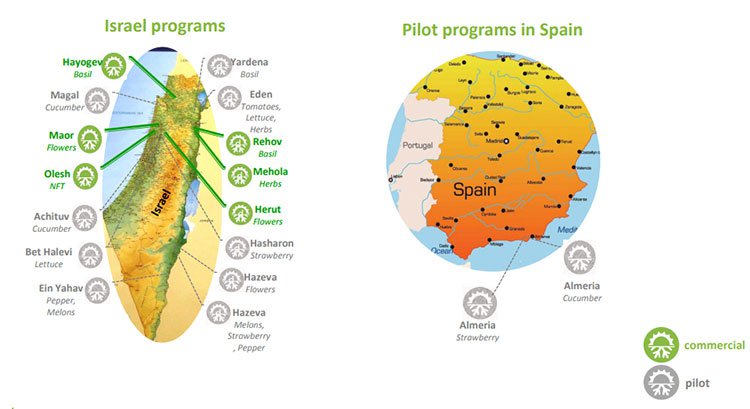 ...And now it's also set to hit Australia and China...
ROO clinches first significant commercial sale in China
As ROO revealed today, it's now penned its first commercial sale and installation agreement for $323,000 with Dagan Agricultural Automation.
Dagan is a leading provider of innovative technology related to the most common agricultural disciplines. It has a global presence and an expansive footprint with China, with several plans for expansion in that market – in short, a perfect collaborator for ROO.
During its 35 years of operation Dagan has created over 1000 hectares of greenhouses, poultry houses and aqua cultural projects all over the world.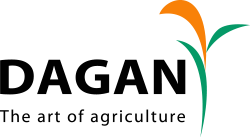 This deal will see Dagan install and exclusively use ROO's RZTO technology and associated products to heat and cool the roots of crops such as vegetables, herbs and flowers, in greenhouses, covering eight acres in a newly-established agricultural project north-west of Beijing.
The sale amount will be paid to ROO in three instalments: the first is payable upfront generating immediate revenue; the second at a key production milestone; and the final instalment on completion of installation, expected in three months' time.
Project construction will begin immediately, with the ROO installation team arriving in China in early February to prepare and supervise installation – that's only a matter of days from now.
Planners for projects like this in China are looking to improve production efficiency to optimise use of scarce arable land, and to more efficiently deal with groundwater depletion – and ROO's technology is playing a key role in enabling them to do precisely that.
This initial sale to Dagan establishes ROO's presence in China: the world's largest agricultural market. This deal, moreover, represents an endorsement of ROO's disruptive tech and its ability to address critical climate management challenges.
ROO pens a distribution agreement and installation pilots
ROO has also has scored another important deal not long after listing on the ASX: a non-exclusive distribution agreement and pilot demo program with Adam Water Solutions to sell, distribute and install its RZTO products in Australia.
Adam Water Solutions is one of West Australia's leading irrigation and ag-tech integrators, and has provided water solutions to the Australian and global farming industry for 35 years.

The pilot program consists of two installations of ground-source, heat exchange-based heating and cooling systems, aimed to demonstrate their capacity to influence yield, quality, maturity time and extreme weather-ameliorating effects.
The pilot project will be rolled out over 14 months, beginning in April at a facility north of Perth, and will provide a world-first proof of concept on young apricot trees for a one-year period to take the number of crops being optimised with RZTO technology to eight.
This will increase ROO's presence in the open-field tree market segment. This is a segment that tends to lack ag-tech innovation, making it a flourishing new market for ROO to tap.
This deal and pilot program is a key component of ROO's plans for global expansion, building on similar agreements in additional markets in Southern Europe and the Middle East. This could also lead to significant orders, especially for farmers in agricultural production areas across Australia.
ROO's IBC technology
Water shortages have a significant impact on the food production chain. In direct response to this, ROO's closed-cycle Irrigation by Condensation (IBC) technology provides water for irrigation from moisture in the air and soil.
It's a standalone, closed loop, solar-operated system that's independent from water and electricity grids, and allows farming in remote locations that are otherwise unsuited to food production due to water shortages.
According to ROO, this system is the only technology that could facilitate food production, positively impacting the entire food chain.
Here's how it works:
And here's a basic outline of the system:

ROO has now completed proof of concept for this technology during the 2017 summer and autumn at its experimental farm in central Israel, Beit Halevy, during a rainless period.
Here, this IBC technology sustained the growth of lettuce, spinach, and tomatoes using only condensed moisture from the air's humidity, which irrigated the crop and chilled its roots.
Results were independently verified by world-renowned Professor Emeritus, Dr Uzi Kafkafi, from the Hebrew University Faculty of Agriculture, Food and Environment.
Intriguingly, this successful proof of concept shows that this technology has potential for major economic and social impact on a worldwide level, especially among small and medium-sized plot holders, and possibly even in arid and semi-arid zones. It could also significantly assist in creating or dramatically increasing possible food production for animal and human consumption in areas with water scarcity issues.
Although, it is early stages and investors should seek professional financial advice if considering this stock for their portfolio.
The next step of testing aims to take this autonomy one step further by allowing the system to work completely off any electricity grid.
Commercialisation at the first potential customer site is expected to begin at the end of the year, as ROO utilises its extensive proprietary knowledge on integration, operation and scaling of its IBC systems.
Planting seeds for the future
Something we find particularly rewarding about the tech space is the scope to genuinely make a difference to real-world, life-affecting issues – and ROO makes for an excellent example, with the far-reaching, potentially transformative implications of its technologies.
This nimble ASX ag-tech company will play a tangible role in helping address the global food supply/demand discordance that's only growing due to increasing weather extremes and reduced access to water and agricultural land.
ROO's tech has a range of potential uses with vegetables, fruit, and even medical marijuana, so the applications it's pinned down so far could very well only be the beginning. This technology has also been attracting hefty attention in the rapidly growing ag-tech investment community.
Newly listed and already clinching pivotal deals that showcase this technology's potential, this ASX innovator has a direct pathway to commercialisation. With a host of bustling activity to keep it busy, the $28.97 million-capped ROO could well be a company we track very closely in the coming months.
---