GAL Hits a Significant Palladium Platinum Intercept - A New WA Metals Discovery
Disclosure: The authors of this article and owners of Next Investors, S3 Consortium Pty Ltd, and Associated Entities, own 1,869,878 GAL shares and the Company's staff own 14,000 GAL shares at the time of publication. S3 Consortium Pty Ltd has been engaged by GAL to share our commentary and opinion on the progress of our Investment in GAL over time.
It's a discovery hole.
This is the kind of announcement we are always hoping for.
Today our Investment Galileo Mining (ASX:GAL) announced a major palladium-platinum discovery in WA.
GAL reported a discovery drillhole that returned palladium- platinum- gold- copper- nickel mineralisation over 33 metres grading 2.0 g/t 3E (palladium + platinum + gold), indicating the potential for a large mineralised system.
Arriving sooner than we expected, these initial results from the newly named "Callisto Discovery" have more than exceeded our expectations.
After holding for over two years and a couple of false starts in previous drilling campaigns, we are delighted that patience has paid off - combined with GAL's hard work, methodical exploration approach, and finally a bit of that coveted exploration luck.
A week ago we reported on GAL's preliminary results from its RC drilling campaign, anticipating a three week wait for assays.
At the time we said, "Ideally we are looking for assay results of around 1.0 g/tonne palladium to deem this an excellent result, as the palladium grades will be the driver of economic value here".
The discovery drill hole has now returned palladium grades of 1.64 g/t, including two higher grade sections: 6m grading 2.21g/t palladium and 1m grading 2.66g/t.
This initial result is a very promising start, defining a new palladium-platinum province in which GAL dominates all of the most prospective ground.
While it is still early on in the discovery process, looking ahead we see potential for this initial drill hole to eventually translate into a high quality resource for mining.
GAL has essentially transitioned from exploration stage to resource definition off the back of today's discovery.
GAL will be back RC drilling in a few weeks time (mid-June) to continue to flesh out the discovery through more drilling.
Further, there are assays still pending from no fewer than five completed drillholes from this round of drilling, plus the rhodium and other PGE assays from today's reported discovery drillhole (NRC266).
Today's strong results and the fact that GAL has observed strong geological continuity between drill holes — every drill hole undertaken so far intersecting disseminated sulphides mineralisation — offers good reason to be optimistic about the remaining assays.
Given the thickness and consistent zone of mineralisation, and the extensive prospective strike length, there is potential for a large mineralised system here.
Notably, the discovery displays geological similarities to South Africa's extensive Platreef palladium-platinum-gold-rhodium-copper-nickel deposits — home to some of the world's largest platinum group element deposits.
After reading today's announcement, we thought it would be interesting to see how the market responded to ASX-listed palladium explorer Chalice Mining's first intercept.
In March 2020, Chalice went into a trading halt before announcing that it had hit a 25m intercept at Julimar with palladium grades of ~8.5g/t. Its share price rallied from $0.14 to eventually hit ~$10.00, while it trades at ~$5.84 today.
That's still an over 40X return for shareholders at today's share price, with the company now trading with a $2.2 billion market cap.
It's early days here for GAL, and we aren't suggesting GAL will deliver a similar return, but it has a promising early discovery hole and the next few months will be about defining the extent of the economic mineralisation.
GAL is still only capped at around $80M (at 47c per share) after this morning's move and with plenty of drilling to come, things are shaping up nicely for what looks like the ASX's newest palladium discovery.
While Chalice is a great ASX story, GAL is still at the first step and we hope it can achieve even some of the success Chalice delivered, but there is still a lot of work and a bit of exploration luck needed.
One of the main reasons we continue to hold GAL in our portfolio is the company's tight capital structure — IGO and Mark Creasy hold ~33.5% of the company's shares.
We always maintained that when GAL made a new discovery it would be extremely difficult to buy more shares on market.
This morning's price action seemed to confirm that with the share price now up ~135% at midday.
Another reason we continue to hold GAL in our portfolio is because of the experienced management team running the company.
GAL's Managing Director Brad Underwood has been there and done it all before, leading a team alongside Mark Creasy when the Silver Knight nickel discovery was made and then sold to IGO.
After today's news we are backing the management team to do what they have done before and grow the project to a level where either the majors start to take an interest or GAL itself can develop.
To see all of the key reasons why we continue to hold GAL in our portfolio check out our 2022 GAL Investment Memo by clicking on the image below: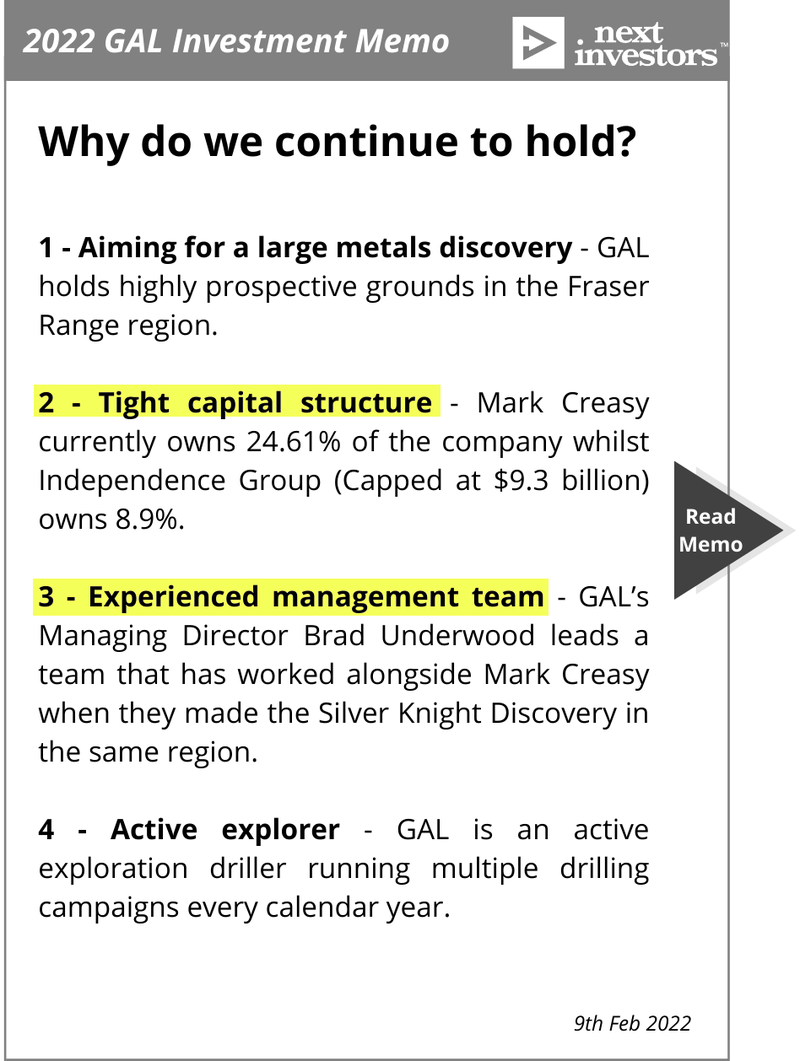 A closer look at GAL's new Callisto Discovery
The Callisto Discovery drillhole (NRC266) returnedsignificant palladium- platinum- gold- copper- nickel mineralisation over 33 metres:
33 metres grading 2.00 g/t 3E (1.64 g/t palladium, 0.28 g/t platinum, 0.09 g/t gold), 0.32% copper and 0.30% nickel from 144m, including:

6 metres grading 2.69 g/t 3E (2.21 g/t Pd, 0.37 g/t Pt, 0.11 g/t Au), 0.41% Cu & 0.36% Ni from 159m and
1 metre grading 3.21 g/t 3E (2.66 g/t Pd, 0.41 g/t Pt, 0.14 g/t Au), 0.48% Cu & 0.46% Ni from 176m
This 33 metre assayed intersection occurs within a wider 55 metre disseminated sulphide zone (126-181m), indicating the potential for a large mineralised system here.
Assays are still pending from the five further drill holes from this round of drilling, along with the remaining assays from today's reported discovery drillhole (NRC266) are expected in approximately six weeks.
GAL explained that the initial samples from the discovery drilllhole (NRC266) have been re-submitted to the laboratory for nickel sulphide collection fire assay (rhodium, osmium, ruthenium, iridium, palladium, platinum, gold).
If the samples are found to contain rhodium or other platinum group elements (PGE) metals, it could add significant prospectivity to the area.
And given that the discovery is on a granted mine lease, there's potential for accelerated development if resource drilling is successful.
What's next for GAL?
GAL will resume RC drilling at the Callisto Discovery as soon as possible, which will likely be in mid-June.
Informing the upcoming drilling, the drilled thickness of the target sulphide zone is increasing to the east towards the priority target sulphide zone and with five kilometres of untested prospective strike length.
As seen on the cross section below, the most eastern drill hole (NRC266) recorded the widest interval of sulphide mineralisation.
This zone to the east is now a priority target for drill testing (see Target Zone below).
Callisto discovery drill hole section (NRC266). NRC264 and NRC265 assays are pending
The second image below shows just how much bigger the target area is and how much bigger this new discovery can get with a few more rounds of drilling.
The big red star is where GAL made today's intercept and the green dots are showing where GAL will test for extensions to the discovery.
If we start to see mineralisation extend into this target zone then we could very quickly see the project display some serious scale.
Discovery drill hole NRC266 with priority sulphide target zone and draft planned RC drill holes
Today's discovery certainly exceeded our expectations and with the stock opening a massive 230% higher this morning, the market is no doubt impressed with the results too.
The results see us more than meet our #3 and #4 Key Objectives that we set for GAL to achieve this year:
However, it is still early days for GAL — this is just one discovery, at one target, out of the entire Norseman Project.
With $8.2M still in the bank at the end of the last quarter, GAL has more than enough to continue chasing its targets with value adding drilling.
At Norseman, there are multiple other PGE-nickel-copper targets at the Jimberlana and Mission Sill prospects that offer new opportunities for further discoveries. (Plus, there's also GAL's Fraser Range NIckel Project, where exploration is ongoing.)
Galileo controls virtually all of the prospective areas around Norseman. And, as previously reported, significant early-stage palladium results in aircore drilling have been returned from both the Mission Sill and Jimberlana prospects which, combined, sit on over 12km of additional prospective strike length.
Further work on these prospects will be undertaken in conjunction with ongoing work at the Callisto Discovery.
The image below brings home just how big the opportunity set is for GAL.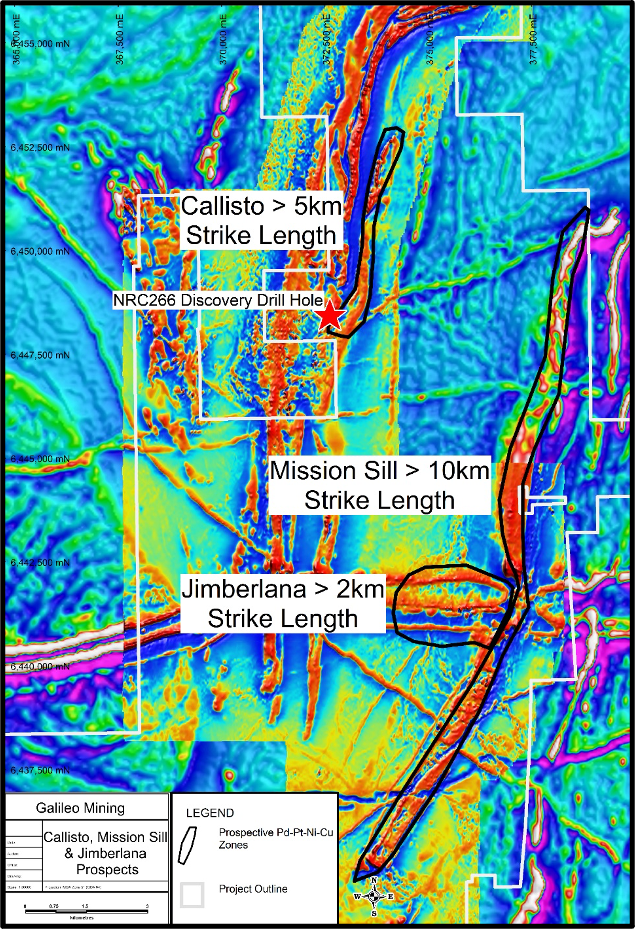 Norseman Project with Callisto, Mission Sill and Jimberlana prospects outlined
In light of today's results, GAL has outlined the following forward work program at Norseman:
Similarities to the Bushveld Complex in South Africa
While reading through today's announcement we noticed GAL pointed out the similarities in mineralisation at its Callisto Discovery to that of the Platreef deposits on the northern limb of the Bushveld Complex in South Africa.
The Bushveld complex is believed to be home to around 75% of the world's known platinum resources, with the combined Platreef deposits said to contain over 80% of the world's known platinum group elements deposits.
All up, the Platreef deposits have combined indicated resources of more than 700Mt, at a 1.0 g/t 3E cut off. The deposits are prospective for palladium, platinum, gold, rhodium, copper, and nickel.
Effectively, GAL is pointing out similarities between its new discovery and a part of the world that is home to some of the world's biggest platinum group element deposits, where some of the lowest cost production mines are operating.
So far, the similarities between the Bushveld Complex and GAL's discovery seem to mostly relate to the geological structures that the Callisto Discovery sits on.
GAL points out that the mineralisation at Platreef is contained within disseminated sulphides of less than 1% to more than 25% with very rare massive sulphide.
At the Callisto Discovery, with the drilling data that is available to GAL, the intercepts point to it containing disseminated sulphides of less than 5%, with the sulphide structures increasing to the east - where GAL will be drilling next.
Looking into these similarities we came across the Platreef mine that is 64% owned by Canadian-listed Ivanhoe Mines (capped at ~$12.4 billion), which only recently put this project into production.
The project, north-east of Johannesburg in South Africa, hosts a massive indicated and inferred 3PE of ~204Mt plus a gold resource of 225Mt, with its ore reserve measuring 125mt with palladium grades of ~2.01g/t.
This project sits over a ~6km strike length with mineralisation extending as deep as ~1.1km below the ground.
So far, GAL has drilled to depths no greater than ~200m and still has around five kilometres of untested prospective strike.
It's early days here for GAL, and of course we don't know how far or deep the mineralisation goes - and while we would love to see a resource size on par with those found in South Africa, there is also a chance it might not get that much bigger.
For a start, today's announcement provides a first indication that mineralisation is increasing to the east, with the sulphides structures also becoming thicker.
Not to mention that GAL still has the "Jimberlana" and "Mission Sill" prospects which, when combined, sit on over ~12km of additional prospective strike length.
Drilling over the coming months should fill in these knowledge gaps, and we will be getting a much clearer picture of the scale and size of the resource GAL has found.
Our GAL investment plan
We have been holding GAL since March 2020. In February we outlined our Investment plan for GAL in 2022, which you can read below: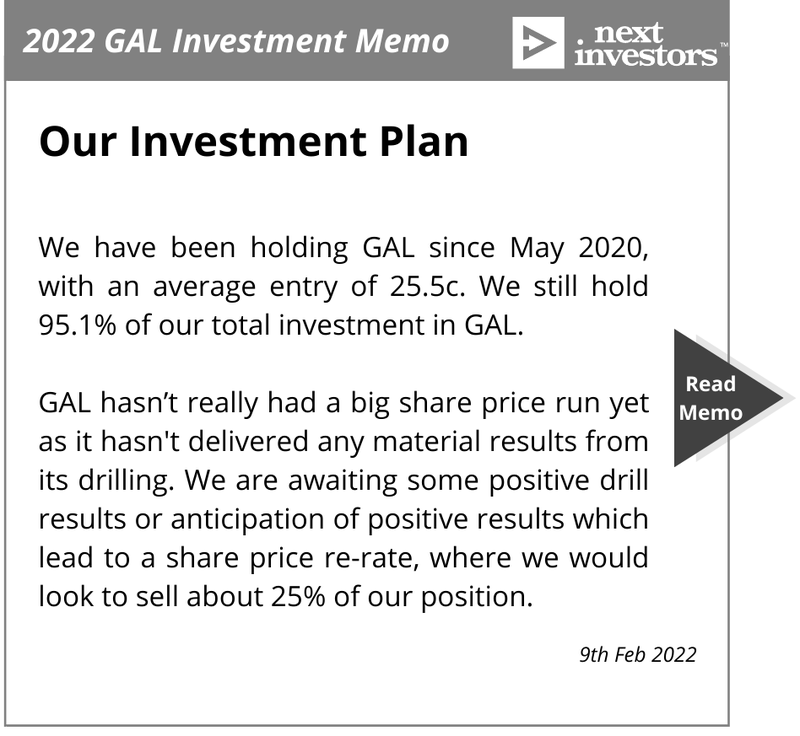 We outlined how GAL had not really gone on any big share price run yet as it had not delivered any real material results from drilling, after a couple of false starts over the last 2 years.
That all changed this morning, with the positive drill results coming in.
In line with our Investment plan, this morning we Top Sliced our position, selling 3.4% of our Total Holding - a relatively small sale but inline with our general plan for small cap Investing.
We may look to move closer to Free Carry by further de-risking our position over the coming months (in line with our 2022 Investment Plan), pending on how the GAL share price performs and upcoming assay and drill results . Execution of our investment plan will be in line with our trading blackout policies. For definitions of terms used in our Investment Plan see here.
We are very encouraged by this early result and intend to hold the majority of our position for the long term to see how big a resource GAL can define.
What are the risks that need to be considered?
Today's announcement shows that GAL has made an intercept interesting enough to declare a new discovery.
GAL has now reduced one of the major risks junior explorers face by making a discovery and moving into the stage where the company is trying to figure out how big its resource could be.
This doesn't mean, however, that GAL has gone from junior explorer to a company with a production ready asset though. But this discovery, and the added certainty it brings, does lift GAL above a pure exploration company.
GAL will continue drilling along strike and down dip to try and see if the deposit is big enough to warrant progressing the project further down the development curve.
We have discussed in detail the life cycle for a mining company where a new discovery is taken from a first discovery intercept (like today) into feasibility studies and eventually into development.
🎓 = To learn more about the mining company lifecycle check out our educational article here.
GAL is still at that first exploration stage where the company will need to prove that the discovery is big enough to progress along the lifecycle of an exploration project.
As a result there is still significant exploration risk. GAL could do more drilling and decide that the deposit is either A) too small or B) the grades are not increasing throughout the deposits and therefore the project is not economically viable.
Having a list of well defined risks helps us stay objective when news like today comes out and the share price for our Portfolio companies rally significantly.
To see a list of the risks we identified for GAL check out our 2022 GAL Investment Memo by clicking on the image below.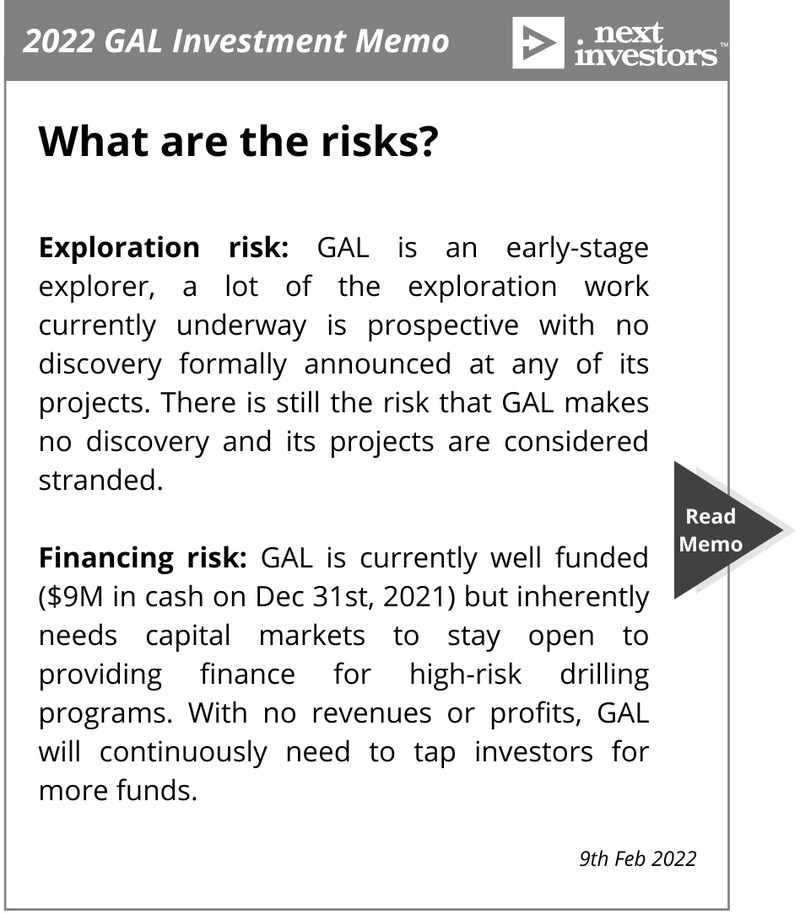 In our GAL Investment Memo you'll find:
Key objectives for GAL in 2022
Why we continue to hold GAL
What the key risks to our investment thesis are
Our investment plan
The ultimate purpose of the memo is to track the progress of our portfolio companies using our Investment Memo as a benchmark, throughout 2022.
---