GAL Drilling Tomorrow – Accelerating in Fraser Range Race to Catch $440M LEG
There are three companies to keep an eye on in the Fraser Range right now.
One is the $2.6BN Independence Group (ASX: IGO) – owner of the Nova nickel mine.
The second is Legend Mining Ltd (ASX: LEG) – now valued at over $400M, its share price has risen from 4c in December to as high as 21.5c in April – a gain of over 430% over five months.
As LEG continues to post impressive drill results at its Mawson discovery, investors are increasingly catching on.
The third company is Galileo Mining (ASX:GAL) – capped at just $32M it is the smallest right now, but the company we think has the highest leverage to upside.
GAL is at an earlier stage than LEG but has striking similarities to LEG just a few months ago.
GAL has the same major shareholder – prospector Mark Creasy who first discovered the Nova discovery and made a fortune, and still has a significant stake in its owner, IGO.
Mr Creasy looks to have picked up the quality ground in the Fraser Range early, and has been steadily funding the exploration of that ground on the ASX via LEG, IGO, and GAL.
GAL's ground is along strike from LEG's Mawson prospect.
GAL has just raised an oversubscribed $5M funding round (adding to the $4.8M it held at the end of March). IGO has taken a cornerstone position in this placement and will emerge with an 8.9% holding.
GAL just doubled its diamond drilling programme from 4,000m to 8,000m to accelerate its exploration. With over two kilometres of untested strike length it's exploring for mineralisation similar to Nova-style nickel deposits.
And drilling starts tomorrow.
GAL is currently capped at just $32M – less than a tenth of the size of LEG.
We first started alerting readers to the emerging GAL story back in early March when it was trading at 15c – since then it has been up as high as 28c (almost double) — but there looks to be even more upside to GAL over the coming weeks and months.

Share Price: $0.27 (at 22 April close)
Market Capitalisation: $32.5 million
Cash Position: $4.8 million (at 31 March 2020) + $5 million Placement proceeds
Here's what I like about Galileo Mining: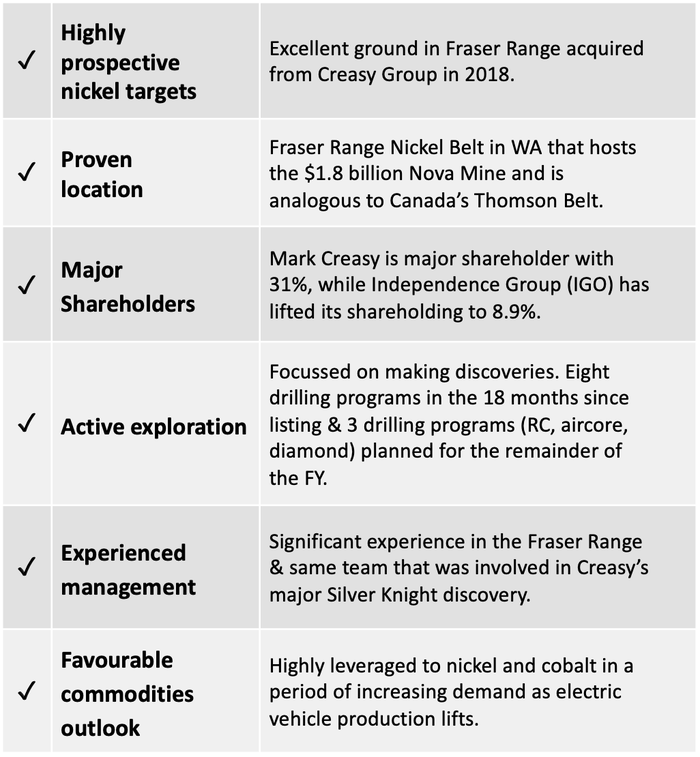 GAL raises $5 million to accelerate Fraser Range exploration
Galileo Mining (ASX:GAL) has completed a share placement to sophisticated and institutional investors, raising $5 million to fund the exploration of its highly prospective Fraser Range nickel targets.
Reflecting optimism around the upcoming drilling program, the placement was oversubscribed. With a target of $3 million, GAL exceed its target, placing with a placement of 22,727,273 shares at an issue price of $0.22 per share for $5 million.
Independence Group (ASX: IGO) the owner of the Fraser Range's nickel producing multi-billion dollar Nova Mine has taken a cornerstone investment, taking up $1.5 million in the Placement, bringing its total holding to a substantial 8.9%, up from its existing 4.9% position.
This is a huge endorsement of Galileo's projects, its management and its current drilling program.
Why is a $2.6BN producer like IGO so interested in GAL's Lantern Prospect?
There are a few reasons. One, is it is just 100km from IGO's Nova Nickel-Copper Project (a 14.4Mt @ 2.3% nickel, 0.9% copper resource). Once Nova is depleted, IGO will be on the lookout for new nickel resources to mine.
The Fraser Range was first pegged by famed prospector Mark Creasy in the 1990s. The subsequent discovery of Nova saw Independence Group (ASX: IGO) acquire Sirius Resources in 2016, with Creasy receiving a significant stake in IGO and becoming its largest shareholder.
The funds raised will be used to expedite exploration at the Lantern nickel-copper sulphide prospect, along strike from Legend Mining's Mawson discovery. Given the strong support for the Placement, GAL is immediately doubling the current drilling program from 4,000 metres to 8,000 metres.
Galileo Managing Director Brad Underwood said: "This placement, in conjunction with the company's existing cash reserves, puts Galileo in a very strong position to accelerate its exploration programs in the Fraser Range and in particular the follow-up exploration of the nickel-copper sulphides already discovered at the Lantern Prospect.
"We are delighted to have received such strong support for the Placement and will immediately double our drilling program which commences tomorrow. We have outstanding targets along strike from Legend Mining's Mawson discovery and are looking forward to updating the market with new results in the near future."
The shares to be issued will comprise approximately 18.9% of the company's total pre-placement issued share capital and will rank equally with existing ordinary shares.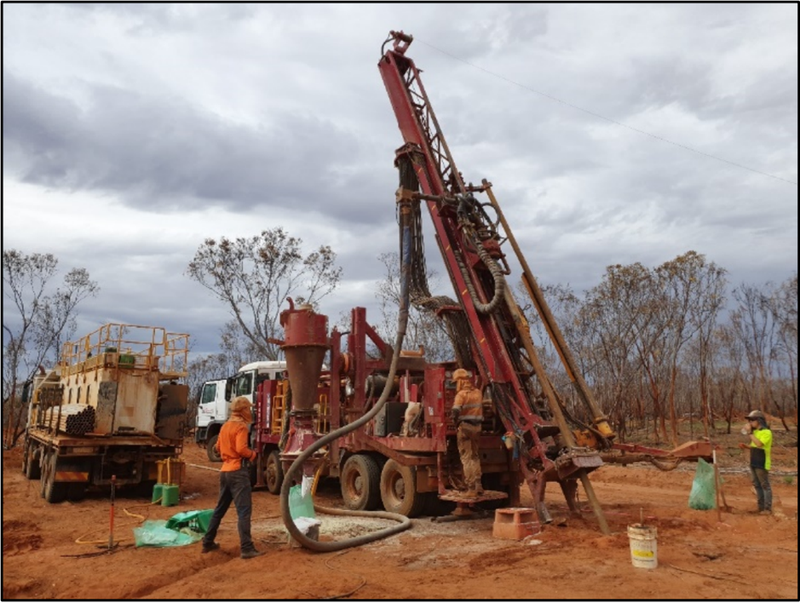 RC Drilling Rig at Galileo's Fraser Range Lantern Prospect Drill Site
Lantern Prospect exploration
With outstanding targets along strike from Legend Mining's (ASX: LEG) Mawson discovery, Galileo Mining (ASX:GAL), is set to kick off its drilling program tomorrow in the Fraser Range Nickel Belt.
Having discovered a fertile mineralised system containing nickel and copper sulphides, as announced in mid-March, GAL's next step is to define the extent and quantity of the target metals.
This initial RC drilling at Lantern intersected disseminated nickel-copper sulphide mineralisation, demonstrating the area to be highly prospective for economic nickel-copper deposits similar to the operating Nova mine.
Down hole EM surveying of LARC003 intersected 12 metres of disseminated nickel-copper sulphide.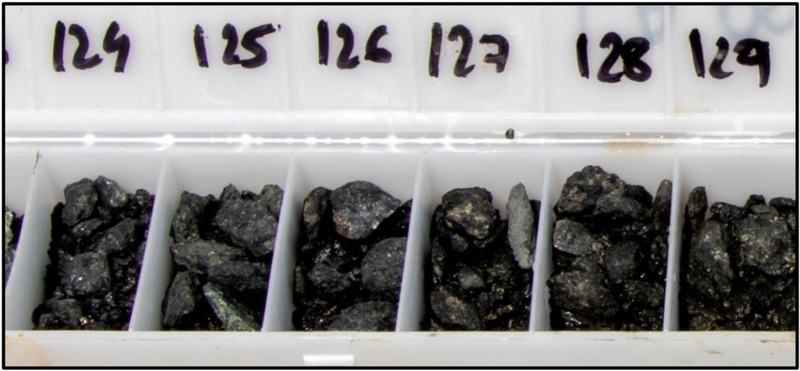 RC drill chips from LAARC003 showing sulphide rich mineralisation
Given that it has over two kilometres of untested strike length at this one target alone, there is outstanding potential for a large discovery here.
The drilling program, which the company has confirmed will commence tomorrow, has now been doubled from 4000 metres to an 8000 metre aircore program along strike of the sulphide mineralisation in LARC003 on the margin of a large intrusion with similar geology to the Nova ore body.
The more than two kilometres of untested strike length at the Lantern Prospect has a large magnetic feature interpreted to represent the contact between the prospective intrusions and their host rocks.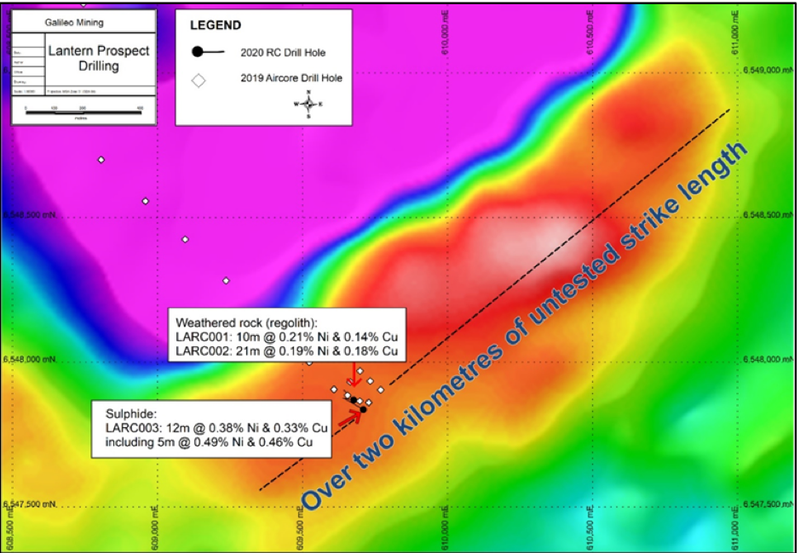 Two priority targets have been developed in the Lantern area and have been renamed Lantern North and Lantern South.
Lantern North is a large EM anomaly at around 340 metres depth while Lantern South contains disseminated nickel-copper sulphide at 110 metres depth.
Both targets occur on the margin of a large gabbronorite intrusion measuring 2 kilometres by 2.3 kilometres on surface, similar to the dimensions of the Nova sill complex which measures 2.4 kilometres by 1.2 kilometres.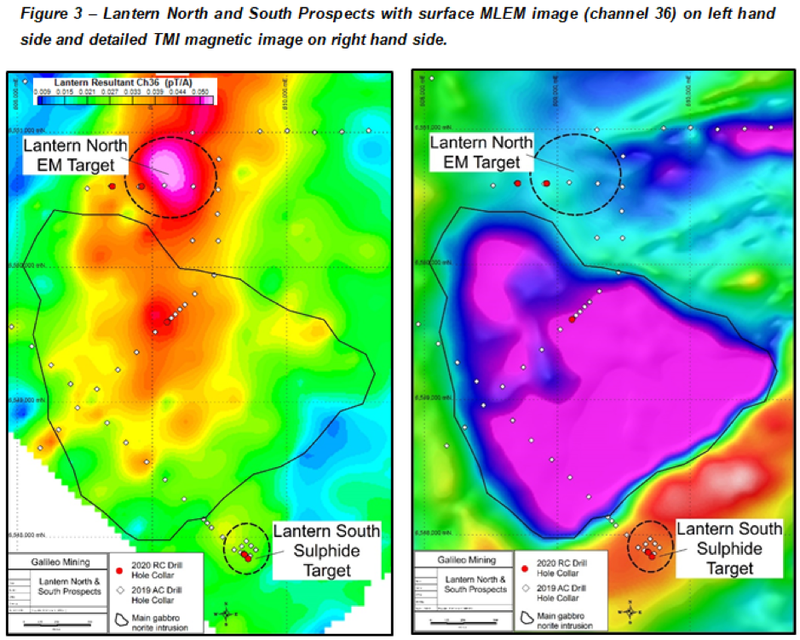 GAL Managing Director Brad Underwood said:
''With over two kilometres of untested strike length we are aiming to identify mineralisation similar to Nova-style nickel deposits.
''Our petrography results are again telling us we have the right rock types to host a nickel deposit and, with Legend Mining recently having made a discovery along strike at the Mawson Prospect, this is a very exciting time to be exploring in the Fraser Range.''
The Fraser Range's untapped potential
Located south-east of Kalgoorlie in Western Australia's Fraser Range Nickel belt, Galileo's Fraser Range Project sits within a mining location with major untapped potential.
The region was brought to life just eight years ago, in 2012, with Sirius Resources' discovery of the Nova nickel deposit which triggered a stunning share price rise that saw Sirius go on to reach a $1 billion market capitalisation.
The Fraser Range's second significant nickel-copper-cobalt discovery to date was the Creasy Group's Silver Knight, and more recently, Legend Mining has unearthed a massive nickel sulphide-copper discovery at its Rockford Project's Mawson Prospect, also in the Fraser Range. And there could be plenty more to come...
The Fraser Range is analogous to the Thompson and Voisey Bay Nickel belts in Canada, but the Fraser Range's history of nickel discoveries only dates back to 2012 and it has only seen three significant nickel-copper-cobalt discoveries in that time (Nova, Creasy Group's Silver Knight and most recently LEG's Mawson).

Major Fraser Range discoveries
All up, the Fraser Range has just 18 Mt of total known resources with less than eight years of mining, compared to Thompson's total known resources of 146 Mt over 50 years of mining and exploration.
As can be seen blow, Galileo's tenements over its 656km2 of highly prospective ground in the Fraser Range are surrounded by LEG that just released initial diamond drilling results from its Mawson Prospect and by Independence Group, the owner of Nova that is aggressively exploring with a $24m regional exploration budget.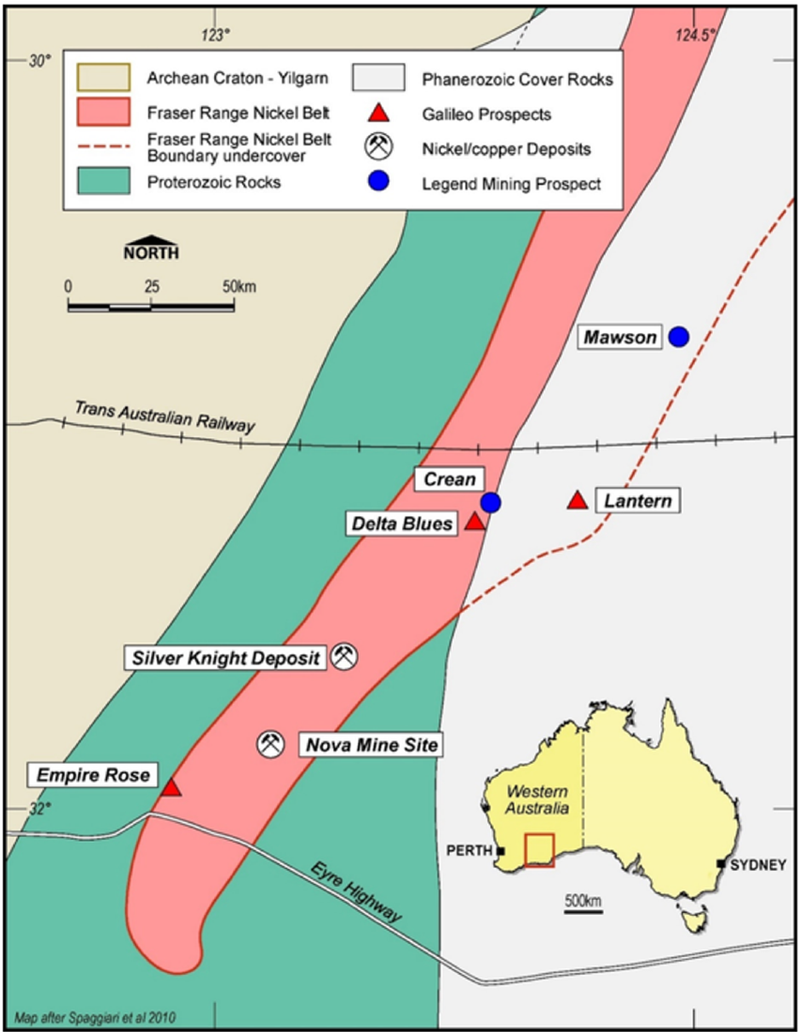 Legend Mining results: "This is PayDirt"
Legend Mining (ASX: LEG) has received results from three diamond drill holes at the Mawson prospect this week.
LEG delivered outstanding exploration results from the Mawson project in late March and had further assay results plus an exploration update this week from exploration at the Mawson prospect.
Drill hole 11 was a highlight this week, with MD Mark Wilson saying it was an outstanding result and can be compared to drill hole 8, where LEG uncovered five intersections of high-grade nickel-copper mineralisation, as announced on 31 March, and management identified it as the most significant and exciting discovery in the Fraser range since Nova.
In describing the most recent results, Wilson said, "In simple terms this is paydirt", and that "the results and photos from the sulphide zones in hole 8 confirms economic grades of nickel-copper-cobalt".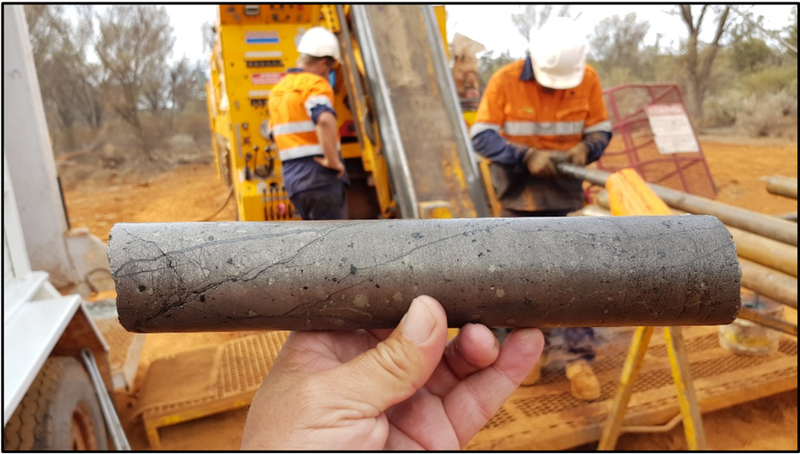 LEG's Mawson Prospect massive nickel-copper sulphide
However, in what appears to be a classic case of "buy the rumour, sell the news", LEG closed the day down 8% after emerging from its trading halt yesterday.
While LEG's exploration results speak for themselves, and we expect that company to continue to attract investor attention as exploration progresses, there could very well now be early stage investors with cash in the bank from taking profits in LEG, that are now looking for the next LEG or Nova style discovery in the Fraser Range.
With GAL currently drilling, we can expect attention to head its way on the back of LEG's positive results and its project being just 50km along strike, GAL's oversubscribed capital raising and significantly strengthened cash position, as well as a huge amount in interest now being direct towards the Fraser Range in general.
Consider that an initial discovery hole at LEG's Mawson nickel-copper prospect in December, an "exploration discovery success", saw LEG double to 8.1c per share, while the late-March results saw the share price up as much as 65% on the day and continue rising through to last Friday.
All up, from the time of my last report of GAL on 30 March, LEG's market capitalisation has risen from $158 million to more than $400 million today.
In the same period, GAL's valuation has risen from $18 million to $32.5 million on Monday, before it entered a trading halt ahead of its Placement.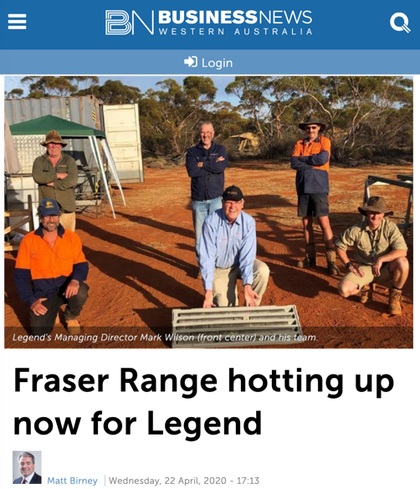 A final word
With the Fraser Range Nickel Belt attracting increasing attention, Galileo can't be ignored. The strong take up of its capital raising and the interest from IGO was testament to this.
Now with its significantly strengthened cash position, its drilling program at its Lantern Prospect – just 50km along strike from LEG's Mawson prospect — has been doubled in size is all set to kick off tomorrow.
When I first wrote about GAL in early March its share price was 15c in early-March — it's now 27c. However, Galileo has huge potential for leverage on any positive exploration results.
While the stock has almost doubled in the past six weeks, its $32.5 million market capitalisation still remains just a fraction of that of LEG that is now at more than $400 million, which has comparable ground, yet is slightly further along in its exploration pursuits.
---