EN1 Spreads its Influence, Boosts Revenues and Wins Crypto 'IvyKoin' Contract
PUBLISHED: 23-04-2018 10:00 a.m.
In the past, advertising campaigns were purchased and sold manually (non-programmatic advertising), which was expensive and often took an inefficient 'scattergun' approach.
The modern solution to digital advertising comes in the form of programmatic advertising — and engage:BDR (ASX:EN1) has built a platform for exactly that.
EN1's proprietary platform utilises sophisticated technology to buy and sell advertising, making the process a lot faster, more cost efficient and also highly scalable.
Back in 2015, EN1 launched its own video-serving platform eliminating third-party dependency and dramatically reducing its operating costs. It then entered an era of scaled up investment in technology, to now wind up as a major player in digital advertising at the helm of both programmatic advertising as well as the trend of digital influencer marketing.
In fact, the company now boasts one of the largest self-serve influencer platforms in existence.
EN1's unique ad transaction platform offers a marketplace which sits between internet publishers (website and mobile app operators) and advertisers, enabling publishers to create additional revenue streams and monetise their ad units to maximum effect.
Of course EN1 remains a speculative stock and investors should seek professional financial advice if considering this stock for their portfolio.
The model is a win-win for publishers and those looking to advertise their products and services online. What's even more impressive is the fact that there's no limit to the types of websites which can benefit from EN1's platform — it will match the site's audience, whoever they may be, with campaigns that are appropriate and statistically more likely to result in click-throughs.
Since we last caught up in December, $40 million-capped EN1 has been engaged in all sorts of high-profile developments. Perhaps the biggest was its deal with brand new cryptocurrency ivyKoinTM.
ivyKoin is a blockchain-based cryptocurrency designed to facilitate transparent business payments on a global scale. We wrote an in-depth article on ivyKoin in February on the nextcrypto.com. In brief, ivyKoin is designed for business transactions, in particular larger financial transactions and situations requiring extensive verification.
EN1 announced it would become the agency of record for ivyKoin, including handling all media buying and marketing activities.
The other big news was EN1 launching its influencer marketing platform 'IconicReach' at the Sundance Film Festival — the largest independent film festival in the US.
IconicReach streamlines the previously inefficient process of sourcing, transacting and executing influencer marketing campaigns. It lets a purchaser browse influencers and contact those they are interested in. If both parties see it as a good fit and come to an acceptable arrangement, the platform supports efficient payment and follow up campaign monitoring services.
The platform has received considerable interest from a range of influencers and by the middle of this month had an impressive 800+ influencers registered. New influencer registrations are being received at a current approximate rate of 100 per month and the company expects this to continue.
Due to the rapid uptake of the platform, EN1 has increased its original projected revenue from $1.2 million to $3 million for the 2018 financial year.
Further, it is expected that IconicReach will be profitable and cash flow positive within its first full year of operation.
EN1 kicked off the new year with an update on its acquisition strategy. It is in the process of assessing a number of strategically valuable companies (two of which are Australian) across the ad-tech (advertising technology), mar-tech (marketing technology) and social influencer space.
On that note, let's flesh these developments out in detail...

engage:BDR Limited

The below timeline puts in simple terms EN1's journey to arrive at its current position; listed on the ASX, partnered with a cryptocurrency trailblazer, launching its own influencer platform and now looking to enact some strategic acquisitions in the near future: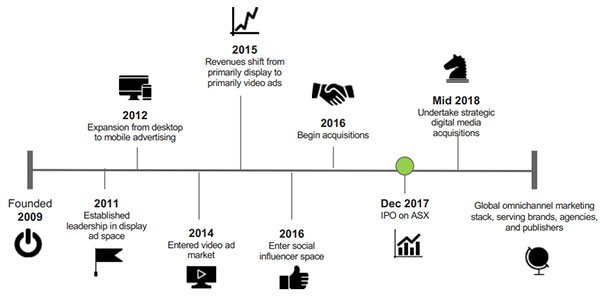 Here's CEO Ted Dhanik explaining how Engage connects players in the Ad Tech space.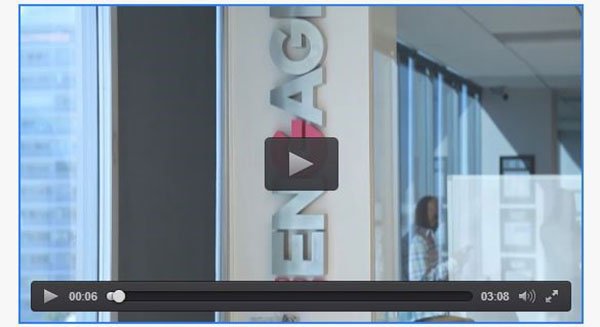 Yet the biggest news in recent months for this ad-tech play is its move into the world of cryptocurrency...
Cryptocurrency contract boosts EN1 profile
Cryptocurrency is taking the financial world by storm, and while BitCoin has somewhat fallen from grace, the idea of blockchain and cryptocurrencies remains firmly in vogue.
ivyKoinTM is not just any cryptocurrency — it is designed to facilitate transparent business payments (in particular, large transactions) with transparency and a firm regulatory framework... and EN1 has very recently jumped on board.
EN1 will become the agency of record for ivyKoin including handling all media buying and marketing activities. The initial campaign is for US$500,000, with the agreement providing those funds go towards a marketing campaign executed through EN1's influence marketing platform, IconicReach.
The campaign includes additional revenue for the delivery of native advertising and display advertising, with a look to the future and preparing the market for continued communications from the shiny new IvyKoin brand...
EN1's new deal with IvyKoin is expected to deliver revenues over and above the total IconicReach budgeted revenue for 2018 — $1.2 million.
But how big is IvyKoin likely to be?
The cryptocurrency has several selling points. For example, transactions on the ivyKoin network prioritise compliance and audit as primary concerns, and are initiated against a contract listed on the public Ethereum network. This is a benefit over other cryptocurrencies including Ripple.
With an emphasis on regulation, ivyKoin's target audience is mostly businesses seeking a better way to facilitate large transactions internationally; who may prefer to transact with cryptocurrencies via a 'decentralised network of validators' of established financial institutions and intermediaries.
Far from being an unknown player, ivyKoin has attracted a lot of attention, including a significant strategic investment from US based Change Financial Limited (ASX:CCA).
The below Finfeed.com (a related entity of S3 Consortium) article gives a good idea of just how game-changing ivyKoin may prove to be: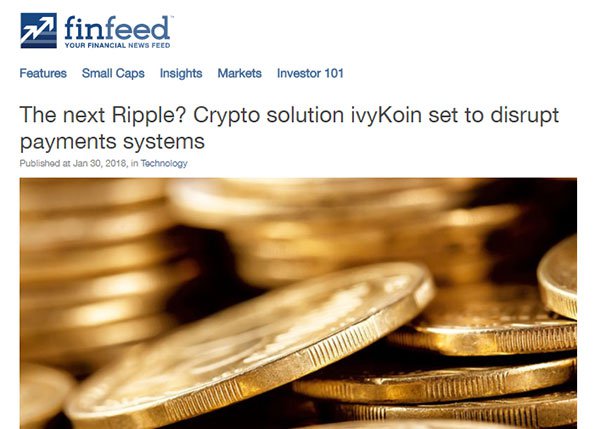 The new regulation-heavy cryptocurrency has been backed by a number of industry heavyweights including the former regional and business heads of PayPal and Westpac.
EN1's entry into this space is early stage, so investors should take all publicly available information into account when considering investing in this stock.
EN1's deal with ivyKoin relates directly to its freshly launched platform, IconicReach which represents the second major bit of news to come from the small cap in recent months.
IconicReach launched at Sundance Festival
EN1 unleashed the innovative IconicReach platform on the ad-tech world in June last year, however it took things up a notch in January with a major launch at the US's largest independent film festival, Sundance.
We went into some detail on the IconicReach platform in our last article on EN1, but in a nutshell: the newest aspect of the company's digital advertising suite is one of the largest self-serve Instagram influencer platforms in existence, with a focus on advertiser-supplied creative content.
Remember, this is a company whose founders were behind MySpace, when MySpace predated was the social media platform of choice, so they know something about influence and icon, having built relationships with some of the most iconic brands in the world: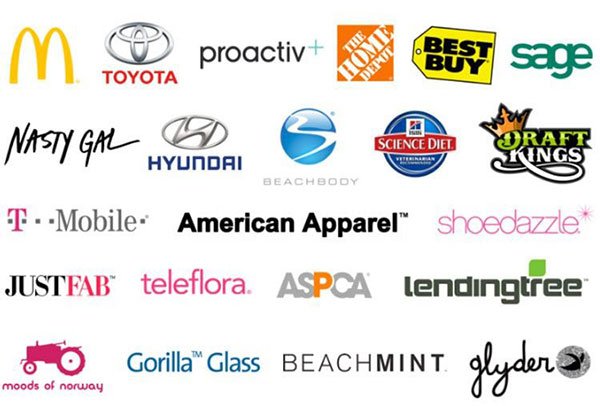 It also works with some of the biggest news brands in the world including major media names, CNN, ESPN, Bleacher Report, Business Insider, Forbes, TMZ, Fox News, Associated Press and Newsweek.
IconicReach supports brands looking to find influencers on Instagram, matching influencers on the platform to advertisers' specific needs, such as budget, post frequency, audience overlap and more.
The goal is to yield high engagement and authenticity for advertisers. Keep in mind, some 48% of marketers plan to increase their influencer budgets in 2017, and the revenue from influencer marketing on Instagram alone was estimated at over US$570 million in 2016.
With that in mind, it's easy to see how a proper launch at the Sundance Film Festival, which attracts a long list of major celebrities, filmmakers and big names in tech, could be a serious game-changer for EN1's new platform.

The company's general update on IconicReach revealed that that platform had 800+ influencers registered by mid-April... with new influencer registrations being received at a rate of about 100 per month. Those are huge figures for such a new enterprise.
Due to the increasingly warm welcome it has received, and a whirlwind of interest from key stakeholders, EN1 has increased its original projected revenue for IconicReach from $1.2 million to $3 million for the 2018 financial year.
What's more, the company has added 66 advertising customers on the IconicReach platform, from health and beauty, to electronics, cryptocurrency and medical marijuana companies.
Here's a look at some of its influencers:

Talk about Reach — within the first three months of 2018, the team had already achieved the original total annual budget...
While EN1 expected its move into the social influencer market would be a popular one, even its management probably did not predict it would attract such unprecedented demand in such a short timeframe.
This could be in part due to the uniqueness of the product in the market. It is a cutting edge platform that lets brands browse and connect with influencers, and then helps manage the financial and reporting side of campaigns too. All of this, it expects, will amount to a far greater return on investment for advertisers – and a major uptake of the platform by various stakeholders resulting in big bucks for EN1...
Here's how it works: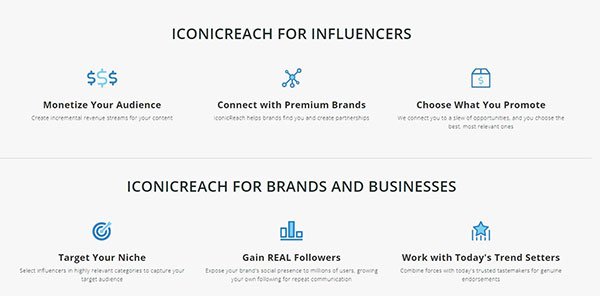 We expect to hear a lot more about this side of the business in the coming quarter.
Growth acquisition strategy recommences
While EN1 was kicking off 2018 with all sorts of positive news, it also released an update on its growth and acquisition strategy. The company advised it is currently looking into a number of strategically valuable companies, two of which are Australian (one in adtech and the other in social influencing).
In its search, EN1 is particularly looking for companies in the adtech, martech and the social influencer space, preferably ones it has worked with for several years and is consequently familiar with their history. It is already in the due diligence stages with a number of companies for which the revenues, earnings or general synergistic benefits are an ideal fit.
All potential companies on the list are bringing in revenues, and are either already profitable or show significant earning potential.
EN1 completed its first acquisition, acquiring video platform myDiveo, in mid-2016.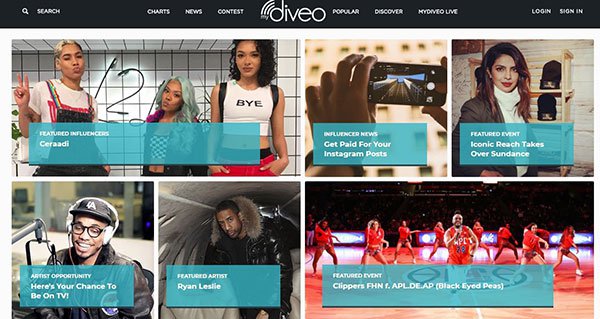 Due to the lengthy process of listing on the ASX, the acquisition side of its business was put on the backburner — however, the company have re-opened conversations with prospective companies who were then, and still are, interested in becoming a part of EN1.
A look at how the numbers are stacking up...
In the last month EN1's share price is up 45%, with a noticeable spike in the volume of shares traded following the release of an investor presentation earlier this month: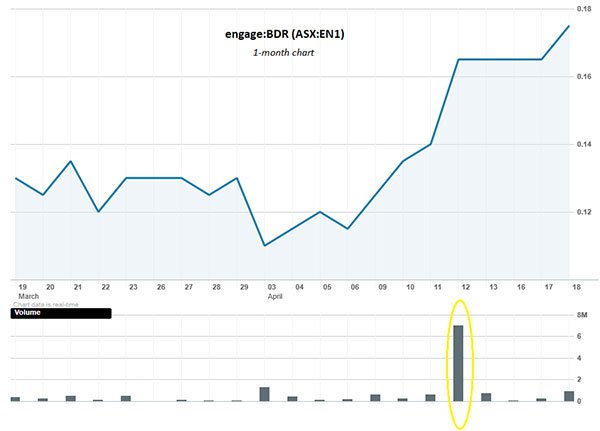 The past performance of this product is not and should not be taken as an indication of future performance. Caution should be exercised in assessing past performance. This product, like all other financial products, is subject to market forces and unpredictable events that may adversely affect future performance.
The company anticipates it will be both earnings and cash flow positive by the end of the 2018 financial year — with expected revenues projected to be A$24.0 - $24.5 million for the year.
With that fresh on your mind, here's another snapshot look at the projected trends of the digital marketing space, as it continues to rapidly disrupt non-digital forms of advertising: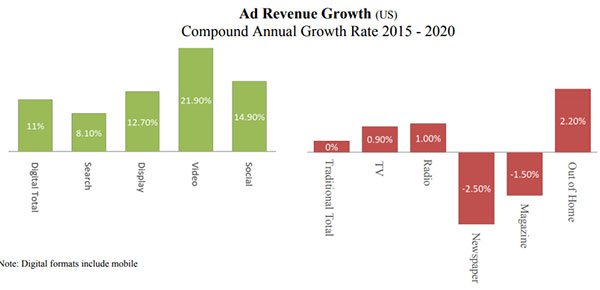 As you can see ad spending is on an upward trend and EN1 look to be in the right markets at the right tome.
Any growth in revenues based on these statistics is speculative, so investors should seek professional financial advice if considering this stock for their portfolio.
The final word
Not to be overlooked in this notion of EN1 being firmly 'on trend' is the fact it was co-founded by former MySpace marketing and strategy head, Ted Dhanik — with fellow MySpace co-founder Tom Anderson (arguably one of the biggest digital influencers of the last decade).
There are a whole lot of positive influences working their magic on this blossoming ad-tech meets social influencing one-stop-shop. We are expecting more blockbuster news to come from EN1 before the current financial year is up.
---