New Cryptocurrency Building Improvements on Leading Altcoin Ripple
Published 07-FEB-2018 13:58 P.M.
Hey! Looks like you have stumbled on the section of our website where we have archived articles from our old business model.
In 2019 the original founding team returned to run Next Investors, we changed our business model to only write about stocks we carefully research and are invested in for the long term.
The below articles were written under our previous business model. We have kept these articles online here for your reference.
Our new mission is to build a high performing ASX micro cap investment portfolio and share our research, analysis and investment strategy with our readers.
Click Here to View Latest Articles
Notwithstanding its volatility, the cryptocurrency market is broadening and deepening at a rapid rate, with a current coin market capitalisation in the hundreds of billions of dollars.
The market potential is well recognised. Ripple is one of the largest cryptocurrencies behind bitcoin - Ripple Tokens increased in value over 28,000% during 2017: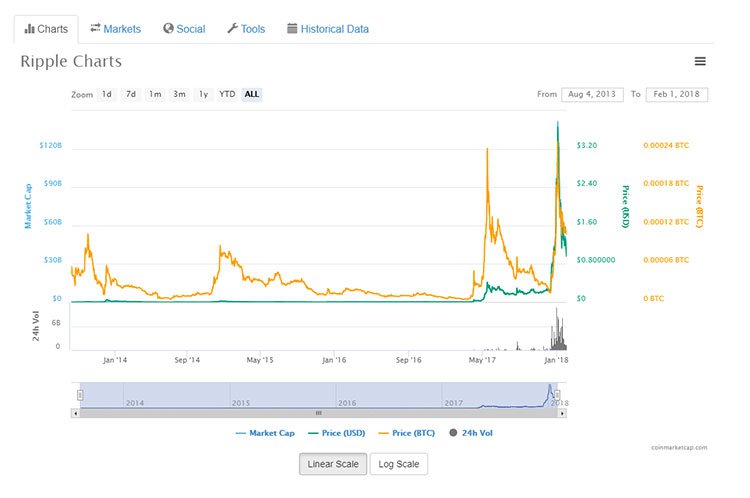 The past performance of this product is not and should not be taken as an indication of future performance. Caution should be exercised in assessing past performance. This product, like all other financial products, is subject to market forces and unpredictable events that may adversely affect future performance.
Before we go too far, please note the market capitalisation of cryptocurrencies is extremely volatile and subject to strong fluctuations over short periods of time. Investing in cryptocurrencies is high risk, and it is always recommended you seek professional financial advice if considering making an investment.
Whilst the advantages of and potential for cryptocurrencies is well recognised, anonymity has prevented wider mainstream adoption, as there are a lack of financial institutions that support transactions involving cryptocurrencies.
The primary reason for this lack of support within the global banking and financial industry is due to the applicable regulation that requires certain transaction information inconsistent with anonymity.
Ivy Koin LLC is proposing a solution to this problem - by building a blockchain based cryptocurrency that aims to facilitate transparent business payments on a global scale.
It is anticipated that the ivyKoin Network will have architectural improvements compared to Ripple, who ivyKoin consider to be their closest peer and the leading global Altcoin.
ivyKoin seeks to bridge the gap between current global financial systems and the emergence of cryptocurrencies, positioning itself as the future for global payments.

ivyKoin
Ivy Koin LLC, a Delaware limited liability company, is currently undertaking a Pre-Sale of ivyKoin tokens ahead of a planned Token Generation Event (TGE).
ivyKoin is offering 150 million Pre-Sale tokens at a price of US$0.10, which will raise US$15 million for the company.
The Company proposes that the Tokens will be used as part of a digital platform which it also proposes to develop and which would facilitate payments (ivyKoin Network).
If implemented, token holders may have the ability to voluntarily de-anonymise transaction data to the satisfaction of financial institutions in order to facilitate transactions using cryptocurrency with the security and reliability of the blockchain.
For more information on ivyKoin and to fully inform yourself of the offer, please fill in your details on the below form and you will be able to download the ivyKoin White Paper and Pre-Sale presentation from our partners at Raisebook.
You will also be able to record a soft bid for Pre-Sale tokens at Raisebook.
An investment in ivyKoin should be considered as high risk. Trading and/or investing in cryptocurrencies can be subject to bouts of high volatility and at times low volumes.
Please read the ivyKoin White Paper in full, paying particular attention to Section 9 – Risks. We recommend you seek Professional Advice where you are unsure an investment in this product is suitable for you.
[widget_ivykoin]
Please note that soft bids will not guarantee a firm allocation at this stage.
This Pre-Sale offer is expected to close on Friday 9th February, 2018, however ivyKoin reserves the right to close the pre-sale early, or extend, in its absolute discretion.
The ivyKoin Opportunity - A Highly Disruptive Superior Technology
Global financial institutions payments are significant. One platform, SWIFT, directs the transfer of nearly $5 trillion worldwide each day, of $1.25 quadrillion per year.
The benefits of cryptocurrency vs incumbent financial systems are well understood: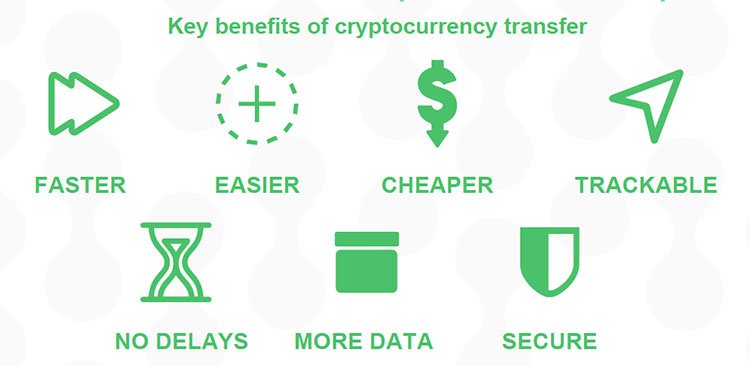 However, the inherent anonymity of most current cryptocurrencies creates incompatibility with the current financial system.
When implemented, the ivyKoin Network will have distinct advantages over incumbent financial systems and competing cryptocurrencies.
The ivyKoin Network will enable KYC, KYT, and AML data supporting transactions to be captured using a blockchain-based cryptocurrency.
It will be optimally designed for transactions with financial institutions, embedding far more compliance and transaction audit information than incumbent payment networks. Transaction data will be made available to satisfy the stringent requirements of financial institutions and intermediaries.
Comparison to Incumbent Financial Systems
When fully developed, the primary differences between the ivyKoin Network and traditional payment networks will be that the ivyKoin Network:
will securely facilitate the transfer of cryptocurrency payments while associating KYC and KYT data via the trusted, distributed ivyKoin network;

will securely store an immutable reference to supporting transaction data in a public blockchain;

will embed more KYT information into the transfer than traditional payment methods;

will embed more KYC information into the transfer than traditional payment methods;

will be able to be integrated into existing banking software;

will offer easy integration into accounting software for bookkeeping efficiency; and

will provide revocable access to KYC/KYT data to financial institutions, accountants, company managers and others, depending on the information they require.
In regards to KYC and KYT, frequently used incumbent payment formats typically support collecting relatively few data points. The table below indicates the approximate volume of KYC/KYT data points included in a typical transaction:

When implemented, the ivyKoin Network will be far more descriptive than the existing systems and processes.
Depending on the type of financial transaction being performed, it is anticipated that the ivyKoin Network will allow for the inclusion of more than 120 different KYT data points and more than 70 different KYC data points in transaction messages.
Comparison to Competing Cryptocurrencies
The ivyKoin tokens, when fully developed, are intended to be a cryptocurrency with several distinguishing features and benefits:
As indicated above, the ivyKoin Network, when fully developed, is anticipated to have distinct advantages over Ripple, ivyKoin's leading competing cryptocurrency.
ivyKoin vs Ripple

Specifically, with reference to Ripple, the ivyKoin Network is intended to be a decentralized network of validators, consisting of financial institutions and intermediaries, who use the Tokens for the purpose of communicating KYC/KYT/AML data and for settling balances on the network.
Compliance and audit are first-principle concerns in the ivyKoin Network. Transactions with Tokens will be initiated against a contract listed on the public Ethereum network using Tokens that are easily traded for their utility of facilitating payments to recipients of payment remittance in fiat currency at their financial institutions.
This differs greatly from the use of XRP, the core Ripple currency, which has little public use aside from as a medium of exchange.
[widget_ivykoin]
Tier 1 World Class Team has a Track Record of Success
The Company is led by a world class team with a track record of success. The Company's highly experienced executive team is supported by a global advisory board with unparalleled industry knowledge and networks across all necessary verticals for project success:

ivyKoin's advisors can be seen below, and have experience working at or with PayPal, Mastercard, Microsoft, Intel, Dell, Viacom, and banks such as CBA and Westpac: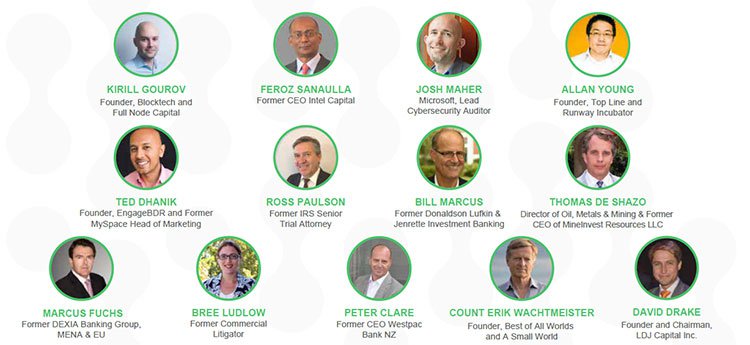 ivyKoin Operational Specifications
Operational Platform Overview
(a) Base functionality
The ivyKoin Network is envisioned to provide the following functionality to end users. This functionality may be delivered to its constituents by desktop/web and mobile experiences:
Senders & Recipients
Purchase or sale of Tokens;

View cryptocurrency exchange availability and exchange rates for common cryptocurrencies;

Estimate network charges and receive quotes for using Tokens;

View financial institution and financial intermediary mean times for transaction settlement; and

View KYC data access logs with respect to personally identifiable information (for senders.)
Financial Institutions & Financial Intermediaries
Maintain enterprise account and identity information;

Manage account access settings for organization members; and

View Token data container contents and access history.
In addition to the base features described above, the Company plans, in due course, to incorporate the following features, functionalities, and solutions into the ivyKoin Network:
(b) Peer-to-Peer Cryptocurrency to Fiat Currency Network
Whereas the initial uses for the ivyKoin Network is to provide for predominantly business-to-business transactions, strong demand also exists for a simplified payment network that allows individuals to easily send, receive and manage their cryptocurrencies and easily convert them to fiat currency.
(c) Software Integration
The Company will seek to integrate with existing bank software so that KYT and KYC can be distributed automatically to the correct locations within the respective bank system.
The Company also intends to integrate with major accounting software systems. The easy integration of payments and receipts from customers, including invoice details, will enable transactional data to be loaded directly into the accounting software, reducing the customer's administrative load.
(d) Cashier and Conversion Services
The Company intends to develop cashier services and conversion services. Cashier services facilitate:
The withdrawal of fiat money from bank accounts and its conversion into cryptocurrency; and

The conversion of cryptocurrencies back into fiat money and their deposit into bank accounts.
Exchange services will allow customers to convert Tokens to and from a range of other cryptocurrencies.
By providing both cashier and exchange services, the Company intends for the ivyKoin Network to be an end-to-end solution, particularly for businesses making large transfers. The Company will seek to:
Facilitate the conversion of fiat money into cryptocurrency;

Facilitate the transfer of cryptocurrency across the globe; and

Enable the recipient to exchange the cryptocurrency back into fiat money in their bank account.
Most importantly, it is intended that the ivyKoin Network will be able to do this without causing a problem with either the sending or receiving financial institution.
(e) Fixed Price Transfers via Open Market Operations
Potential currency loss during the process of cryptocurrency transfers is one of the biggest inhibitors to mainstream adoption of cryptocurrencies by merchants.
The Company aims to develop a fixed price solution to remove currency loss due to cryptocurrency price volatility.
The fixed price solution involves using a pool of treasury coins to be used specifically for USD fiat to USD fiat transactions involving two bank accounts. Fiat will be pulled from the senders bank account using an ODFI ("Originating Deposit Taking Financial Institution).
The ivyKoin Network will then facilitate the conversion of the fiat into Tokens using a treasury of off-market tokens designed specifically for this purpose (see section 7 of the White Paper).
Financial Institutions
With increased financial institution support, the ivyKoin Network has the potential to be used for the following transactions, plus many more:
Domestic or international purchases of goods;

Business to business services;

General transfer of value which is destined to be fiat in a financial institution;

Software licence purchases;

Real estate purchases;

Global investing;

Large personal transfers; and

Small personal transfers.
ivyKoin Roadmap over the Near Term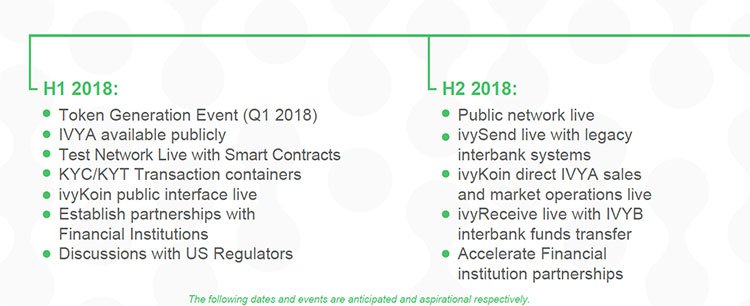 It is intended that the development of the ivyKoin Network will occur in two Phases over 2018. In Phase 1 of development of the ivyKoin Network, payments are received directly from the Company via legacy interbank payment methods such as ACH or wire.
In Phase 2, banks receive payments from ivyKoin Network validators who facilitate private IVYB transfers on the network and immediate, direct payments to member Financial Institutions through accounts they maintain there.
Over time, the Company will seek to:
Build the network of participating financial institutions globally

Expand conversion capabilities to include many more fiat currencies and digital assets

Develop partnerships with organizations who can benefit from the ivyKoin Network

Develop improved methods for KYT/KYC/AML data verification
However please note – this is a very early stage technology company, with no guarantee of success – its plans are only anticipated and aspirational at this stage. Fully inform yourself of the Company and seek professional financial advice before choosing to make an investment.
The ivyKoin Tokens
The ivyKoin Tokens will be a blockchain based cryptocurrency, intended for transactions with financial institutions, and embed far more Know Your Transaction (KYT) and Know Your Customer (KYC) information into payments than incumbent payment networks, including current baseline payment systems such as the SWIFT protocol, CHIPS and Fedwire.
Token holders will have the ability to voluntarily deanonymise transaction data to the satisfaction of financial institutions in order to facilitate transactions using cryptocurrency with the security and reliability of the blockchain.
ivyKoin believes the opportunity for ivyKoin tokens is immense, given:
1. A blue sky market
Potential for continued cryptocurrency market growth

Potential penetration of global financial institution transactions

2. ivyKoin's highly disruptive technology
It is anticipated that the ivyKoin Network will have architectural improvements compared to Ripple, who ivyKoin consider to be their closest peer and the leading global Altcoin. Ripple currently has a market capitalisation of $38BN USD (2nd Feb 2018)

3. ivyKoin has a Tier 1 World Class Team, with a track record of delivery.
[widget_ivykoin]
---