DYE Shines as Carbon Emissions Crackdown Presents Solar Catalyst
PUBLISHED: 26-01-2016 19:01 p.m.
Solar power is basically infinite.
If only we could find a way to get this abundant power generator to become commercially viable...
...it would mean solving the huge energy security and environmental problems the world currently faces.
Solar power has gone through all sorts of trials and tribulations in recent years, especially in Australia where an addiction to state handouts had prevented the industry from becoming truly efficient and commercially viable. Until recently, government support was also questionable.
But all that is about to change as Dyesol (ASX:DYE) delivers a knockout blow to the solar critics that love harping on about off-peak electricity use and inefficient energy storage.
We first covered DYE in October 2015, and since our article This is Solar Energy: But Not as You Know It was released, DYE has been up over 75%. Since that time, the company has raised $8.1 million to shore up its cash balance, and the company is still trading 25% above the price we first called it: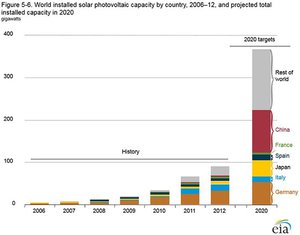 The past performance of this product is not and should not be taken as an indication of future performance. Caution should be exercised in assessing past performance. This product, like all other financial products, is subject to market forces and unpredictable events that may adversely affect future performance.
But this could be just the beginning here for DYE.
DYE has been hard at work further developing its Perovskite Solar Cells (or PSC for short) and readying itself for commercialisation.
Of course, DYE is still in the early stages of its commercial plans and therefore caution should be adhered to when considering this company as an investment option.
Its plans to build a manufacturing plant in Turkey and hit the European markets are moving full steam ahead.
And the $8.1M capital raising comes on the back of funding granted by the Australian Renewable Energy Agency (ARENA) , which will play a further role in helping DYE hit its key performance targets early this year. The Company has also flagged the possibility of ongoing government financial support.
Solar power is the cleanest source of energy in the world today, and the bigwigs at the UN have pencilled in a slow death for carbon emissions over the coming decades.
With carbon emissions now artificially capped, energy demand remaining robust and the world's population growing both demographically and economically...
...it all adds up to a significant market gap that DYE's efficient PSC technology could capture.
You may have never heard of 'perovskite', but you surely will in the coming years as energy becomes an increasingly political topic and alternatives to fossil fuels come under the spotlight as compelling substitutes.
The world will run on fossil fuels until such time as an economically viable alternative presents itself.
DYE is working fervently to prove up that alternative: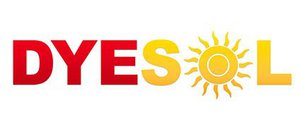 German Open Market: D5I
DYE has developed its own patented PSC technology that generates electricity from sunlight.
By using a relatively unknown mineral called 'perovskite', DYE has found a way to greatly improve the energy efficiency of solar panels to the extent that low-light conditions do not unduly affect performance.
Here is DYE's business strategy to give you a better sense of how it plans to achieve its goal of directing the effort of global resources toward successful commercialisation of PSC technology.
It has three components:

In our previous article, "Did DYE's Solar Tech Just Become Cheaper than Coal?" it became clear that DYE's tech could outperform coal despite its early-stage development and this comprehensive business plan sets all wheels in motion.
It is also worth bearing in mind that DYE has pumped over $100M into researching perovskite – possibly the most underestimated mineral in the energy space right now.
$8.1 million reasons to research
We know DYE has been hard at work proving up its research, but since we last reported the company has secured $8.1 million in funds to help it continue its work.
The $6 million Share Purchase Plan (SPP) raised over $5 million, with PAC Partners placing the shortfall and an additional $2.1-plus million with institutions and sophisticated investors.
The final figure was $8,111,596.
The funding meant DYE's technology development and business activity remained on track as it looked to make significant progress with its third generation solar technology, which hopes to address the challenges and opportunities of transitioning to a renewable energy based global economy.
Helping it to do this is the Australian Renewable Energy Agency .
ARENA for Commercial Growth
DYE's market position was boosted by the signing of an agreement with the Australian Renewable Energy Agency (ARENA) for $450,000 to advance DYE's research and development.
DYE has to hit several milestones before future funding can be made available, but the deal does indicate that DYE's work is catching the attention of industry leaders and tech gurus.
DYE's early-stage technology was able to demonstrate that it could be competitive with coal in electricity generation without including carbon taxes, tax credits or feed-in tariffs.
Solar power can finally stand on its own two feet, as its economics have now reached a stage where it could confidently compete with traditional incumbents such as coal.
So what is DYE's game plan for embarking on this giant-killing journey?
Glad you asked, here it is: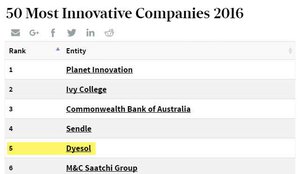 2016 is looking to be a big standalone year in itself.
You've seen the overall plan to production to 2019, but here's how DYE will be keeping busy this year.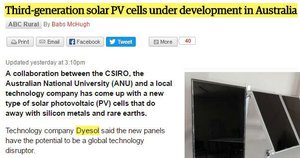 As you can see, this is one company determined to maximise every minute in its bid to change the energy production landscape.
So let's look at the technology to give you an understanding of how this tech can be a major game changer.
Perovskite where art thou?
Perovskite is a third generation photovoltaic technology that can be applied to glass, metal, polymers or cement and is vital in the advancement of solar technology as it offers lower cost, better versatility and has the ability to outperform rival silicon solar panels in many conditions.
The Scientific American magazine had this to say on Perovskite cells just last year:

Solar power is growing in its ability to satisfy the world's escalating need for new energy sources. The only missing piece of the puzzle is efficiency.
Traditionally, solar panels were made solely from silicon and were unable to breach the 10-15% efficiency barrier. Plus, they are quite thick, and ensured people's roofs were plastered with bulky panels like this: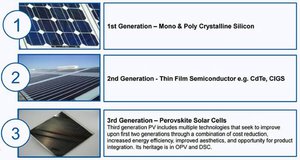 Not only bulky and free-space-guzzling, these panels were often ghastly and unaffordable for mass adoption. These older generation panels had to be installed in swathes just to put a dent in the electricity bill.
DYE's technology revamps the whole dynamic because of its operational superiority and market edge, provided by miniaturisation that reaches into nanometre territory.

Here's a video of how Perovskite works in practise:
The potential for alternative technologies such as the perovskite solar cell (PSC) is significant and provides $100MN-capped DYE with a huge target market. Larger silicon competitors are threatened by the emergence of better performing PV technology.
Global demand for solar energy is expected to reach 50 gigawatts this year with photovoltaic variants such as DYE's estimated to grow at a CAGR of 11.3% from 2014-2022 .
Not only that but there is the additional boost coming from national and regional legislation aimed at reducing carbon emissions. The European Union (EU) has put in place measures that will see all newly-built buildings registering a net zero energy footprint by 2020. The US has also recently extended government support for solar installations by 5 years.
Similar laws have also been drafted in the US state of California which could see changes on the ground by 2030.
DYE's solar tech is on course to provide just that – a zero energy footprint, meaning future buildings will have both their energy requirement and aesthetic aspirations met with aplomb.
However, the tech is still being proved up and is some way off being fully commercialised so treat this investment with caution.
Instead of having ghastly rows of bulky solar panels on the roof, future structures could have them located pretty much anywhere....
...generating ample electricity whilst looking a whole lot more attractive.
In the foreseeable future, DYE hopes to develop a perovskite-based technology that can literally be applied to any surface, generating electricity even in low-light conditions.
As we said earlier, solar power is alive and kicking....and it's coming to a town near you.
DYE's perovskite is a game-changer, enabling a new dawn for architecture
Remember the name: Building-integrated photovoltaics (BIPV).
BIPV has the legs to literally terraform the high street, not to mention business districts worldwide.
By dovetailing energy creation with architecture, large commercial buildings could look something like this over the coming years:

... especially in developed countries that are at the front of the take-up queue.
The global BIPV market is set to mushroom to more than US$6BN by 2017 to reach US$23BN by 2021.
But where is that all growth going to come from?
At the expense of conventional solar panels that have truly passed their sell by date.
Here's an estimate from NanoMarkets regarding the BIPV glass market.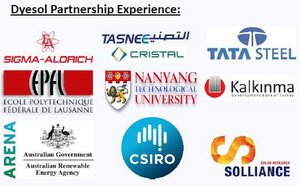 Here's a brief review of the history behind solar panels: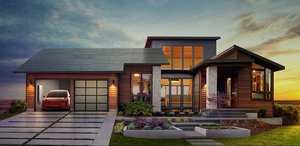 The writing on the wall is clear: 1 st generation solar cells are being phased out in favour of 3 rd generation PSC alternatives.
And with DYE's R&D team working at the forefront of solar cell research in partnership with the Ecole Polytechnique Federale de Lausanne (EPFL), it's a fair expectation that future tech advances are captured by DYE's development team.
At the end of last year, the EPFL set a new world record for efficiency of perovskite solar cells – reaching a certified conversion efficiency rate of 21.02%. The record was certified by Newport Corporation Bozeman, a specialist solar panel accreditation company based in Montana, US.
The close connection between DYE and the EPFL means that DYE is on the frontlines of PSC development going forward, and that's a great place to be as the new generation of solar cells begin to be rolled out.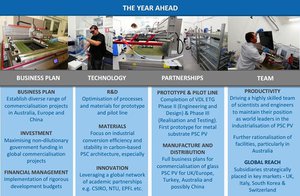 In summary, Perovskite's benefits are as follows:
Performs well in real-world solar conditions: low light, shade, cloud, haze/pollution, dappled light, dawn/dusk
Small layers of product save resources: The sensitizer layers on any PSC panel amount to a thickness around 50-100 times thinner than a human hair.
Aesthetically appealing product integration options, transparency, opacity, artistic designs, colour variation
Widely available raw materials
Non-toxic, environmentally friendly materials
Low energy, low cost manufacturing processes do not require high skilled labour
And it's DYE who are looking to bring PSC to the world, by commercialising the technology.
A Turkey isn't just for Christmas
DYE's mission is to build a manufacturing plant in Turkey , at the doorstep of Europe and right in the middle of the gateway between East and West. If everything goes to plan, DYE will be rolling out its cutting-edge panels as early as 2018.
Last year, DYE signed a letter of intent with the Turkish Development Bank to underpin the construction of such a plant in joint venture with Turkish energy company Nesli DSC.
The Turkish government is keen to promote solar energy as an alternative to fossil fuels, given that it currently imports the vast majority of its energy from Russia and has tiddly reserves of its own. If you haven't been following geopolitics recently, the Turks and Russians are not the best of friends.
The first stage of DYE's master plan is to execute a $US2 million ($A2.8 million) prototype contract for the supply of prototype equipment.
With key equipment in hand it plans to develop a pilot line facility, allowing the joint venture to manufacture large quantities (20,000 sq.km) of DYE's panels.
This pilot plant is expected to produce several thousand square metres of solar cells annually before moving onto to mass production – and could open the floodgates for DYE to start earning serious revenue. Plans have been shared with the Turkish Development Bank to manufacture multi-million square metres of panels annually.
This is, however, speculative – there are a few more hoops to jump through before DYE is producing in this manner. Professional advice should be sought when considering DYE as an investment.
Industry demand booming in time for 2018
The chart below from the International Energy Agency spells out likely demand for various renewable technologies over the next few years.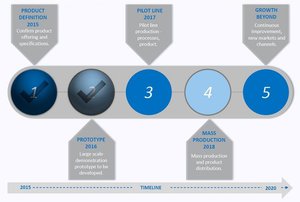 Solar cells are expected to generate almost four times more electricity in 2020 than they did in 2013...
...and DYE aims to be a part of this growth assuming it can get its finished products accredited, and a manufacturing plant built.
In the immediate term, the company plans to make cash by supplying materials, technology, and know-how in the PSC space, whilst partnering with brand leading multinationals to enter the larger global markets.
In fact, DYE already manufactures and supplies research grade PSC materials to over 600 R&D institutions globally.
DYE has already tied up partnerships with some of the industry's biggest players, including the US$200BN-capped Tata Steel thereby opening up a range of building sector markets including steel roofing, cladding and combined energy generation and storage devices.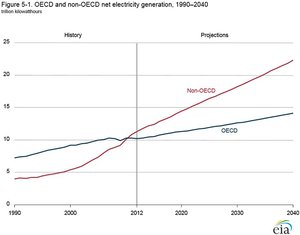 Tech breakthroughs require intellectual property rights
Any bright new tech that aims to revolutionise or disrupt entire sectors, could do with a bit of intellectual property rights accreditation. DYE has most certainly not left this aspect as an afterthought.
Not only blessed with hundreds of years of combined experience amongst its engineers, DYE greatly benefits from its close collaboration to the EPFL in Switzerland, where the original PSC invention was made and major breakthroughs still originate from.
EPFL's lead professor Michael Gratzel just happens to be the Chairman of DYE's Tech Advisory Board – yet another link between accredited and well respected research hubs and DYE's commercial ambitions.
In fact, Professor Gratzel and his cohort Anders Hagfeldt recently established a new world record for perovskite panel efficiency of 21.02%.
As a guide, the average solar panel efficiency, that is the amount of energy beamed onto the surface of a solar panel against electrical output, is about 14%.
The previous record for perovskite solar was 20.1%.
In addition to being one of only a handful of 'Pioneer Licensees' from the EPFL, DYE also holds its own suite of patents which puts DYE into a strong industry-leading position.
Through its subsidiary, GreatCell Solar SA based in Switzerland, DYE has an ongoing R&D liaison with EPFL with commercial rights to monetise the technology when the time comes.
Leveraging a star called the sun
DYE has committed millions to getting its patented perovskite solar cells up to the required standard for commercialisation.
With the world's top nations banding together to cap carbon emissions as part of a broadsided assault on fossil-fuels in the coming years, now could be a good time to reassess the potential of solar power.
Improvements in efficiency, cost-effectiveness, aesthetics alongside a fresh demand for renewable energy makes DYE's perovskite technology a good vehicle to back a resurgence in solar-generated electricity.
If looking further out, here at The Next Tech Stock we can see a potential dovetailing of PSC with Tesla's Powerwall technology that promises to store more electricity and with better efficiency.
It all has to do with improvements in battery manufacturing, based on graphite and lithium.
Within a generation, there is a credible possibility that both consumers and businesses opt for a Powerwall solution integrated with PSC panels – delivering cheap and plentiful energy ad infinitum.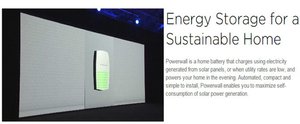 The Sun is the world's most plentiful, cleanest and easily accessible energy source with that fact unlikely to change anytime soon.
Global rises in electricity prices coupled with consumer demand for green products with a sustainable edge has created an opening in the market for innovative, value-add technologies that save money and don't harm the environment.
The world's solar industry is expected to grow from around $14BN today up to $23BN by 2018 – which suggests solar power was not previously a commercial mistake, but simply that people were mistaken about the timing of its commercial arrival.
By leveraging a star we call the Sun, DYE is on a path to a radiant future that's all about going green, becoming more efficient and removing the waste splurged by fossil fuels that are depleting rapidly, becoming harder to extract and on course to DYE at the hands of breakthrough perovskite technology.
---