Did DYE's Solar Tech just become Cheaper than Coal?
PUBLISHED: 26-11-2015 10:22 a.m.
It's fair to say that Dyesol (ASX:DYE) has been kicking a few goals since we first wrote about the company, with its share price recently reaching as high as 39c – that's a 77% gain since the launch of our original article on the company, This is Solar Energy: But Not as You Know It :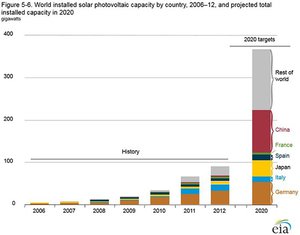 The past performance of this product is not and should not be taken as an indication of future performance. Caution should be exercised in assessing past performance. This product, like all other financial products, is subject to market forces and unpredictable events that may adversely affect future performance.
In fact, it was moving so fast the ASX pulled it up for a speeding ticket.
Shares pulled back after a capital raising announcement , but it's clear the positive momentum is with this innovative company which could very well shake up the world of solar energy – a sector which in itself is shaking up the world's energy mix.
Even one of Australia's most respected business journalists got caught in the momentum, when Alan Kohler interviewed DYE CEO Richard Caldwell .
Now before considering an investment, it's worth keeping in mind there are risks involved in early stage tech plays like DYE – at this stage the tech is not proven commercially, and DYE is a speculative stock.
Why so much of the recent love for DYE? It has a lot to do with the potential of its solar technology.
DYE is developing perovskite (PSC) solar panels, which differ in a few key ways from your normal silicon-based solar panels, but here's the game-changing bits:
Firstly, they can be made ultra-thin, meaning that the big and bulky solar panels of the past will invariably become the dinosaurs of the solar world.
Secondly, the panels can work in mixed lighting conditions so it doesn't need brilliant sunshine or expensive sun-tracking technology to get the most out of any conditions.
This month it added another game-changing element to the mix, with a study finding it price competitive with coal...
That's without a carbon tax, tax credits, or tariff feed-in support.
For years what was holding back solar in a big way in Australia was the fact that energy generation was as variable as the sun, and it was too expensive to develop.
If the numbers prove right, then DYE could be about to shake things up even further.
Re-introducing: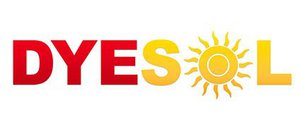 German Open Market: D5I
DYE's tech
Without going too far into the nitty-gritty, to understand why Dyesol (ASX:DYE; FWB:D51) is such a compelling proposition, you need to know just a smidge about its tech.
Instead of using silicon to power its panels, it's harnessing the power of perovskite to change the game – a mineral which is generating a heck of a lot of buzz in the solar community right now.
The panels work in much the same way photosynthesis works for plants with photons in the sun's rays being converted to carbohydrates and oxygen.
The plant keeps the carbohydrates to grow, while the oxygen goes back into the atmosphere.
Substitute the carbohydrates for electrical current and you'll start to have an idea of how DYE's panels work.
The panels are what is referred to as a dye solar technology (hence the Dye in Dyesol), but with a twist.
Instead of a dye, DYE has substituted the dye with perovskite to generate a current.
Below is a video on the way dye solar tech works.
By replicating the way a plant works, DYE is able to manufacture tech which works in variable lighting conditions.
Ever notice that plants can operate in mixed lighting conditions while solar panels traditionally get a bit wobbly?
There's a reason for that, and DYE has taken this insight and turned it into potentially game-changing tech.
DYE's SPP Closes December 4 th
In addition to news on the progression of its technology, DYE recently announced a Share Purchase Plan (SPP), inviting shareholders to increase their shareholding as the Company moves closer to commercialisation of its PSC technology.
Shareholders have the opportunity to subscribe for new DYE shares in parcels starting from $500 up to a maximum $15,000 at an issue price of 26 cents per share.
The aim is to raise $6M to be used as working capital in 2016 that will go towards commercialisation and scale-up activity for DYE's milestone based Technology Development Plan and translate that into a Major Area Demonstration prototype.
The SPP closes on 4 December.
In this SPP, eligible shareholders can participate in the capital raising on the same terms as an intended share placement to financial institutions and high net worth investors of up to $4M.
The total result of this will be a minimum $6M and maximum $10M to help aggressively pursue DYE's tech development.
So let's now take an even closer look at DYE's tech...
Getting thin
Aside from being able to generate a current in variable lighting conditions, DYE's cells are also as thin as chips (actually, thinner).
In fact, they're theoretically thinner than a human hair.
The below diagram shows the width of a human hair on the left, ranging to DYE's tech on the right.

This opens up a world of possibilities for DYE.
At the moment DYE is focusing on 'free standing products' – panels not incorporated into other materials.
However the longer-term play is to prove up panels which can be incorporated into the fold of buildings.
As we've been over already...
DYE's panels do not need direct brilliant sunshine on them at all times to actually provide power.
Here you can see a DYE panels in action, even in the shade...
So unlike the conventional panels, the ultimate plan is for DYE's panels to be on the side of buildings, or whatever works aesthetically for that building, and they will still be able to generate power, even in low light.
At the moment, one of the things which is holding back adoption of solar for homes and businesses (even though solar use is growing) is that panels are big and bulky.
Even though they're on roofs, some people are holding fire on solar panels because they don't want big installations on their roofs.
Eventually DYE sees a time when their solar panels can be installed on the envelope of buildings, looking much like a stain-glass window, which actually adds something to the visual beauty of a building.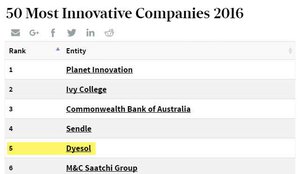 Beauty is in the eye of the beholder, but we reckon this looks a lot better than bulky solar panels on the roof.
Of course, this is longer-term, and this should be taken into consideration when weighing up DYE as an investment. Better yet, seek professional advice before investing.
Globally, the trend is called 'building integrated photovoltaics', and it's already big business.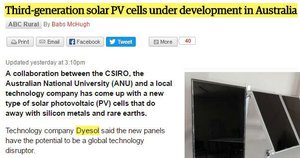 According to Nanomarkets, the global market is set to grow to $US6 billion ($A8.34 billion) in 2017 to nearly $23 billion in 2021.
Getting ready for the boom
At the moment, DYE is a while away from being able to manufacture the types of panels needed for the BIPV boom en masse.
It is, however, putting in the early groundwork to make the potential a reality.
DYE is a company with a heck of a lot of strategic partnerships around the world, and one of the vital ones is with European solar alliance Solliance .
That alliance will allow DYE to join a genuinely world-class organisation of solar hopefuls from around the world, pooling resources and labs to get their products up to speed.
It will cut down costs for all parties, but to be invited to the party DYE had to demonstrate that its tech had a chance of getting up.
As part of the alliance deal, DYE will focus on using laser assisted, glass frit sealing technology acquired from Efacec.
The upshot is that it will be using the tech to investigate the possibility of incorporating its solar cells into steel building framing rather than being bolted onto frames.
Just quietly, it's also signed a letter of intent with major steel player Tata Steel to become a distributor should DYE be able to prove up the concept.
It has the R&D roadmap down, it has the distribution network down, and it has a plan to manufacture on the doorstep of Europe, but more on that later...
One of the other key aspects which has held back solar panels in the past is that they're just too costly on a megawatt basis, especially when baseload fossil-fuel fuelled power is available at relatively low prices.
But what if it was able to prove that it could compete on price with fossil fuels...?
One heck of a price point
One of the more positive developments around DYE since the last time we covered them was the signing of an agreement with the Australian Renewable Energy Agency (ARENA) for $450,000 to advance DYE's R&D efforts.
Clearly the boffins at ARENA see something worthwhile in the tech...
To keep the funding coming, one of the things DYE has to do is to hit a set list of milestones to demonstrate that the tech is commercially viable.
As part of that process, it recently told its shareholders that it had provided ARENA with analysis and reports on the tech's 'Levelised Cost of Electricity' – a standard unit of measurement accepted by the Australian government when trying to compare the cost of energy.
DYE, with its early-stage tech, was able to demonstrate that it could very well be competitive with coal in electricity generation.
Here's the kicker though:
The modelling assumed no carbon tax, no tax credit, or feed-in tariff.
Its tech is able to stand on its own two legs.
DYE's modelling was based on a standalone 20 megawatt solar PV facility in three different locations.
The early numbers crunched on the three location scenario came up with costs ranging from $96.41 per megawatt hour to $119.62MWh.
Those of you watching the renewable energy debate in Australia may remember when broadcaster Alan Jones said wind power costed $1502 per kilowatt hour on Q&A.
Turns out that was a touch wrong, as Jones himself admitted. He said he was referring to MWh rather than KWh, which changed the figures just a touch.
But the episode opened debate on the relative cost of energy in Australia and what the state of play actually was.
This piece published in The Conversation went behind the numbers to try and find out what Jones was on about.
As part of that analysis, it cited several productivity commission reports.
It came up with the following table, summarising a few coal technology costs compared with wind power: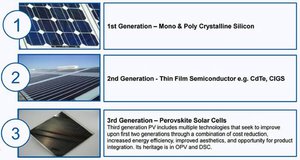 The figures above come from this report , and refer to price of generation per megawatt hour.
They also refer to new-build coal plants.
Remember that DYE thinks power generation costs on a 20MW plant powered by its game-changing panels would cost $96.41/MWh – $119.62/MWh .
Of course it should be noted that the report's figures are from 2012 and DYE's numbers are conceptual in nature, so some caution should be advised here.
However, in the current political climate it may be okay to build coal mines but opening a spanking new coal plant may very well be political suicide.
If a new plant were to be opened, it would very likely need carbon-capture-storage capabilities for it to pass muster with regulators, greatly adding to the cost.
All of a sudden DYE's tech looks good even at the upper range of $119.62/MWh when compared to costs of $192/MWh and $196/MWh respectively.
Also, remember that DYE's numbers did not assume any carbon tax, tax credit, or feed-in tariff. If any of these were also applied, the numbers could look downright horrendous for coal players...
Interestingly, DYE also said its assumptions took into account modelling of its panel efficiency of 10-14%.
Given that DYE has already been able to prove up efficiency of beyond 20% (and improving), the future looks very bright indeed.
While it tweaks around with the cost structures and efficiencies, DYE already has eyes on becoming a solar-producing behemoth.
Mad about Mersin
The grand plan from DYE is a manufacturing plant in Turkey, on Europe's doorstep, which assuming everything goes to plan will be pumping out panels in 2018.
Early this year it signed a letter of intent with the Turkish Development Bank to underpin the construction of such a plant in joint venture with Turkish energy player Nelsi DSC.
The Turkish government is pretty keen to promote solar, given that it currently imports the vast majority of its energy from Russia and has little reserves of fossil fuels of its own.

The first stage of DYE's master plan is to execute a $US1.9 million ($A2.6 million) contract with Korean subsidiary Dyesol-Timo for the supply of prototype equipment.
With key equipment in hand it will develop a pilot line facility, allowing the joint venture to manufacture large quantities (20,000 sq.km) of DYE's panels.
This batch will be tested, and crucially, accredited.
Once accreditation is done and dusted, it's time to go hell for leather with a mass manufacturing plant to be constructed in the port city of Mersin in 2018.
This plant is expected to produce multi-million square metres annually – and could signal the start of serious revenue flow for DYE.
Remember earlier when we talked about the BIPV market?
Just as a reminder that market is expected to hit $23 billion in 2021 from a base of $6 billion in 2017...
If you ask us, 2018/19 seems like a pretty good time to be mass manufacturing products which are expected to capture a slice of this fast-moving market.
Of course, this takes into account forecasts and multi-year plans, so best to tread with just a smidge of caution.
So why did DYE choose Turkey?
Apart from the Turkish government's appetite for solar development projects, Mersin just happens to be a hop, skip, and a jump away from European markets by boat.
The European market
Europe and renewable energy go together like a croissant and café au lait, with nations such as Germany, Belgium, and Spain coming to the party.
However, cumulative installations have been down in recent times, but this is thought to be mainly about the economic pain on the plain in Spain rather than an underlying appetite sating.
It also reflects the gradual withdrawal of feed-in tariffs on the continent, a sign that solar is starting to stand on its own two feet.
While the solar market is currently working through these issues, think tank Solar Power Europe is forecasting the PV market to pick back up in 2019, as shown by the chart below.

With three base cases presented, it's always key to take the middle case to be the more likely scenario. But taking the middle case, it appears that the market will start to pick up momentum in 2019.
Why, this just happens to be when DYE is planning on shipping solar panels to the continent!
At the same time, we should warn that it's still a projection with a swathe of underlying assumptions which may not pan out as expected, so don't depend only on these figures if considering an investment.
Meanwhile, the latest UN Conference on Climate Change in Paris kicks off in just a few days and is expected to give the leaders of Europe (if not the world) a new impetus on driving climate change mitigation.
Even worldwide solar PV is shaping as the most likely tech to drive climate change mitigation.
The chart below from the International Energy Agency spells out likely demand for various renewable technologies over the next few years.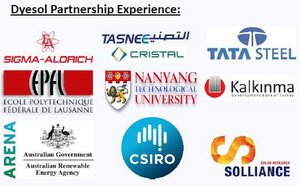 From 2015 to 2020, hydro has growth rate of 12%, Bioenergy has a growth rate of 27%, Wind has a growth rate of 35%, but solar PV has a growth rate of 47%.
This is the base case and doesn't account for what the likes of DYE are doing to possibly shake up the PV market – nor does it account for any other factors so just a word of warning here.
Remember, at the moment solar PV is mostly silicon-based solar panels which are big, bulky and need to be pointed directly at the sun.
The perovskite solution DYE is working on is thin, flexible, and can work in a range of lighting conditions.
Sounds like the kind of tech that would put a rocket under the PV market...
What's interesting to us at The Next Tech Stock was this key quote from DYE managing director Richard Caldwell when telling the market about the Turkey deal...
"Dyesol also has plans to form similar partnerships in strategic geographical locations around the world and is currently involved in at least one similar negotiation for substantial and attractive project finance..."
It's pretty clear DYE looks at Turkey and Europe as a base case investment, just one step on its plans for world domination.
Well, solar domination.
To our knowledge, anyhow.
The final word
DYE is putting the pieces in place to play into a market at exactly like the right time.
It can't control solar markets, fossil fuel markets, and energy markets but it's doing a bang-up job of being in the right place at the right time so far.
Those who have been following DYE for a few years will know that it survived the so-called 'solar maelstrom' of 2011 and 2012 when solar companies went belly-up while early stage tech was being proved up.
DYE battened down the hatches, survived, and is starting to emerge from the bunker as one of the bright things of the ASX.
Normally tech plays, particularly solar tech plays, are early-stage with the main aim of the company to prove up its technology.
DYE is still early-stage, don't get us wrong, but so far it has put a considerable sum of $120 million into R&D over the past few years.
It is well down the path, and is setting up long-term strategic goals to put masses of its panels onto the market.
This isn't just a tech play about the tech.
It has a plan for actually making money, which is a nice change of pace for the sector.
With recent numbers throwing up the possibility that DYE's tech could be cheaper on a MWh basis than new coal generation, the future looks bright here.
---