Creso's New Immunity Boosting CBD Hemp Teas Set for Release
PUBLISHED: 24-03-2020 10:13 a.m.
The US Farm Bill, passed in late 2018, legalised the commercialisation of hemp-derived products and accelerated the market.
As such, the sale of cannabidiol (CBD) based products has rapidly increased due to varied, yet successful, legalisation efforts.
In the US and Canada, consumers have shown a strong demand to purchase topicals, beverages, tinctures, and patches.
Even major retail corporations such as Amazon and Woolworths have decided to sell CBD and hemp products in-store as well as on their online platforms.
As more products hit the shelves, consumer awareness of hemp-derived CBD continues to grow in the public's consciousness.
Now, as products within the health and wellness sector are becoming more and more popular, the market on track to grow to US$23.7 billion by 2023, according to the Brightfield Group.
Companies such as the US$312 million capped CanaFarma Hemp Products Corp. (CSE: CNFA), the US$5.5 billion capped Canopy Growth Corporation (NYSE: CGC | TSX: WEED), the US$811 million Aphria Inc. (NYSE: APHA |TSX: APHA), the C$720 million Charlotte's Web Holdings, Inc. (TSX: CWEB) have already jumped on the bandwagon.
Creso Pharma Limited (ASX:CPH | FRA:1X8) is also in on the action.
This $9.9 million capped dual-listed cannabis player has a range of human and animal products and today announced it was expanding its available product line with the release of a hemp tea in Q3 2020.
This range of CBD hemp teas is described as supporting immunity levels and will be distributed globally through different commercial partners.
The release of CPH's hemp teas illustrates Creso's determination to safely continue its operations and deliver positive news to shareholders, despite current Coronavirus pandemic.
It also gives the company access to the broader tea market, which was valued at US$52.1 billion in 2018 and is estimated to reach US$81.6 billion by 2026.
In 2018, the Asia-Pacific region accounted for more than half of the share in the global tea market and is expected to grow at a CAGR of 6.5% throughout the forecast period, so Creso could be well placed as an Australian-listed company to tap into this demand.
Tea is considered a healthy beverage owing to presence of a number of potent antioxidants, and minerals such as potassium, manganese, magnesium, and calcium. Regular consumption of tea helps reduce cell damage caused due to free radicals as well as lowers cholesterol levels and facilitates healthy weight loss.
Creso's hemp tea is set to bring further health benefits by boosting peoples' immune systems.
With that in mind, let's examine the latest news.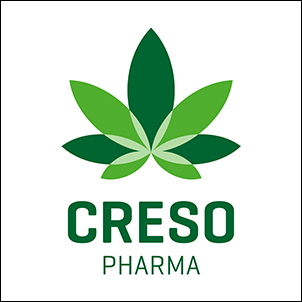 Creso Pharma
ASX:CPH, FWB:1X8
Share Price: $0.050
Market capitalisation: $9.9 million
Here's why I like Creso Pharma: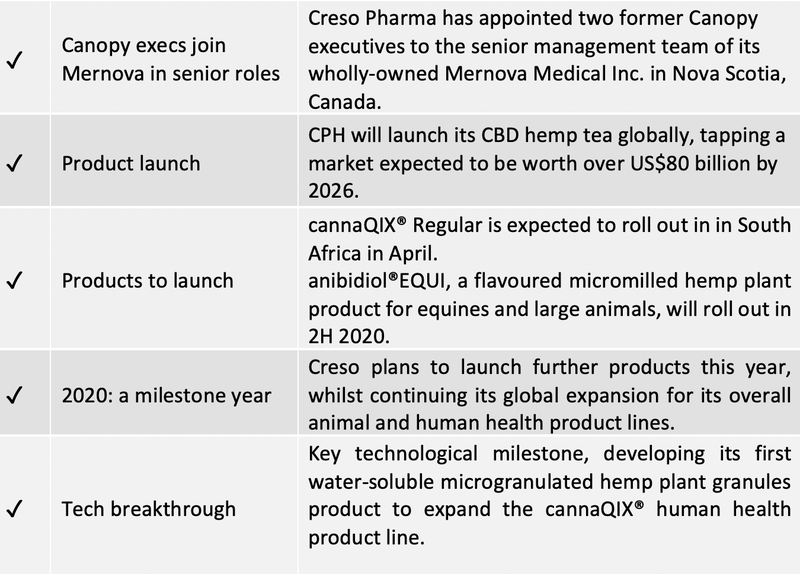 Like most companies in the cannabis sector, and on global stock exchanges, Creso Pharma (ASX:CPH, FRA:1X8) has been hit by the panic in the market.
Yet, panic creates long-term opportunities.
While successful investors are looking at smart investments, others are buying toilet paper.
So those stocks that continue to release positive news, should be closely looked at as potentrial portfolio fillers.
This year, Creso has released a barrage of news to market.
This week, the company has announced it will release a range of immunity boosting teas into the market in Q3.
Tea, anyone?
Creso has successfully developed and tested its first cannaQIX® CBD hemp instant tea to be available on the international markets in the third quarter of this year.
This marks another technological breakthrough for Creso, following its key technological milestone of developing its first water-soluble microgranulated hemp plant granules product to expand the cannaQIX® human health product line earlier in the year.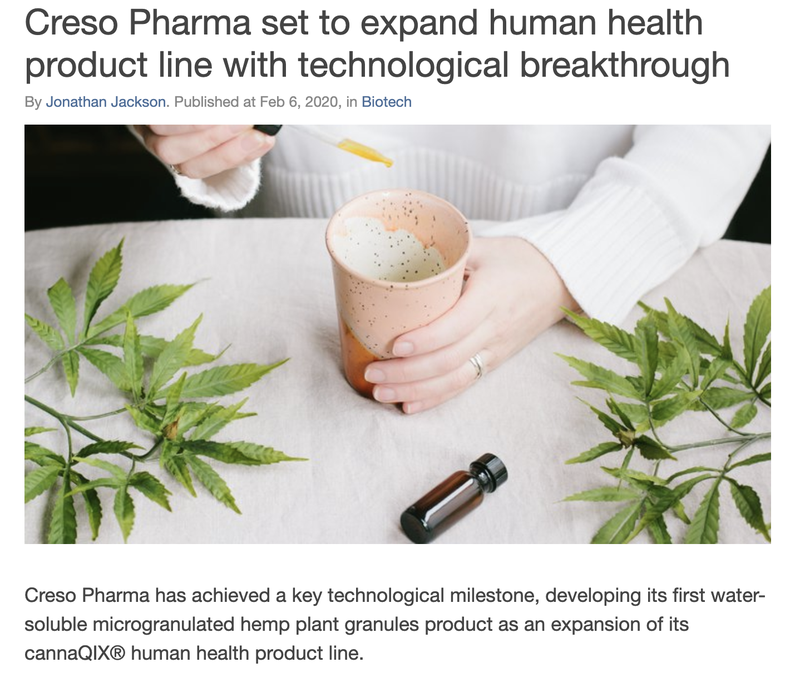 As with the water-soluble microgranulated hemp plant granules product, this new product was developed together with Switzerland's Domaco Pharma based on the anibidiol® granules technology and will be used to extend Creso's successful cannaQIX® product line.
cannaQIX® CBD instant hemp tea is offered in two product versions:
cannaQIX® CBD instant hemp tea formulated with CBD hemp, zinc, selene, elderberry, and vitamins to support the immune system and manage stress;
cannaQIX® NITE CBD instant hemp tea formulated with CBD hemp, zinc, selene, elderberry, lemon balm and vitamins to strengthen the immune system and support better sleep.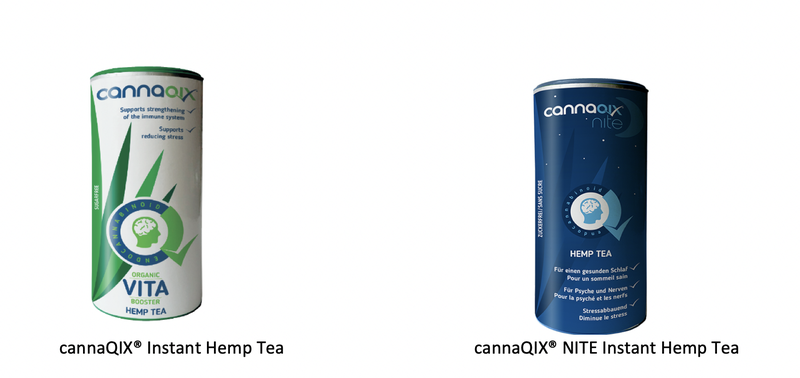 This new products use natural hemp plant and provide an "entourage effect" in which various compounds work together to particularly strengthen the immune system.
"With the achievement of this innovation we address customers' needs for a natural easy to use product to support the immune system," Dr Gian Trepp, R&D/Commercial Director of Creso Pharma said.
The entourage effect has received considerable attention in the cannabis industry. It is also a critical factor in the food and beverage industry where multiple different molecules co-create a person's perception of taste, smell, mouthfeel, and other sensations.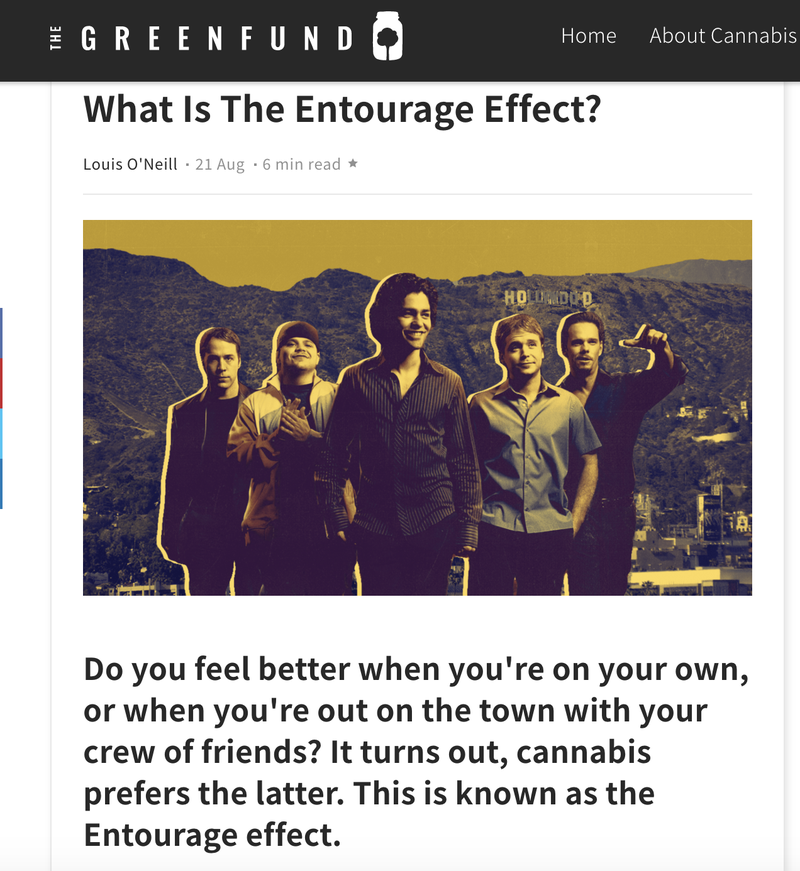 Creso Pharma plans to distribute the new products globally with different commercial partners in several countries and expects that the products will be ready for launch in Q3 2020.
Dr Miri Halperin Wernli, co-founder and CEO of Creso Pharma commented on this new development, "We are looking forward to enter the markets with our new cannaQIX® CBD intstant hemp teas, as there is an increasing demand for easy to use natural products to help strengthen the immune system, particularly given the challenging healthcare times we are facing."
CBD therapeutics
Generally, most consumers use CBD products for medicinal purposes.
Similarly, retailers are advertising CBD products as therapeutic treatments, however, there is still a large recreational market for the industry.
Primarily, most consumers intake CBD to treat a wide range of medical conditions such as chronic pain, mood disorders, neurological disorders, and diabetes.
In the healthcare industry, most independent pharmacies have already begun selling CBD products.
While there are many ways to consume CBD, the oils marketplace is expected to be the fastest growing segment within the overall CBD sector. For instance, the CBD oil market size will grow by US$3.52 billion during the period of 2020 to 2024, according to Technavio.
"The 29 US states reporting licensed hemp cultivation acreage total almost half a million acres in combined cultivation land area, which is a massive increase compared to 2018 figures of a total land area barely over 100,000 acres. While there continues to be uncertainty and a healthy amount of confusion around hemp cultivation for CBD production, it is clear that demand is nonetheless continuing to rise across the US," noted Giadha Aguirre de Carcer, New Frontier Data CEO and Founder.
Creso has ownership of the 24,000 square foot world-class, revenue generating Mernova Cultivation Facility which should feed into this demand.
Mernova is in the advanced stages of securing European Union GMP certification, which will allow the export of its GMP medicinal cannabis products to Europe.
The facility commenced production midway through 2019 and has been scaling up. The facility is not yet at full production capacity, which is anticipated to occur during 2020 and will be helped by the recent appointments of former Canopy Growth executives Jack Yu as Managing Director and Isaac Allen as Vice President.
Read: CPH Secures Two Execs from the World's Largest Cannabis Company
The final word
Creso Pharma brings the best of cannabis to better the lives of people and animals.
The release of its tea product, could put it squarely in a broader market set to be worth US$81.6 billion by 2026.
With its pharmaceutical expertise and methodological rigor, CPH strives for the highest quality in its products and develops cannabis and hemp derived therapeutic, nutraceutical, and life style products with wide patient and consumer reach for human and animal health.
Its tea is just another example of this and just one of several products the company is expected to launch throughout the year.
---