CPH Secures Two Execs from the World's Largest Cannabis Company
PUBLISHED: 11-03-2020 12:31 p.m.
Canopy Growth (TSE: WEED) is the largest cannabis company on the planet with a market cap of C$6.8 billion.
While it has had its ups and downs in a volatile market, this company that was once capped at C$24 billion made some astute decisions in the process of reaching the top of the cannabis stock pile.
It moved quickly to secure its place in the huge US market, jumping into the US hemp CBD market soon after hemp was legalised in the United States.
It also has a deal to acquire US cannabis operator Acreage Holdings if marijuana becomes legal at the federal level in the US.
Canopy's first hemp CBD products, First & Free, were launched in December 2019.
Overall, some recent challenges, the team behind Canopy built a top-tier, fully funded production capacity operation that also sports a large equity stake from alcoholic beverage giant Constellation Brands (NYSE: STZ).
Now, one ASX junior is set to leverage the expertise that took Canopy to the top.
ASX junior Creso Pharma (ASX:CPH) has appointed two former Canopy executives to the senior management team of its wholly-owned Mernova Medical Inc. in Nova Scotia, Canada.
Mr Jack Yu, who has been appointed Mernova Medical's Managing Director, was the Production Manager at Canopy and brings expert-level knowledge of cannabis cultivation and production from 25 years of practical experience growing cannabis, including nine years of consulting for licensed Canadian medicinal cannabis growers.
Second appointee is Isaac Allen, appointed Vice President. Mr Allen was formerly National Operations Process Improvement Manager at Canopy, where he developed and executed a number of business strategies and efficiency initiatives.
Both commenced their duties for Mernova on 10 March and CPH will be looking to the pair to bring similar traction and growth to the Australian-listed outlet as it expands its global reach.
The news continues to be positive for Creso Pharma, so let's have a look at the latest news in more detail.
Catching up with ...
Creso Pharma
ASX:CPH, FWB:1X8
Share Price: $0.075
Market capitalisation: $14.5 million
Here's why I like Creso Pharma: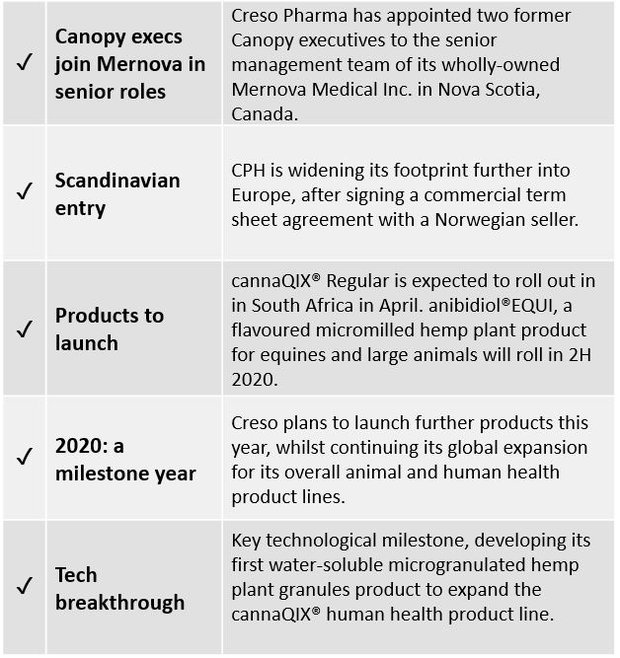 Creso's Canopy connection
Creso Pharma Limited (ASX:CPH) has appointed two executives to the senior management team of its wholly-owned Mernova Medical Inc. in Nova Scotia, Canada.
Jack Yu has been appointed Managing Director and Isaac Allen has been appointed Vice President, both commenced on 10 March.
The pair are former employees of Canopy Growth Corp. (TSX:WEED, NYSE:CGC) , the world's largest cannabis company by market capitalisation.
Mr Yu has 25 years of practical experience growing cannabis, including nine years of consulting for licensed Canadian medicinal cannabis growers. His past work includes working for Canopy Growth Corp in the position of Production Manager and he also held the role of Interim Cultivation Manager for Canopy's Newfoundland, Edmonton, Eastern Canada and Scarborough facilities, and previously held the position of Master Grower for MedReleaf Corp., which is now owned by C$1.5 billion capped Aurora Cannabis Inc (TSE:ACB).
He has also consulted for Health Canada license applicants throughout the process to attain licenses for cultivation, production and sales of medicinal cannabis in Canada.
Mr Yu will be responsible for managing all operations at Mernova and will work closely with the Creso Pharma board.
Meanwhile, Mr Allen has significant expertise in optimising business operations from executive positions in industries spanning cannabis, insurance, technology and entertainment.
Mernova moving towards European Union GMP certification
The two appointments come at a significant time for Mernova as it continues to work towards securing European Union Good Manufacturing Practice (GMP) certification.
The 24,000 square foot world-class, revenue generating Mernova Cultivation Facility is in the advanced stages of securing European Union GMP certification, which will allow the export of its GMP medicinal cannabis products to Europe.
The facility commenced production midway through 2019 and has been scaling up. The facility is not yet at full production capacity, which is anticipated to occur during 2020.
Once this certification is obtained, Creso Pharma will be able to begin sales of high-quality cannabis flower and oil into the established and growing consumer markets in countries such as Germany and Switzerland.
The granting of a licence in February to cultivate at Creso Pharma's Mernova Medical facility in Nova Scotia made Creso the only ASX listed company that has 100% ownership of a Canadian licensed producer.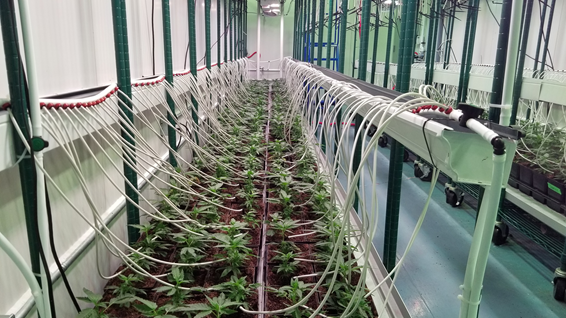 In the meantime, Mernova is continuing to ramp up production and sales in North America, with its latest deal closing last week at a value of approximately C$410,000.
The sale was comprised of varying quantities of four strains of Mernova's high-quality cannabis flower, and Creso Pharma has received the full purchase amount from the buyer.
For the full year 2019, Mernova's revenues were A$860,000 (C$761,000), highlighting that the recent sale represented more than 60% of full-year revenues in 2019, making for an excellent start to the year.
Creso's revenues will also be boosted by the Company's entry into the Scandinavian market.
Creso signed a commercial term sheet agreement with Farmagon, Oslo, Norway to enter the Scandinavia market with Creso products.
Under the agreement, Farmagon has the right to commercialise Creso's products under co-branding with Creso, or white labelling in the defined territory, subject to prescribed minimum order quantities.
The first phase of the commercial roll out will be the focused on the launching of cannaQIX® 50 and cannaQIX® 10, both of which will be marketed as medicinal cannabis products under a required narcotics licence.
You can read more about it in the following Finfeed article: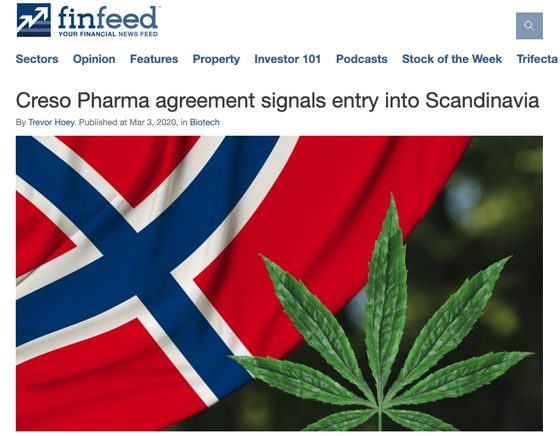 The final word
Let's leave the final word to the major players in the Creso-Canopy connection.
Creso Pharma, chief executive Miri Halperin Wernli said, "We are looking forward to Mr Yu and Mr Allen joining the leadership team at Mernova.
"Both of them bring practical experience from a variety of fields, not only limited to the cannabis industry. We believe that they will be invaluable to Mernova and Creso Pharma as we continue to ramp up production and sales."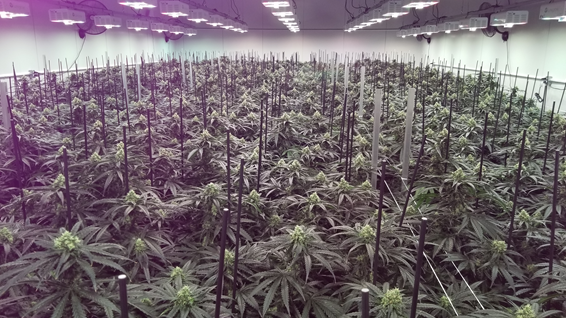 CPH hemp farm.
Mernova vice president Isaac Allen said, "Mernova is an emerging supplier of premium quality flower and oil to customers across the globe, and a compelling opportunity for investors looking to gain exposure to a first-class cannabis production facility.
"I am confident that I will be able to help Mernova further optimise its business operations as it moves closer to obtaining its EU GMP certification."
Mernova Managing Director Jack Yu also pointed to his relevant attributes in terms of gaining European Union certification in saying, "I am excited to be taking Mernova forward as it looks to scale up its production capacity this year.
"I believe my knowledge of cannabis cultivation and production, as well as my experience in working with Health Canada will prove a real asset to Mernova as it looks to secure the certification that will allow it to commence sales in Europe."
---