CPH Confirms US Cannabis Market Entry with Established Partner - US$5M Sales Target
Creso Pharma (ASX: CPH | FRA: 1X8) is set to distribute its range of CBD and hemp animal health anibidiol® products throughout the US, following a deal signed with CERES Natural Remedies.
CPH and CERES have entered into a non-binding Letter of Intent that will see CERES aim to achieve a target of A$5M in anibidiol® sales over the first two years of the agreement.
The pair will aim to lock in a more definitive commercial agreement on or before 1 April 2021.
After riding the share price up, (then all the way down) following a failed $122M acquisition in June 2019, we decided to re-enter CPH as a short term trade in early October 2020 at 3c.
We liked the debt clean up and their crunched valuation in light of the assets CPH holds.
We find that undervalued, turnaround stories offer the best bang for buck if you can find them, and we already had a good understanding of CPH.
We generally always hold long term positions, but our plan with CPH was to hold until the end of 2020. We wrote about CPH again in December when it was trading at 8c.
The stock then rocketed all the way up to 47c and seems to have found a base at around 20c.
As planned, we sold a portion of our position and locked in some profits (unfortunately for us we comprehensively missed the high point...).
In January, we changed our plan and decided to hold onto a significant position in CPH for at least three to six months, after we were encouraged by the progress made by the company on its turnaround plan and the CPH share price performance.
In fact, it's been a wild ride so far with COVID hitting 2020 revenues as shown in its financial statement released today.
However, it has tidied up its balance sheet and extinguished debt facilities and the company has begun 2021 with record sales and purchase orders and is set to have a record year in revenue.
This new deal and the accompanying US$5M target that will add to its revenues, is of course subject to federal legalisation of CBD in the US, which seems more likely now that President Joe Biden's administration has hinted at handing down significant cannabis reform in that country.
Remember, on 4 December last year, Creso Pharma advised that the US House of Representatives passed the MORE Act to remove cannabis for the US Controlled Substances Act.
That was before Biden took office, so there is groundswell for further reform.
Certainly the passing of the MORE Act was one significant change that put Creso in a strong position to capitalise on opportunities in the US market.
Creso has an established global distribution network that will benefit from the ruling, as well as a leading Canadian subsidiary, Mernova Medicinal Inc., that already has a 24,000 sq ft cannabis growing facility 220 miles from the US border.
Creso has been exploring several US market opportunities, confident in its ability to enter this market swiftly.
The CERES agreement will certainly give it a foothold in the very lucrative legal cannabis market.
Aside from the human market, the US represents a large, emerging addressable pet market.
The global CBD pet supplements market was valued at US$27.7M in 2019 and is anticipated to grow at a 40% compound average growth rate from 2020 to 2027.
Sales from today's agreement are expected to materially add to Creso's growing revenue profile.
CERES is a leading provider of plant-based medicines and CBD products and a subsidiary of High Fidelity, Vermont's largest independent cannabis company with an established footprint that has generated over US$35 million in revenue since 2013.
CERES has three traditional retail stores and an established distribution footprint of ~50,000 outlets in the US focusing on high growth customer segments.
That's a great start to Creso's US entry as it looks to partner with best in class cannabis operators.
CERES deal expected to contribute to CPH revenues
Leading CBD and plant-based medicines provider CERES Natural Remedies is to distribute and sell Creso's range of CBD and hemp animal health products anibidiol® in the USA.
CERES specialises in plant based medicines and CBD and hemp products for the US market and is the sister company to Champlain Valley Dispensary, Vermont's first licensed and only independent medicinal cannabis company.
Champlain Valley Dispensary and CERES are both subsidiaries of High Fidelity, Vermont's largest independent cannabis company.
High Fidelity operates two of the five vertically integrated cannabis licences available in the state and services 70% of registered patients.
As stated above, since 2013, High Fidelity has generated in excess of US$35 million in revenue, so knows a thing or two about cannabis sales in not only the state of Vermont but the broader US market.
CPH's agreement with CERES could see it capitalise on this network and the associated expertise.
CERES has three traditional retail stores in Vermont and Massachusetts and access to over 50,000 distribution outlets across the country.
CERES Natural Remedies, Flagship store in Burlington Vermont
It services high growth customer segments including conventional and convenience based grocery stores, colleges and universities, fast food outlets, natural grocers and medicinal and recreational cannabis dispensaries.
CERES also has its own branded products and a strong track record of scaling up regional, national and international brands through its sales channels.
The group has a number of strategic partnerships, including an agreement with VERC Enterprises, one of the largest, independent and family-owned convenience store businesses in the region, with 34 facilities operating in New Hampshire and Massachusetts.
Creso expects to leverage CERES' established relationships to expand the Company's footprint into the US.
CERES will focus on selling Creso's anibidiol® products in Vermont, Maine, New Hampshire, New York, Connecticut, Massachusetts and Rhode Island in the initial stages of the agreement.
It will then look at further opportunities to target additional states across the US.
Creso and Ceres will combine to prepare to sell and distribute within the US market upon legislation occurring.
Change to legislation is expected to happen in 2021.
Changes working in CPH's favour
The MORE Act is one of many forebears to legislative change the legal cannabis industry expects to see this year.
The groundswell began last year.
On December 2, the United Nations Commission of Narcotic Drugs voted to remove cannabis from Schedule IV of the 1961 drug convention treaty.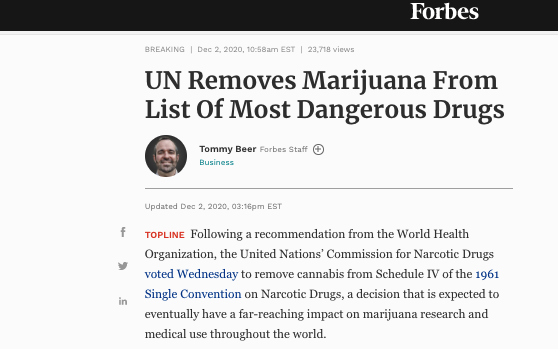 Under the United Nations system, Schedule IV substances are considered the most dangerous and addictive drugs. Cannabis has now changed to be classified Schedule I, the least restrictive drug classification, a landmark decision and in essence, acknowledgement of the potential medical properties of cannabis.
It marked a changing sentiment towards cannabis and its CBD derived products in the USA.
Creso has established distribution footprints in place, as well as an established product suite that is able to be quickly rolled out to satisfy large unmet demand from US customers.
Its proximity to the US, through its wholly-owned subsidiary Mernova, provides a significant advantage for CPH.
Kicking goals in North America
With its entry into the US imminent, CPH has been kicking goals in North America more broadly and beyond its pet market products.
CPH's wholly-owned Canadian subsidiary Mernova Medicinal Inc. recently secured four purchase orders (PO) for its leading Ritual Green product range, with a total value of C$494,131 (A$502,199).
These POs marked Mernova's entry into Canada's largest recreational cannabis market.
Two separate purchase orders from the Ontario Cannabis Retail Corporation (OCRC), which operates as the Ontario Cannabis Store (OCS), were valued at C$228,323 ($A231,911) and C$115,008 (A$116,815), for a total value of C$343,331 (A$348,726).
Additional POs from Cannabis NB in New Brunswick and Nova Scotia Liquor Corporation highlight a shift towards a recurring revenue model.
Further POs for Ritual Green products are expected to materialise in the coming months, as well as additional POs from its recently launched Black Mamba strain and pre-roll joint range.
Mernova is on track to deliver a record quarter of POs, and continued repeat orders and customer uptake is highlighting Mernova to be a strong revenue generator for Creso.
The shortened interval between receiving new POs and the growing value of each PO is extremely encouraging.
The outlook for the remainder of the financial year is extremely positive.
Mernova supplies the OCS
In December 2020, Mernova was formally recognised as a supplier to the OCS.
The OCS is a crown agency solely owned by the Province of Ontario. It reports directly to the Ministry of Finance and is Ontario's only retailer and wholesaler of legal recreational cannabis.
Ontario is currently Canada's largest recreational cannabis market and represents a major opportunity for the Company.
The group provides legal cannabis to a large customer base through Health Canada approved suppliers.
The initial POs are for the company's Ritual Green products, which will be sold through established stores and the OCS online sales platform.
Creso expects to deliver the first purchase order in the coming weeks, with the second PO to be completed shortly thereafter.
The company anticipates ongoing orders from the OCS over the coming months, and expects them to increase in size and volume as Ritual Green's market share continues to grow across Ontario.
Creso expects increased demand
With a likely roll out of its pet products in the US not far away and POs coming left right and centre in Canada, CPH is well placed in North America to increase its revenue base and bring further awareness to its products.
Although total expenses increased substantially over the previous year, this was mostly due to one-off costs associated with extinguishing the debt facilities Creso had used over the past 24 months.
CPH has now tidied its balance sheet with the repayment of all convertible notes and reduction of some debt, and is well positioned to capitalise on strong revenue growth.
The strong share price performance in the second half of the year has allowed Creso to raise funds via "in the money"options and has helped with cash flow requirements substantially.
This is a result of:
on-going implementation of strategic initiatives
favourable global regulatory policy-Appointment of world renowned Cannabis expert Bruce Linton as senior advisor
strong revenue growth in Mernova
Creso also has a number of growth initiatives pending, including the launch of its pre-roll joint range, and entry into the emerging hash market.
Mernova is also exploring a number of potential licensing agreements that may significantly scale up operations.
There's a lot to like about where Creso sits at the moment and entry into the US, with potential multi-million dollar sales, will only strengthen its position in the global cannabis market.
---