Clean energy and natural gas in the Gobi desert
Disclosure: S3 Consortium Pty Ltd (The Company) and Associated Entities own 3,400,000 EXR shares, and the Company's staff own 100,000 EXR shares at the time of publishing this article. The Company has been engaged by EXR to share our commentary on the progress of our Investment in EXR over time.
Last weekend we wrote about the current global energy crisis.
There are two ways for governments to fix it:
Find and secure new supplies of natural gas.
Fast track green energy and battery projects.
Elixir Energy (ASX:EXR) is developing both (1) a natural gas project AND (2) a green hydrogen project in the Gobi desert, Mongolia - on the doorstep of energy hungry China.
This week EXR announced the acquisition of another natural gas asset in Queensland.
Here is a quick reminder of what happened globally in energy security in just the last week, and how governments are rushing to secure new clean energy AND natural gas:
The German Chancellor met with the Canadian Prime Minister to discuss supply of liquified natural gas across the Atlantic ocean by ship.
Five year deal signed for Canada to supply Germany with green hydrogen.
The French President arrived in Algeria last Thursday hoping to repair fractured relations with a nation whose oil and gas reserves have new strategic significance.
Japan and South Korea have sought assurances from the Australian government that it will not divert crucial gas exports needed to power their economies for domestic use.
Japanese and Korean companies are also looking to invest heavily in Australian green energy projects.
China approved a 6.8 trillion Yuan ($1.1 trillion USD) infrastructure plan that includes constructing enough renewable energy to match Europe's current capacity, by 2030.
And a couple of weeks ago, the US signed a bill for $370 billion in energy security and climate change spending over the next decade.
As a global issue, it is a major talking point in financial markets and attention is increasingly tuned to energy projects that can help meet that demand.
Our Investment EXR is working to deliver energy solutions on three fronts.
EXR is developing a natural gas (coal bed methane) project at its giant landholding in Mongolia's Gobi region.
Recognising the opportunity of the region's vast renewable resources, EXR this year outlined plans to add a green hydrogen project to its Mongolian operations. This plan received major validation when in July EXR signed an MOU with SB Energy, a subsidiary of Japan's second largest company, SoftBank Group.
Additionally, in news announced just this week, EXR has further scaled up its operations, adding a Queensland gas asset to the mix.
All three of these projects are located in reach of high demand energy markets.
EXR's Mongolian project area is lies just north of the Chinese border — a market in dire need of long term clean energy solutions, while the Queensland project comes as Australia faces a looming gas shortfall.
China is facing a severe energy crisis — in recent weeks a power supply shortage forced a shut down of a region that's twice as big as the UK in a bid to ration power consumption and prevent blackouts.
That, combined with the country's now tightened carbon emissions targets, makes China a key green energy market.
Then there's Australia's gas crisis, where the government is upping its focus on domestic energy security. It is warning Australian gas suppliers to help meet local demand in favour of export markets as fast-rising gas prices threaten to force manufacturers out of business.
In our view there are two solutions: more new gas and new clean energy projects.
EXR is doing both.
We first Invested in EXR in 2019 at 3.4c and have added to our holding on multiple occasions (most recently at 16.5c in early 2022). Over 3 years we have reached key Investment milestones and continue to Hold a material position.
Our view is that there remains significant upside as EXR continues to hit new project milestones and the energy crisis becomes a very strong macro theme.
Here is a summary of EXR's progress to date:
Click here to see the full progress tracker slide deck
We first Invested based on the potential of EXR's coal seam gas (coalbed methane) project, but have been impressed the EXR team's ability to recognise and act on complementary opportunities as they arise.
Given the world-class renewable resources — a key ingredient for green hydrogen production — in the Gobi desert, we view exploring the potential here to be a shrewd decision.
EXR's long standing government and in-country relationships are critical to progress a project like this.
In fact, evaluating the commercial viability of a hydrogen project was one of the objectives that we set for EXR to achieve this year:
Softbank subsidiary SB Energy seems to be of the same view, having signed an MOU with EXR in June to jointly explore the project's hydrogen potential.
Since early 2021, EXR has been exploring the hydrogen potential of its landholding in Mongolia — a potential tier one location for large scale hydrogen exports in which EXR is a first mover.
Under its MoU with Softbank subsidiary, SB Energy, the pair are cooperating on research and development of a green hydrogen project — the "Gobi H2" project, the eventual goal being to jointly develop a gigawatt-class green hydrogen production project.
While this is the first of SB Energy's green hydrogen pursuits, SoftBank has already demonstrated its belief in the region's potential. It has an operational wind farm in Mongolia's Gobi Desert — the 50MW Tsetsii Wind Farm, which generates renewable energy that could be used to produce green hydrogen.
The following video provides an overview of that project (while it does have a robot voice and looks like it was made by an AI):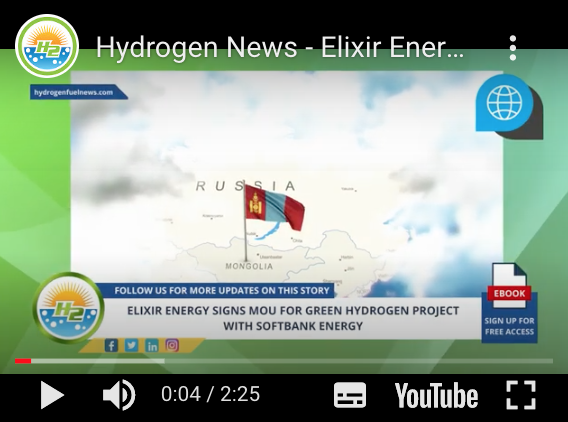 Gobi H2 Green Hydrogen Project update
EXR last week provided a progress update at its Gobi H2 green hydrogen project, summarised as follows.
Water
While the region's vast sun and wind resources are well known, an announcement from EXR last week confirms that water — the other key ingredient needed to produce green hydrogen — is also proving readily available in EXR's project area.
Green hydrogen is a clean burning gas made using clean electricity from renewable energy technologies. The renewable energy is used to electrolyse water, separating the hydrogen atom within it from its molecular twin, oxygen.
While the Gobi is an arid region, it hosts substantial sources of groundwater. This was already well known as water is used at large scale mines such as the Rio Tinto's Oyu Tolgoi copper/gold mine which is located within EXR project boundary.
Even so, EXR recently drilled three water exploration wells in the Gobi to demonstrate that new sources of water can readily be found and at modest cost. One established a flow rate of 0.5 litres per second – around half that required for the planned pilot project.
Further water exploration wells will be drilled later this year once location(s) for the proposed pilot production plant have been finalised with SB Energy.
The volumes of water required for a multi gigawatt scale green hydrogen project that Gobi H2 is likely to be much less than currently used in mining operations.
Interestingly, Rio's Oyu Tolgoi mine is permitted to draw upon ~1,000 litres of water per second – that's around six times more than a multi giga-watt scale green hydrogen project producing 500,000t of green hydrogen per year would need. And Rio has not found any sustained draw-down of groundwater resources or other environmental concerns.
Water does not pose a large cost in producing green hydrogen but it is a vital input, and the social issues surrounding it are a key priority for the EXR.
The company wants to demonstrate to local communities that new sources of groundwater can be established, and it won't take water from current sources which are already being used for things like feeding livestock.
And if any new water sources are found to be too saline for agriculture, the water supply would represent an immaterial additional cost for green hydrogen production, as it would have limited competing uses.
Furthermore, as producing water is a necessary part of gas production from coal seams, EXR's gas business may even provide water feedstock for the Gobi H2 project.
Renewable energy resources
Having first deployed SODAR equipment to measure wind resources at the project to a bankable standard over a year ago, the capacity factor for that data has now been determined.
Basically, a wind farm here would generate as much energy as the top quartile of operating wind-farms in Australia, which itself is one of the world's strongest wind power locations.
Another two new SODARs are being installed to gather site specific data and establish regionally relevant information along a >100km strike line that's adjacent to infrastructure and water resources.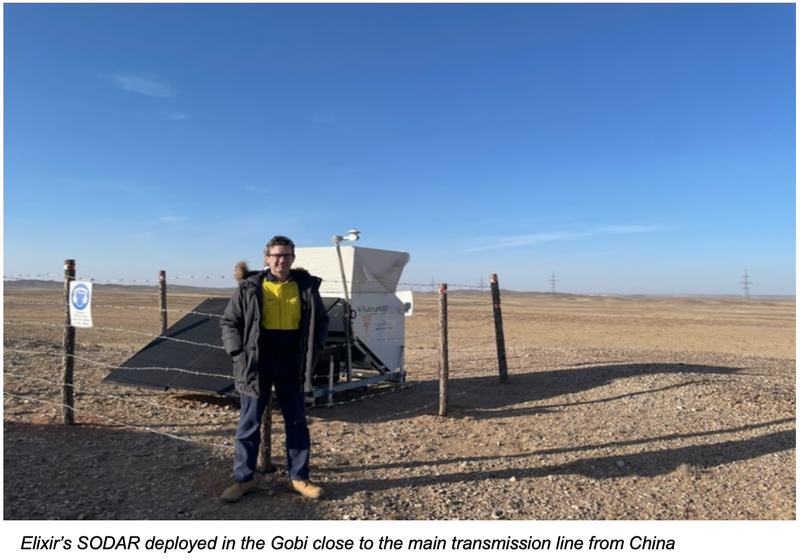 Last week's announcement also saw EXR outline the activities that it is currently undertaking alongside Softbank after the parties recently toured the region, including a visit to SB Energy's operating Tsetsii Wind-farm.
Progress is being made recent on a number of fronts, including:
SB Energy looking into potential Japanese Government fiscal support - To really understand why the Japanese government might take an interest, the idea of an Asian supergrid is important to understand. To see our thoughts on this check out the following Quick Take.
Other financing being pursued - Engaging with locally-based international finance institutions on project financing for the pilot project. The institutions are supportive of the Gobi H2 project as they seek to meet increasing decarbonisation investment mandates.
Data acquisition ongoing - SB Energy and EXR are both looking to acquire more resource data (water/renewable energy) to eventually feed into project economics studies.
Pre-feasibility study (PFS) for the pilot plant commenced - Leading engineering infrastructure consulting firm, AECOM, has been engaged to undertake a pre-feasibility study (PFS) into the proposed pilot project.
Customer discussions ongoing - SB Energy is leading talks with potential hydrogen customers in China and Mongolia.
Site for hydrogen project to be finalised - Site options for the pilot are being jointly evaluated while considering existing infrastructure (road and rail links to China) to deliver green H2 to customers;
Local stakeholder engagement - Local stakeholder engagement, including an R&D contract to explore the potential for green hydrogen to be used to produce ammonia in Mongolia;
Yet green hydrogen is, of course, only one part of EXR's story...
EXR's New Queensland Gas Asset
Earlier this week EXR announced that it has made an opportunistic acquisition of a Queensland gas project (ATTP 2044) as Australia struggles to deliver adequate domestic supply.
Here, EXR intends to leverage the considerable experience of its Australian team in Queensland's gas sector.
The project is prospective for gas and condensate trapped in both conventional and unconventional sandstones and fractured coals.
Located in the Taroom Trough, there are both international and Australian majors actively working the play. EXR believes the Taroom Trough to be one of just a handful of low risk locations in the world with access to spare liquefaction plant capacity.
The CEO of neighbouring Santos, Kevin Gallagher, said, "If the play works then we believe there is multi-TCF potential".
The project, which covers an area of 1,000 km2, is located approximately 35km away from critical gas transmission infrastructure — the Wallumbilla gas hub — which connects to existing and proposed transmission pipelines to reach local and international gas markets.
EXR is aiming to drill a well in ATP 2044 in 2023. Its primary objectives are Permian aged sandstones and coals, with a globally relevant prospective gas resource. These are the same objectives as being pursued by both Shell and Santos.
The project has a material prospective resource estimate:
Previous drilling by BG Group, now Shell, at Daydream-1 which is two kilometres west of EXR's permit area (see map), proved the Basin Centred Gas (BCG) play concept.
That well flowed an instantaneous rate of 3.5 MMcfpd from an interval covering one-tenth of the gross prospective reservoir section.
However, EXR's in-house reservoir modelling suggests that flow rates could be improved significantly by:
Accessing fractured coals as well as sandstones
Using state of art stimulation techniques
Focusing on full the Permian section (Kianga and Back Creek Formations)
EXR acquired the asset via the acquisition of special purpose vehicle EnergyCapture Pty Ltd. The consideration for the purchase is:
A$500,000
The issue of 20,703,934 (worth ~A$3 million) EXR shares to the owners (1/3 of shares escrowed for 9 months, 1/3 escrowed for 18 months and 1/3 unencumbered)
An overriding royalty of 3% (on hydrocarbon liquids production only)
As EXR is in a strong financial position with $22.7M in cash (at June 30), it doesn't expect to need to raise capital for this acquisition.
Mongolian Gas Project
While attention lately has been on EXR's hydrogen ambitions and now its new Queensland gas project, it doesn't mean the company is ignoring its Mongolian gas project.
EXR continues to build up its gas assets, working to assemble a very large asset.
It is doing massive step out drilling spanning 100s of kilometres in each direction, trying to uncover more new sub-basins that have coals at the right depth for CBM.
By opening up new sub-basins across the giant 30,000km2 landholding that are prospective for coal seam gas, the asset becomes increasingly attractive to large industry players and potential partners.
While EXR already has gas discoveries, one might assume it better to first develop those in order to create a cash flow before searching for even more gas.
The dream of a small cap exploration company is making a discovery, and building up an asset to the point that it becomes impossible for industry majors to ignore.
However, this will only occur if the project is really big.
Therefore, EXR's ongoing exploration drilling makes sense. This de-risking work will only make the project more and more attractive to potential partners. EXR expects discussions with such parties to ramp up in the months to come.
As per an update at the end of July, EXR is utilising two local drilling sub-contractors and deploying three rigs.
The Venetian-1 exploration well has discovered another coal-bearing sub-basin. It was drilled to 882 metres and intersected 6.5 metres of coal and carbonaceous siltstone in the CBM depth window.
The Orio-1 exploration well has recently spudded in an area to the West of Yangir.
The drilling of the Bulag Suuj-2 well has been slower than anticipated and had yet to reach the prognosed Total Depth of 800 metres, due to mechanical issues.
A new well, Yangir-5, has spudded after the Yangir-4 well did not reach total depth, but did encounter coals in the CBM depth window.
Production testing
While exploration is ongoing EXR is also in the process of derisking one of its project areas via production testing.
This will involve drilling and completing two production wells (Nomgon 8 and 9 wells), putting down pumps and pumping fluid out of the CBM reservoir — water first until the reservoir pressure is lowered and then gas can be desorbed.
The wells will take a couple of weeks to complete, and then the gas flow rates will be measured over the following months to provide the key foundation for assessing commerciality.
If that comes out at the rates that EXR believes that it will, it will validate the commerciality of that particular subbasin. This can then be repeated in other basins.
And now, following logistical and supply chain hurdles in the first half of 2022, the Nomgon pilot production program is on track with wells to spud any day now.
Major Drilling Group, a drilling contractor with global operations, has been engaged to drill two pilot production wells. Major has worked extensively for Rio Tinto in the Oyu Tolgoi mine, which sits within the Nomgon IX PSC boundary.
This de-risking is necessary, and importantly, it can be done in parallel to ongoing exploration in other locations on the PSC.
The upcoming pilot production program and gas exploration drilling were objectives 1 and 2 in our EXR Investment Memo: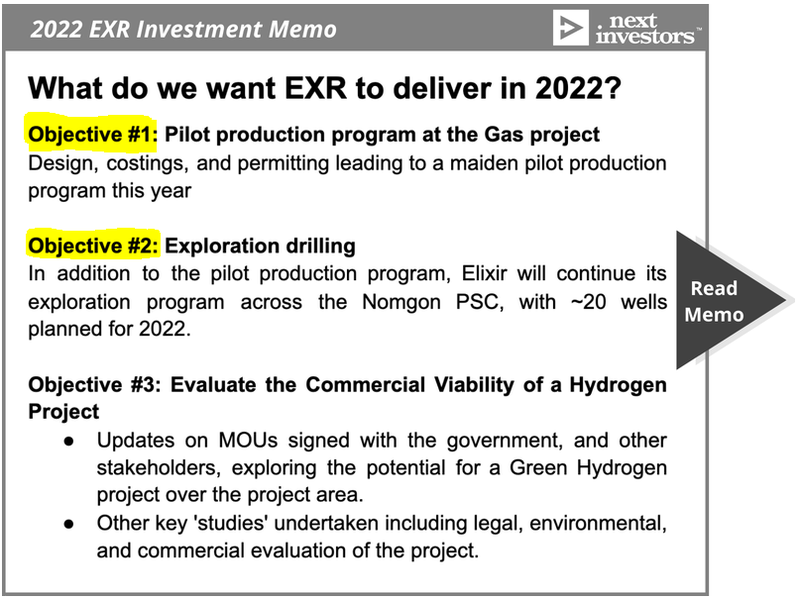 While we like that EXR is now progressing three distinct projects, we must keep in mind that our Investment is not without risks, some of which we outlined in our 2022 Investment Memo: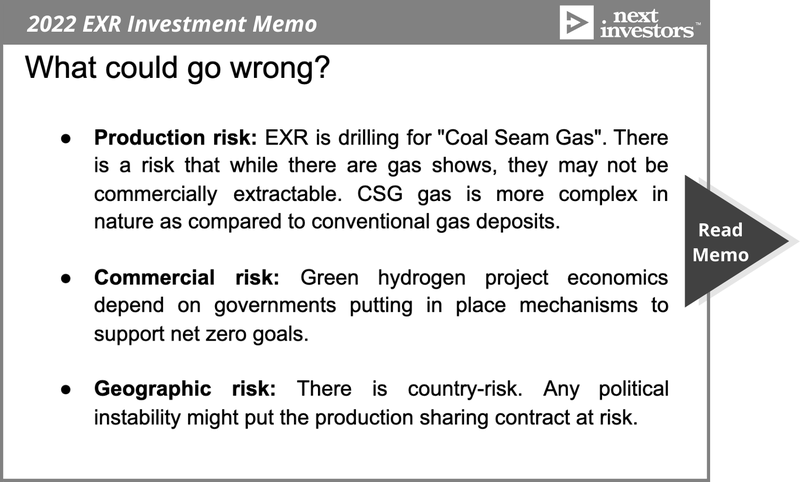 Our 2022 EXR Investment Memo
Below is our 2022 Investment Memo for EXR where you can find a short, high level summary of our reasons for investing.
The ultimate purpose of the memo is to track the progress of our portfolio companies using our Investment Memo as a benchmark, throughout 2022.
In our EXR Investment Memo you'll find:
Key objectives for EXR in 2022
Why we continue to hold EXR
What the key risks to our investment thesis are
Our investment plan
---