ASX Gold Stock Sitting on 2.1Moz Resource – Primed for Rapid Growth
PUBLISHED: 08-07-2020 09:32 a.m.
All investors are talking about right now is gold – it's the hottest commodity going around.
Backed by the momentum of a surging gold price, well priced gold juniors are having their time in the sun, with an opportunity for a solid run over the coming months.
We have recently added an ASX gold stock to our long term portfolio as it has a steady stream of catalysts and high growth potential for the rest of 2020.
This company has been steadily building preparations for the next six months of high impact newsflow and its timing could not have been better.
The company has just completed highly sought after capital raises: $12.5 million in a high demand placement followed by a $2 million Share Purchase Plan that had to be scaled back. Applications totalled in excess of $4.5 million, indicating some significant pent up demand.
With a fresh $14.5 million in funding, the company is ready to deploy the cash on its flagship Dynasty Gold Project in the underexplored Loja Province of Ecuador. This project is close to existing infrastructure, has strong local support and the company is fully permitted to begin work here.
This $97M capped company has a clear mission over the coming months at Dynasty.
Its goal is to convert its 2.1 million ounce Foreign Resource Estimate averaging 4.5 g/tonne gold, into a much bigger JORC resource by the end of the year.
Exceptional historical drill results have been hit in the past, and there is a steady stream of historical assay results to come: 5,000m of drill results from late 2019 are set to be released in the coming weeks; plus a further 6,000m of core that has never been independently assayed or released to the market set to follow.
The company's own 6,000m drill programme will kick off in the coming weeks.
All results will inform a growth in the resource size from the current 2.1 million ounces, and a conversion to a JORC resource – the more established a recognised resource classification.
As investors all we need to do is hold on, sit back and watch the news flow.
With a bolstered resource size and classification, we would expect the company to be trading at a much higher value on a market cap to ounce basis.
This company is backed by a highly experienced management team, well versed in building producing operations in South America.
Given Ecuador's mining friendly nature and vast amounts of undeveloped resource wealth, it has attracted the likes of Hancock Prospecting, Lundin Gold, Newcrest, BHP and SolGold to the region.
Suffice to say, this ASX gold explorer and producer is in good company.
The company's second key project is Copper Duke, a 130 km2 tenement in Southern Ecuador with high quality copper-gold porphyry potential.
The final piece of the Ecuadorian puzzle is the Linderos gold project, where a recent high-grade gold discovery was made.
Work at Dynasty, Copper Duke and Linderos should throw up plenty of catalysts and milestones in the coming months. So, there is a lot to like about this company coming out of COVID lockdown and into a full blown gold exploration and development program.
With that in mind, it is time to introduce ...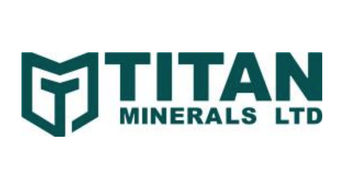 Titan Minerals Limited
ASX:TTM
Share Price: $0.098
Market Capitalisation: $97.3 million
Cash at hand: $13.5M (including placement as at 1 June) | $15.1m Pro-forma post SPP placement)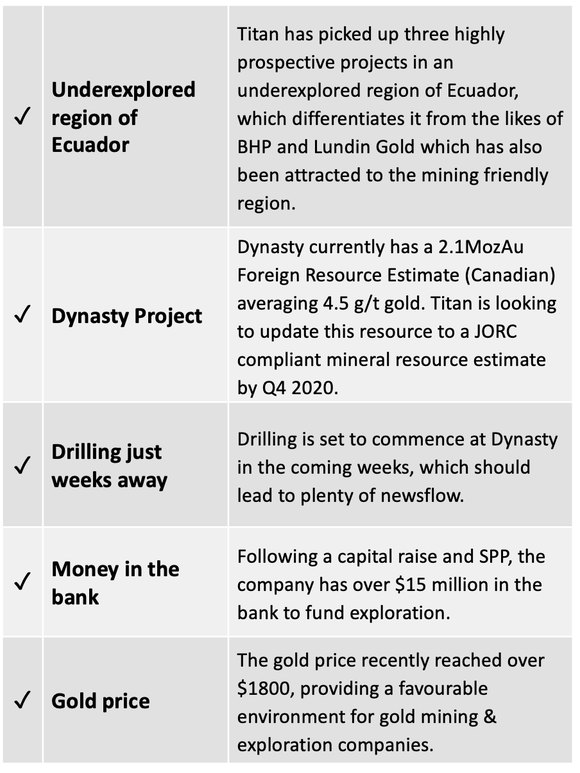 A quick overview
Titan Minerals (ASX:TTM) is an Australian minerals exploration and development company focused on gold and copper exploration in Ecuador. Titan's flagship assets are the 100% owned Dynasty Gold Project and the Copper Duke Project, situated in Ecuador's southern Andean copper-gold belt.
Titan also owns the Linderos gold project and is the operator of a gold treatment business in a well-established mining region of Southern Peru.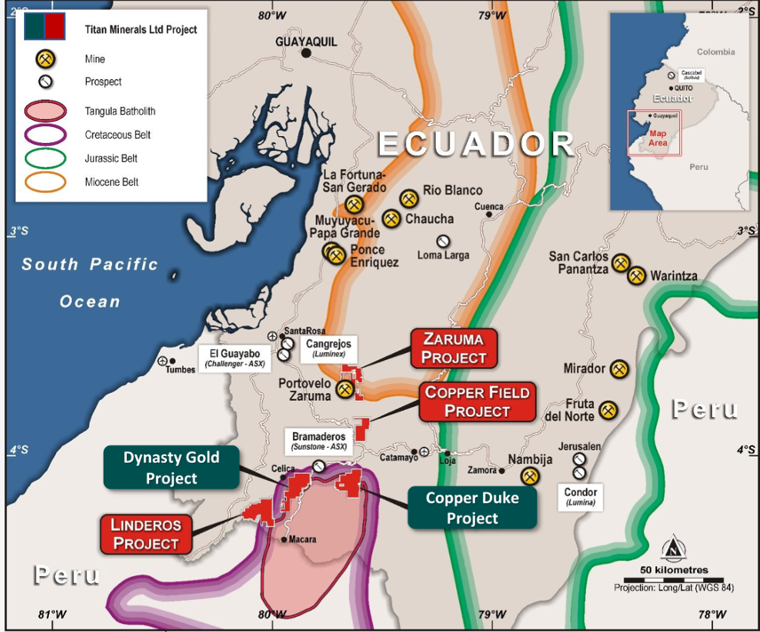 The company owns a centralised processing plant that produces loaded carbon from a CIP gold circuit, with feed previously averaging 17 to 24 g/t gold head grades sourced from licensed third-party operators.
Following the completion of a $12 million placement and with the SPP heavily oversubscribed, Titan is well-funded to advance Dynasty towards a JORC compliant mineral resource estimate – targeted for completion in Q4 2020.
Titan is now preparing to commence a three-month high impact 6,000m drilling campaign at Dynasty's existing resource. In addition, assays from over 4,000m of diamond drilling completed in 2019-20 are pending assay. Development of Copper Duke will progress in parallel with high resolution magnetic and geochemical surveys planned to commence in Q3 2020 and drilling scheduled for early 2021.
Wise-Owl recently published a research note and initiated coverage on Titan Minerals. The full report can be accessed HERE: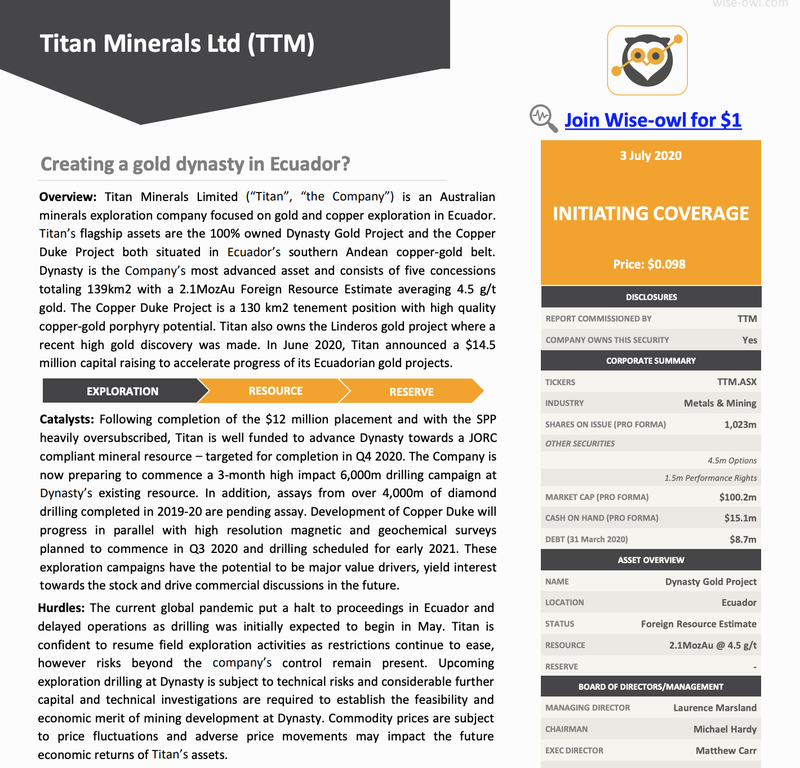 A new Dynasty
The Dynasty Gold Project is comprised of five concessions totalling 139km2 located in the Loja Province in southern Ecuador. The project consists of three mining concessions at altitudes ranging from 1100 metres to 1800 metres above sea level and covers an area of approximately 6700 hectares.
More than 120 major veins have been identified across a six kilometre strike, predominantly drilled to less than 100 metres vertical extent. The three northernmost concessions received Environmental Authorization in early 2016 and are fully permitted for exploration and small-scale mining operations (up to 1,000tpd per concession open-pit).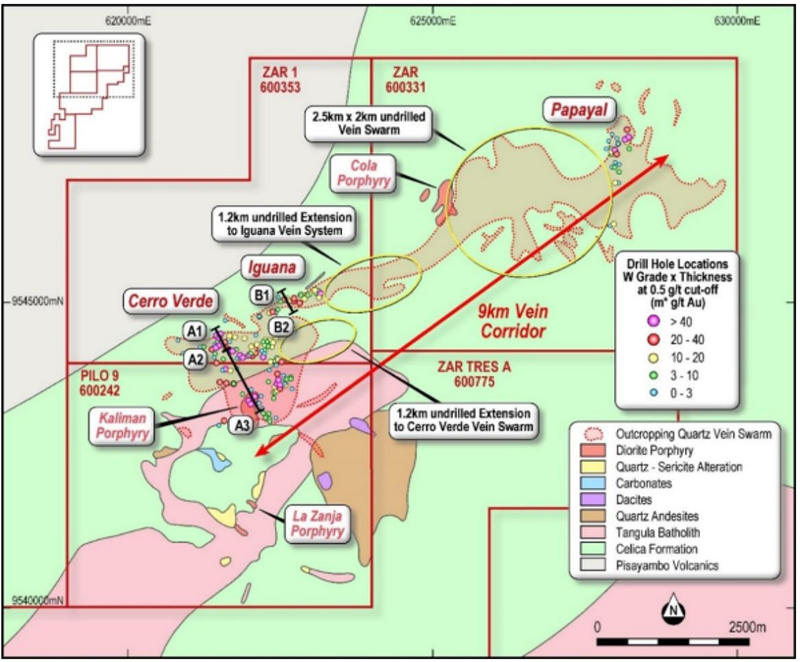 This is an advanced gold project with a CIM compliant Measured and Indicated Mineral Resource Estimate featuring a 2.1 million oz. Au. Foreign (Canadian NI 43-101 compliant) Resource Estimate, averaging 4.5 g/tonne gold.
There was previously small-scale, shallow open-pit production for over 3 years with production achieving up to 220,000 tonnes per annum averaging 3.4g/t mining grades.
The initial small-scale mining identified numerous veins not included in the current foreign mineral resource estimate. In addition, 44% more gold was recovered compared to the model which bodes well for future resource expansion.
Mineralised material was transported ~180km to previous owner Core Gold Inc's wholly owned Portovelo CIP Plant, until mining was suspended due to COVID-19 restrictions.
Historically, the Dynasty Project has had 201 drill holes totalling 26,734m of diamond core drilling across it.
A 25,000m re-Logging and 6,000m sampling campaign of historical core commenced in March and previous mining focused on the Cerro Verde Prospect. Numerous un-drilled vein extensions at surface include:
1.5m @ 11.0g/t gold with 28g/t silver
1.1m @ 20.8g/t gold with 61g/t silver
Further results from a 1.8km by 1.8km vein swarm, open along strike and at depth, with undrilled vein orientations were confirmed in small scale mining within the modelled resource. Drill intercepts include:
12.4m @ 4.26g/t gold from 4.6m
7.99m @ 4.41g/t gold from 64.7m
4.28m @7.50g/t gold from 98m
Assays are now pending from 41 of 44 diamond drill holes totalling 4,795m of recent drilling.
With a new drilling program about to commence at Dynasty, we should see plenty of newsflow and potential catalysts to come from this program leading into the JORC Resource.
A low cost project in Copper Duke
While Dynasty is expected to be a low cost project, so too is Copper Duke.
Copper Duke is steeped in history.
Modern exploration commenced at Copper Duke with an extensive stream sediment geochemistry initiated by the United Nations in 1968. A follow-up program known as 'Operation 8' was conducted in the early 1970s, with the objective to define copper and molybdenum anomalies.
Several anomalies were identified and follow-up work on multiple targets included the zone now referred to as the El Huato anomaly which can be seen below.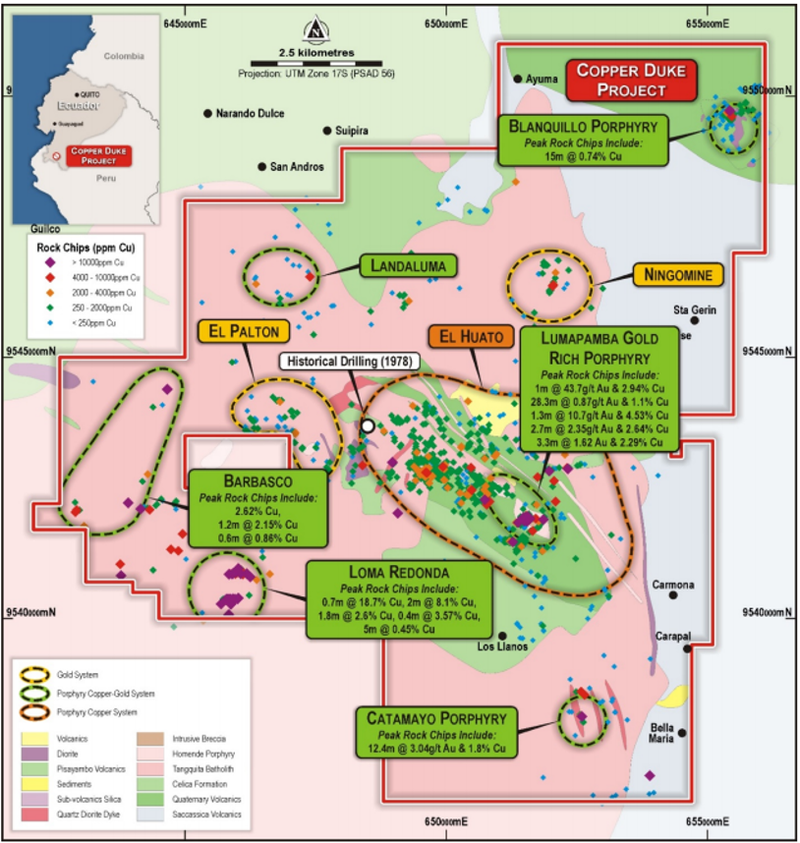 In 1978 a diamond drilling programme was completed and comprised of two diamond holes drilled from the same platform, one vertical and the other inclined.
The two diamond holes completed in 1978 totalled 440 metres within the Copper Duke Project area. Samples were impressive, returning 33.1 metres at 2.5 g/t gold and 154 ppm copper from 9 metres.
Another sample featured 45.4 metres at 1.9 g/t gold and 168 ppm copper surface.
More recent results indicated the presence of widespread high-grade gold mineralisation hosted in quartz veining, ranging from 174 g/t gold to 0.1 g/t gold and from 249 g/t silver to 0.1 g/t silver.
Peak assay results from representative channel sampling work included 61.5 g/t gold, 5.1 g/t silver and 0.2% copper over a width of 3.9 metres.
The presence of near surface mineralisation suggests upfront capital expenditure could be relatively low, and if such a prospect were brought into production all in sustaining costs (AISC) may be extremely low because of easy access to the ore, as well as the copper credits received being offset against production costs.
The third Ecuadorian prize
The Linderos Project is located in the Loja province of southern Ecuador and comprises of 4 contiguous concessions totalling 143km2 land position.
Linderos is located approximately 20km southwest of the Dynasty Gold project.
The Linderos project boasts significant copper anomalies at surface associated with gold-copper porphyry system style mineralisation, and also hosts a recent discovery of high-grade epithermal style gold mineralisation at surface that merits further exploration.
Titan is looking to refine an exploration strategy to cost effectively advance a discovery at the project. A high-resolution drone platform magnetic survey is planned for the project, and is anticipated to be a catalyst to drive further follow-up exploration activities.
Peruvian and non-core projects
Whilst Titan is looking to divest non-core assets, it is worth taking a quick look at the Peruvian assets still on its books.
PORTOVELO GOLD PLANT (ECUADOR)
Currently largest fully-permitted CIP plant in Ecuador.
Located at the Zaruma project, and within truckable distance of the Dynasty Gold Project
ZARUMA PROJECT (ECUADOR)
Legacy project with previous production and >5Moz historical production in the district.
CORIORCCO GOLD PROJECT (PERU)
Early stage epithermal gold project, 80km E of Vista Gold Plant, Peru.
LAS ANTAS GOLD PROJECT (PERU)
Early stage, high sulphidation bulk tonnage gold target.
VISTA GOLD PLANT (PERU)
CIP gold plant licensed for 350tpd operations and nameplate capacity of 150tpd in current operation.
Average head grades range 17to 24 g/t gold.
Any divestment could generate additional funding to put towards Dynasty and Copper Duke over the coming months.
The macro outlook
Last week, the gold price pushed past the US$1800 per ounce mark. It was a major milestone in the rise of the commodity, with further gains to come and some analysts even predicting it will surge past $5000.
That remains to be seen, however the outlook is highly positive as gold's 50-years as a safe haven continues.
Gold prices have increased approximately 26% over the past 12 months, providing a favourable price environment for established gold producers and driving interest towards early-stage exploration companies with potential future mining activities.
Copper is also on the rise.
While global demand for copper remains restrained by COVID-19-related issues, the price of copper rose by 11 percent in June.
The uptrend is attributed to optimism over financial stimulus and strong demand in China, copper's top consumer. China is moving toward economic recovery, with a focus on infrastructure and urbanisation which will require copper products.
Growing fears of disruption in copper output in Chile are also having an impact.
Madhurima Das of Zacks Mining said "Chile's mines minister Baldo Prokurica recently projected a decline of 200,000 tons in the country's copper output. This represents 3.5 percent of the country's 2019 production."
With both gold and copper continuing to gain attention, Titan is in a good position to capitalise on macro events as it looks to fast track its exploration and production initiatives.
The final word
Titan is cashed up and ready to drill.
An aggressive six-month exploration program at Dynasty should provide plenty of catalysts all leading to a foreign resource estimate into a larger JORC resource by Q4 2020.
Titan will also advance the Copper Duke project and is planning high resolution magnetic and geochemical surveys at in Q3 of 2020.
The company is in an underexplored region of a mining friendly country that has attracted mining majors such as Newmont, Fortescue, Newcrest, BHP, Lundin Gold either via their own projects or strategic investments.
And with macro events now working in its favour as the world opens for business, Titan will be one to put on the radar as we head into the tail end of 2020.
---