Assays reveal Miraflores extends significantly deeper
Disclosure: The authors of this article and owners of Next Investors, S3 Consortium Pty Ltd, and Associated Entities, own 3,210,000 LCL shares and the Company's staff own 136,750 LCL shares at the time of publication. S3 Consortium Pty Ltd has been engaged by LCL to share our commentary and opinion on the progress of our Investment in LCL over time.
Our gold investment Los Cerros (ASX:LCL) has been drilling to test a theory that two gold systems it has were actually connected at depth to form one giant gold system.
We called the giant geophysics target between the two gold systems "jabba the blob".
Last week, LCL provided an update on this very deep drill.
While the first deep drill didn't confirm the thesis that two gold systems were connected, it DID reveal that one of the gold systems (Miraflores) actually extends significantly deeper than first thought.
Exploration is a game of try, test and learn, and while the original thesis for this drill was not supported with the result, they may be connected, but deeper or to the side.
A new thesis has been developed around Miraflores being significantly deeper, showing potential to DOUBLE the depth of the existing mineral reserve at Miraflores. So we consider the result to be quite good and provides precious information for creating a new drill campaign to test this new thesis.
(A poor result would have been if nothing was found at all.)
LCL still has multiple near term high impact targets they are drilling with five rigs and importantly, has $17.5M in the bank - cash in bank is one of our key requirements in rough global market conditions.
So there were a lot of positives to be gleaned from the drilling update, yet LCL is down 23% since the announcement.
In today's note we'll explore the results and whether the market has missed the positives and LCL been caught up in the wider market's pain?
Sprott Equity Research appears to believe the latter. Having digested the announcement, Sprott has maintained its BUY recommendation and 37c share price target on LCL (as compared to the current 6.8c share price). We'll take a closer look at their latest note shortly.
It is hard to ignore the unique position that LCL is in:
It has an extremely robust balance sheet with $17.5M cash in the bank and no debt (a current market cap of ~$48M for an EV of ~$30M).
Just announced potential deep extensions to the higher-grade Miraflores resource, both laterally and deeper than the existing resource.
Existing 2.6Moz JORC resource, currently advancing towards PEA (an advanced scoping study).
Located in Colombia's Mid Cauca belt, host to >60Moz of gold, and within the same structural trend as the 14Moz Marmato Gold Mine and the 29Moz La Colosa gold project.
Highly active and extensive multi-rig drill program in 2022. Lots of targets to pursue & with no fewer than five drill rigs running, LCL has 5X the chances to find the next Tesorito discovery.
LCL's Quinchia Project is a cluster of porphyry and epithermal gold targets within a 3km radius in the Mid-Cauca gold porphyry belt, where it has multiple targets at various levels of investigation.
Here are all the major known target areas (orange circles) and earlier stage targets (white circles) within the Quinchia Project: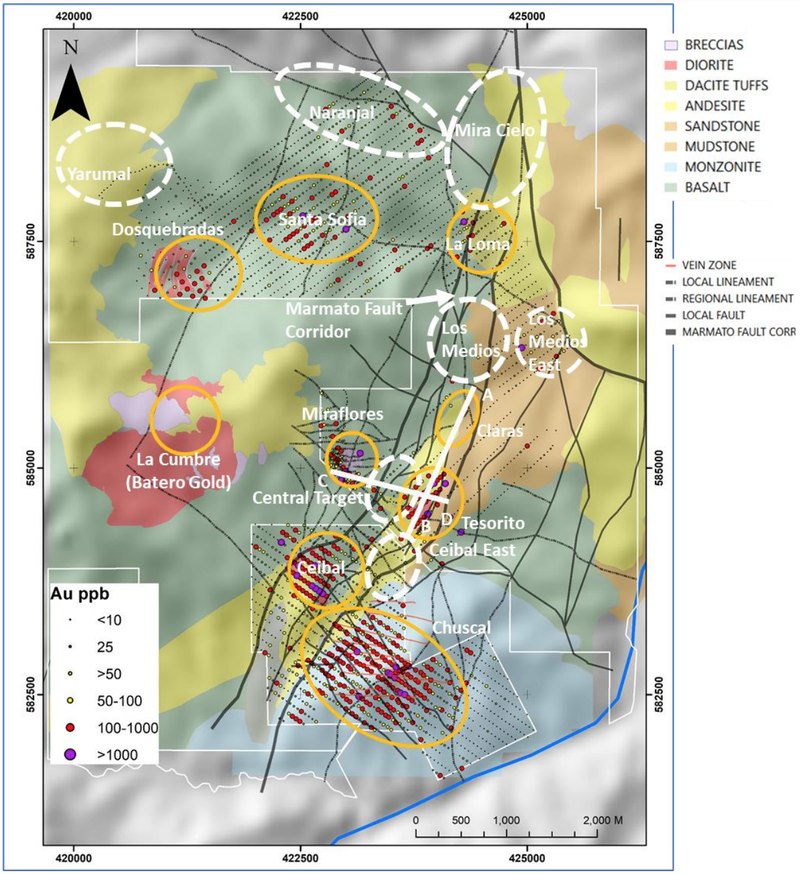 Note Miraflores in the centre and to the east is Tesorito (where LCL defined a 1.3Moz Resource at Tesorito South earlier this year).
LCL has an extensive exploration schedule in 2022, with a key focus on immediate growth opportunities in the 3km area surrounding its Tesorito discovery. Last week's drilling update covered exploration at the project's Central Target, Ceibal, Claras and Tesorito West prospects.
Much of the market's (and our) attention was on progress at the Central Target, or what we affectionately referred to as "Jabba the Blob", where LCL was investigating a previously identified large, deep, metallic anomaly, as below: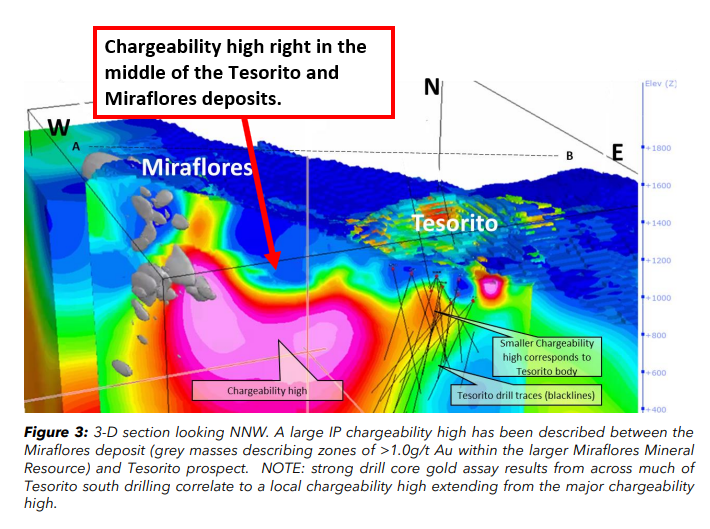 Here the rig was testing conductivity highs between LCL's two most advanced prospects Tesorito and Miraflores.
The theory was that the anomaly could be a massive porphyry structure that was the source of the Miraflores breccia pipe and that also connects Miraflores to Tesorito. Testing whether the two systems are connected was the second objective that we set for LCL in our LCL Investment Memo.
Drilling in the current program has now determined that the Miraflores and Tesorito deposits are less likely to be joining together at these depths.
But that's not to say they aren't connected at greater depths or off to the side.
Managing Director Jason Stirbinskis said, "There remains potential for discovery of a substantial gold porphyry system underlying known mineralisation at both Miraflores and Tesorito, however our immediate focus will be drilling for depth extensions to the Miraflores ore body."
Geophysics and the recent drilling has, however, revealed that the Miraflores breccia pipe is bigger than anyone expected.
LCL identified Miraflores-style breccias lateral to, and deeper than, the depth of the current modelled Miraflores JORC resource, meaning that the Miraflores deposit could actually be a lot bigger at depth.
The Miraflores breccia pipe has an existing 877k oz resource including a 457k oz Miraflores Reserve but, as can be seen in the below cross section, drillhole TS-DH57 has identified Miraflores type breccias a further 500m below the deepest historical Miraflores drilling.
This finding has essentially doubled the depth of known breccias in Miraflores, showing potential to double the depth of existing mineral reserve.
Given the high-grade nature of the Miraflores orebody, intersecting Miraflores type units so far beyond/below historic drilling limits is considered highly encouraging.
LCL will now drill hole TS-DH61 (as circled on the cross section above) chasing extensions to Miraflores. This shallower, second drillhole from the same pad is designed to test for extensions of the Miraflores breccia pipe vertically below historical drilling.
So how did LCL do versus key objective #2 of our 2022 Investment Memo?
The ultimate goal was to prove that the anomaly was a porphyry source to the Tesorito and Miraflores deposits, yet the drill results have not revealed that. However, there is a potential extension to the Miraflores deposit at depth — LCL are now drilling a second deep hole to test this theory.
The drillhole gave LCL enough data to warrant follow up drilling testing extensions to Miraflores we think that the results warrant at least a base case achievement and the market reaction to the results (in the weak overall market) seem to have been more focused on what we learnt about the porphyry theory and less about the extensions to Miraflores.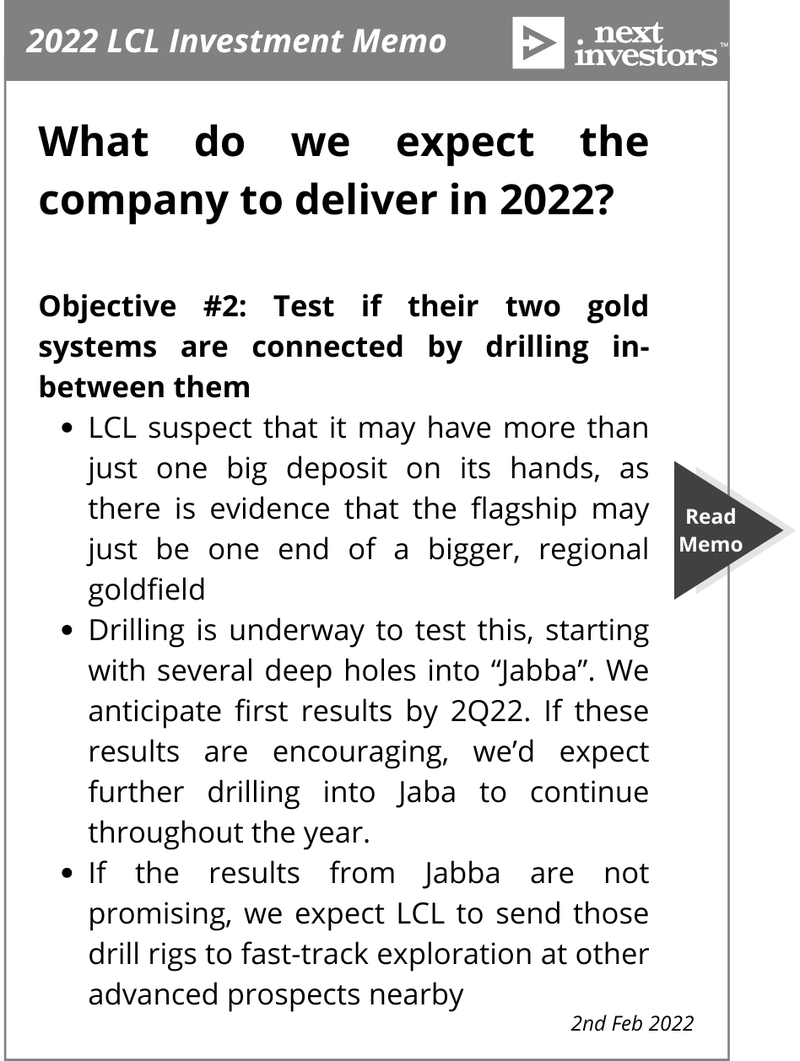 Looking ahead to development
Remember that Miraflores and Tesorito are just 800m apart, meaning that the process design is likely to be based on the two of them, although strongly directed by Tesorito as it is three times the size of Miraflores.
The existing Miraflores resource combined with the recently defined Tesorito JORC resource, puts LCL's total resource across its Quinchia portfolio 88Mt, grading 1.02g/t gold for a total of 2.6 million ounces of gold.
Considering just the high grade central core of Tesorito (540koz @1.23g/t) and blending it with the 460koz @ 3.3 g/t from Miraflores we get a 1.0Moz grading ~2.2g/t.
That's the most likely, most compelling economic story to mine them both together like that.
Once those resources are mined, over 7-8 years, LCL could look to start mining the rest of the millions of ounces at Tesorito as it has already paid for the plant then and would only incur operating costs.
LCL has confirmed that this PEA (Preliminary Economic Assessment or Scoping Study) is being commissioned to take place alongside its extensive exploration program.
A PEA is essentially a more stringent or more detailed version of a Scoping Study - spelling out the business case and potential profitability of the project.
The PEA of Quinchia will incorporate Tesorito, Miraflores and Dosquebradas resources.
As outlined in our LCL Investment Memo, our #3 Objective for LCL in 2022 was to commence scoping studies, so the PEA, which is due in the coming months, will more than satisfy that objective.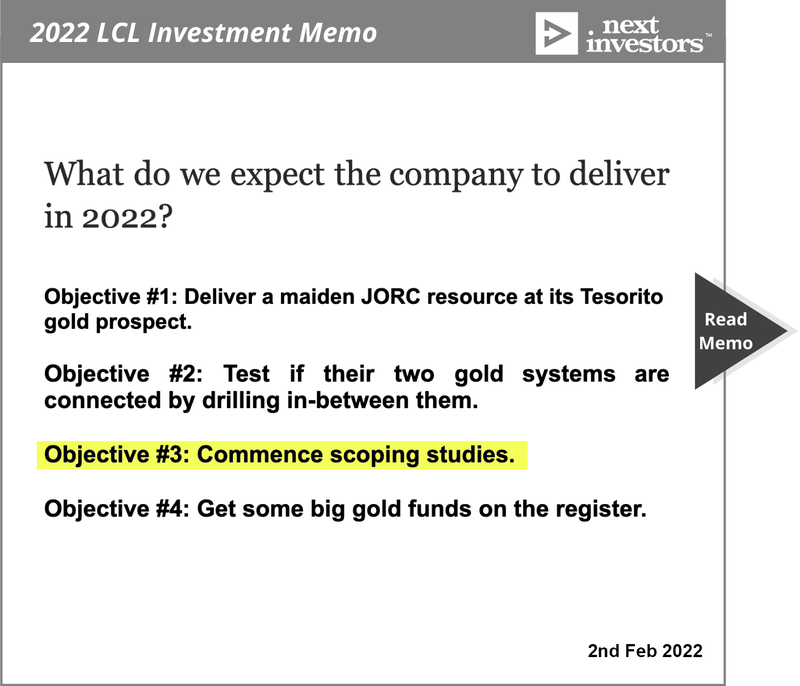 With LCL having earlier defined a resource at Tesorito, our #1 objective for the year has been achieved, while exploration continues to make new discoveries and drive continued resource growth into next year.
LCL has a significant number of targets, five rigs in operation, and plenty of cash in the bank to execute on its plans.
LCL has are numerous areas of interest within the Quinchia Project area for follow up:
Quinchia Project
Furthermore, around 90% of the Andes portfolio (LCL's second project in Colombia) is yet to be mapped or systematically sampled.
What's next in the current exploration program?
The current multi-rig drill program is designed to drive new discoveries and continued resource growth into 2023.
This week's announcement included updates from drilling at the Ceibal, Claras, and the Tesorito West targets.
Ceibal prospect
A confirmed gold porphyry at Ceibal was identified this year, with large moderate grade gold intercepts (586m @ 0.51g/t Au from surface).
The initial six-hole drill program at Ceibal, located ~1km SW of Tesorito, was completed in 2021.
The second drill program is underway, testing for the causative porphyry source responsible for the extensive mineralised zones drilled in the first program. The current drilling is integrating geophysical targets with indicator mineral and geology vectors to guide exploration for the predicted higher-grade core of the porphyry.
LCL is dedicated to these early stage scout programs — it now has three rigs at the Ceibal target, each chasing three different ideas.
As the rigs are not all focussed on one story here, LCL is essentially backing three horses rather than one to see which one comes in.
We expect the next news from LCL to be in regards to exploration at Ceibal.
Claras prospect
Early drilling at the recently identified Claras target has provided indications of another porphyry body along the Marmato Fault Corridor.
Following results from the Ceibal target, LCL will be drilling between that target (1km north of Tesorito) and Tesorito North.
LCL has good reason to believe that it will find a causative intrusive (porphyry) here (as marked as planned holes below) as there is a blind geophysical target to the north of Tesorito. Similarly, drilling has identified pathfinders suggesting the nearby presence of an intrusive porphyry body (see planned holes below).
Tesorito West prospect
The 700m deep hole, TS-DH60, (below) confirmed the western limits of Tesorito, hitting elevated pathfinders in the last ~100m that suggests mineralisation continues at depth. A follow-up drill hole is planned.
From there, LCL will move on to test the many targets that have been identified with the project area, including Dosquebradas, Santa Sofia, and Miracielo.
Sprott's says "Buy", maintains 37c price target
Sprott equity research provided an updated research note after the announcement, maintaining its BUY rating and 37c share price target.
This implies 444% upside to the current share price.
Note that the 37c price target is based on Sprott's projected ~A$760m NPV, >200koz pa operation and does not take into consideration any new discoveries or extensions.
Sprott commented on the drilling update saying, "Whilst maiden scout drilling is always preferred to hit on the first pass, we think the main take-home from today's news is a conceptual 'doubling' of reserves. Hence our excitement that a shallower follow-up hole is planned".
It added, "Taking a step back, this is all bonus discovery upside drilling to build on the existing 2.6Moz @ >1g/t Mineral Resource Estimate currently advancing towards scoping."
Sprott also provided a short summary on what it likes about LCL:
Of course, analyst predictions should not be relied upon alone as they are based on a number of assumptions that may not be realised. Always seek professional financial advice and make your own investment decisions.
Our LCL Investment Memo for 2022
See our LCL Investment Memo for a short and sharp high-level summary of why we continue to hold LCL and what we expect the company to deliver in 2022.
In our LCL Investment Memo you'll find:
Key objectives for LCL in 2022
Why we continue to hold LCL
The key risks
Our investment plan
---