88E's Merlin-1 well confirms oil. Appraisal well planned early 2022
We have been following 88 Energy (ASX:88E) for many years, and are delighted for them and long term holders this week with the company confirming the presence of light oil in the evaluation of their Merlin-1 well drilled earlier this year — finally confirming the elusive news we have been waiting for.
This is what long time exploration investors like us are in the game for with the stock now up 920% since we added it to the Next Investors portfolio just over a year ago in July 2020 at 0.6¢ — an impressive gain that is now based on genuine exploration progress.
2021 has proved to be a wild ride for 88E shareholders and trading volatility in the lead up to the Merlin-1 well result burnt a few traders and new investors, but the share price has now crept back up to about 500% above where it sat for all of 2020.
With light oil detected in the Nanushuk formation across three separate horizons, 88E management called Merlin-1 "the best well we've drilled on the North Slope of Alaska to date".
Back in March, the stock rallied by more than 1,000% in a matter of weeks on speculation of a huge, gushing oil result after the Merlin-1 well drilling event at Project Peregrine on Alaska's North Slope.
88E shot to highs of almost 10¢ on huge volume for a lofty $1.2 billion valuation, but much of that was to do with short term traders rushing in, largely led on by USA chat rooms.
The stock was always going to pull back to reality. And it did.
Those who bought into 88E at any time during 2020 when it was trading at a pre-drill average price of around 0.8¢ (and held) are still likely to be sitting on gains of 500%+.
Probably pretty pumped with the Merlin-1 appraisal, 88E announced today that another appraisal well is planned for Q1 2022 where the company will have another go at drilling the area near Merlin-1 with all the new information gathered, and hopefully finally a bit of that elusive luck this time around.
And the name of the new well will be <drum roll...>
Merlin-2
Before we start the patient wait till Merlin-2 in Q1 2022, Here is a stroll down memory lane reviewing how our 88E investment strategy played out for Merlin-1 - looking forward to upcoming news and the next drill in early 2022:
88E "thrilled" with oil find
88E has now completed the post well evaluation of the Merlin-1 well that was spudded in March 2021, drilled to a depth of 5,267 feet and completed in April.
The interpretation of results from the well demonstrated the presence of light oil in multiple stacked sequences... and the company is said to be "thrilled" with the findings.
Managing Director Ashely Gilbert said, "this is the best well we've drilled on the North Slope of Alaska to date, with light oil detected in the Nanushuk across three separate horizons".
The market was also impressed. The stock was up by as much as 27% yesterday before ending the day ~16% higher.
The presence of oil in the N20 and N18 targets, was accompanied by a strong hydrocarbon signature in a new target (N19) that was not previously mapped, following geochemical analysis.
Across the three reservoir intervals, 41 feet of net pay log was interpreted. Net pay is a key parameter evaluating reservoirs as it identifies geological sections with sufficient reservoir quality and hydrocarbon volume to be significant producing intervals.
The results have been incorporated into an updated independent unrisked net mean total Prospective Resource estimate for Project Peregrine of 1.6 billion barrels.
While the Merlin-1 well has now confirmed an active petroleum system in the Peregrine acreage, Gilbert recognises that there remains a lot more work still to do.
But he also said that "results of this significance, together with the magnitude of the opportunity, merit a pace of evaluation that facilitates further drilling and seismic in upcoming winter seasons".
Plans are now underway for an appraisal well, scheduled for the Alaskan winter drilling window in Q1 2022, to follow up on the Merlin-1 well.
Three potential drilling locations for the Merlin-2 appraisal well have been identified east of the Merlin-1 well, closer to the shelf break where enhanced reservoir thickness and quality is expected. These are to be permitted, with preplanning and rig selection to commence imminently.
Merlin-2 is designed to target the thicker zones of reservoir intervals. A potential infill 2D seismic program, consisting of 343 line miles, has also been designed and costed. Merlin-2 has been assessed as having a 56% geological chance of success.
At the end of half year ending June 30, 88E held $14.8M cash, and it received a final cash call receipt on Merlin-1 of US$5M after the period end.
88E company milestones
Lab results are in with a positive result! Ticked off that box, and we will set "planning a new well" to "in progress"
Our 88E Investment strategy past and future:
Our initial 2020 to 2021 88E investment strategy played out pretty well (although we wish we had times the free carry on the price spike a bit better).
Our new 2021 to 2022 88E investment strategy has started and we are awaiting drilling in early 2022, although with the current discover news we cant see an opportunity to accumulate any more at around the 2.5c mark like we did a few months ago.
The recent result will also make it unrealistic to hit the % gains shown, so we will revise them to 200%, 400% and a blue sky case of 600% from our new 2.5c entry (you never know) - this has new been update on our 88E company page:
Updated Version: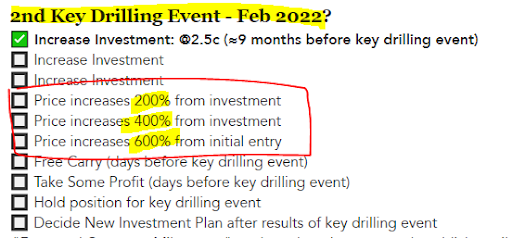 ---