88E heading to Africa on frontier oil hunt - following Shell and Totals 11 billion barrel lead
Disclosure: S3 Consortium Pty Ltd (the Company) and Associated Entities own 13,275,700 88E shares at the time of publishing this article. The Company has been engaged by 88E to share our commentary on the progress of our Investment in 88E over time.
Time for another African oil hunt.
While we wait for news on two potential company making discoveries from Invictus Energy and Noble Helium's onshore African exploration, another stock in our portfolio has decided to enter the continent.
88 Energy (ASX:88E | LSE: 88E | OTC: EEENF) has just farmed into a massive 18,500 km2 onshore acreage in Namibia (this is 12x larger than its current Alaskan acreage).
88E is farming in up to 45% via staged milestones, based on exploration success over time.
We've always liked 88E because it delivers an exploration "roll of the dice" on its Alaskan projects every year.
And now it looks like they are adding a much bigger "roll of the dice" to their portfolio, on a giant, wildcat exploration well in Africa.
One of 88E's new project partners is a private oil company called Monitor Exploration, led by Invictus Energy Director Robin Sutherland.
Namibia has been dubbed the world's most exciting oil and gas province.
This was confirmed by oil majors Shell and TotalEnergies making back to back large offshore discoveries in the country in 2022 - estimated to be 11 billion barrels of oil.
These were some of the biggest deepwater offshore discoveries in recent decades.
Small cap stocks have also had success onshore in Namibia - TSX listed ReconAfrica surged to a market cap of over $1BN back in 2021 - without even making a discovery.
We like frontier exploration - and similar to the North Slope of Alaska, Namibia is one of the final underexplored frontiers on the planet.
It's early days for 88E in Africa, with a first drilling event not expected until 2025, but we think this new asset has the size/scale that could generate a genuine "swing for the fence" oil and gas drilling event in the coming years.
This is because drilling events in frontier locations where projects have rarely been explored can lead to new oil and gas discoveries that can 5, 10 or 50x+ a company's market cap.
Success is never a guarantee, but at the end of the day, this is why we Invest in risky, but potentially high reward oil and gas exploration stocks.
We have had oil & gas success in Africa before - Africa Oil (one of our best ever oil & gas Investments) re-rated by 10x after its onshore oil discoveries in 2012.
We are also on the edge of our seats awaiting the next update from IVZ too... can it deliver a discovery in the coming days?
In today's note we will run through some of these reasons in detail and what we might see unfold over the coming years for 88E.
88 Energy
LSE: 88E 🇬🇧
OTC: EEENF 🇺🇲
88E has been drilling giant oil and gas targets back to back for years now - lots of rolls of the dice in the exploration game are required to deliver that elusive company making discovery.
During our time as 88E Investors, most of the focus has been on exploration on the North Slope of Alaska, USA.
One of the wells 88E drilled on the North Slope led to a re-rate in its share price by ~10x, and its most recent well has been cased for flow testing early next quarter.
88E's new project is a massive onshore Namibian exploration project that has been worked up privately by highly experienced African oil and gas operators.
You can see Robin Sutherland from Monitor Exploration run through a 5-minute presentation on this asset at Africa Oil Week in 2021: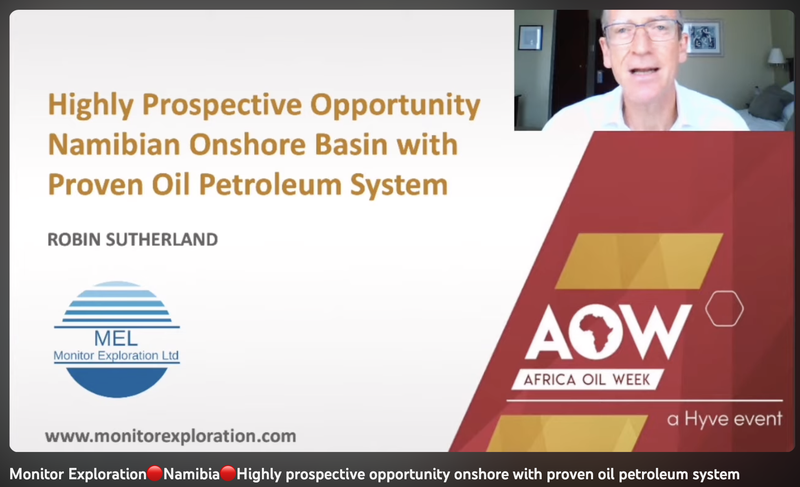 (Source)
Why we like 88E's new onshore Namibian project
Regular readers will know we have always liked "swing for the fences" wildcat oil & gas exploration in frontier locations, so this new Namibian project is a natural fit for us.
But more specifically, here is why we like it:
Huge ground position - ~70x the size of 88E's Project Phoenix in the North Slope of Alaska, USA. The project is large enough to host a large resource base.
Namibia's fast developing oil and gas industry - recent giant discoveries offshore by TotalEnergies and Shell have put Namibia on the map. Namibia being touted as the next Guyana where US supermajors Exxon and Hess are making discovery after discovery.
Namibian onshore peer re-rated by over 40x - ReconAfrica drilled its first well at its onshore Namibian project back in 2021. Between 2020 and 2021 Recon's share price went from CAD$0.30 to CAD$12.50+.
You can read all about ReconAfrica's 2021 run in this IVZ article we wrote back in March 2021.
Project vendors linked to Invictus Energy (ASX: IVZ) - IVZ director Robin Sutherland is a part of the team doing the deal with 88E. Robin was also involved in EnergyAfrica, which sold to Tullow Oil for $500M in 2004 and then again with Tullow Oil as it went onto make discoveries across East Africa.
Early stage with plenty of upside - 88E is getting in on the project at a very early stage. There is scope for 88E to run the seismic surveys, define a large prospective resource and firm up a drill program over the next 12-24 months.
Strategically located - Sits next to one of Africa's largest economies, South Africa, which is looking to replace its retiring coal-fired energy generation fleet.
Offshore Namibia exploration success by Shell and Total - 11 billion barrels of oil
Namibia is home to some of the biggest discoveries made in the oil and gas sector in the recent decade.
Multi billion dollar behemoths of the industry, like Shell and TotalEnergies have spent tens of millions of dollars drilling offshore exploration wells.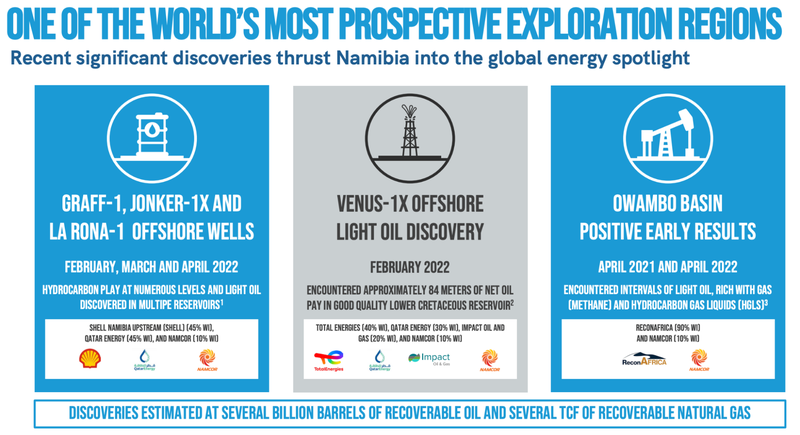 The most notable discovery was made by Total Energies and Shell with the Venus-1X well - the discoveries offshore are being estimated to total ~11 billion barrels.
To date, most of the success in Namibia has been offshore, but the industry is now looking to move onshore, chasing similar success.
Onshore Namibia - ReconAfrica surging to a $1BN plus market cap...
ReconAfrica is exploring a nearby asset to 88E and intends to drill 12 wells over the coming years.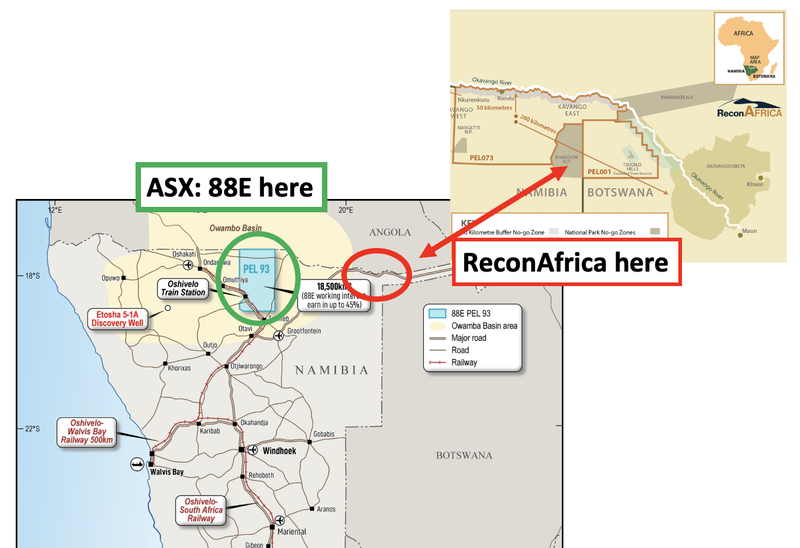 Recon is currently capped at ~$265M but had a big run in its share price before and into the drilling of its first well in Namibia.
Recon rallied from a COVID low of ~CAD$0.30 to a share price >CAD$12 after hitting light oils on its ground back in April 2021.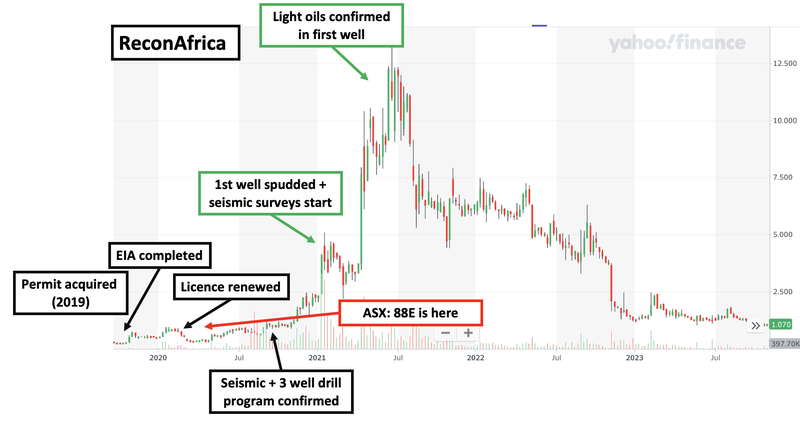 Recon went from a licence renewal in early 2020 to its first well in April 2021 - the run in its share price started to gather momentum the closer Recon got to drilling.
Right now 88E finds itself in a similar position to where Recon Africa was back in early 2020 where its licenses have just been renewed and the company is looking at starting a 2D seismic program.

We did a deep dive on ReconAfrica and how it stacked up against Invictus Energy back in March 2021 - read here.
88E is currently capped at ~$132M and expects to be ready to drill its first well at some point in 2025.
The company had $10.2M cash at the end of last quarter, and we would anticipate the company will need to shore up its balance sheet before doing any meaningful exploration here.
88E's new African partners - highly credentialed oil and gas hunters
88E's share of the project ownership will be ~45% after the earn-in is complete - the project partners will be the vendors - Monitor Exploration.
Monitor has Robin Sutherland on their team - IVZ super fans will recognise this name as he is also a board member of IVZ, another one of our African oil & gas exploration Investments we have been writing about a lot lately.
We first Invested in IVZ at 3.5c per share back in September 2020.
Robin's been in the African oil & gas exploration/production game in Africa for over 35 years.
He was a part of the Energy Africa team as a geophysicist in 1997, playing a role in several discoveries across multiple different African countries.
In 2004, after Tullow acquired Energy Africa for $500M, Robin led the Tullow exploration team through multiple discoveries, including the ones made in the Lokichar Basin in Kenya.
IVZ has been a big portfolio success for us and Robin's involvement at the project partner level is an excellent tick in the box for 88E's new African project.

(Source)
Project stage, and how much 88E is paying
88E's asset was picked up by its project partner, Monitor Exploration in 2018 - way before any offshore discoveries made in 2022.
Since 2018, Monitor has run airborne geophysics and used existing 2D seismic data to map out 10 different leads worthy of further follow up.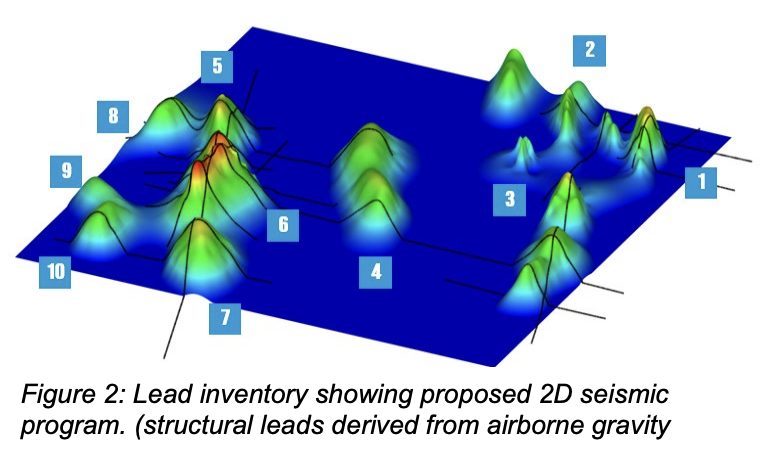 88E is now coming in when the projects are ready to be taken from the concept stage into a position where the highest priority prospects can be drilled.
88E will look to run ~200km of 2D seismic surveys (which we hope leads to a large prospective resource estimate) and then eventually into plans for the first wells: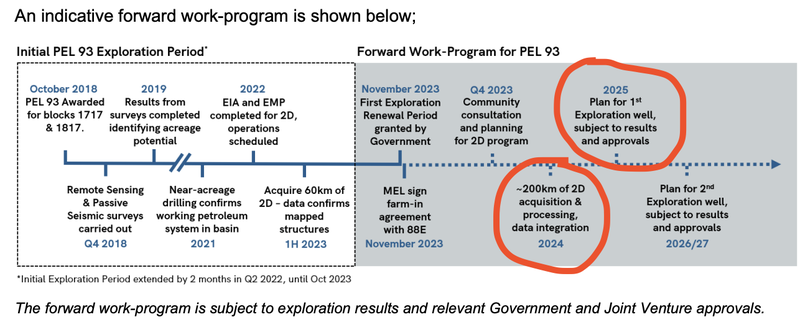 The deal is also structured in a way where 88E earns most of its interest in the project after the two wells are drilled.
88E Deal Terms for African acreage entry
In total, 88E will be earning a 45% interest in the project through a 3 stage farm-in agreement for a maximum of US$18.7M:
Stage 1 (US$3.7M for an initial 20%): 88E Pay US$700k for back costs + US$3M split into share and cash payments to fund the ~250km 2D seismic acquisition program.
Stage 2 (US$7.5M for an additional 17.5%): 88E contributes US$7.5M towards the first well.
Stage 3 (US$7.5M for an additional 7.5%): 88E contributes US$7.5M towards the second well.
Our Take on the Deal Terms
Our key takeaway from the terms is that 88E gets a look into the project in exchange for a minor capital commitment to running the ~200km 2D seismic campaigns.
In a market where capital is relatively hard to come by, we like this approach from 88E.
A relatively small amount to pay to kick the tyres on a project, and secure a meaningful stake, with huge potential.
We also like that most of the transaction costs (~US$15M of the US$18.7M) is tied to drilling milestones.
The deal has implicit downside protection built into it so that IF the 2D seismic and any subsequent prospective resource numbers don't stack up, then 88E can just walk away and choose not to fund the remaining ~US$15M for the two wells.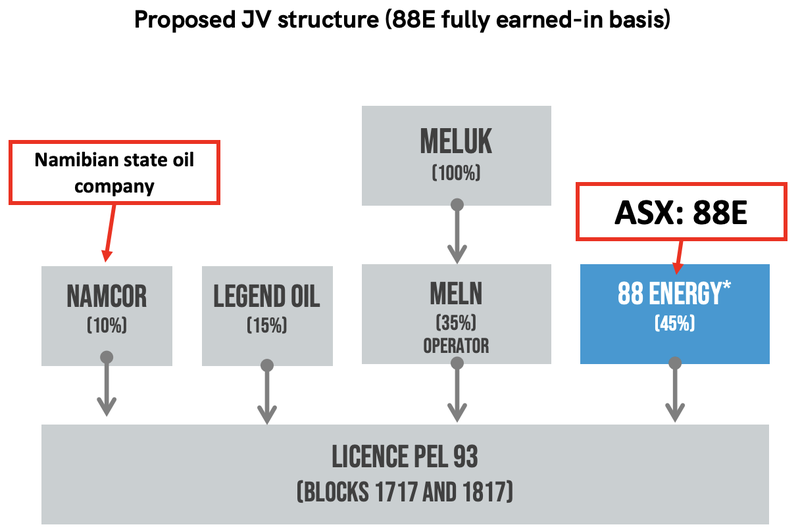 We did notice that the cost to run the 2D seismic would require "a minimum spend of US$2M" which means 88E will likely have to tap the market at some point before it runs either of its two upcoming catalysts in 2024.
Two major catalysts coming in 2024
Over the next 12-18 months, 88E will have two major catalysts to look forward to now:
Flow test on US assets - 88E will be flow testing the already drilled Hickory-1 well in Q1 2024. Here 88E recently declared a discovery after putting out a maiden contingent resource on the project. We covered that news in a Quick Take here.

2D seismic on Namibian assets - 88E expects to be kicking this off in mid-2024. We expect this program to run for a few months and the processing/analysis of the results to take another few months to complete.

What's next for 88E in Namibia?
Government approvals for the deal (Q1-2024) 🔄
The next step for the deal will be to get approvals from the Namibian government.
88E expects approvals to be received by Q1 2024.
2D seismic program (Mid-2024) 🔄
As part of the agreed minimum exploration commitment, the next step for the JV will be to run a ~200km 2D seismic survey.
At this stage, 88E has guided that program for mid-2024.

What are the risks?
In the short term the key risks to our Investment in 88E is:
Deal risk - there is always a chance that the deal falls over for whatever reason. In this case, whoever bought 88E shares investing in the Namibian assets potential may look to sell out. This would put pressure on the company's share price.
Commercialisation risk - 88E is going into a flow test program for its Hickory-1 well early in the new year. The flow test is ultimately what determines whether or not a project is commercially viable. If the flow rates come under the levels required to be considered commercial, then the company's value could decrease.
Funding risk - 88E had $10.2M cash in the bank at the end of the September quarter. With two major work programs across both its assets planned over the coming 12-18 months, it is likely 88E will need to raise more funds at some stage to carry out the work. As long as the capital shortfall is noticeable, there will always be a weight on the company's share price from those selling expecting a discounted raise.
To see more risks we have touched on in the past, check out our 88E Investment Memo here.
Our 88E Investment Memo
Our current 88E Investment has largely been completed.
With the addition of the Namibian projects today, we will be updating our 88E Investment memo to include the new projects in the near term.
Be on the lookout for an updated 88E Investment Memo where we will outline what we want to see the company achieve in the US and Namibia.
---