88E flow test this drilling season as rights issue announced
Disclosure: S3 Consortium Pty Ltd (the Company) and Associated Entities own 13,887,000 88E shares at the time of publishing this article. The Company has been engaged by 88E to share our commentary on the progress of our Investment in 88E over time.
Here comes the flow test...
In April last year, our US oil explorer 88 Energy (ASX:88E 🇦🇺| OTC: EEENF 🇺🇸) drilled a well on the North Slope of Alaska that delivered ~ 450 feet (~137m) of net pay, across multiple reservoir units.
The well also delivered higher than expected reservoir thickness and porosity - up to ~16%.
It was 88E's most geologically successful well to date.
However what 88E didn't do at the time was run a flow test to determine what volumes of oil could be extracted from the reservoirs it found.
88E has spent the last few months analysing its well data, and working with technical consultants to ultimately design a flow test that delivers the best chance of success.
Flow tests ultimately determine how much of the oil underground can be pumped up to surface for production.
Commercially viable flow rates would allow for 88E to officially declare a commercial oil discovery.
A successful flow rate would signal to the market that 88E's project has potential to one day become a producing oil field, and de-risk the project from an exploration perspective.
We would expect to see a re-rate in 88E's share price if it can deliver a successful flow rate.
88E is planning to run its flow test on the Hickory-1 well later this year/early 2024.
In order to fund the flow test, yesterday 88E announced a rights issue for existing 88E shareholders, allowing them to purchase 88E shares at 0.6c.
The offer is open to any investor holding 88E shares at the record date of Friday the 4th of August.
So that means any new investor who buys shares on the market today and tomorrow and holds the shares on Friday would have access to the 0.6c rights issue.
As 88E Investors, we intend to participate in this offer.
The rights issue is looking to raise up to $12M, which, added to 88E's June 30th cash balance of $7.3M, comes to $19.3M.
The Hickory-1 flow test is expected to cost 88E between ~$14M to $17M.
In the near term, 88E is expected to announce rig selection and drilling contract negotiations, with key long lead items also to be ordered.
Today we will run through the latest at 88E, and what we can expect next.
88E's approach to its latest Hickory-1 well was a little bit different to previous years wells.
In the past, 88E would put together drill targets based on 2D seismic and limited historical drilling information.
This year the company took a more measured approach with a higher probability of geological success - 88E had 2D & 3D seismic data as well as data from old wells nearby.
At the same time, 88E decided to split its drill program into two different phases:
Drill the well ✅ - Hickory-1 drilling was successfully completed in April. The results were enough to decide to run a flow test.
Flow test the well 🔲 - 88E expects to be flow testing Hickory-1 later this year/early 2024.
Yesterday 88E kicked off a $12M rights issue at 0.6c per share, of which $6.5M has been provisionally allocated to the Hickory-1 flow test.
Here is how 88E intends to use the $12M raised from the rights issue: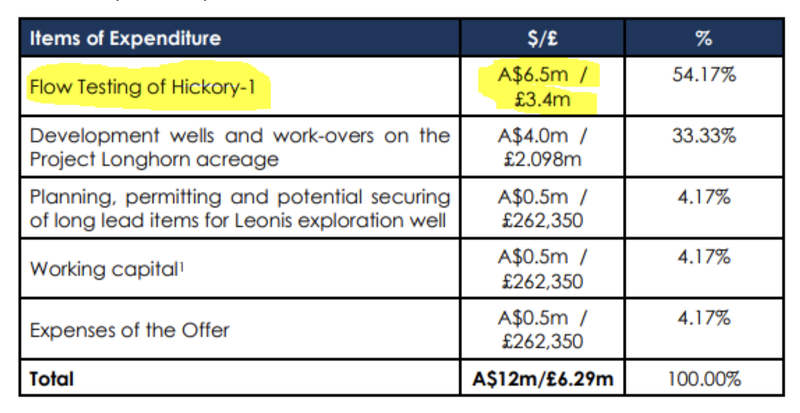 (Source)
Having maintained a position in 88E over many years, with various ups and downs along the way, we are now just months away from a major catalyst, whereby commercially viable flow rates could lead to a sustained re-rate in 88E's share price.
We will be increasing our Investment in the rights issue because:
Expectations are low - Despite 88E's success with the drilling of Hickory-1, 88E's share price has gone from ~1.3c before the drill program to now trade at 0.6c per share. Current sentiment is low - this is the time we like to Invest. Those who were impatient would have sold out by now, so we think that any surprise to the upside could lead to a big re-rate to the upside.

🎓 See why low expectations and strong (unexpected) news can deliver re-rates in company's share prices here: Why do shares prices go up?
Existing shareholders given the opportunity to fund the flow test - 88E is giving existing shareholders the first chance to contribute to funding the flow test, rather than a more traditional placement. This is a major catalyst for the company which could lead to a re-rate in the company's share price. As long term 88E Investors, we like that 88E has gone to existing shareholders first.
The last day for any new investors to buy shares in 88E and also be eligible for the rights issue is Wednesday, the 2nd of August.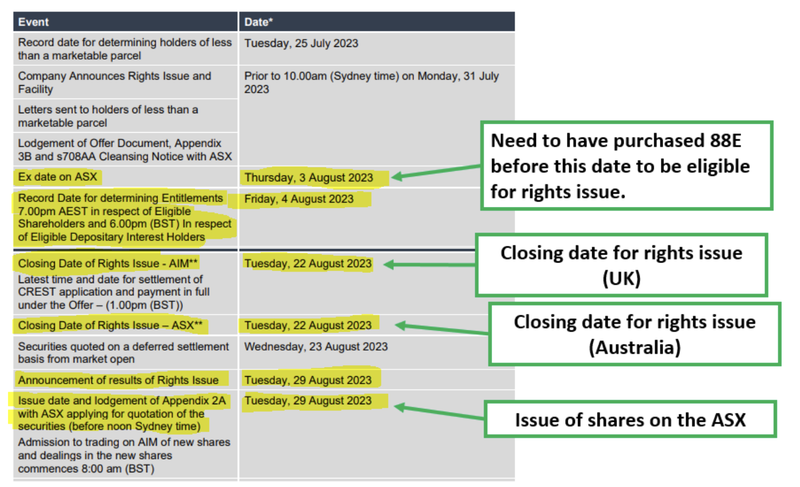 (Source)
Before the flow test, here is what we know about the Hickory-1 well
Hickory-1 delivered a number of successes earlier this year, which sets the stage for flow testing.
Here is what we know from the Hickory-1 drill results:
✅ Fluorescence (an indicator of oil presence) - Fluorescence across multiple reservoir units.
✅ Oil in samples - Oil shows from multiple reservoir units.
✅ Mud gas readings - Elevated mud gas readings across multiple reservoir units.
✅ New reservoir unit identified (unexpected) - 88E hit a new reservoir unit that sits outside of its current prospective resource estimate.
✅ ~450 feet in net pay - 88E hit over 2,000 feet in gross pay and ~450 feet in net pay across multiple reservoir units.
✅ Average porosity of ~9-12% across all zones - At a high level, porosity measures how much oil and or gas sits inside the rocks. Highlight results came from the upper SFS and Lower SFS where porosity was between 11-16%.
(Source)
Our view is that management's two staged approach to this year's well was the right way to execute the Hickory-1 drill program. The company delivered on our "bull case expectation" that we had set in June 2022.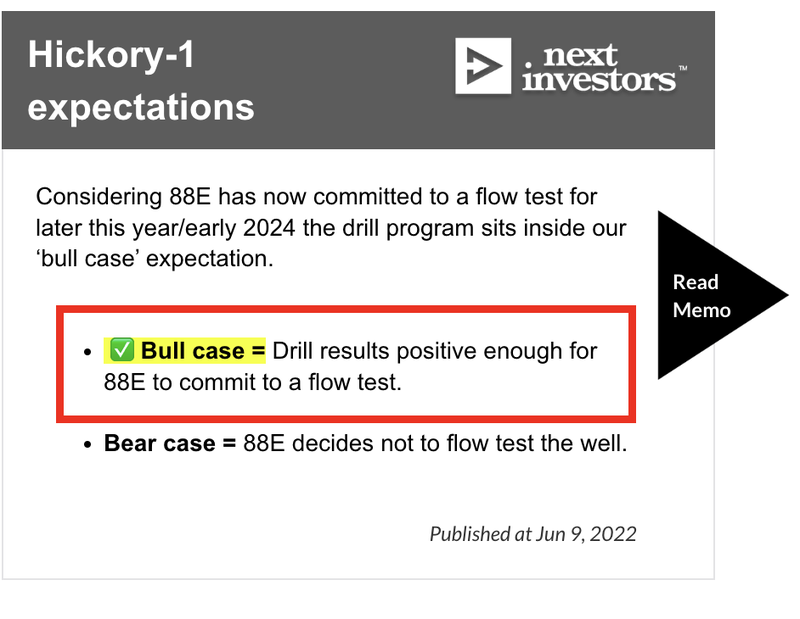 We especially like that in an otherwise rough market, 88E chose to split costs between the initial drilling and flow testing program so that IF the well results were poor, 88E wouldn't have spent significant funds on things like long lead items for a flow test program that was never needed.
Instead, 88E took all of the data from the Hickory-1 well, and spent recent months analysing it with the help of technical consultants, which will all go into designing a flow testing program that it thinks has the highest probability of delivering success.
Putting aside the advantages from a funding perspective, the two pronged approach also helps 88E from a technical perspective.
Instead of being rushed to complete a flow test based on a design of what the company was "expecting", 88E can design the flow test based on all of the data from the well.
88E recently highlighted just how important picking the right fluid types during the flow test has on the outcome of the program.

(Source)
88E still has some final results to come from the analysis & testing of Hickory-1 and, so we expect to see news on that front as well as on the flow test design over the coming months.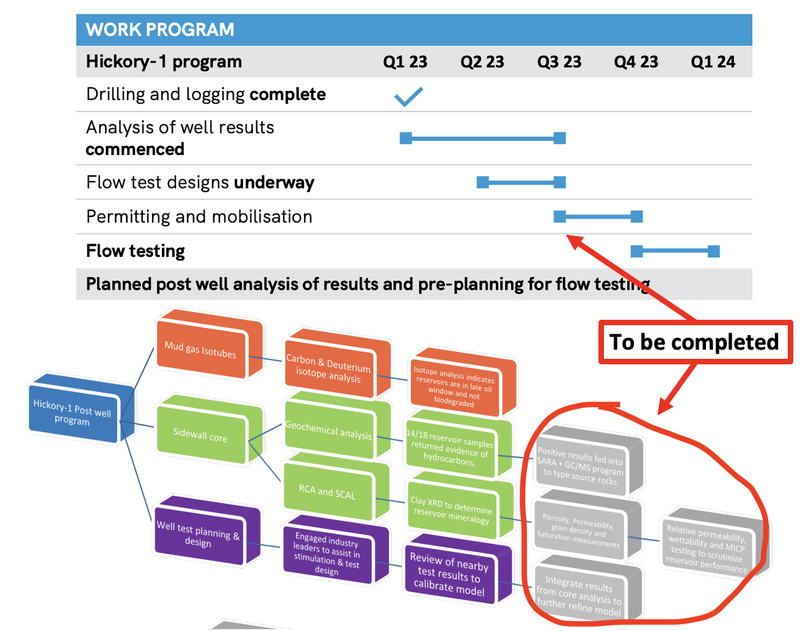 (Source)
The flow test is now planned for the end of this year/early 2024.
Ultimately we are hoping the flow test will contribute significantly to our 88E Big Bet which is as follows:
Our 88E Big Bet:
"88E makes a large oil discovery that is acquired by a major for over A$1BN."
NOTE: our "Big Bet" is what we HOPE the ultimate success scenario looks like for this particular Investment over the long term (3+ years). There is a lot of work to be done, many risks involved - just some of which we list in our 88E Investment Memo. Success will require a significant amount of luck. There is no guarantee that our Big Bet will ever come true.
To monitor 88E's progress since we first Invested and how the company is performing relative to our "Big Bet", we maintain the following 88E Progress Tracker: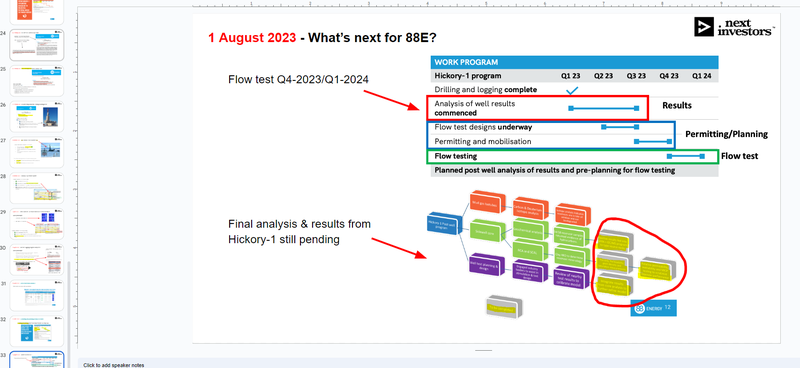 What else has 88E been up to?
88E was granted "Project Leonis" ✅
Back in April, 88E was granted "Project Leonis", - which covers ~25,600 acres on the North Slope of Alaska, sitting south of Prudhoe Bay - the USA's biggest ever oil discovery.
Project Leonis is fully covered by existing 3D data, seismic data and historical exploration data (the Hemi Springs Unit #3 well drilled by ARCO in 1985).
The old well was drilling for the deep reservoirs - the same ones that are producing at Prudhoe Bay.
Over the last few months, 88E has updated and reprocessed existing seismic data for the project: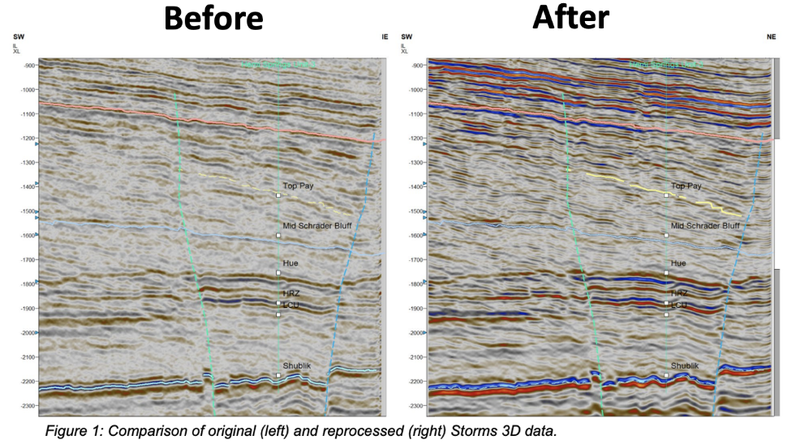 (Source)
Using the updated data, 88E is targeting a maiden prospective resource for the project later this year.
Here is an overview of what 88E will be doing at the project over the next few months:

(Source)
88E acquired more production assets
In early July, 88E added to its production assets in Texas, USA.
For context - 88E already held a ~73% non operated interest in existing production assets in Texas where 88E has ~1.8 million barrels of oil equivalent in reserves.
The existing projects are already producing at ~400 BOE per day gross (~ 75% oil).
88E added to its existing portfolio by acquiring a ~45% interest in ~435 acres of ground south of its existing assets.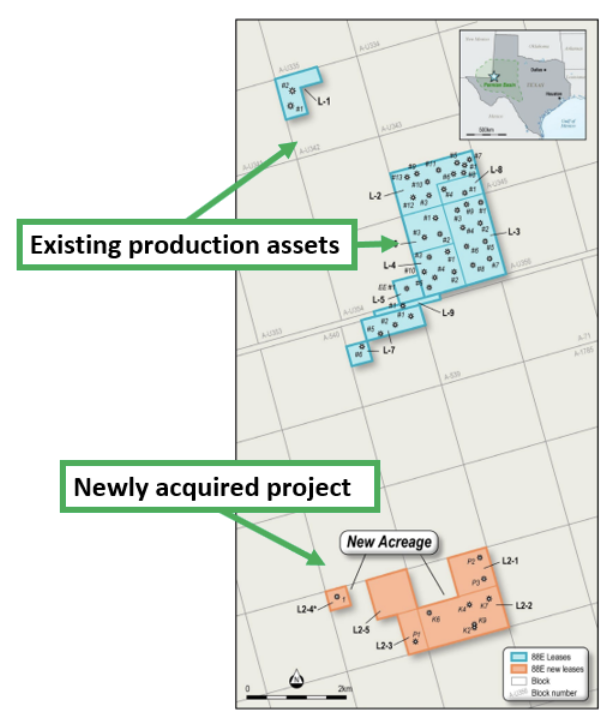 (Source)
The newly acquired ground has a ~1.1 million barrels of oil equivalent in reserves with exploration upside to add a further 300k barrels.
88E paid US$1.1M for its share of the project.
The short term catalyst for 88E and its JV partner is to drill two production wells in H2 2023.
88E plans to use $4M of the funds being raised in the rights issue on the production assets, with a view to increasing its production and revenue.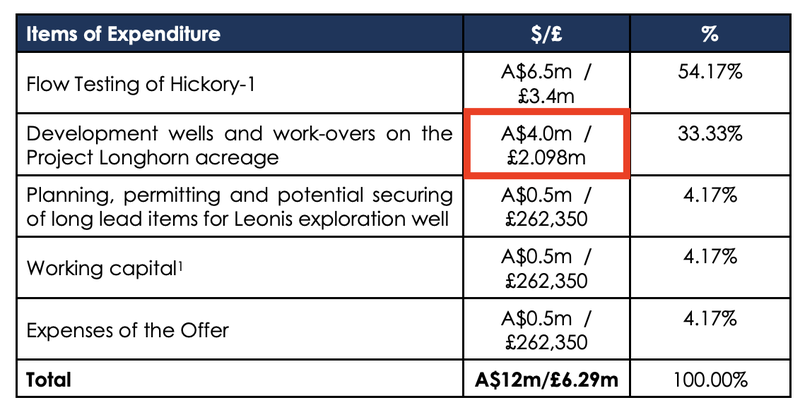 (Source)
See our Quick Take on the news here: 88E acquires more production assets in Texas, USA
More on 88E's rights issue & small shareholding sale facility
88E is aiming to raise $12M at 0.6c per share from existing 88E shareholders.
The rights issue is on a 1:10 basis meaning 88E shareholders who hold 10 shares will be able to subscribe for ONE new 88E share at the 0.6c offer price.
The key dates for the offer are as follows: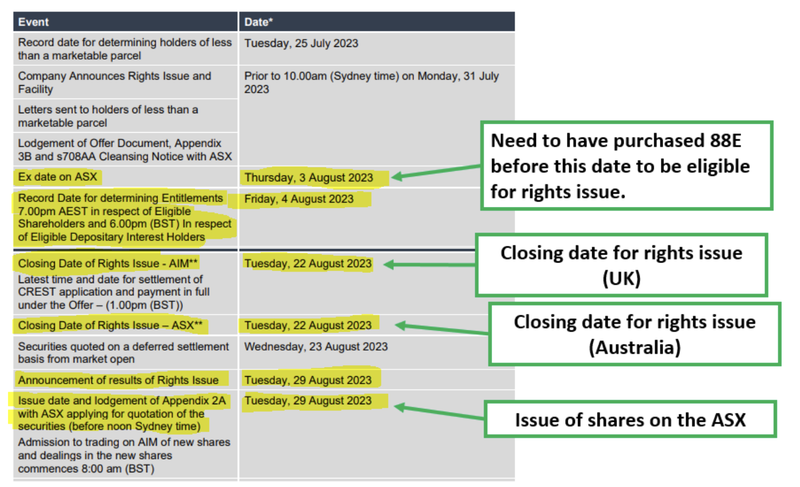 Alongside the rights issue 88E is also running a "small shareholding sale facility".
This facility allows companies to offer shareholders with <$500 in shares an opportunity to sell those shares without incurring any brokerage costs.
88E had ~8,847 shareholders holding ~1.32% of the company's shares in this position.
This facility should reduce the total number of shareholders, and reduce the admin burden of having to manage a large number of shareholders.
The due date for acceptances from the facility is the 11th of September.
What's next:
Final results from the Hickory-1 well 🔄

(Source)
Maiden prospective resource estimate for Project Leonis 🔄

(Source)
What are the risks?
For 88E's flow test, the primary risk is whether or not Hickory-1 can produce commercially viable flow rates.
At a very high level, the key risk becomes "commercial risk" - whereby 88E is looking to work out whether or not it can produce oil from its project.
If the flow rates are underwhelming then the project would be considered uneconomic and would most likely lead to a move lower in 88E's share price.
Another key risk going into a flow testing program is "Funding risk".
There is always a chance 88E experiences technical issues and time delays, which can end up costing the company a lot more money than first budgeted.
To see other key risks we listed in our 88E Investment Memo click on the image below: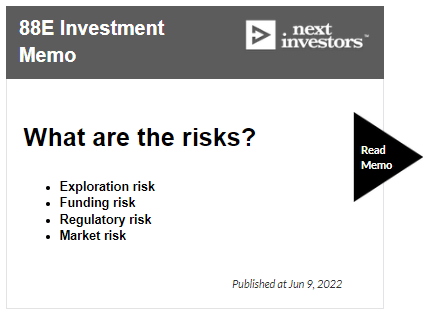 Our 88E Investment Memo:
After drilling Hickory-1, 88E has completed all of the key objectives we set for the company as part of our second 88E Investment Memo (88E Memo #2).
Next we will be watching to see the detailed data analysis from the Hickory-1 well.
After this, we will look to reset our 88E Investment Memo as the company prepares for flow testing of the well later this year/into early 2024.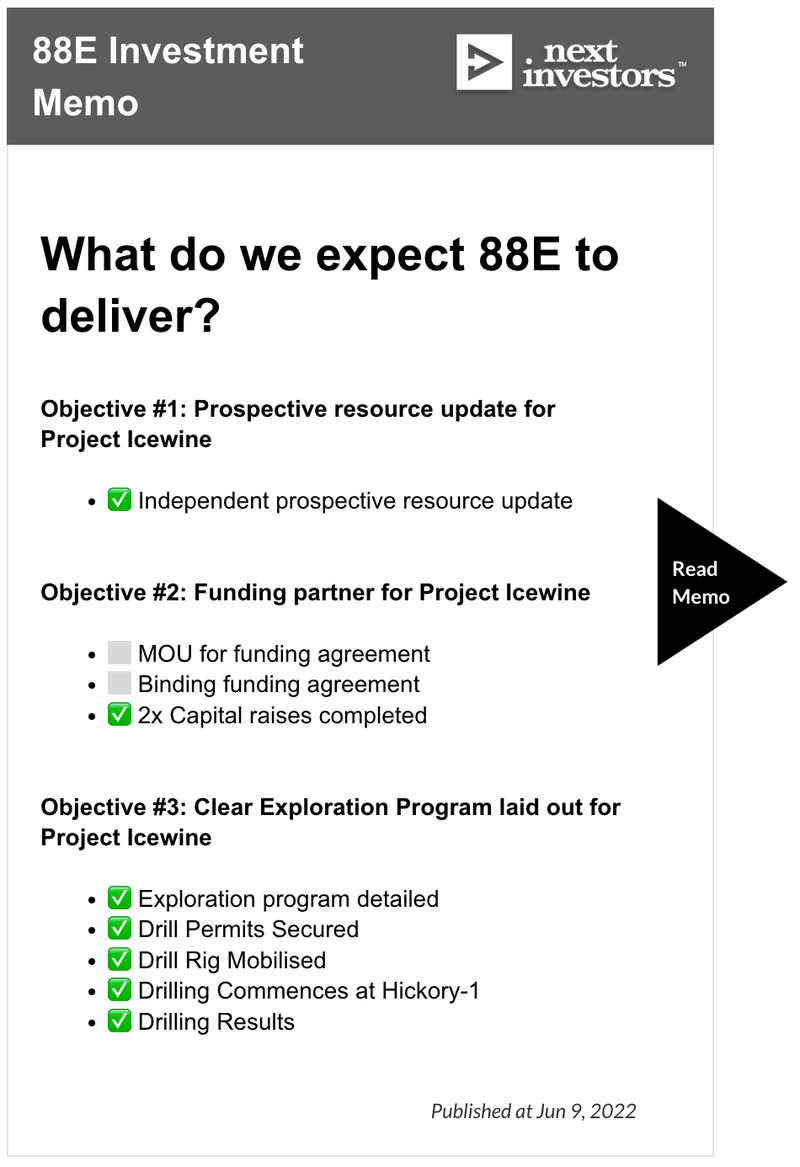 ---