88E Flow Test Approaching - why is next door neighbour up 100%?
Disclosure: S3 Consortium Pty Ltd (the Company) and Associated Entities own 15,275,700 88E shares at the time of publishing this article. The Company has been engaged by 88E to share our commentary on the progress of our Investment in 88E over time.
Our oil & gas exploration Investment 88 Energy (ASX:88E | LSE: 88E | OTC: EEENF) is gearing up for a flow test at a previously drilled well, on the North Slope of Alaska, in the USA.
A "flow test" is used to determine how much oil/gas will consistently flow out of a well, and is the critical final step to a commercial discovery.
This is one of a number of oil and gas exploration catalysts to look forward to in our Portfolio over the coming months.
And it comes off the back of 88E's next door neighbour Pantheon's share price running over 100% in the last few weeks.
88E is aiming to unlock the potential of its 647 million barrel prospective mean unrisked resource (net to 88E) by proving it can extract a commercial flow rate from its target reservoirs.
88E found the oil, now to prove that it flows.
88E is going back to flow test the same well it drilled last year - the Hickory-1 well. This well successfully hit ~137m of net pay.
This net pay was across multiple reservoirs, and 88E also found higher than expected reservoir thickness and porosity, which are all good signs.
88E has spent the last few months analysing a slew of crucial data taken from drilling, that will all feed into the upcoming flow test design.
Aside from demonstrating the commercial potential, results of the flow test could also see 88E upgrade its resource into a firmer reserves or contingent resource number, and/or increase its size...
Which could lead to an increase in the valuation the market is ascribing to 88E.
88E recently raised $8M at 0.6c per share via a rights issue and shortfall placement, adding to its $7.3M cash balance on 30 June 2023 to fund its upcoming flow test.
The new shares have been issued, and 88E is trading at around the same 0.6c price.
We think the 88E share price might go through a period of churn as a result of the short term selling pressure from capital raise buyers. 791 million shares were issued from the capital raise on the 8th of August - since then ~140 million shares have changed hands.
We think it may take a few weeks for the impatient buyers in that raise to sell out, so we are expecting to see some selling pressure at 0.7 and 0.8c in the short term.
Last week, 88E secured the rig that will be running its flow test - it's called "Rig-111".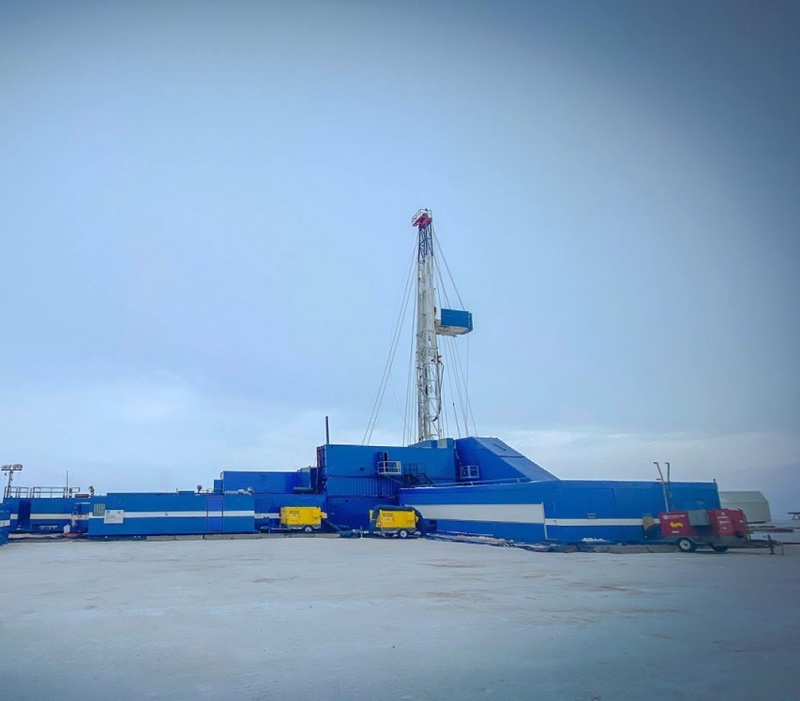 88E's flow test is set to commence 'as early as possible' in the Alaskan winter drill season.
88E's next door neighbour Pantheon Resources is using the same rig "within the next two months" - according to an announcement made by Pantheon last week.
We expect that straight after Pantheon is done with its upcoming flow test, the rig will be moved next door to 88E.
Just last month Pantheon put out an independent resource estimate - off the back of that news, its share price is up ~100% - more on this below.
Pantheon's new independent resource estimate came from the "Lower Floor Fan reservoir" - only the deepest of the multiple hydrocarbon-bearing pay zones intersected by 88E on the Hickory-1 well.
88E plans to include that same reservoir along with its multiple "primary" reservoir targets in its upcoming flow test.
Primary reservoir targets are the ones 88E are most interested in as they think they hold the most potential to be valuable.
We will be watching for news from Pantheon over the coming weeks as it will give us clues to how 88E's flow test timing is tracking.
In addition, any Pantheon success could carry over to anticipation for 88E's flow test.
Pantheon will be holding an investor webinar on the 14th of September 5pm BST which will put some more colour around its plans on the North Slope.
Here is a link to register for that webinar - Pantheon Resources investor webinar.
We will be tuning in to see how Pantheon's plans might impact 88E.
88E's neighbour's share price is up >100% in the last month
As we mentioned above, 88E's Hickory-1 well sits on ground next door to London listed Pantheon Resources.
Pantheon is currently capped at ~$391M, whereas 88E is capped at ~$128M.
A few weeks back, Pantheon put out news which led to a >100% move higher in its share price:

The past performance is not and should not be taken as an indication of future performance. Caution should be exercised in assessing past performance. This product, like all other financial products, is subject to market forces and unpredictable events that may adversely affect future performance.
Here are two recent announcements Pantheon released, and some key points on how we think they relate to 88E:
1- Pantheon is aiming to flow test its Alkaid-2 well later this year
Pantheon has now contracted Rig-111 from contractor All American Oilfield for re-entry into its Alkaid-2 well.
Pantheon expects rig mobilisation for the flow test to start in September.
How it relates to 88E:
Pantheon is using the same rig that 88E has contracted.
The benefits of this is that 88E will be using a 'warm rig' which is industry speak for an 'active' rig.
An active rig lowers the chances of technical failures during 88E's flow test.
Another benefit of it being the same rig is that we get to track Pantheon's use of it and get an idea of when it will start making its way to 88E's project.
As for Pantheon's flow test - the Alkaid-2 well isn't really a mirror of 88E's Hickory-1 well given different reservoirs are being tested, BUT any activity in the region could spark investor interest in companies close to Pantheon.
If Pantheon can deliver strong results from the Alkaid-2 flow test there is a chance investors start to take an interest in 88E again, which has a much lower market cap and will be next in line for a major catalyst in the exact same region.
2- Pantheon put out an independent contingent resource estimate
In August Pantheon put out an independent contingent resource estimate of ~962.5 million barrels of liquids across its Kodiak project to the north of 88E's ground.
At the same time, Pantheon said an independent resource estimate for its Ahpun project is also pending for Q4 2023.
Pantheon's Kodiak and Ahpun projects both sit immediately to the north of 88E's ground.
We also noted the commentary on Pantheon's next well at Ahpun, which would be Theta-West-2. This could have implications for 88E's project, so we will be watching to see how Pantheon designs that well.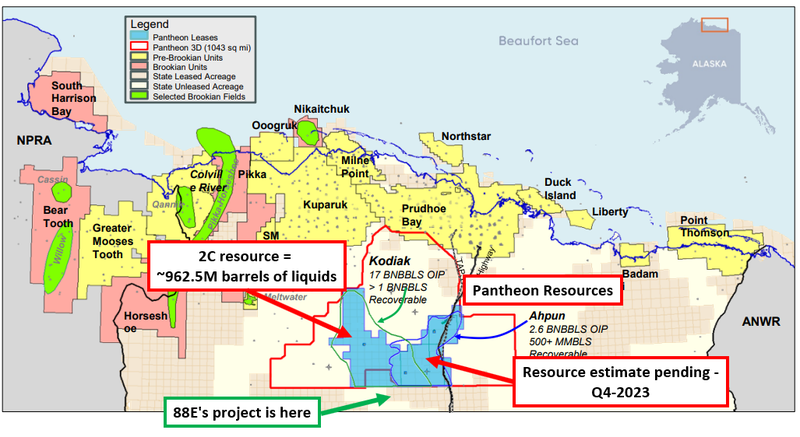 (Source)
How it relates to 88E:
88E's ground borders both projects and so any good news could be good for 88E.
Interestingly, Pantheon's share price went up over 100% after the resource estimate was announced.
There is a chance (depending on the results from 88E's flow test at Hickory-1) that 88E will be able to convert its prospective resource estimate into a contingent resource or maybe even a reserve.
We think if 88E manages this, then it could re-rate in a similar way to Pantheon.
Ultimately, investor interest coming back into Pantheon, just as 88E approaches its flow test, is a good sign to us that investors may look for exposure to the North Slope again later this year.
Long time readers know that we like to Invest in big "swing for the fences" oil and gas drilling events.
88E is one of the companies in our portfolio that does that year after year, providing high impact newsflow which can excite the broader market.
88E has taken a two staged approach to its current drilling program.
Instead of drilling and production testing straight after drilling, 88E split the drill program into two phases:
Drilling the well - 88E successfully drilled Hickory-1 back in March this year. It gathered enough data and saw enough evidence of working hydrocarbon reservoirs to commit to a follow up flow test. ✅
Flow testing the well - flow testing is planned for Q4 2023/ Q1 2024. 🔄
The two stage approach meant that the company went into quiet execution mode post drilling where the focus was on gathering and then interpreting all of the well data to feed into flow test planning.
During that period 88E's share price has gone from ~1.4c to a low of 0.6c per share - the lowest share price 88E has seen for almost 3 years.
88E now trades at a market cap <$160M - less than the ~$240M market cap it was at before drilling Hickory-1 earlier this year.
The majority of small cap stocks have suffered during the negative market conditions over the last 12 months.
88E's share price has come down DESPITE the company delivering what in our opinion was a strong drill result.
In fact the results exceeded all of the pre-drill expectations the company had set going into the program.
With Hickory-1, 88E hit ~ 450 feet (~137m) of net pay, across multiple reservoirs as well as higher than expected reservoir thickness and porosity - up to ~16%.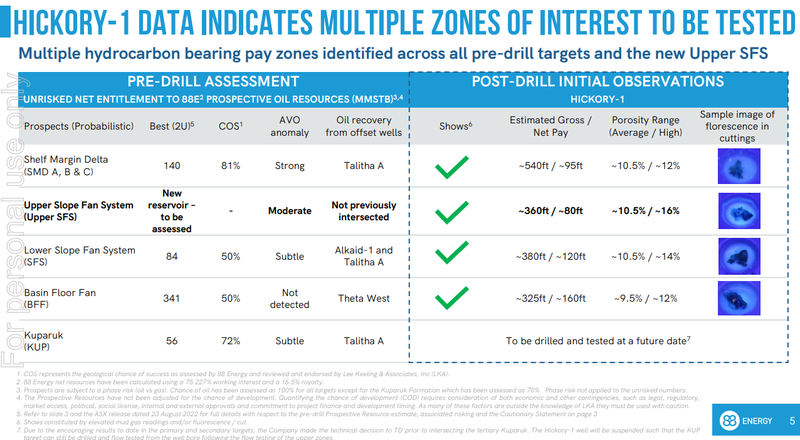 Even though 88E drilled its most geologically successful well, its share price is down.
In a tough market, even the best of news can get sold into but the market also tends to bounce from share price lows pretty aggressively.
A perfect example is the ~100% move higher in 88E's neighbour Pantheon Resources over the last month.
We think a lower share price after fundamental progress at the project level provides for an opportunity to increase an Investment where the company has de-risked its project.
We did this by increasing our position in 88E in the 0.6 cent rights issue.
$8M raised for for the flow test
To fund the flow test, 88E just raised $8M at 0.6c per share through a rights issue and shortfall placement.
The $8M raised adds to 88E's existing cash balance which was $7.3M at 30 June 2023.
88E should therefore have somewhere close to ~$15.3M in cash after the capital raise.
In a previous presentation 88E put out guidance for the Hickory-1 flow test costs, which would see it costing 88E between $14M to $17M (75% share of the total cost).
The goal of the flow test will be to see if Hickory-1 can flow commercially feasible rates of oil & gas.
If the company proves commercial flow rates, then it could bring the project into production quickly, helped by all of the existing infrastructure in the region.
For context - 88E's project sits right next to the Dalton Highway (easy to truck any oil and gas produced) and the Trans Alaska Pipeline System (the TAPS - which sends oil down to the lower 48 states of the USA).
88E has previously hinted at a phased, scaled development approach, with an aim to minimise upfront investment hurdles.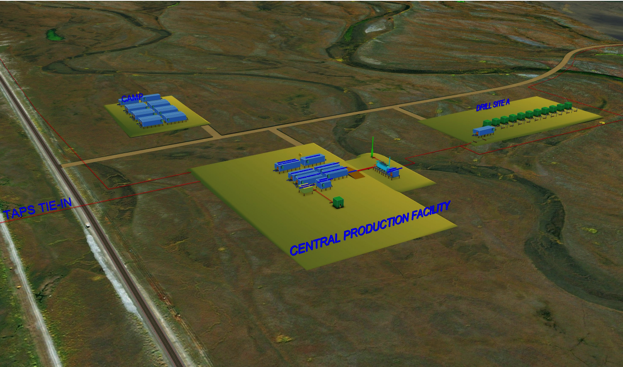 We expect to hear more about that following the flow test.
88E is now gearing up to flow test the well in late Q4 2023 OR early Q1 2024.
A quick reminder of what 88E found drilling Hickory-1
Here is what 88E got from the Hickory-1 drill results:
✅ Fluorescence (an indicator of oil presence) - Fluorescence across multiple reservoir units.
✅ Oil in samples - Oil shows from multiple reservoir units.
✅ Mud gas readings - Elevated mud gas readings across multiple reservoir units.
✅ New reservoir unit identified (unexpected) - 88E hit a new reservoir unit that sits outside of its current prospective resource estimate.
✅ ~450 feet in net pay - 88E hit over 2,000 feet in gross pay and ~450 feet in net pay across multiple reservoir units.
✅ Average porosity of ~9-12% across all zones - At a high level, porosity measures how much oil and or gas sits inside the rocks. Highlight results came from the upper SFS and Lower SFS where porosity was between 11-16%.
Here is where 88E sits in the lead up to the flow test:

We are hoping the stars align for 88E's flow test and the company delivers a commercially viable number that helps 88E achieve our Big Bet which is as follows:
Our 88E Big Bet:
"88E makes a large oil discovery that is acquired by a major for over A$1BN."
NOTE: our "Big Bet" is what we HOPE the ultimate success scenario looks like for this particular Investment over the long term (3+ years). There is a lot of work to be done, many risks involved - just some of which we list in our 88E Investment Memo. Success will require a significant amount of luck. There is no guarantee that our Big Bet will ever come true.
To monitor 88E's progress since we first Invested and how the company is performing relative to our "Big Bet", we maintain the following 88E Progress Tracker: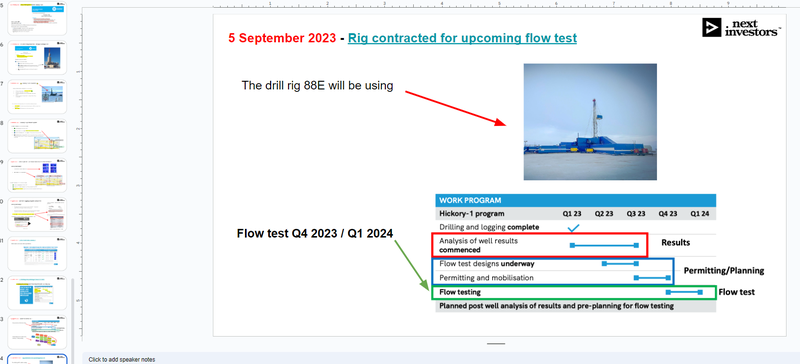 Update on our 88E Investment strategy:
As mentioned above, we think 88E has come a long way since the start of the year, when there were many more unknowns than there are now.
Unfortunately, the market hasn't rewarded the company with a higher share price, and 88E was forced to raise money at a lower share price - 0.6c per share.
For long term 88E investors, the positive was that 88E offered the capital raise to existing shareholders first.
Existing shareholders took up $3.3M via the rights issue and the remainder was raised via a shortfall placement.
In total 88E raised $8M at 0.6c per share.
We increased our holding as part of the rights issue, and will be watching to see how the company trades going into the flow test later this year and into early next year.
Typically after capital raises like this, there is a weight on the company's share price as some of the participants look to sell out for a small profit OR some existing holders look to take some chips off the table.
Given that the raise was done at 0.6 cents per share, our expectation is that the share price goes through a period of churn as a result of the short term selling pressure from cap raise buyers.
791 million shares were issued from the capital raise on the 8th of August - since then ~140 million shares have changed hands.
We think it will take a few weeks for the impatient buyers in that raise to sell out so we expect to see more selling pressure at 0.7 and 0.8c in the short term.
As 88E gets closer to its flow test our expectation is that investor interest/excitement in 88E increases and hopefully the share price starts to move higher.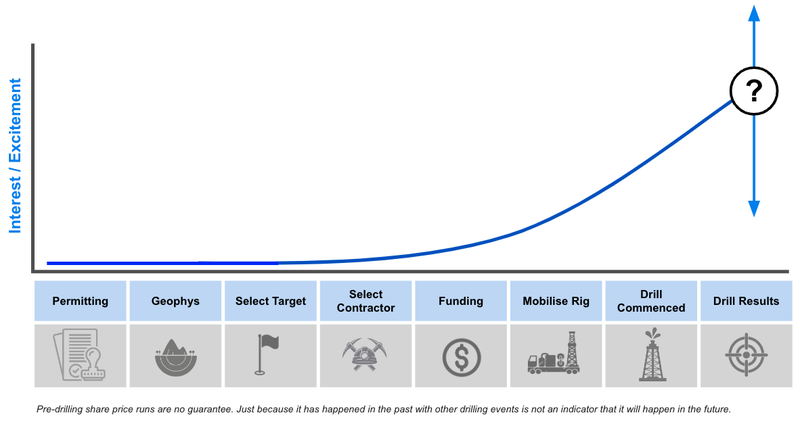 What's next for 88E?
Final results from the Hickory-1 well 🔄

(Source)
Maiden prospective resource estimate for Project Leonis 🔄

(Source)
See our Quick Take on the latest for the 88E's Project Leonis: 88E Project Leonis update - Prospective resource estimate in Q3
Our 88E Investment Memo:
After drilling Hickory-1, 88E has completed all of the key objectives we set for the company as part of our second 88E Investment Memo (88E Memo #2).
Next, we will be watching to see the final detailed data analysis from the Hickory-1 well.
After this, we will look to reset our 88E Investment Memo as the company prepares for flow testing of the well later this year/into early 2024.
---