More visible gold at No. 9 Vein; Blue Vein gets bigger
---
Our gold exploration Investment Tempus Resources (ASX:TMR) has intersected more visible gold in drilling targeting the No. 9 Vein at the Elizabeth Gold Project in Southern British Columbia, Canada.
Drilling identified visible gold in several locations in quartz veining over a length of approximately 2 metres.
TMR has now drilled nine holes into the No. 9 Vein — a previously mapped vein located approximately 120 metres northwest of TNR's Blue Vein discovery — and this is the third drillhole reporting visible gold in the core.
Wide zones of mineralisation are being seen with assays pending for all nine drillholes.
If the assays come back positive, this No. 9 Vein could help meet our #1 and #2 Key Objectives for TMR as outlined in our Investment Memo. Plus, it could prove to be a more significant result than more hits during infill and extensional drilling at the Blue Vein discovery.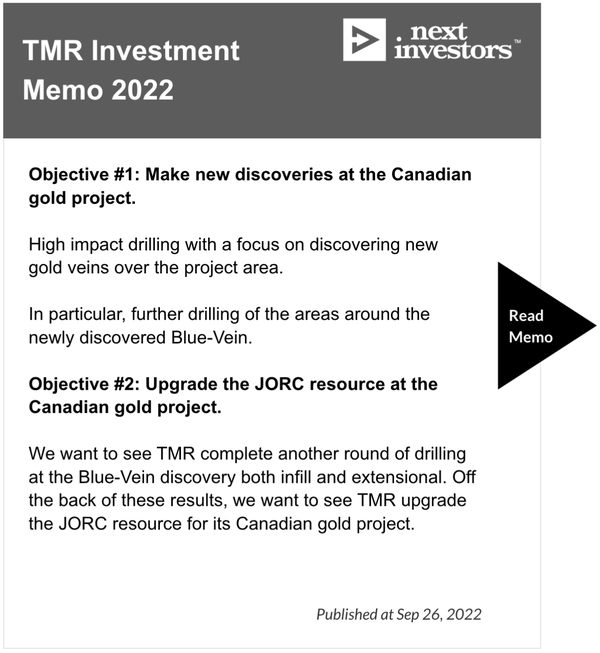 Positive assay results could also see the No. 9 Vein make a significant contribution to achieving our Big Bet for TMR: "TMR becomes a gold producer following the discovery of enough new gold sources to justify the restart of its onsite gold mill".
Blue Vein update
Today's news follows assay results from Blue Vein last week, in which a total of three assays intersected gold mineralisation.
The highlight intercept was from hole 11 where TMR hit 11.75g/t gold over 2.3 metres from a depth of ~102m. Inside that intercept TMR hit a higher grade zone of gold mineralisation, grading ~85.2g/t.
But the key takeaway was less to do with the grade, rather the extension of gold mineralisation which now sits at a total of ~180m at the Blue Vein discovery.
This means that the Blue Vein's strike length is now larger than that of the SW Vein (80m), which contained almost 70% of the historical mineral resource for TMR's project.
Our TMR "Progress Tracker" has been updated to include the latest news — click on the slide below to see the full slide deck.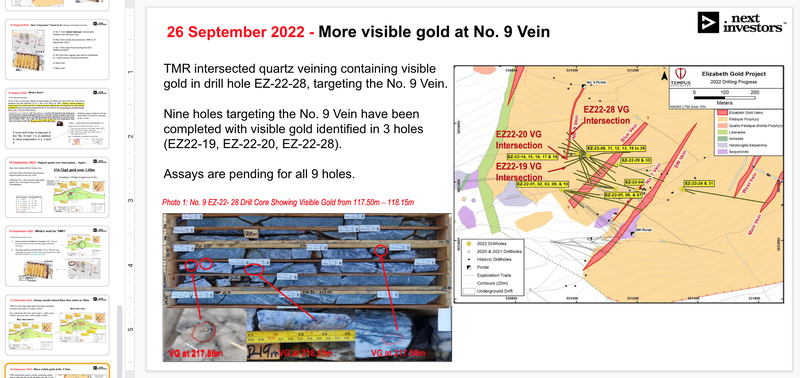 What's next?
TMR has extended the 2022 drilling program through to the end of October and plans to drill a further 10 drillholes (approximately 2,000 metres).
We are particularly interested in the pending assay results from the visible gold intercepts made at the No.9 Vein and hope to see TMR continue to drill out for extensions at the Blue Vein discovery.