Metwork produces saleable lithium product
Shares Held: 37,950,000
Options Held: 10,000,000
---
Our 2022 Catalyst Hunter Pick Of The Year Tyranna Resources (ASX: TYX) just put out strong metallurgical test work from its Angolan lithium project.
At a very high level metwork is when a company takes samples from its project and tests processing methods that can extract the valuable minerals/metals from a project.
Metwork is always happening in the background during a projects lifecycle with companies looking to find the cheapest most effective processing solution for a discovery.
TYX has started on metwork early and the results released today are promising for early stage testing.
Our key takeaways from the metwork results are as follows:
TYX wet screened its samples and produced direct shippable ore (DSO).
By wet screening the material TYX removed the "fines" from its samples which are harder to process.
By doing this TYX was able to produce a product with lithium grades >3% which could be classified as direct shipping ore (DSO) OR used to produce high grade concentrates (>7%).
TYX also showed that its pegmatites had a low iron content at ~0.11%. Typically anything above ~1% is considered too high so TYX's pegmatites sit well below this.
TYX achieved recoveries of ~80-82% and produced concentrates >6% using Heavy Liquid Separation ("HLS") processing technique.
TYX managed to achieve recovery rates of ~80-82% using a simple processing setup.
The simple processing method is important because it could mean lower operating costs when it comes time to actually mine and produce lithium from TYX's project.
At the same time TYX was also able to produce concentrates grading above 6% which is considered the industry standard for saleable spodumene concentrate products.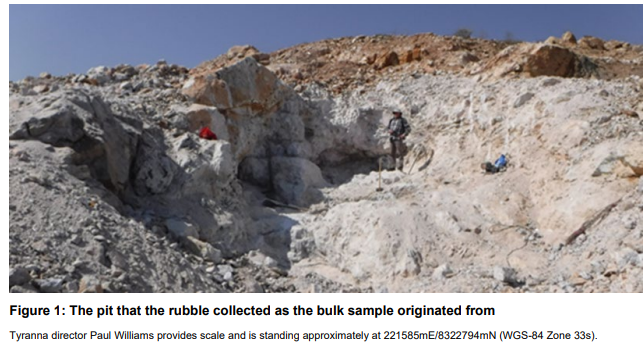 Why we like today's news:
Bringing everything together, TYX has managed to produce high quality spodumene concentrates using a fairly industry standard, cost effective and well understood processing method.
When it comes to metwork, conventional and well understood is exactly what we want to see.
What's next?
🔄 Rock chip sampling and field work
TYX will be running a field trip testing the remaining ~98% of its project that is yet to be explored for lithium.
We covered that upcoming field work in a previous QuickTake which you can see here: Helicopter secured to test high priority lithium targets
🔄 2nd drill program
TYX expects this program to start in May/June.