EV1 makes its second graphite discovery for the year.
Shares Held: 3,125,000
Options Held: 0
---
Our 2021 Wise-Owl Pick of the Year Evolution Energy Minerals (ASX: EV1) just made another graphite discovery at its project in Tanzania.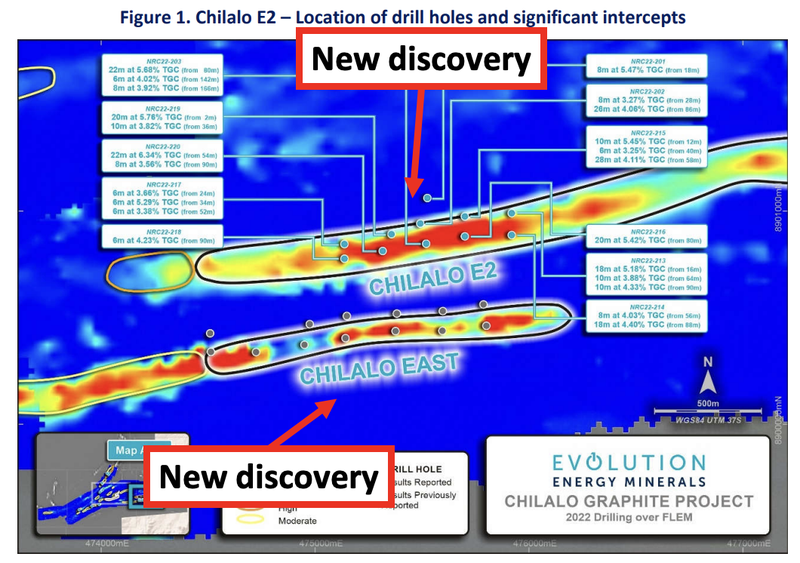 Our key takeaways from the announcement are as follows:
1.The graphite found is near surface & high grade
EV1 hit ~22m long intercepts with graphite grades measuring up to 6.3%.
The bonus is that the shallowest hits came from just 2m below the ground.
2.The discovery sits on 1.1km of a potential 5.5km strike
EV1's drilling has to date drilled only a portion of the EM conductors the new discovery sits on.
The discovery sits on ~1.1km out of a potential ~5km strike length, we think this means the discovery could actually be ~5x larger than its current size.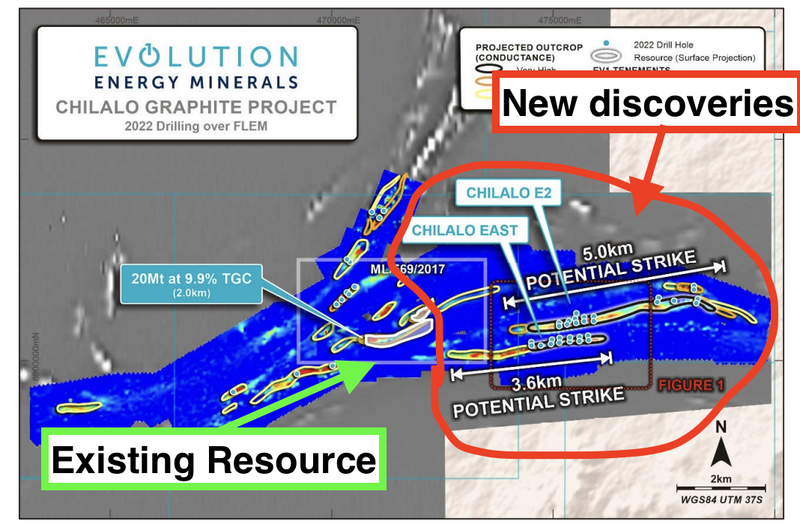 With its two latest discoveries EV1 has now shown the market that its project has size/scale potential beyond its current JORC resource and more importantly shown that the new discoveries sit at shallow depths and host high grade graphite.
All of this is important when it comes time to developing EV1's project as higher grade, more shallow material could positively impact project economics with:
Decreased costs - If shallow high grade material is found, it can be added into the mine plan, reducing costs and allowing for more valuable graphite to be mined quicker.
Increase in life of mine - If high grade material is found, it can be added to the company's JORC resource base and extend the project's life (adding it to the back end of production).
In EV1's case, we have a combination of both factors, with EV1 making a new graphite discovery to the east of its existing JORC resource.
Today's results are welcome news leading up to what we hope is a Final Investment Decision (FID) for EV1.
What's next for EV1?
Final Investment Decision (FID) 🔄
The next major milestone for EV1's graphite project is the Final Investment Decision (FID).
At a high level, a FID is a firm commitment from a company to proceed with developing a project.
Sometimes it is declared after all the project financing is worked out, and sometimes it is done well in advance of financing.
In EV1's case we expect the company to press on with other development items until a FID is officially declared - especially given the project CAPEX is relatively low at US$120M.
BONUS: Feasibility study on a downstream plant 🔄
EV1 just recently confirmed it would be developing its downstream processing plant inside the USA.
EV1 had previously flagged that the plant location was either going to be in the EU or USA.
See our Quick Take on that news here: EV1 to build its downstream plant in the USA
With a location now locked in we are looking forward to EV1 commencing a Scoping Study followed by a DFS on the downstream graphite processing plant.
At this stage, we don't know when this will be delivered and so if the news did drop it would be a pleasant surprise for us.