We added to our WHK position on-market last week
Our 2019 Tech Pick of the Year Whitehawk (ASX:WHK) is a Cybersecurity technology company hunting multi-million dollar deals with US government and very large enterprise customers.
We were surprised to see the WHK share price drop to around 16c over the last two weeks, giving WHK a market cap of $36M.
WHK has $2M in the bank and no debt, giving it nearly 3 quarters of operating cash on face value, but WHK generally has very lumpy revenue that increases as existing contracts ramp up.
We are long term holders in WHK and purchased 1.3M WHK shares on market last week to add to our long term position, making it the fourth top up we have done on WHK since we first invested back in 2019.
WHK has already delivered multi-year deals with US federal government departments, defence industrial bases and some big enterprise customers - these are multi million dollar deals but they do take time.
WHK says it has been working on a few new large deals and has hence been quiet for the last 6 months. The news flow silence seems to have caused a share price drop over the last few weeks as impatient holders exit the building.
We suspect WHK's deal delays were started by COVID-19 and more recently Joe Biden's new US administration needing a couple of months to get their team in place, before they start making purchasing decisions (which is normal for a new administration).
Both these factors are now looking to be behind us.
Nothing has changed around the reasons we are holding WHK.
Cyber attacks often happen through weak points in an organisation's supply chain (supply chain attacks were up 78% in 2019 according to Symantec).
WHK's cybersecurity tech basically allows huge organisations (think Government, defence, Fortune 500 companies) that have big sprawling supply chains to push cyber risk monitoring and mitigation technology across all of their suppliers.
We think the best time to buy stocks is when they have been quiet for a while and impatient holders are exiting, putting pressure on the share price.
Our strategy is to hold a position long term as the company executes on its business plan, which can sometimes take longer than expected like we are seeing with WHK (hello 12 month capital gains tax discount)
Here is why we are holding a long term position in WHK:
We like big multi year contracts (even though they can take time...)
We know that WHK is cooking some more big deals with big organisations, we just don't know when they might land...
The good thing about big deals with big organisations is that they are sticky, and the incumbent is usually "rusted on" given the difficulty to change providers.
In summary, the deals are hard to get but can be very lucrative over the long term if you can get them.
After we first invested in 2019, WHK delivered multi-million dollar long term contracts with big enterprises (a few of you who have been around since then probably remember a few delays back then too).
But we were all very happy with the hundreds of % share price rise after the deals came in.
Here is a stroll down memory lane:
7 year contract US Federal Department of Homeland Security - (DHS) CISA QSMO Cybersecurity Marketplace, as sub-contractor to Guidehouse for $1.5 to $1.8M USD Fiscal Year 2021.
Prime Contractor on U.S. Federal Government Department - Chief Information Security Officer (CISO) Cyber Risk Radar contract for base year and 4 option years, not to exceed $1.18M USD annually.
2nd Contract with U.S. Federal Government Department CIO - WhiteHawk's Cyber Risk Policy subcontract length is 5 years (1 year with 4 option years). Second full year (12 Month) revenue to WhiteHawk is expected to be between US$300K to US$500K and is subject to refinement by the prime contractor and government customer
Defence Industrial Base (DIB) company : a total of over US$700K - Comprehensive Annual Subscription Contract put in place with Top 12 U.S. DIB Company for 150 Suppliers and Vendors.
More Deals and Revenue on the way...
These larger types of deals can be slow to start (huge organisations move slowly), but the revenue will be significant once they get into full swing, which should start to show through in WHK's upcoming quarterly reports.
We are expecting more big deals to come in from WHK now that the Biden administration has settled in and business sentiment is coming back after the COVID freeze.
Remember that a lot of potential WHK deals have been simmering in the background since 2019.
Other reasons we like WHK:
Cybersecurity a Strong Macro theme: Cybersecurity is becoming a new front of war at government level, so Cybersecurity is getting funding and attention.
Biden Administration is good for WHK: we wrote why Biden will be good for WHK (when he finally gets his administration in).
CMMC rolled out in the US: The US government has rolled out it's Cyber-risk Maturity Model Certification (CMMC) that "reviews and combines various cybersecurity standards and best practices and map these controls and processes across several maturity levels that range from basic cyber hygiene" - WHK helps business implement CMMC.
Other applications of WHK tech? WHK's tech is used to monitor and mitigate cyber-risk across many supply chain companies - but it also has applications for "business clients" of banks, insurance providers and internet service providers, any organisation that services hundreds of businesses and wants to keep them cyber safe. We are watching for deals in this space.
We have been invested in WHK for a while now and are expecting big things from the first investment in our portfolio model, here is all our past commentary on WHK: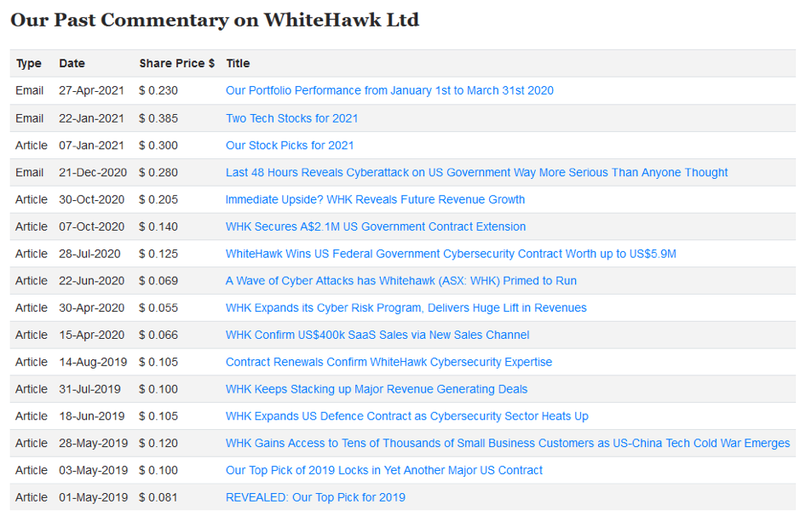 ---