VUL signs ~$150M per year offtake with world's biggest EV battery Maker LG
On Saturday we promised we wouldn't write about VUL or EMN for a while...
But...
BREAKING NEWS: VUL has just released probably the most significant announcement in its history - its first official offtake and with a Tier 1 battery producer.
And yes of course we are going to write about it!
Here is our quick take and our initial rough calcs:
VUL just announced a BINDING term sheet for an offtake with the LARGEST lithium ion battery producer for EV's in the world - LG
LG Chem is:
The biggest manufacturer of lithium-ion batteries for electric vehicles in the world,
Currently supplies many top car makers with EV batteries,
Last week committed to invest US $5.2 Billion into producing battery materials,
Rapidly expanding European operations, and already has a battery factory in Poland.
The offtake with LG is for 10,000 tonnes of battery grade lithium from VUL's geothermal brines per year, for 5 years, with an option to extend for another 5 years.
The contract says "Pricing will be based on market prices for lithium hydroxide."
10,000 tonnes per year At CURRENT lithium hydroxide price of ~US$15,000 equals US$150 million per year of revenue to VUL.
If the price of lithium continues to rise (as it is forecast to do... remember every car company is now switching to sustainable, lithium batteries) we understand the deal will use the higher lithium price per tonne.
AND remember that battery manufacturers and car makers increasingly must observe new environmental and carbon footprint regulations, making the product from Vulcan's Zero Carbon LithiumTM Project EVEN MORE attractive.
VUL's current Pre-Feasibility Study says they will produce 40,000 tonnes of lithium with a net Zero Carbon footprint per year when in production.
So LG (the biggest lithium ion battery maker in the world for EVs) just secured 25% of VUL's total production for its CURRENTLY planned project...
Up until two weeks ago there had NEVER been a lithium from geothermal brines offtake signed anywhere in the world....
In the last 13 days we have seen THREE offtakes/MoUs for lithium from geothermal brines announced - one from US giant General Motors (GM) and two from Europe's biggest car maker by volume Stellantis - one of which was rumoured (by Reuters) to be with VUL.
Today VUL has announced the fourth geothermal lithium brine offtake in the world ever, with Tier 1 EV battery producer LG, and this one is NOT a rumour.
Fear of missing out (FOMO)? Is this the starting gun in the scramble to secure environmentally friendly geothermal lithium?
It looks like FOMO has officially set in this month with battery makers and car makers to secure their supplies of SUSTAINABLE and environmentally friendly lithium from geothermal brines.
Four offtakes have now been announced around the world - we now expect the floodgates to open.
VUL's existing project plans to produce 40,000 tonnes per year, LG just put their foot on 10,000 of these tonnes per year.
In previous announcements VUL says "its in ongoing discussions with potential offtake partners"
Here is what VUL said when they announced their PFS in January and the price spiked to $14/share:

Yes that's offtakers with an "s" - so VUL has been in CURRENT talks with MULTIPLE potential offtakers.
Only 30,000 tonnes per year left everyone... let the race to secure your slice begin!
Hopefully today's LG offtake and the Stellantis offtake MoU rumour will flush out all of the other potential offtakers that may have been dragging their feet to finally put pen to paper and sign up for VUL's remaining 30,000 t/year output.
Our question now is: if demand for zero carbon, sustainable geothermal lithium explodes globally will VUL stop at the currently planned 40,000 tonnes per year?
...probably not given last week VUL announced the acquisition of a new 108km2 exploration license that it considers "prospective for geothermal brines".
..and will they stop at just the current project in Germany?
So what happens now?
We never know how a share price is going to react, but given the perfect storm of rising lithium prices, lithium stocks generally being on a run lately, the significant derisking event from today's announcement and VUL's general "market darling" status we think VUL might see a nice share price pop off today's news before settling in a higher general trading range.
After today's news we think VUL is now going to move even further onto institutional investors radars - the best result in our view is when early stage retail investors can pass the baton to deep pocketed institutional investors who pay a much higher price for de-risked investments.
The share price action will depend on if there are large funds out there that want to take an urgent position in VUL no matter what and will try to out bid each other on the first day, or will it be an orderly accumulation over the next few months?
We suspect there will be an initial share price spike on today's news and the flurry will settle somewhere after a few days and any funds that want to build a position will start to accumulate over time.
And what happens next?
VUL says in previous announcements it is in CURRENT talks with MULTIPLE potential offtake partners.
VUL currently plans to deliver 40,000 tonnes per year, LG signed up for 10,000 t/year and Stellantis is rumoured to be in an MoU with VUL- so there isn't much Zero Carbon lithium left to go around...
How can VUL make even more Zero Carbon Lithium?
Over the last 12 months VUL has assembled a world class team of "lithium from geothermal brines" experts - they have acquired a bunch of consultancies and secured all the best brains in this field globally - experts in this field are extremely rare: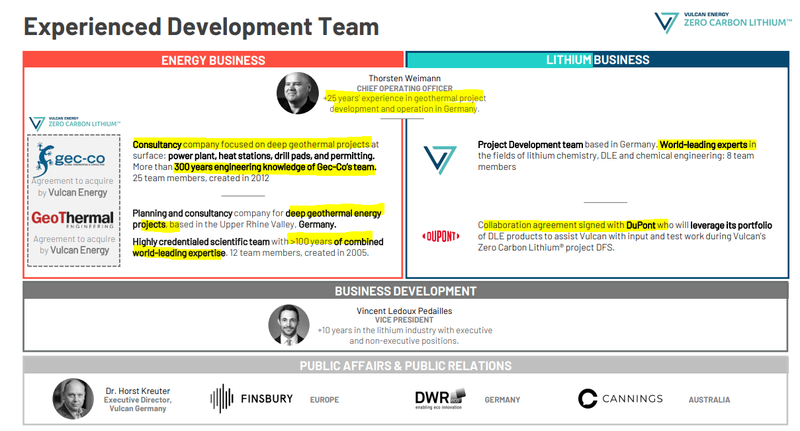 Lithium from geothermal brines is relatively new and such an experienced team all under one company is unheard of.
VUL's raid on the world's top lithium from geothermal brine experts could not have been better timed as now that it appears that lithium from geothermal brines could be to be wildly in demand over the next ten years.
VUL is one of the only companies in the world with the team to execute, not only their current project... but many future lithium from geothermal brines projects.
We think that VUL will commence a geothermal lithium brine land grab over the coming years - securing any yet to be developed projects and underexplored brines...
Last week VUL already announced the acquisition a new 108km2 exploration license that it considers "prospective for geothermal brines".
We will be watching for more land acquisitions for VUL to leverage their world class lithium from geothermal brines team.
VUL has so far has been our best investment - we are delighted today to be able to tick off the milestone for offtake #1 - over the last 18 months since we invested VUL has been chomping through our expected milestones like Pac-Man eating Pac-pellets.
We have also added some new milestones for increasing land and projects owned by VUL - we want to see them increase the planned 40,000 tonnes/year production give the surging global demand and VUL's in-house team to execute"
---