Tiny $6M Underdog to Drill Near $22B Goliath Triggers "Giant Leverage Play"
PUBLISHED: 25-02-2020 10:40 a.m.
A tiny A$6 million capped company is about to fire up the drill bit in NSW's lucrative Lachlan Fold Belt targeting three interpreted large-scale porphyries.
Peers in the same Lachlan fold are "erupting" as investors scramble to buy their shares. These include (ASX: MAG), Alice Queen Ltd (ASX: AQX), Impact Minerals (ASX: IPT), Sky Metals (ASX: SKY) and Alkane Resources (ALK).
Today's company is drilling into the largest porphyry province in Australia which is delivering major returns for investors via game changing metals discoveries.
Our company's project — the Belgravia Project — is just 65 kilometres from Alkane Resources' (ASX: ALK) Boda discovery, which sent that small cap soaring by around $200 million.
ALK was trading at just 20¢ a year ago, but has now hit $1 per share with a $600 million market capitalisation on the back of its discovery: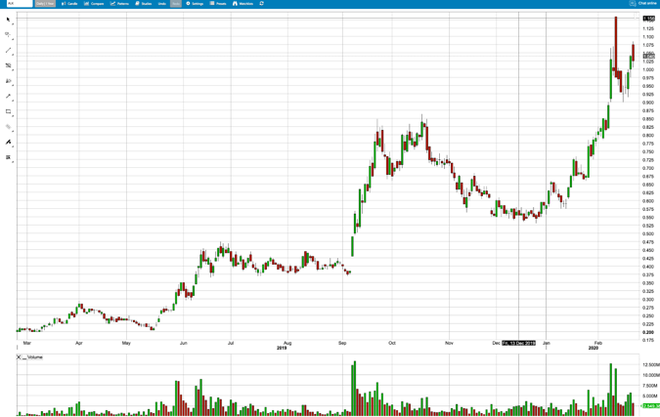 Alkane Resources (ASX: ALK) - 12 month chart
Even closer at just 35 kilometres away is A$22 billion gold heavyweight Newcrest Mining's (ASX: NCM) Cadia Mine, located in the same East Lachlan Fold Belt which hosts major copper-gold mining operations with significant metal endowments.
Put simply, this company has a lot to be excited about, presenting investors with the lowest market cap in the Lachlan Fold, a rising gold price, an exceptional location, world class nearology and the right geology. Not to mention, the prospect has never been drilled before.
Here's a summary:
The region constitutes the largest porphyry province in Australia:
To put the proximity to other mines in context, Belgravia's porphyry prospects lie in the same rock (Fairbridge volcanic and Oakdale) formation that, as stated, hosts the giant Cadia-Ridgeway mine only 35 kilometres south, and Alkane Resources' Boda discovery, 65 kilometres to the north.
The company's ground is right next to the Copper Hill Project, which has well documented high grade shallow drilling intercepts and established deposits.
We can reveal that historic intercepts at neighbouring Copper Hill are just as exciting as any recent discovery holes made in the Lachlan Fold which have ignited their share prices (refer to charts further in this read).
The good news for investors is Belgravia is right next door and along strike just East of Copper Hill. Imagine what a drill assay sniff of mineralisation could do to its $6 million market cap.
For example, this comparison shows just how prospective this region is and just how much leverage there is in a $6 million capped company operating in the same region. Check out just one example of a neighbouring Copper Hill historic drill intercept compared to two others recently announced holes that sent ALK and SKY stocks soaring.

It should be noted that SKY's two Hume drill holes (the best of these is listed above) added approximately $40 million to SKY's market cap.
Gold hit a near seven-year high in January 2020, when it reached US$1590 per ounce and reasserted its position as the go-to safe haven commodity. The gold price has continued to climb, despite a couple of recent glitches, and today is US$1666 per ounce. There is even talk of it soon surpassing the US$1700 mark.
10 Year Gold Price History in Australian Dollars per Ounce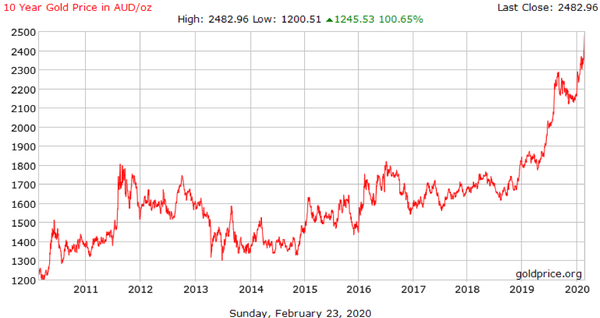 Considering Cadia which is in the same volcanic belt as today's company produced 411,000 ounces with an AISC of just $167 per ounce, there's a lot to like about low cost mines operating in the current gold price environment.
Drilling has started
The company is due to start its drilling program today at its 100% owned Belgravia Porphyry Project, arguably adding to an air of investor expectancy.
Home to Belgravia, the Molong Volcanic Belt has a reputation for massive deposits and importantly is gifted with crucial infrastructure facilities.
The recently upgraded Mitchell highway provides direct access to Belgravia via the regional centre of Orange and the township of Molong.
News of the Belgravia Porphyry acquisition last September saw the company's share price rally from around 2.0 cents per share to a high of 6.3 cents. It has since pulled back to around $0.03 awaiting the drilling green light.
The company has identified six initial targets, with results expected to bring further investor interest in the stock.
Introducing ...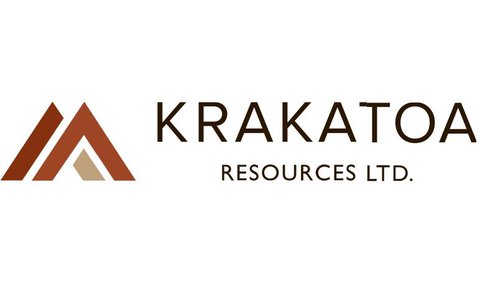 Krakatoa Resources
ASX:KTA
Share Price: $0.028
Market Capitalisation: $6.13 million
Cash position: $1.5 million
The KTA investment case: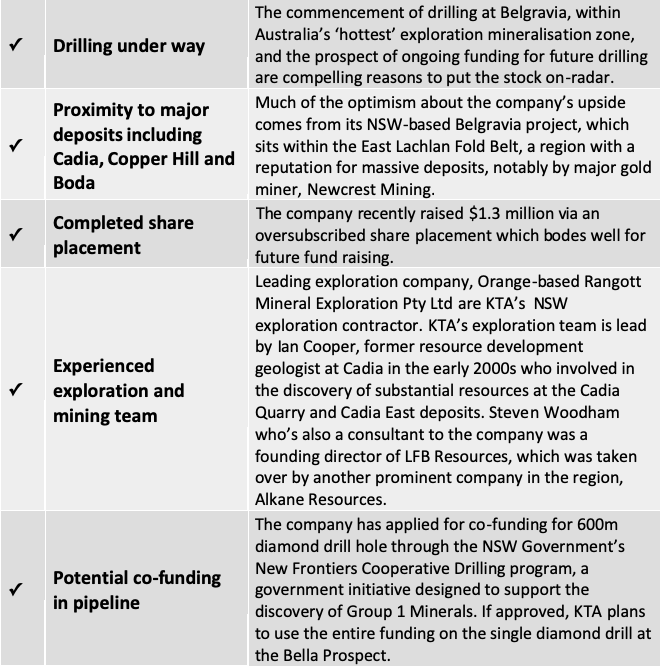 Krakatoa: a leverage play ready to rumble
Today's commencement of drilling at Krakatoa Resources Ltd's (ASX:KTA) Belgravia Porphyry Project in NSW creates a large leverage opportunity for investors as well as marking a major milestone for long term shareholders.
With $1.5 million cash in the bank, KTA is sufficiently cashed-up to fast track this exciting maiden drill campaign.
The drilling announcement came only days after the company declared the discovery of the porphyry pattern at Sugarloaf, which is one of six initial targets at Belgravia.
Only in December, the sub $7 million capped ASX-listed explorer acquired a 100% interest in the Belgravia Project (EL 8153) for 10 million ordinary shares, $300,000 cash and a 1% net smelter royalty.
Located in the central part of the Molong Volcanic Belt (MVB), part of the East Lachlan province, KTA's Belgravia project is 230 kilometres from Sydney, on the western margin of the Central Tablelands Region of NSW, and covers a total area of 80 square kilometres.
Notably, Belgravia sits in the middle of what many regard as the 'hottest' exploration mineralisation zone in Australia. As we've pointed out, Belgravia sits in the same zone as Copper Hill, Cadia and Boda (see map below).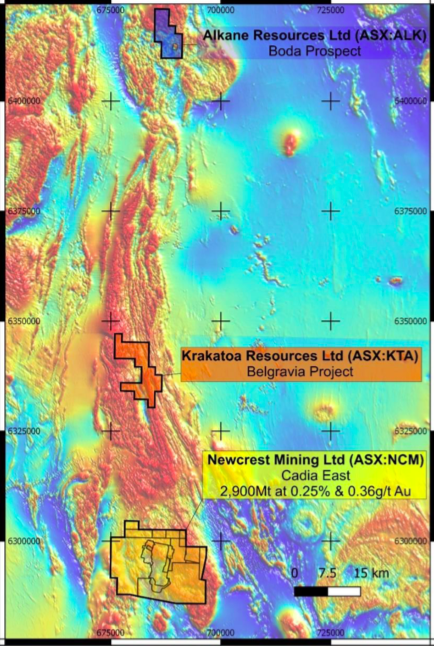 In the recent December period, Cadia recorded its second highest quarterly gold production with 240,000 ounces.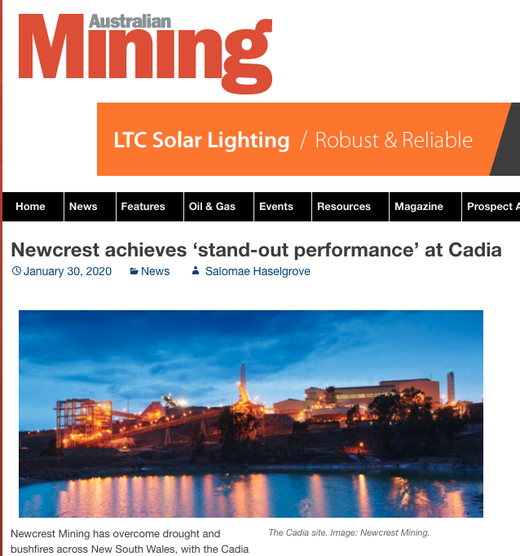 However, looking at the region in its entirety, it is not just Newcrest making waves. Other gold-copper juniors are currently "flying" on the ASX as investors snap up their stock. Companies include (ASX: MAG), Alice Queen Ltd (ASX: AQX), Impact Minerals (ASX: IPT), Alkane Resources (ALK) and Sky Metals (ASX:SKY).
Here's a look at the trajectory, KTA could expect should it make good at Belgravia: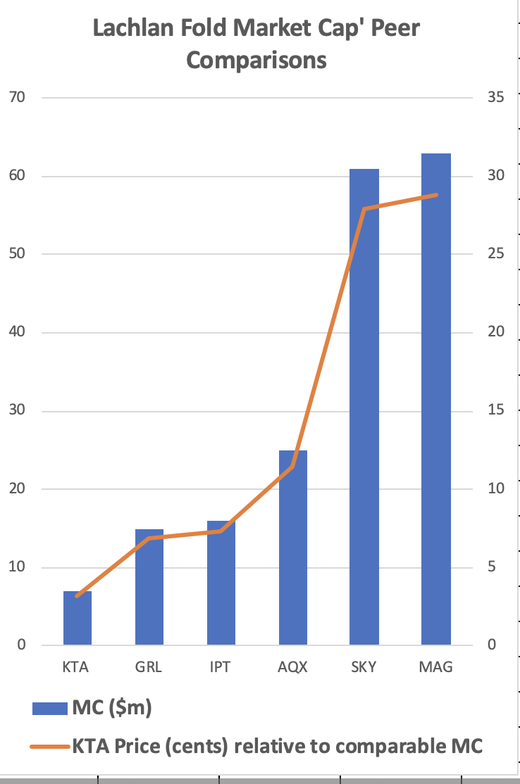 Certainly, many of these companies are expecting further growth as they look to leverage off the current gold price.
Take a look at these comparative charts ...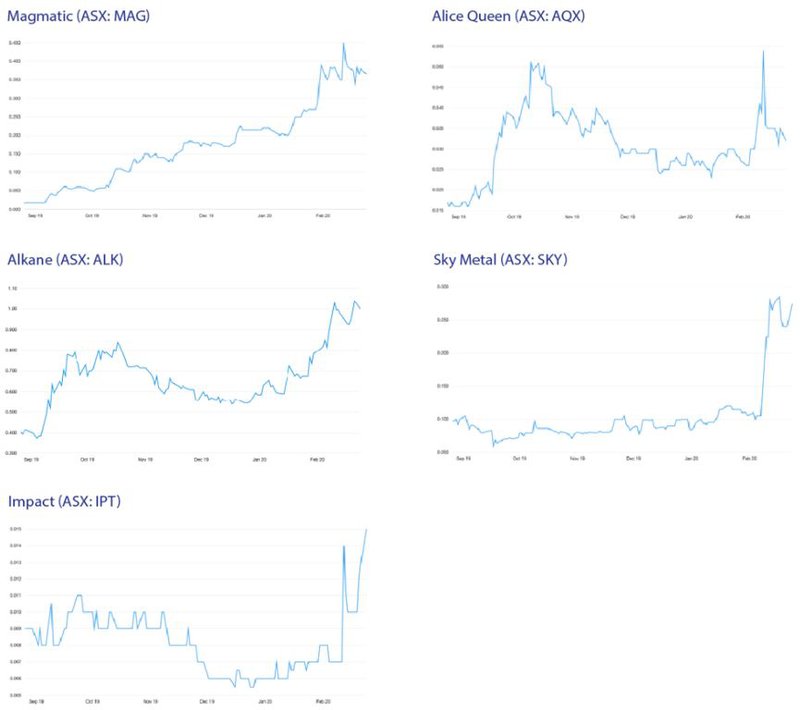 With that in mind, when compared to its peers, any hint of mineralisation from their drilling assays could be a game changer for KTA shareholders.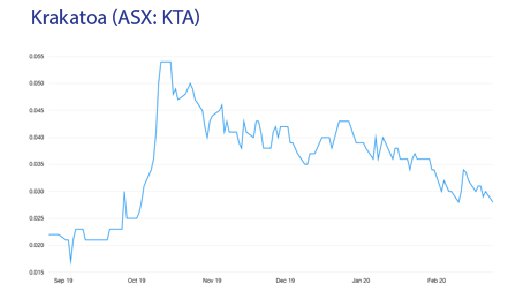 Gold on the rise
Gold is enjoying enormous upward momentum with many experts expecting prices to continue to rise.
Kitco puts this down to the combination of chart-based momentum and ongoing worries about the coronavirus outbreak.
Last week gold hit a seven-year high, fueled by the continued spread of the virus and the affect it will have on economic growth.
David Rosenberg Chief Economist for Gluskin Sheff believes gold could reach $3000.
With that in mind, KTA is definitely pursuing the right metal at the right time and given its current market cap at just $6 million, the only way is up especially as drilling is now in full swing.
KTA'S case for shareholder success in Porphyry Discovery Epicentre
Belgravia's geology is regarded as highly prospective for porphyry Cu-Au and associated skarn Cu-Au, the six initial targets identified by KTA include Bell Valley, Guanna Hill, Sugarloaf Creek, Shades Creek, Strathmore and Nandillyan.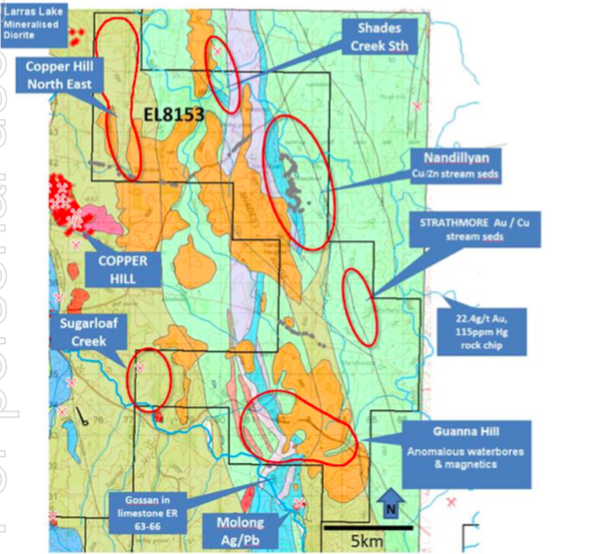 During the programme, 127 Air-core holes will be drilled over parts of Copper Hill and Larras Lee Igneous Complexes. The former is host to the Copper Hill blade deposit, which lies 2.7 kilometres immediately south west of the drilling grid as it the subject of a Pre-Feasibility Study.
The three porphyry drilling targets include Bella, Lara 1 and Lara 2 (see below). The Lee Prospect, which is a demagnetised zone located directly south of the Lara 2 prospects will also be drill tested.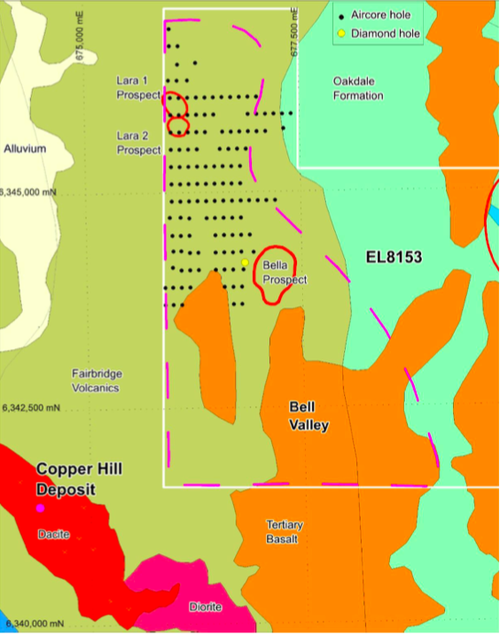 Given that Belgravia lies within a fertile mettallogenic province, where gold discoveries typically occur in clusters, real potential exists for more discoveries. In assessing the geology and the data returned from the drone survey, KTA drew similarities to Cadia, regarded as Australia's largest and most lucrative gold mine with all in sustaining costs of a remarkable $167/Oz.
The targeting exercises the company recently completed, suggest the Belgravia ground holds as much copper-gold discovery potential as any in the wider Lachlan Fold Belt.
To put that in context, significant metal endowments within the East Lachlan province include Cadia East Underground with total resources of 34 million ounces of gold and 7.6 million tonnes of copper, Cowal and Northparkes, plus exploration and development projects such as McPhillamys, Marsden, Temora, Copper Hill and Tomingley.
Nearology to the Copper Hill Resource
KTA's Bell Valley target contains the Eastern half of the Copper Hill Igneous Complex (CHIC), which locally hosts the Copper Hill deposit with a total resource of 87Mt at 0.32g/t Au and 0.36 per cent Cu, comprising resources of 47Mt at 0.39g/t and 0.4 per cent Cu, and inferred resources of 40Mt at 0.24g/t Au, and 0.32 per cent Cu, using a 0.2 per cent copper cut-off grade.
The Copper Hill deposit is only 1.5 kilometres from KTA's Belgravia and sparsely drilled below 350 metres vertically meaning there is good potential for depth extensions.
Again, we can reveal that their 55m at 5.7g/t Au and 1.8% Cu intercept (GCHD470) at Copper Hill rivals any discovery holes recently reported in the belt.
The Bell Valley target also contains a second substantial system prospective for porphyry mineralisation, the Larras Lake Igneous complex (LLIC).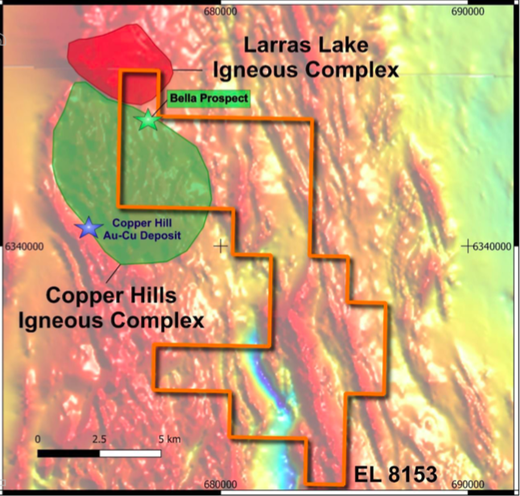 Building on KTA's exploration case is the previous work by Mount Isa Mines (MIM) and Newcrest at the LLIC. Digitised historical drilling results from MIM's 233 vertical hole Rotary Air Blast (RAB) program completed at the LLIC in 1995, comprised mostly shallow (averaging eight metres or less) holes sampled in three-metre composites, with a maximum depth of 33 metres.
Equally noteworthy, the deepest holes are coincident with higher copper and gold results, and are supportive of an alteration trough being associated with the mineralising event. The max value geochemistry for cooper and gold also supported a strong Southeasterly trend towards Belgravia.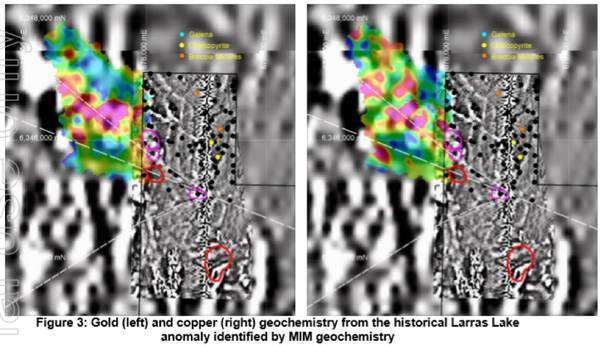 Results from Newcrest's limited historical drilling program 400 meters from KTA's Belgravia
In 1997, Newcrest did a limited historical drilling program that supported the LLIC as being gold mineralised, with the better results including 30 metres at 20g/t Au from 163 metres (Hole:LLR004), including 1 metre at 1.15g/t Au, and 0.28% Cu from 185 metres.
The review of drilling logs also identified numerous thin intersections of anomalous gold + copper mineralisation associated with quartz + carbonated veins with volcanics and dioritic intrusives.
Hematite alteration or 'dusting' is also associated with the higher grade and broader intervals of anomalous gold (>100ppb) delineated in the RC drilling, and it restricted to the propylitic alteration zone related to porphyry Cu-Au deposits hosted by high-K calc-alkaline or shoshonitic intrusions with high oxidation states (for example Cadia).
Newcrest reported that the tenor and alteration were similar to other discoveries in the Lachlan Ford Belt, and recommended retaining the ground, even considering the prevailing low gold price. We can reveal the gold price was under US$300 at the time.
KTA believes the metal tenor and distribution, plus that of the alteration minerals, supports the theory that Newcrest drilled the periphery of a larger mineralised system, which potentially lies at depth and potentialy in KTA's direction.
Drone Aeromagnetic Survey
Recent results of a drone aerial identified several magnetic and structural features sharing geological similarity to the adjacent Copper Hill and nearby Cadia copper-gold deposits, they included:
Situated along the strike from the copper-gold geochemical trend discovered through reprocessing of historical RAB drilling.
Located within 400 metres of a shallow RC drill hole historically completed by Newcrest that intersected 30 metres at 0.2g/t Au, including one metre at 1.15g/t Au and 0.28 percent Cu.
Feature a significant demagnetised zone that results from (potentially mineralised) fluids exiting a magmatic source and migrating to higher crustal levels where they overprint the existing magnetite.
Lie adjacent to a north-west-trending structure interpreted to control emplacement of nearby mineralised granitic complexes (CHIC and LLC).
Several doughnut-shaped magnetic patterns thought to reflect the intrusion of porphyritic rocks.
Field program reiterated drone flown aeromag anomaly targets
A field programme quickly followed that established the presence of dioritic host rocks, which also host the nearby Copper Hills and Cadia deposits.
The alteration in the host rocks included widespread distal chloride-epidote and locally more proximal hematite and silica, which are typically associated with copper-gold deposits.
KTA – the one to watch
With the drilling program now in swing, we should expect plenty of news to come out of Krakatoa as assays come to light.
The company will look to fast track its exploration to capitalise on its proximity to Newcrest, only 35km away.
This region has earned a reputation for massive deposits and Belgravia sits within Australia's 'hottest' exploration mineralisation zone.
This is just one highlight of many that should get investors interested.
To summarise KTA has the:
✓ Right market cap/EV (lowest in the Lachlan)
✓ Right metal (gold hitting record AUD highs)
✓ Right timing with other shares in the Lachlan "flying"
✓ Right location (20km from Orange in the Tier 1 mining jurisdiction of NSW)
✓ Right nearology (35km North and along strike to Australia's biggest and most profitable gold mine) and adjacent and along strike to Copper Hill.
✓ Right geology (same rocks as Cadia, Boda & Copper Hill)
✓ Right bet as ground never been drilled
At 3c with a sub $7m market cap, leverage lurks large here for investors as drilling, location and mineralisation could blast Krakatoa (ASX:KTA) into a multi-bagger bonanza for shareholders.
---