SURPRISE: We are Now Psychedelics Investors
Once again, medicinal cannabis company Creso Pharma (ASX: CPH) keeps pleasantly surprising us.
Today they have REALLY surprised us by announcing they have acquired a Psychedelics company.
Psychedelics to treat mental health is one of the hottest global themes for this decade.
We originally got burned on our investment in CPH in 2019, but we took a position again a few months ago when the company looked about to turn around, with the intention to do a short term trade.
The company delivered some great results and we decided to keep holding CPH as a medium term position....
CPH is the ONLY stock we write about that is not in our long term portfolio...
but....
Today's Psychedelics announcement is making us think that CPH has earned a spot in our portfolio as a long term hold - after continuing to deliver and build credibility with investors.
ASX: CPH
CPH's acquisition of 100% of a psychedelics company is huge. It is a first on the ASX.
Psychedelics are a class of psychoactive substances widely tipped to lead a massive transformation in mental health care.
Over a billion people worldwide have depression, anxiety, or post-traumatic stress syndrome or are dealing with substance abuse.
Studies have shown that psychedelics may be able to treat disorders such as depression, anxiety, substance addiction, and obsessive compulsive disorders.
It's early days but psychedelics have the potential to solve vast problems for large numbers of people.
We have been looking at this space for some time, and are big believers in this emerging market.
Yes, we are talking about 'magic mushrooms', and in particular its active chemical, psilocybin.
After decades in the wilderness and lack of research, the public perception of psychedelics is rapidly changing given the emerging body of evidence that is being gathered.
Canaccord values the market for psychedelic-inspired treatments at up to $100BN.
Mental illness in Canada alone has an economic burden of C$51BN per annum.
Given its regulatory status, psilocybin is very scarce, and commands high prices.
Soon, with perceptions changing and backed by research, psychedelic medicine might just be a whole new asset class.
We have been looking at this space over recent months as we think it's going to be one of the big investment thematics of this decade.
Now CPH has surprised us and based on today's announcement, we now have exposure to psychedelic medicine in our portfolio.
ASX: CPH
Right now, the aggregate market cap of psychedelic drug companies is $4.2BN - which is relatively small - watch that balloon over the coming years.
Serious early stage investors (think private equity and venture capital) are making massive bets on this rapidly emerging industry:
As speculative, early stage investors, this is just the kind of early trend we like to jump on - before the broader market cottons on.
CPH will be the first ASX company to own 100% of a psychedelic medicines company.
ASX: CPH
CPH is set to acquire 100% of a Canadian company, Halucenex Life Sciences Inc.
WATCH: CPH strategic advisor Bruce Linton and Halucenex President and CEO Bill Fleming discuss the opportunity HERE.
Here are the key details in relation to Halucenex:
Focused on the commercialisation and R&D of novel psychedelic molecules for the treatment of PTSD, depression and other mental illnesses,
Focused on synthetic psilocybin, the active ingredient in magic mushrooms which has been shown to have considerable evidence-based mental health benefits
Operates a 6,000 sq. ft. medical clinic dedicated to the treatment of mental illness located adjacent to an emergency hospital,
On receipt of its Dealer's License, Halucenex will be permitted to possess and conduct R&D of psychedelic molecules including psilocybin, and will apply to commence a phase 2 clinical trial,
Halucenex's phase 2 clinical trial is expected to commence in Q3 2021,
In anticipation of a worsening supply shortage, Halucenex has signed a supply agreement with one of Canada's only pharmaceutical grade synthetic psychedelics manufacturers, securing supply of 11.6g (11,600mg) of synthetic psilocybin for use in Phase 2 and Phase 3 clinical trials.
Halucenex is currently one of approximately 11 companies to secure a supply from its manufacturer, significantly de-risking the clinical trial timeline.
There's a path to early revenues through strategic affiliation with Veterans Affairs Canada and Veteran support groups.
Now, obviously it's early days in relation to this transaction.
Time will tell what kind of value add Halucenex can bring to CPH holders - but the fact CPH have leapt on this emerging market opportunity is a good sign for us.
Being the first ASX stock to acquire 100% of a psychedelics company is bound to attract investor interest alone.
Just take a look at what's happening on the TSX in Canada.
Mindmed leads the path in psychedelics:
Canadian company Mindmed Inc. is leading the way in psychedelic medicine stocks - and there are some familiar faces related to CPH.
MindMed has a drug development pipeline of innovative treatments based on psychedelic substances in clinical development and R&D.
Mindmed rocketed from US$0.37 to US$4.37 between October and December last year a gain of 1,080%.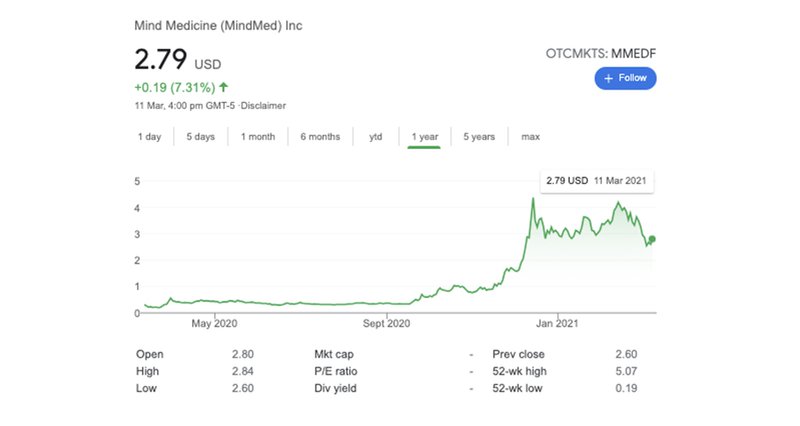 Mindmed was valued at over C$1.5BN at its peak in December, and now still commands a very robust C$1BN market cap.
Dr Miri Halperin Wernli sits on the boards of both CPH and Mindmed.
Dr Wernli is the Co-founder and Head of Technology & Innovation at CPH, and is the President of MindMed.
Bruce Linton is a Strategic Advisor to CPH and sits on the Board of MindMed.
There are two people that are very experienced in both cannabis and psychedelic markets.
Halucenex, under CPH ownership, will be able to leverage off the expertise of both, plus the rest of the CPH team, who have years of experience in clinical trials, pharmaceutical product development, and go-to-market know-how.
WATCH: CPH strategic advisor Bruce Linton and Halucenex President and CEO Bill Fleming discuss the opportunity HERE.
CPH wants to fast track Halucenex's growth through its established global distribution network and its partners in the pharmaceuticals space.
CPH can provide access to the Company's cutting-edge cannabis cultivation facility in Canada, which can be readily adapted to the cultivation of magic mushrooms.
With the acquisition of Halucenex, CPH will be positioned at the forefront of innovation in the psychedelic medicines sector, and investor interest in the space.
We are looking forward to seeing how this partnership will play out.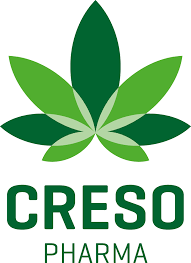 ---