Positive Phase II Results: DXB on Track to Find Kidney Disease Solution
PUBLISHED: 10-10-2016 11:37 a.m.
There could be a light at the end of the tunnel for chronic kidney disease sufferers, suffering from a rare form of the disease known as focal segmental glomerulosclerosis (FSGS).
In fact several multi-million dollar companies in the space are dedicated to delivering life changing therapies to people living with chronic kidney disease with significant unmet medical needs.
It is worth looking at the statistics surrounding kidney disease for just a moment to understand why any breakthrough is so important.
Figures show that chronic kidney disease affects over 26 million people in the US alone, with an estimated US$2.6BN spent each year in the US, mainly on late stage therapies due to a lack of early stage treatment options.
In essence there is a large unmet medical need with progression of the disease resulting in end-stage renal disease.
The National Kidney Foundation statistics cite 10% of the population worldwide is affected by chronic kidney disease (CKD), and millions die each year because they do not have access to affordable treatment.
According to the 2010 Global Burden of Disease study , chronic kidney disease was ranked 27 th in the list of causes of total number of deaths worldwide in 1990, but rose to 18 th in 2010. This degree of movement up the list was second only to that for HIV and AIDs.
The statistics are damning and the current situation is far from ideal, but there hasn't been much in the way of an available solution to meet the problem.
Yet, hope could be on the way in the form of one small ASX company which was recently listed in Biotech Daily's Top 40 Index . While market cap is important, The Biotech Daily Top 40 Index (BDI-40) is selected on the basis of interesting technologies, benefit to human health and investment potential.
This is significant in that it puts Dimerix (ASX:DXB) on the same ladder as giants such Cochlear, CSL and Resmed, who sit on top of that ladder and who are clearly working towards human health solutions in a range of fields.
Of course this in no way suggests DXB is even close to the level of these top ranking companies in terms of revenues, to-market products or market cap, so if considering DXB for your portfolio remember it is still in its early stages and professional financial advice should be sought.
DXB is conducting its Phase II study into patients with chronic kidney disease (CKD), more specifically the rare form of CKD known as focal segmental glomerulosclerosis (FSGS) and is taking great strides in the development of a drug, known as DMX-200, that will help combat this most serious problem.
For those not yet in the know, DMX-200 was identified using DXB's proprietary screening assay, termed Receptor-Heteromer Investigation Technology (Receptor-HIT), and it combines two existing drugs, a chemokine receptor CCR2 blocker (propagermanium PPG) used for its anti-inflammatory properties, and an angiotensin II type I receptor blocker (irbesartan), which is registered in the USA for hypertension and treatment of diabetic nephropathy.
DXB has already secured orphan designation for DMX-200 for FSGS, meaning shorter trials with fewer patients, cost benefits and seven years of exclusivity in the US market – but recent positive results regarding clinical data in relation to Part A of its Phase II study in patients with CKD, could give the company an even bigger boost.
Data from 21 participants taking the DXB trial shows DXB's therapy is well tolerated with an encouraging safety profile.
It also found that 27% of patients who reached or passed the mid-point of the study showed a ~ 50% reduction or greater in proteinuria (abnormal quantities of protein found in urine, which may indicate damage to the kidneys) over and above standard of care .
Final data from Part A of the Phase II study is expected in the second half of 2017.
Given the length of time it takes to conduct trials of this nature, it won't be long before DXB can take the next step on its journey to prove up its technology and develop its drug further.
Interestingly, the $17M capped DXB is looking as if it may follow a similar path to the NASDAQ listed Retrophin Inc. (NASDAQ:RTRX). This $836.7M capped company recently released its better-than-expected top-line results into FSGS which were sufficient to send its shares soaring by as much as 44 percent.
The past performance of this product is not and should not be taken as an indication of future performance. Caution should be exercised in assessing past performance. This product, like all other financial products, is subject to market forces and unpredictable events that may adversely affect future performance.
We'll look at the similarities between Retrophin and DXB in more detail shortly, but certainly DXB is hoping for similar traction and its recent results have put it on the right path.
So without further ado, let's move into Phase I of this catch up with DXB.

We've been tracking Dimerix (ASX:DXB) for some time – since March this year – and in that period the company has continued to reach new heights. Since our first article on the stock Private Equity Biotech Deal Maker in ASX Offering , DXB has been up as high as 200%: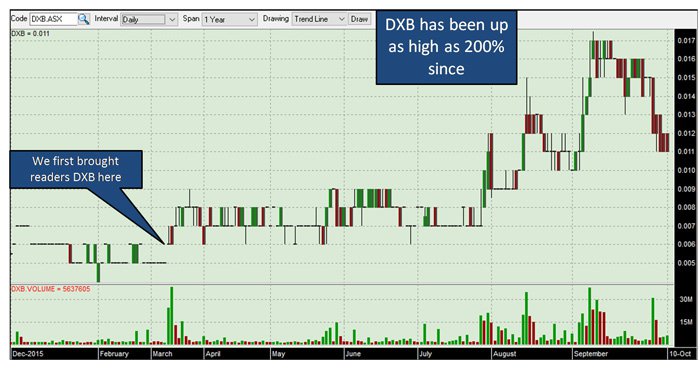 The past performance of this product is not and should not be taken as an indication of future performance. Caution should be exercised in assessing past performance. This product, like all other financial products, is subject to market forces and unpredictable events that may adversely affect future performance.
You can also catch up with the DXB backstory in our other articles, DXB to Hit Major Milestone: Early Phase II Results Due in Coming Weeks and DXB Close to Phase 2 Results: Progresses Promising CKD Product .
The progress DXB has made during this time is evident, but its most recent news sees it edging ever closer to its stated goal of changing the CKD space – impacting multiple areas of unmet clinical need, allowing drug makers to discover the effect its medication is having and charging them for the privilege of using it.
The final and perhaps biggest piece of the puzzle for DXB is to catch the eye of big pharma for a potential takeover.
DXB's ambitions are clearly high, but why shouldn't they be when its flagship treatment for CKD, DMX-200 is tracking so well. So well in fact that interim analysis supports continued development for the treatment of CKD.
Let's have a closer look at the results.
The encouraging findings behind DMX-200
We have established that DXB are in the midst of Phase II studies, but on 26 September, the study took another positive turn when the company announced that 21 of 30 study participants had been dosed, with two having completed the study, and one having ceased.
We are at the mid-point of the study so far and eleven participants have completed the 90mg dose, with participants exposed to DMX-200 for 67 months and the current Interim data demonstrating good safety and tolerability.
What this suggests is that significant reductions of proteinuria (~ 50% or greater) are possible, having been observed in 27% or three from 11 participants who had reached at least the mid-point of the study. We note that this 50% improvement over standard of care is a very high hurdle, and it may be that with full analysis of the data, that a meaningful reduction over standard of care has been achieved in more patients in the trial.
The findings are encouraging for DXB as reductions in proteinuria are difficult to achieve in this disease setting. So strong are the results that Co-Principal Investigator, Clinical Associate Professor David Packham of the Melbourne Renal Research Group that recent recruitment to the trial "exceeded expectations".
The good news for DXB is that two participants who have completed the study continued to access treatment through the Therapeutic Good Administration (TGA) special access scheme, at the request of their doctor.
Regular readers may remember that back in April this year DXB received special TGA access to continue to supply propagermanium to kidney patients on its DMX-200 Phase II trial.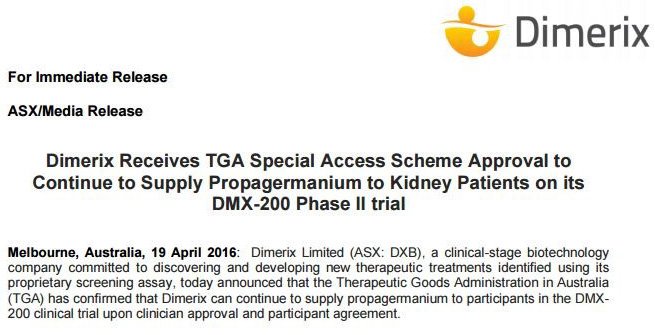 It was an important milestone and the company has now, with the help of the TGA, superseded expectations.
Thus far the trial has delivered sufficient data to inform dosage selection and progression to part B of the planned Trial.
It is worth remembering here, however, that the biotech space can be volatile and anything can happen with these trials, so seek professional financial advice if considering this stock for your portfolio.
DXB Executive Chairman Dr James Williams believes the data from Part A of the study has increased the company's confidence in the safety of DMX-200 within the patient population of the study, and provided encouraging signs of efficacy over an above standard of care.
The trial is now in its final stages for Part A and DXB is ready to move to the next stage.
When trials make the company
It is early days, but DXB looks to be tracking in the same direction as the $837M US giant, Retrophin (NASDAQ:RTRX).
Recent data released from Retrophin's phase II DUET study testing sparsentan in FSGS, was, like DXB's recent release, better-than-expected, with top-line results sufficient to send shares of RTRX soaring by as much as 44 percent before it closed at $20.81, up 27.5 percent on the day. Here's Anders Keitz of Real Money talking about the stock:
The past performance of this product is not and should not be taken as an indication of future performance. Caution should be exercised in assessing past performance. This product, like all other financial products, is subject to market forces and unpredictable events that may adversely affect future performance.
One of Retrophin's focus areas is sparsentan, a dual-acting receptor antagonist of angiotensin and endothelin, also used to reduce levels of proteinuria in FSGS patients.
Retrophin hosted an eight week treatment trial and is now awaiting data from the international, randomized, double-blind study.
What we do know is that Retrophin has released promising news in this field with a recent study achieving statistical significance in the primary efficacy endpoint for the overall sparsentan treatment group, demonstrating a greater than two-fold reduction of proteinuria compared to irbesartan after the eight week, double-blind treatment period.
What does this mean for DXB?
Two things really.
Firstly, the subsequent share price rally would be of interest to DXB shareholders hoping to emulate some of that success. Note that DXB has also released positive results in its Stage II phase and is tracking in a similar direction.
Secondly, DXB has an extra trick up its sleeve in the form of PPG, which it has added to the standard of care angiotensin receptor blocker irbesartan. It effectively gives DXB a double hit at finding a solution to reducing proteinurea.
If DXB can follow in Retrophin's footsteps not only could it expect a price rise, but it just may meet its ambition of finding a big pharma partner.
The big pharma lure
This is a common theme running through all of our DXB articles: if the company can prove up DMX-200, big pharma could come knocking on the door.
We have covered the industry movers and shakers in previous articles, but it is worth looking at again, to gain a sense of the market DXB is playing in and what can be achieved by small companies making big breakthroughs.
The following table is indicative of the deals being done with companies that are working with G-protein-coupled receptors (GPCRs). Note the large acquisition numbers: US$400M, US$375M and US$6BN: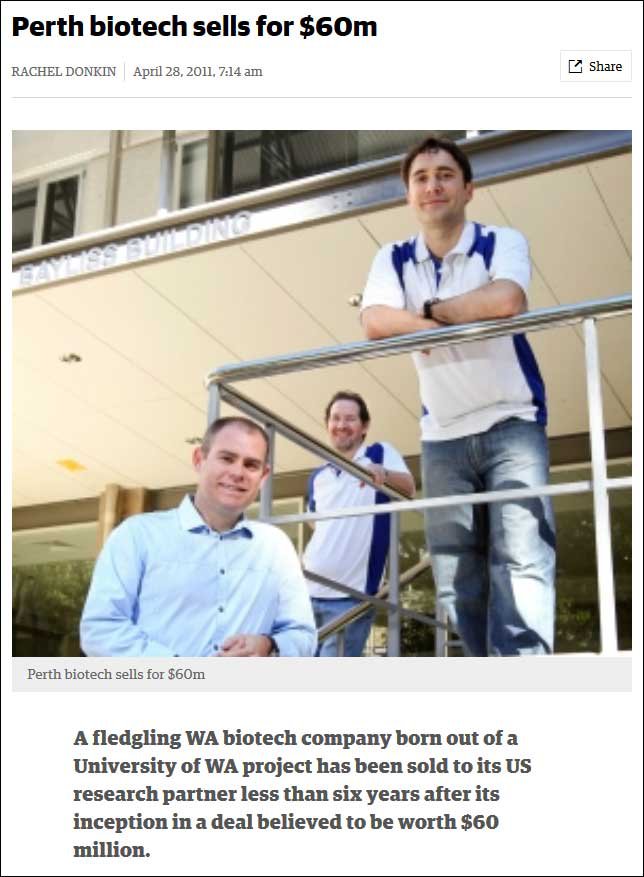 Closer to kidney disease home, here are the corporate deals which have been done in the CKD space in recent years.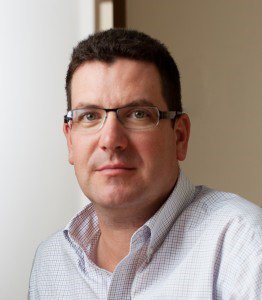 Could the $17M DXB one day find a big pharma buyer? That is certainly the intention. And looking at the companies in the tables above and what they have achieved, DXB is treading a similar path.
We should note here that getting a drug discovery platform up and running is a big undertaking – much more complicated than the development of a drug, which is a complicated process in itself. So there is no guarantee DXB will be a success and interested investors should seek professional financial advice.
Catalysts to come
With positive results in hand, it is now time for DXB to turn its attention to the future.
The next 12 to 18 months for the company will not only be busy, but also crucial to the bigger picture.
There are numerous potential share price catalysts in the wind. Equity based research company NDF initiated a research report recently and identified the following: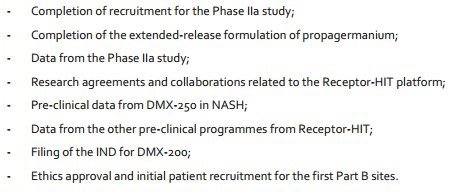 As you can see there is a lot on DXB's plate and some hefty newsflow to follow.
With solid results in the bag, DXB can focus on the bigger picture, a potential buyout in a space where acquisitions are rife and where good results can put companies in line for significant re-rates.
DXB don't seem to be too far off the mark now and are tracking along well in comparison to its peers. Time will tell now, just how well this company is able to do in the space.
---