DXB to Hit Major Milestone: Early Phase II Results Due in Coming Weeks
PUBLISHED: 25-05-2016 10:11 a.m.
Within the next quarter, $12M capped Dimerix (ASX:DXB) is due to publish early results from Phase II clinical trials of its flagship drug therapy DMX-200, a combination therapy designed to alleviate the suffering of people afflicted with Chronic Kidney Disease (CKD).
Positive early results could be quite the game-changer...
Considering one in three Australians are at risk of developing chronic kidney disease – but less than 10% of people know they actually have it, this is a large addressable market.
And let's not forget the 26 million people in the US suffering from CKD...
Symptoms of the disease can range from cardiovascular disease, and even premature death if left untreated.
So, clearly there is an urgency in developing drugs to help fight CKD.
Enter DXB.
DXB continues to move through the phases of drug development and is also working on a potentially lucrative drug discovery platform.
Meanwhile, DXB is working with regulatory bodies to ensure that it has support and approvals to push DMX-200 beyond Phase II and hopefully into the arms of Big Pharma.
By working closely with US regulator the FDA (Food and Drug Administration), DXB has gained the chance of financial support in that country and special status because it is attempting to treat a rare disease – this is called "Orphan Drug Designation", and it's a major plus for DXB shareholders.
This means a shortened timetable for clinical trials and the ability to use fewer patients in those trials.
Meanwhile DXB has set up a meeting with the FDA to gain a better idea of the data required in order for its Investigational New Drug (IND) application to be considered – scheduled for the coming weeks.
The information garnered from this meeting should place DXB in a strong position to map out the registration pathway and is a critical step towards realising the commercial value of DMX-200 – a combination therapy targeting Chronic Kidney Disease, and DXB's lead asset.
This is still an early stage play however, so caution must be applied to any investment decision relating to this stock.
In Australia, DXB was further buoyed by TGA (Therapeutic Goods Administration) sign off of its Phase II trials.
And if that wasn't enough news since the last time we caught up with DXB in March, a consortium led by DXB's Chief Scientific Advisor, Associate Professor Kevin Pfleger (UWA and Harry Perkins Medical Research Institute) has been awarded a $499,000 Linkage Grant by the Australian Research Council, with money paid over three years to help to expedite development of DXB's discovery platform in new ways for new applications.
Re-introducing: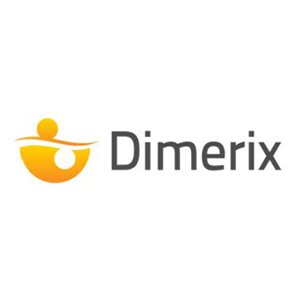 The therapy
Dimerix (ASX:DXB) is developing a combination therapy dubbed DMX-200: a combination of two drugs, which it hopes will combat chronic kidney disease.
The first drug is Propagermanium, and the second is Irbesartan.
Propagermanium is a chemokine receptor 2 blocker which has been used for the treatment of Hepatitis B in Japan and is available as a general anti-inflammatory dietary supplement in the US.
Irbesartan is an off-patent angiotensin II type I receptor blocker typically used in the treatment of hypertension and nephropathy in type II diabetic patients.
What does any of that mean, though?
On their own, the drugs have specific functions – but what DXB is trying to prove up is the ability to use both drugs in combination to reduce proteinurea, one of the signs of chronic kidney disease.

When CKD develops (which can be through diabetes or any other disease which causes kidney inflammation), one of the manifestations of it is that the kidney releases protein into the urine stream, meaning that the kidney is being deprived of a lot of the protein it needs to function properly.
Once the kidney ceases to function properly, renal failure enters the equation – the treatment of which usually either involves a transplant or dialysis.
Reduce the proteinurea and you reduce the likelihood of CKD progressing.
Suffice to say if there were a drug available to combat the development of CKD by effectively reducing proteinurea – then it may have a major market impact, not to mention the no small matter of improving the health and life expectancy of millions of people around the world.
Being an orphan ain't so bad
One of the more impressive features of DXB and DMX-200 is that it qualifies as an orphan drug – but again what does that actually mean?
The subset of CKD that DXB wants to treat is Focal Segmental Glomerularsclerosis (FSG), which affects a small percentage of CKD sufferers.
According to the FDA, DMX-200 has been classed as having 'orphan status', or qualifying under the Orphan Drug Act.

This orphan status translates to certain assistances and exclusivity provisions as the drug progresses through clinical development and into the market in the US.
Trials for orphan diseases are usually smaller because of the need for therapy and the limited numbers of patients. This can mean reduced costs to get the drug on the market.
Another big thing about having Orphan Status though is that upon approval of the drug by the FDA, it will be granted a seven year FDA enforced exclusivity deal on the development of the drug.
That's a big coup.
If DXB is able to gain approval it will have seven years to develop the product to market – all under the watchful gaze of the FDA which will be protecting DXB's rights in the US.
If another company comes along with something similar, the FDA will knock it back because DXB is already on the case.
So, just to re-cap:
Shortened timetable for trials
Fewer patients needed for trials
Seven-year exclusivity window in the largest pharmaceutical market in the world.
We're not brain surgeons, but that sounds like a positive development.
Kicking goals on the regulatory front
Since we last checked in with DXB in the article Private Equity Biotech Deal Maker in ASX Offering , it has been quietly working away in the background to take its Phase II trial for DMX-200 forward, and has had a couple of regulatory wins on that front.
The first was an approval from the Australian Therapeutic Goods Administration for patients in the Phase II trial to continue to use propagermanium.
Remember, DMX-200 is a combination of both propagermanium and irbesartan.
So, having approval to continue to use one of those is vital to the project.
The problem was that propagermanium wasn't on the Australian Register of Therapeutic Goods – but now it has approval to use the drug on two patients who are due to finish the initial 24-week treatment study – the Phase II trial.
At the moment, DXB is attempting to recruit a total of 30 patients with CKD to go into a 24-week treatment – but it's data from the first 10-15 patients which is expected to be available in the third quarter, that should give both the scientific community and investors a first look-at how DMX-200 may reduce proteinurea in patients.
What it has at the moment is results from animal and pre-clinical tests – which are helpful but not great for going to the bank with.
News that the TGA has approved the continuing use of propagermanium under the Special Access Scheme is positive for individual patients as it recognises the potential benefit being shown in the trial. We should note that access to the drug after the trial is on a case-by-case basis, meaning that it will more than likely need to be approved for the other 28 patients.
The approval, though, does lay down somewhat of a marker in that respect.
Getting cozy with the FDA
The second piece of important news is that DMX had requested a meeting with the US Food and Drug Administration about an Investigational New Drug (IND) application.
DXB wants to meet with the FDA to gain a better idea of what data the FDA needs to see in order for its IND application to be considered.
DXB is applying for the use of DMX-200 to be used in the treatment of Focal Segmental Glomerularsclerosis – which is a certain type of CKD which affects about 2.3% of CKD sufferers.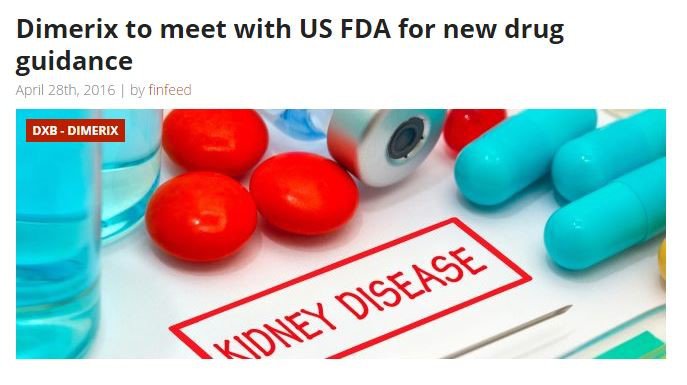 So, what's the big deal about a meeting request?
Well, there are two parts to it:
The first is that DXB is now so advanced in its studies that it can begin to contemplate talking with the FDA – the gatekeepers to the largest pharmaceutical market in the world.
The talks, of course, are no guarantee of future success, so seek professional advice for further information relating to this stock.
As a biotech company, you don't even consider talking to the FDA unless you have all your ducks in a row – even if it's simply a request for more information so it can make a better application.
The second big point about this is that the information supplied to DXB from the FDA will effectively help shape an extension study.
At the moment, as we mentioned earlier, DXB is trying to recruit up to 30 patients for a trial using DMX-200 – but there are also plans in the works for an extension study, which will involve another 30 patients.
This extension study will use the FDA information to design the trial – meaning that the whole thing will be geared towards gaining FDA approval and should answer the questions the FDA wants answered.
It's like having a teacher tell you what they want to see in an essay rather than going in blind, writing an essay, and then hoping that it passes muster.
Getting cash
Finally, a consortium including DXB managed to bag $500,000 (or $499,000 to be exact) from the Australian Research Council. The consortium also includes the Harry Perkins Institute of Medical Research, and the University of Western Australia.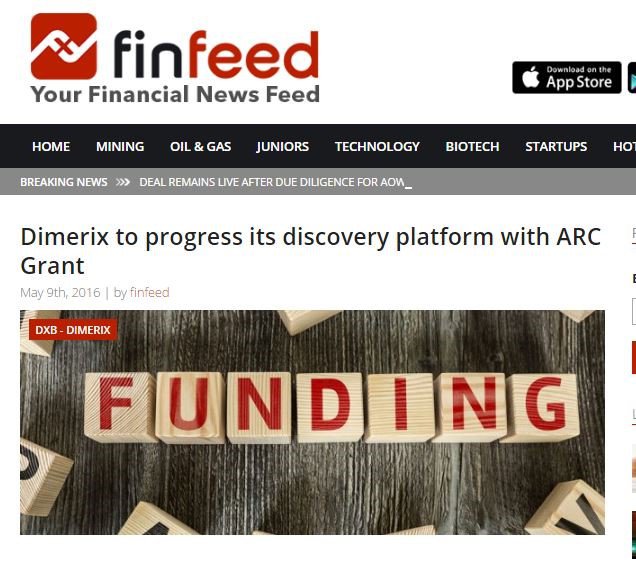 The consortium is looking at the further development of DXB's discovery platform – specifically how it can be applied in new ways for new applications.
The cash will be doled out over three years, but it's a welcome R&D boost and could potentially help DXB unlock new ways to commercialise the platform.
In any case, it's cash that will not need to come from shareholders or from loading up on debt—so essentially it's a free swing at R&D.
The funding also demonstrates that there's enough in the discovery platform for the Australian Government to pony up some dough – a massive validation that it's not just all a smokescreen. It actually has the potential to be the tool that enables identification of drugs that save lives, which is the guiding principle of the funding (along with promoting commercialisation in the research space).
This funding will be added to the cash at the end of the last quarter – DXB held $2.4M at that point in time, so the company remains relatively well funded, at least in the short term in the face of near term catalysts.
Discovery channels
So far DMX-200 has been shown to reduce proteinurea in animal models by up to 50%, but of course humans and animals are two very different beasts.
At the moment, DMX is going ahead with Phase II trials of the drug in Melbourne, trying to recruit up to 30 sufferers to study the drug's effectiveness.
But, it also has a second way to make money.
The discovery platform
Initially DXB identified the two drugs through its core patented technology, Receptor-HIT.
The HIT stands for 'Heteromer Identification Technology' and in a nutshell it acts as a way to identify clinical interactions from a receptor.
A receptor is a protein molecule which receives chemical signals from outside a cell.
Receptor-HIT has identified how many important bodily processes are maintained by two different receptors working together in a pairs (heterodimers).
When a key process fails (as in kidney disease) the only effective treatment options may be to use specially designed combination therapies which can simultaneously target both receptors and counteract the negative cascade of health events that can follow.
In this way, the combination of drugs which make up DMX-200 was identified.
One more time... what does that all mean?
A drug discovery platform is a structured process or tool by which DXB or indeed, any company, can systematically find new drugs to treat diseases, or find better ways to use existing drugs to treat diseases.
DXB has already demonstrated the value of its patented discovery platform in identifying DMX-200 as a new way to use existing drugs in kidney disease. It has a second indication for this same formulation working its way through pre-clinical studies for liver disease – we are looking out for more on that one in due course as the data becomes available in the coming months.
As they have already done with developing DMX-200 for CKD to clinical development, and hopefully liver disease will follow after, the question then becomes: what is next?
There are approximately 400 of the unique receptors in the body that are can be looked at using DXB's discovery platform – a receptor class called G Protein-coupled Receptors (GPCR). Approximately 40% of all currently marketed drugs act through GPCRs – and they are relevant to treat a huge variety of human diseases.
So, DXB may be smart enough to develop a cornerstone discovery platform to figure out multiple new development opportunities – either for internal development but also potentially partnering with pharma companies for their programs...
Now, it becomes an asset for recurring revenue, and an asset like that may attract a premium big pharma interest...
Attracting big pharma
Other discovery platforms focusing on GPCRs have been sold off in the past – and this somewhat points the way as to where DXB may be able to take its own platform. Here's a list of the more successful examples of recent times...

Now have a look at this snapshot of the type of corporate deals which have been done in the CKD space in the past.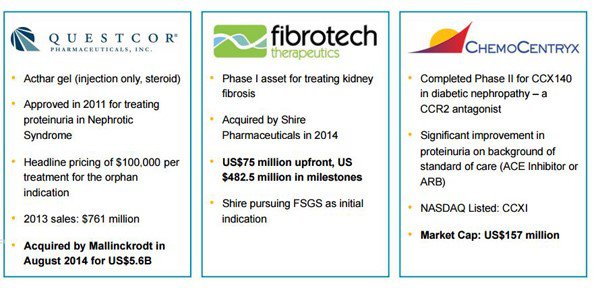 To sum up: Questcorp was acquired by Mallinckrodt for US$5.6BN, Fibrotech acquired Shire Pharmaceuticals for its Phase I asset for treating kidney fibrosis for $75MN upfront and $482.5 million in milestones, ChemoCentryx completed Phase II for CCX 140 in diabetic nephropathy and its market cap is now $US167MN.
These kinds of deals point to the size of the prize for $12 million capped DXB – all deals orders of magnitude greater than DXB's current value.
However, we should note that getting a drug discovery platform up and running is a big undertaking – much more complicated than the development of a drug, which is a complicated process in itself. So there is no guarantee DXB will be a success.
The dream team
Putting aside the drug under development, the most valuable asset DXB has under its purview is its intellectual capital.
It has some serious brainpower on the bench, and a man who has been through this dance before and emerged with a ten-bagger to his name.
Dr James Williams
Dr Williams is heading up the whole operation, and previously heading up a small operation called iCeutica.
That name may not ring any bells for those not looking at the biotech space intently, but what you need to know that for equity investment of less than $5 million , he was able to engineer a sale of the business for $60 million.
It doesn't matter what business you're in, engineering a greater than 10x return is always a great outcome – especially in the biotech space which has a lot of R&D capital associated with it.

Dr Williams took an early stage biotech play, worked it up, and then sold it off for a handsome return.
As a post-script, iCeutica has since secured FDA approvals for 3 drugs developed in iCeutica under the plan he conceived.
Is he trying to pull off the same trick with DXB? You bet.
In any case, Dr Williams has enough runs on the board to take DXB on the full journey to market if need be.
He's a former 40-under-40 lister, and has been in the biotech game ever since he first took on a CEO role with Perth-based Argus Biomedical and Inner Vision Biometrics.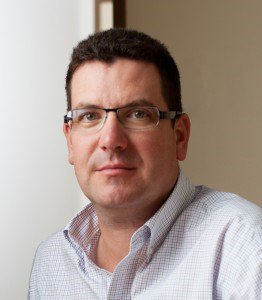 Under his leadership, both companies were able to secure approvals from the US FDA for their respective medical devices.
Meanwhile, he also happens to run a $40 million venture capital fund – so you know he has business acumen to back up the biotech chops.
Kathy Harrison
Ms Harrison has been working with DXB for about two years as an executive, and drives the pre-clinical and clinical work on the phase II trials.
Interestingly, she was a patent attorney for nine years.
Suffice to say she's clued up on all the regulatory ins and outs of the biotech world.
Dr Brian Richardson and Associate Professor Kevin Pfleger
Dr Richardson is on board with DXB on an advisory capacity, and brings with him a whopping 42 years of experience in the biotech game.
He was the Global Head of the Musculoskeletal Disease Therapeutic Area of the Novartis Institute's for Biomedical Research.
Last but not least is Associate Professor Kevin Pfleger, who's the winner of a Eureka Award and is responsible for inventing DXB's technology.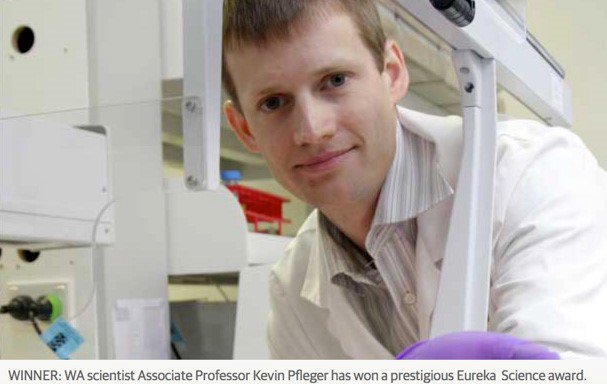 The assembled team is uncommon for a biotech the size of DXB, and speaks volumes for the potential for its assets to really make a difference in treating Chronic Kidney Disease.
The final word
Biotech plays are long plays, make no mistake.
It takes years to achieve breakthroughs and the road to market can be paved with trials and tribulations, but along the way, there are major catalysts for growth, especially when you look at DXB and consider its small $12M market cap.
DXB has found a way to get to market as quickly as possible by gaining orphan status and seeking FDA approval for its flagship DMX-200 drug.
It has a long road ahead of it, but DXB is taking the shortest path possible.
Meanwhile, in the background it continues to work on its drug discovery platform – which could potentially change not only the CKD space, but impact multiple other areas of unmet clinical need.
DXB could allow other drug makers to discover what sort of effect its medication is having, and of course will be able to charge these drug makers a price for the privilege.
And there's always the prospect of the company being sold before it gets to market a la iCeutica...
In any case, we'll keep our eye on it, especially with catalysts due next quarter in the form of early results from its Phase II clinical trials.
---