Private Equity Biotech Deal Maker in ASX Offering
PUBLISHED: 15-03-2016 12:11 p.m.
Kidneys are the unsung heroes of our bodies.
You may not think about it often, but your healthy kidney keeps your blood pressure regular, filters waste and toxins (i.e. adds water and creates urine), and cleans your blood.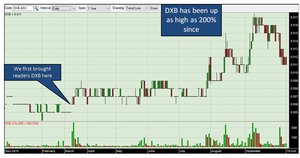 And if your kidneys stop working, it might take a while before you know about it.
A staggering one in three Australians are at an increased risk of developing Chronic Kidney Disease –this is the slow loss of kidney function over time – however less than 10% know they actually have it.
Symptoms of Chronic Kidney Disease include changes to urination, swelling of legs or ankles, fatigue, and skin rashes, to name just a few.
Kidney disease is a global health problem that beyond kidney failure, may lead to cardiovascular disease, and premature death.
The horrible fact of the matter is that in the US alone Chronic Kidney Disease affects an estimated 26 million people.
If a biotech company could develop a solution for this debilitating disease, there is a significant global market waiting for relief – if not an outright cure.
We have been alerted to a tiny ASX listed biotech company, currently capped at less than $8 million that is aiming to tackle Chronic Kidney Disease head on.
Despite its size, this company is led by a number of commercially savvy research doctors, who usually only operate in the private equity space.
The team at this company is behind several very successful exits that have earned multiples of their original investments.
This company's Executive Chairman recently sold another of his companies for $60 million – that was a 10 bagger from when it first started out.
He is now looking to repeat his success with this emerging ASX listed biotech company.
Keep in mind, however, that this company is still in its early stages and growth or a successful exit is not guaranteed, so apply caution when considering this investment for your portfolio.
This company is making big headway in its discoveries and we expect that you will be hearing more about it in the future – in fact the company has already worked with several top 10 Pharmaceutical companies in the past – demonstrating that despite its size, this company can command Big Pharma's attention.
Owing to the calibre of this company's board and management team, and the way they normally operate in the private equity space, retail investors are being given exposure to a company typically not normally offered on public markets...
This is a very tightly held stock, with a tiny market cap – any catalysts may see the company's share price move swiftly.
Early results for clinical trials for this company are due in just a few months' time and a recent US patent allowance in the bag establishes this company as a player to watch.
Investors would be buoyed by the recent history of other biotech companies operating in the same space who have been conducting billion dollar deals...
So let's open the peer review and introduce you to: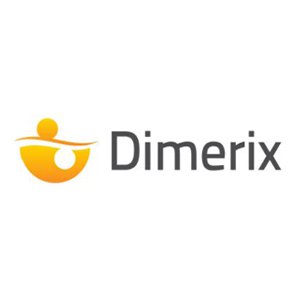 Dimerix (ASX:DXB) is a tightly held ASX listed company looking to deliver a global solution to Chronic Kidney Disease (CKD).
DXB is focused on developing a portfolio of new therapies for unmet medical needs.
The company has two major assets which contribute to its growth potential:
Receptor-HIT – this is a globally recognised proprietary drug discovery technology; in other words a technology that identifies clinical opportunities from receptor – receptor interactions (a receptor is a protein-molecule that receives chemical-signals from outside a cell).
DMX-200 – identified using Receptor-HIT, DMX 200 is a new combination therapy targeting CKD.
DXB is currently capped at less than $8 million, operating a capital effective business (just two employees) in a space that has already seen billion dollar deals for successful start-up biotech companies – the big question for investors is:
Can DXB do the same over the coming months and years?
Before we get into DXB's strategy, let's first have a look at a few of those recent deals that have had investors turning their attention to the space DXB finds itself operating within.
Billion dollar babies
There are several players in the business of CKD treatments and there are a few that stand out, not only for the work they are doing but also for the acquisition deals surrounding them.
Looking at the numbers around these companies will give you a good idea of how lucrative this market can be.
In 2011, Questcor received approval for its injection only gel for treating CKD symptoms.
This allowed headline pricing of $100,000 per treatment for the orphan indication (this means the treatment was developed specifically to treat a rare medical condition).
Questcor was acquired by Mallinckrodt in August 2014 for the princely sum of US$5.6B (AU$7.55B).
Fibrotech Therapeutics successfully developed a Phase 1 asset for treating kidney fibrosis – it was acquired in 2014 by Shire Pharmaceuticals for US$75M upfront and a further $482.5M in milestones.
On the NASDAQ, Chemocentryx recently completed Phase 2 trials for its drug treating CKD symptoms – it commands a market cap of roughly US$160 million right now.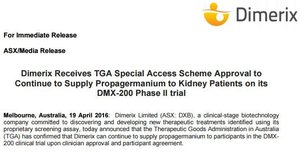 As you can see, CKD is a serious problem that affects millions of people, and for this reason, this is a high value space where big pharma is willing to throw a lot of dollars around, to come up with effective treatments.
With two assets, and a keen focus on tackling CKD head on, DXB is gearing up for growth over the coming months.
We stated before that there is decent pedigree involved in this company and that will no doubt boost DXB's ambitions.
This is no more evident than in looking at how WA biotech company iCeutica, which was conceived and run by DXB's Executive Chairman James Williams, became a 10-bagger for early stage investors.
iCeutica was sold to its US research partner for $60 million.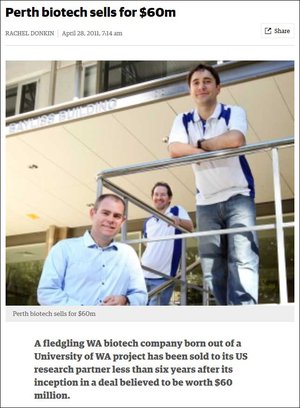 Williams is hoping to repeat the iCeutica feat at DXB.
However, as an early stage company, success could be some way off and any investment is speculative, so see professional advice when considering this stock for your portfolio.
When you look at the details of what DXB has to offer, its two important assets, potential market value and current market cap of just $8M gives it a lot of potential upside...
In fact this emerging biotech company stands apart in several ways:
it is focused in an area of high unmet need,
it has orphan drug designation (more on that later)
it is preparing to accelerate its US trials,
it has a powerful discovery platform producing additional therapeutic opportunities and pharmaceutical company partnerships and...
it has an experienced board with an impressive track record of delivering success.
The biotech dream team?
It is not just James Williams who has been involved in big deals in the space; the whole DXB team has experience in developing small biotech companies into much bigger entities.
For first cab off the rank, let's look a little closer at Dr James Williams.
Dr James Williams
Dr Williams is a former 40 under 40-lister, a list which recognises Western Australia's top achievers – so he knows a thing or two about business.
Dr Williams has made a significant contribution to the biotech industry since he first took on the role as CEO of Perth-based Argus Biomedical and Inner Vision Biometrics (which later became Resonance Health Limited ASX:RHT).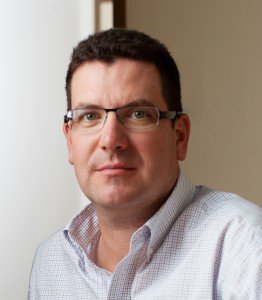 Argus and IVB were developing an artificial cornea, and commercialising a diagnostic test that enables non-invasive measurement of liver concentration, developed at the Lion's Eye Institute and Physics department at UWA respectively.
Under his leadership both companies secured approvals for their devices from the US FDA and IVB established multiple agreements with big pharma – the continuations of which support the company a decade on.
He is now aiming to have the same impact with DXB.
Dr Williams has built a unique position for himself.
Two medical devices and three reformulated drugs that he identified and worked on achieved FDA approval and his commercial acumen is evident in the way he runs his other business, Yuuwa capital , a $40 million venture capital fund.
These days, Dr Williams rarely lists his ventures on the ASX, so this is a compelling opportunity for investors to be involved with what could be a profitable and successful exit in the vein of his previous ventures.
Ms Kathy Harrison
On Dr Williams' right hand side is Ms Kathy Harrison, herself an experienced biotech executive. Kathy worked as a patent attorney for nine years, before being drawn back to drug development, and she has been integral to the company's patent busting success in the US.
Ms Harrison has been an executive in DXB for two years and was brought on board to shore up Phase 2 trials. She drives the pre-clinical and clinical work and the patent strategy and is one of only two employees in this very capital effective operation.
Dr Brian Richardson
While technically DXB has only two employees, it does have a very powerful board and advisory committee from whom it can draw inspiration.
On the advisory committee is Dr Brian Richardson, a 42 year veteran of the pharmaceutical industry and a member of the leadership team and Global Head of the Musculoskeletal Disease Therapeutic Area of the Novartis Institute's for Biomedical Research.
"Dimerix is extremely fortunate to have the input of Dr Richardson to its programs ," DXB chairman Dr James Williams said at the time of Dr Richardson's appointment. "We are pleased that the relevance of Dimerix's investigation of heteromeric complexes is of significant interest to a commercial scientist of the calibre and experience of Dr Richardson."
And last but certainly not least is multiple international award winner Associate Professor Kevin Pfleger , who is responsible for inventing DXB's technology and is recognised on a global scale for his capabilities in the area.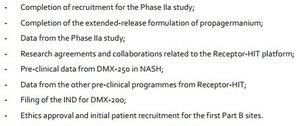 So as you can see, this is a vastly experienced team leading the charge at DXB, driving the company and its breakthrough technology forward.
What does DXB do?
Now we know the people, let's get to know what the company does a little better.
DXB was established in 2004 to commercialise heterodimer assay technologies. This led to the company's lead clinical program, a Phase 2 study in Chronic Kidney Disease.
DMX-200 was developed from results of studies using DXB's core patented technology, Receptor-HIT.
Receptor-HIT is a ground breaking technology in drug development.
Receptor-HIT has identified how many important bodily processes are maintained by two different receptors working together in a pairs (heterodimers).
When a key process fails (as in kidney disease) the only effective treatment may be to use specially designed combination therapies which can simultaneously target both receptors and correct the process.
In this way the combination of drugs which make up DMX-200 was identified.
The efficacy of DMX-200 was tested in pre-clinical animal studies at the University of Melbourne and paved the way for DXB to progress DMX-200 into Phase 2 human clinical trials which are currently underway.
The trials are ongoing at four sites across Australia, with three patients having been dosed.
Early results from DXB's Phase 2 clinical trial are expected during the third quarter of 2016.
However, DXB is already beating a path to the FDA to ensure it is ready to progress on the development path to approval.
DXB has also been granted orphan drug designation (more on this shortly) for the kidney problem Focal Segmental Glomerulosclerosis (FSGS), which is the leaking of blood and protein and can lead to kidney failure.
Current therapies for FSGS are steroids, but these are not long term solutions as people often don't respond or are not tolerant of them.
The value of DMX-200 is that its combination therapy comprising of Irbesartan (Irb) and Propagermanium (PPG) could very well provide a long term solution to this particular kidney problem.
This visual may give you a clearer look at how it works.

As you can see this combination therapy could have a significant positive effect on the problem at hand by reducing the leakage of proteins into the urinary tract.
The benefit of the current trial is that DXB can have a quick look at the effect of the therapy, as the pre clinical data has been enough for the FDA to give DMX200 orphan status – a significant achievement in itself.
Orphans and angels
DMX-200 is for the treatment of a condition known as focal segmental glomerulosclerosis (FSGS), a leading cause of Chronic Kidney Disease (CKD).
This is an orphan sub-group of CKD characterised by leakage of protein to the urine – you can see this below: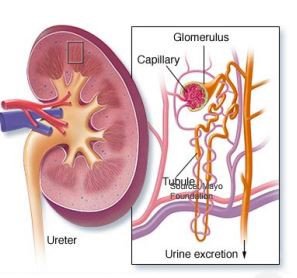 Now remember 26 million people in the US alone have CKD from a range of causes, and as we stated before, there are few therapies currently approved by the FDA for FSGS – so DXB could be an early mover in treating this condition, and a stepping stone to treating larger groups of CKD.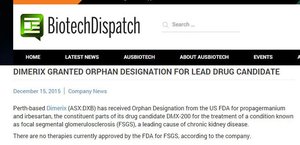 Hang on, so what exactly is 'orphan status'?
According to US Food and Drug Administration , "The Orphan Drug Act (ODA) provides for granting special status to a drug or biological product ("drug") to treat a rare disease or condition upon request of a sponsor."
Why is this good for DXB?
Orphan Drug Designation provides DXB with a seven-year FDA-administered market Orphan Drug Exclusivity (ODE) on successful approval of the drug.
It qualifies DXB for various regulatory and financial support measures as the treatment progresses through clinical development in the US.
It also means shorter trials and fewer patients for the company – meaning quicker time to market, and for a cheaper cost than if DXB could not access the orphan pathway.
In essence it opens up a large accessible market of people who need relief from the acute problem DXB is looking to manage through DMX-200 and its Receptor-HIT technology.
It also represents an important step in DXB's strategy for the rapid commercial development of DMX-200 for the treatment of chronic kidney disease.
So, this orphan designation, when combined with pending data from the current Phase II trial in Australia, will help accelerate DXB's current clinical and commercial development path in US medical market.
The DMX-200 patent
As well as having orphan designation in the US, DXB has also been granted a US patent allowance for DMX-200.
On 19 February, DXB received a Notice of Allowance from the United States Patent and Trade Mark Office for its patent covering the use of DMX-200 in the treatment of kidney disease.
The patent provides DXB with protection of its assets until 2032 and an extension of the patent term may also be available in the USA to compensate for the time taken to develop a pharmaceutical.
The same patent family is under active examination in Europe, Japan and other major markets, potentially opening those markets up to DXB.
There is also the potential for DMX-200 to avoid the 'patent cliff'.
The patent cliff comes into play once a patent reaches its end date. When this happens, other brands come in with their own varieties of the drug.
DMX-200 could be used in many combinations to create new drugs, thus taking known drugs with expired patents and creating a level of perpetuity.
When you think about it, DMX's combination of PPG and IRB could mean that the company has a pretty powerful product on its hands with multiple uses.
IRB is an off-patent blockbuster drug used primarily for treatment of high blood pressure.
PPG is approved in Japan for hepatitis B and is available in the US as a controlled dietary supplement recommended for various ailments.
Combine the two and you can guess the rest...
...well actually maybe we can leave that to the DXB scientists
It is no wonder that due to this confluence of factors surrounding the company's patent strategy there is so much interest in DMX-200 – and more broadly DXB.
The right partners
Through its technology and DMX-200, DXB has already worked with several top 10 Pharmaceutical companies, and has assisted these with their drug discovery programs by applying the Receptor-HIT technology and in house knowledge.
These studies have assisted in validating DXB's in vitro approach as a rationale for pursuing human studies.
Currently, DXB has relationships with major pharma companies and is constantly in partnership discussions on how the technology can be used to identify a range of new therapies.
These companies are crucial to DXB's business model as the company looks to expand its collaboration with Big Pharma and share in the spoils of any discoveries made by taking a co-development approach.
And while there are also business partnerships to explore with reagent suppliers to provide some cash, DXB would rather focus on strategic partnerships as this generates the best value add.
New discoveries
While we've talked about market discoveries in CKD treatments and the value of the companies involved and deals completed, let's now turn our attention to the interest in discovery platforms.
DXB's Receptor-HIT discovery platform enables discovery of new drug approaches for GPCR (G Protein Coupled Receptor) mediated diseases.
In line with company growth and deals completed for CKD treatments, biotech companies with discovery platforms have garnered just as much interest from investors and takeover partners.
DXB is running in much the same circles as three other companies with influential discovery platforms and hopes to emulate their success.
Success is not a foregone conclusion, however, and DXB still have a lot of work to do, so apply caution to your investment decision.
Who are DXB trying emulate?
First there is Heptares. This is a company that on the back of its GPCR discovery platform was acquired by Sosei in February 2015 for $400 million.
Receptos was acquired by Celgene in July 2015 for $6 billion...
And the NASDAQ listed Trevena has built its market cap to US$375 million...

Once again, market forces are pushing this sector of drug discovery into the multi-millions and even billions of dollars deal regions.
Could DXB follow suit?
Time will tell, but they have all their 'drugs in a row' to make a big play.
Love is the drug
Less than 10% of people with Chronic Kidney Disease in Australia are aware that they have it.
Even more problematic is that one in three will develop it .
Meanwhile one in seven hospitalisations in Australia are for dialysis; one in 25 Australians have diagnosed diabetes – a major cause of end stage kidney disease (ESKD); one in three Australians aged over 25 have high blood pressure and one in two cases of ESKD are treated with transplant or dialysis.
A solution to this problem is way overdue.
Through its proprietary development technology known as Receptor-HIT which can enable the identification of new therapeutic approaches to existing drugs and through DMX-200, which could be a potential utility in several therapeutic indications, DXB has opened the door wide to a business that can commercialise new therapies for under-served and un-met medical needs.
With a US patent up its sleeve and orphan designation, it has a strong foothold in the very lucrative US market, where companies of a similar disposition are being acquired for billions of dollars.
DXB offers investors an opportunity to become involved in an ASX listed company that does some good in the world by fighting kidney disease, whilst also presenting an attractive, tightly held, commercially viable business that is being led by a management team who have that rare combination of commercial acumen and biotech smarts.
---