NHE drilling this quarter - Rig secured, fully funded
Disclosure: S3 Consortium Pty Ltd (the Company) and Associated Entities own 3,980,926 NHE shares and 2,437,037 options, and the Company's staff own 54,339 NHE shares and 2,000 NHE options at the time of publishing this article. The Company has been engaged by NHE to share our commentary on the progress of our Investment in NHE over time.
Ready to go, seven years in the making.
... drilling is happening this quarter..
The weeks are ticking down to a major drilling event for our helium Investment, Noble Helium (ASX:NHE).
NHE has just secured a drill rig, where it is targeting a basin opening discovery.
NHE is finally drill testing what is a very large Mean Unrisked Prospective helium resource of ~176Bcf.
This first upcoming well will test the theory that there is a significant helium resource below ground in Tanzania.
We like to back Managing Directors who have founded a company, put in years of work and have significant skin in the game to make the project a success.
NHE founder and MD Justyn Wood owns 26.19% of the company.
Justyn founded and funded this project over 7 years ago, and all the years of work has been leading up to this initial drilling event.
Drilling is on track to start this quarter.
Helium is used to make computer chips because it has certain special properties.
Helium is an "inert" gas (it doesn't react with other chemicals used in the chipmaking process), and it is great at cooling things down (chip production creates a lot of heat).
Our last note on NHE profiled how the AI (artificial Intelligence) race could dramatically accelerate chip demand, and how this would have flow on effects to helium demand.
Not to mention helium's role in the space industry, and next generation small scale nuclear plants.
NHE is fully funded for the drilling of this well, having recently raised $13.5M at 18c, with NHE directors investing over $1M of their own cash.
All going well, a discovery here could eventually help propel NHE towards the next stage in the small cap lifecycle - post "discovery" and entering the "resource definition" phase.
And the market cap increase that should come with it (assuming NHE successfully make a discovery of course).
A successful drilling event would also be a stepping stone to proving out what would be the largest single company helium resource.
This would be equivalent to many nations' combined helium resources, the 3rd largest resource of any entity in the world.
Of course, a lot hinges on the drilling program being a success - like any early stage, pre-drill exploration project, there are no guarantees that NHE will discover commercial quantities of helium.
There's one way to find out, and that is by drilling - and a big hurdle on that front has been cleared today.
Like all small cap gas explorers looking to drill such a big, frontier target, we expect a share price run over the next few months in the lead up to drilling and then results.
Usually a share price run happens in the lead up to drilling as speculators enter in anticipation of a great drilling result, but in small cap markets there are no guarantees a price run will happen - just because it has happened before with other small cap explorers doesn't mean it will happen again.
Previously, NHE had planned to work with London listed Helium One on securing a rig, but negotiations with the drill rig provider threatened to drag on.
Helium One is also looking to test a Tanzanian helium project and is currently capped at ~£49M ($88M)
NHE made the prudent decision to go it alone to deliver on its Q3 drilling timeline - spudding of the well is planned for September.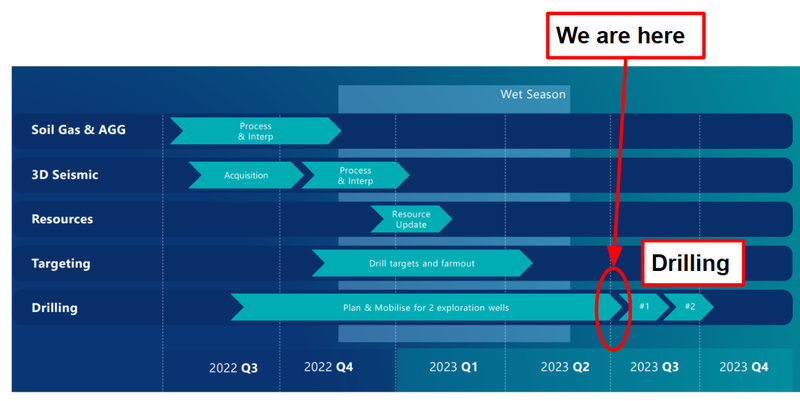 As an added bonus, the rig secured today is the exact same model as the one it originally intended to secure with Helium One.
This is what we think the previous rig looks like: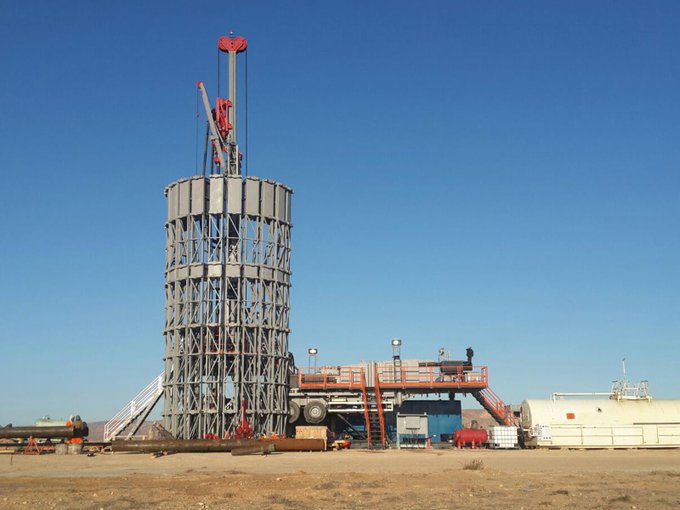 We expect the new rig will look very similar.
It hasn't been a straight line journey to get NHE to this point - however 7 years of hard work have matured this project from idea to a drill ready prospect.
The contract with an experienced UK based drilling company (Marriott Drilling Group) helps NHE avoid the Tanzanian wet season which starts later in the year, where drilling may not have been possible.
A delay here could have pushed NHE's drilling program into next year.
We know from experience that the market does not respond well to stretched timelines, so we are very pleased that NHE got its rig sorted today.
Today's rig contract further de-risks the drilling event from an operational perspective and moves the company one step closer to achieving our Big Bet:
Our 'Big Bet'
"NHE discovers the world's largest helium reserve held by a single company and is strategically acquired by a major company OR a state owned enterprise to secure supply (USA, China, Qatar)."
NOTE: our "Big Bet" is what we HOPE the ultimate success scenario looks like for this particular Investment over the long term (3+ years). There is a lot of work to be done and many risks involved - some of which we list in our NHE Investment Memo. Success will require a significant amount of luck. There is no guarantee that our Big Bet will ever come true.
To monitor NHE's progress since we first Invested and to track how the company is doing relative to our "Big Bet", we maintain the following NHE "Progress Tracker":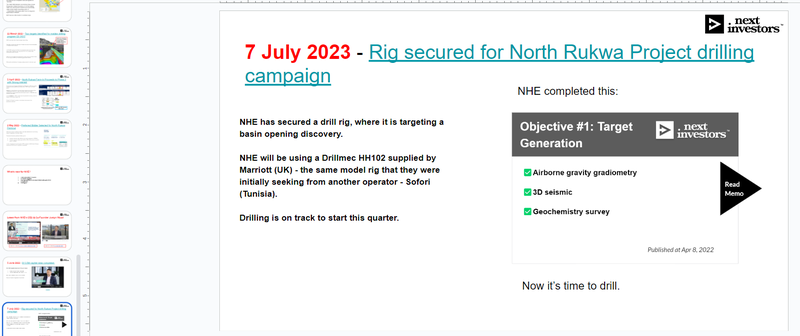 More on NHE's exploration so far
We've been Invested in NHE for almost two years, and the moment of truth is quickly approaching.
So far NHE has completed the following exploration program: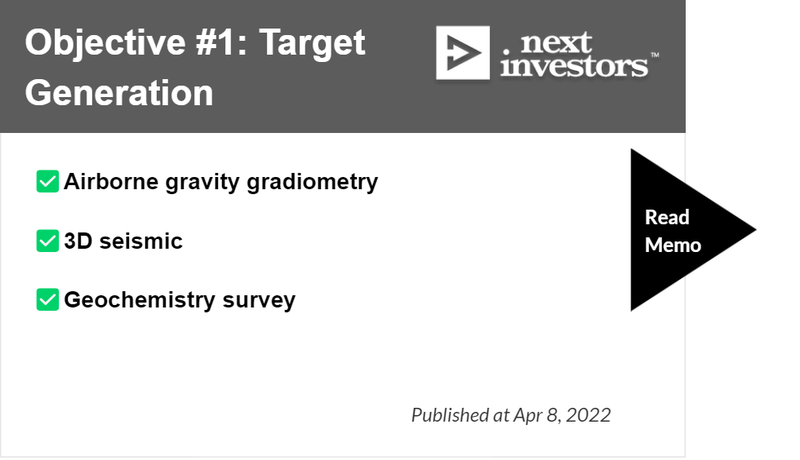 This exploration program has set things up nicely with the three different exploration methods contributing to a cohesive understanding of the subsurface geology in Tanzania.
The geology just needs to be tested with the drill bit.
NHE's project sits in the East African Rift System (EARS) and the wells will be testing a Basin Margin Fault Closure.
Read our past NHE note for more on these facets of NHE's project.
Remarkably, in Uganda and Kenya, the EARS has a 80% success rate from nearly 40 exploration wells, including a 100% success rate in Basin Margin Fault Closures for oil and gas wells (14 from 14) since first oil in 2006.
As before, NHE will be using a Drillmec HH102 supplied by Marriott (UK) - the same model rig that they were initially seeking from another operator - Sofori (Tunisia).
The announcement today notes that Helium One has not elected to use the Marriott rig "at this point".
This leaves open the possibility that the companies can still work together - but for now it's just NHE using the rig.
What's next for NHE?
Rig mobilisation 🔄
The rig needs to make its way to the site in Tanzania from the UK and will make its way over in late July.
We'll be watching timelines here closely.
⚠️The Big One: Drilling ⚠️ 🔄
Drilling is expected to start this quarter, with a planned September spud date.
Across the two wells NHE will be targeting a ~16.5 bcf (billion cubic feet) unrisked mean recoverable helium volume.
The two targets represent <10% of NHE's overall resource which sits at an independently certified Mean Unrisked Prospective helium resource of 175.5Bcf.
Closer to the drilling event, we intend to outline our bull/bear/base cases for NHE's drilling.
Risks
Once drilling starts, the key risk will be exploration risk.
As is the case with all junior explorers, there is always a chance that NHE's drill program fails to find any commercial quantities of helium.
Operational risk is also important - while the Tanzanian wet season usually starts around November, weather could still be a factor particularly if there are delays in rig mobilisation. When drilling, a number of things can also go wrong. For example, NHE may not be able to flow helium to the surface due to a problem with the rig.
Check out our NHE Investment Memo to see all of the key risks we have listed: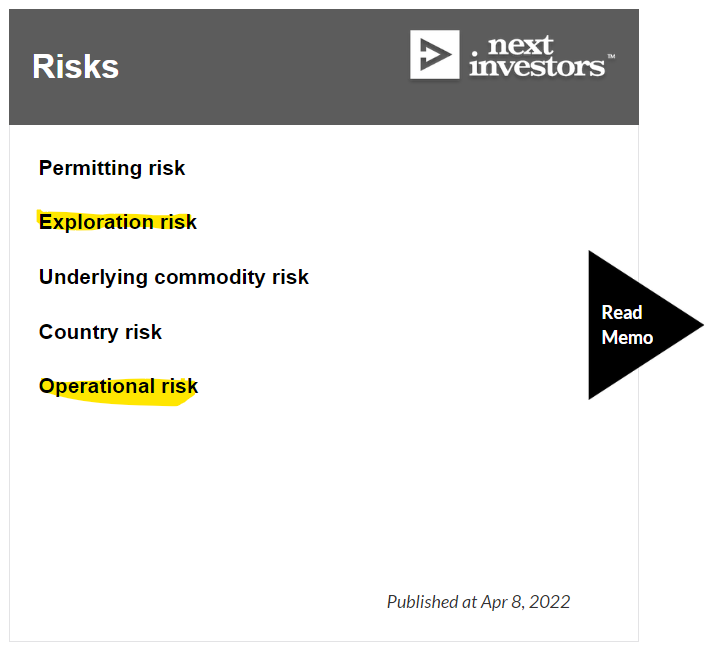 Our NHE Investment Memo
Click here for our Investment Memo for NHE, where you can find a short, high level summary of our reasons for Investing.
In our NHE Investment Memo, you'll find:
Key objectives for NHE
Why we are Invested in NHE
What the key risks to our investment thesis are
Our investment plan
---